Original URL: https://www.theregister.co.uk/2012/11/06/bond_technology_from_fiction_to_reality/
007 hardware: Gadgetry, spyware and things that make you go Boom
Tracking gadgets, stealth comms, underwater cars and more...
Posted in Bootnotes, 6th November 2012 10:00 GMT
As Daniel Craig enjoys his third outing as Britain's most famous spy, fans who didn't get to see the film this weekend are rubbing their hands together in anticipation of 007's latest gadget collection.
While we expect any contraption to feel futuristic and perhaps implausible, the gizmos on show from Bond films of yesteryear prove that what seems farfetched at the time, could easily become reality. They may have even been a secret reality for many years already at the time of the film's release.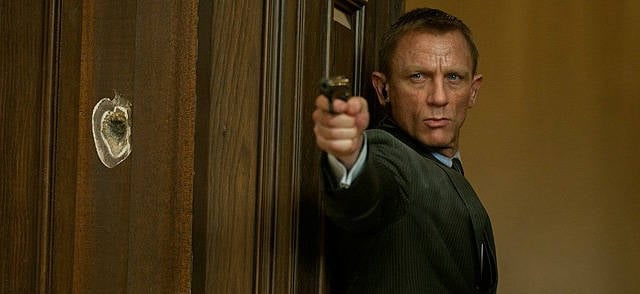 Daniel Craig in Skyfall. Credit: MGM/Colombia Pictures
Here's a look at some of Bond's weaponry and get-out-of-jail-free cards over the years; their potential for transposition to reality; and, finally, the likelihood of a real secret agent using them.
Man's best friend
Every secret agent needs a reliable gun. Fleming equipped 007 with a Walther PPK after advice from fellow writer and firearms ace Geoffrey Boothroyd, who insisted it better than the Beretta Bond was using in From Russia with Love.
The spy subsequently adopted the PPK in Dr No, after guidance from a "Major Boothroyd", who would later be known simply as "Q". The scene was repeated in Bond's big screen debut of the same name, and the PPK starred as the primary pistol in nearly all subsequent films.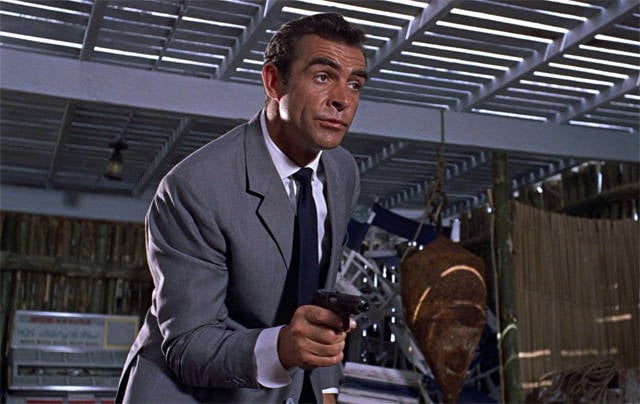 Sean Connery in Dr No. Credit: Twentieth Century Fox
The latest movie, Skyfall, sees 007 upgrade his 7.65mm PPK to a larger 9mm version - equipped with Judge Dredd-style palm print activation - but just how ideal is a PPK for a real-life secret agent?
Well, Boothroyd was pretty close to the mark. The PPK was indeed favoured by many covert operatives, with MI5, MI6, Deutsche BND, French SDECE and Israel's Mossad said to be among various secretive firms to adopt it. Even in today's age of tantalising tech, a number of undercover police and secret service agents still swear by them.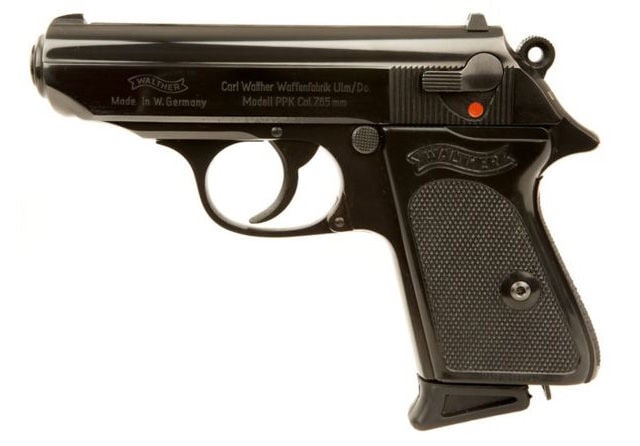 Walther PPK. Credit: world.guns.ru
Still, every gun has its time and place, and various firearms are used dependent on the situation. The Soviet-developed PSS Silent Pistol is regularly applied for short-range combat where silence is essential, while armour-piercing weapons such as the Russian SR-1 9mm is another popular choice for those after a bit more oomph, apparently. It's claimed the SR-1 9mm can penetrate a flak vest containing one or two titanium plates, 1.4mm thick, or 30 kevlar layers, or a steel sheet, 4mm thick, at ranges of up to 30 meters.
However, for many spies carrying an obvious firearm could jeopardise their position and, believe it or not, those in stealth mode generally stick to concealed weapons knocked up by real-life Qs. More about that on the next page.
Weapons of mass discretion
The fact that cigarettes kill is something of which we're now reminded on every packet. But the notion was obviously far from the mind of Bond baddie Ernst Stavro Blofeld, though, when he allowed 007 "one last fag" in 1967's You Only Live Twice.

Sean Connery in You Only Live Twice. Credit: Twentieth Century Fox
Of course, the ciggie in question was equipped with a rocket-propelled bullet, aiding Bond's escape and allowing him to continue puffing custom-made Morlands like they were going out of fashion. They were. But while cigarettes equipped with a fatal dose of shrapnel seem implausible, their deployment in the real-world of espionage is well documented.
In 1954, the Russians sent a spy named Nikolai Khokhlov to Germany with the task of assassination. Khokhlov subsequently defected and revealed the weapon he had been sent to do the dirty with: a fatal pack of ciggies, fitted to fire cyanide-dipped darts instead of mini-rockets. Impressive either way, if you ask me.

Credit: Gehlhausen
As concealed weapons go, though, the ciggie-gun merely scratches the surface. We've seen firepower hidden in gloves, pipes, lipstick, umbrellas and mobile phones. But that shouldn't come as a surprise, really. If manufacturers can produce lethal pistols the size of a human thumb, the potential is there for weapons concealed in practically anything.
Techie timepiece
No 007 film would be complete without a top-notch timepiece brimming with features unlikely to be found in an average Omega. Bond's watches have wowed us with built-in garrottes, Geiger counters and laser-cutting tools, but the timepiece that really takes our fancy packs a magnetic field bullet deflector. Yep, who needs kevlar vests with one of these badboys on your wrist?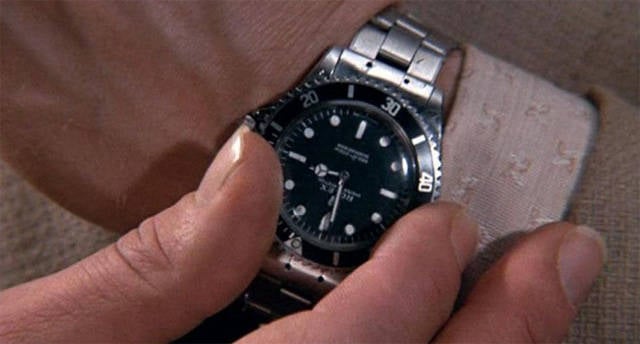 Rolex in Live and Let Die. Credit: Twentieth Century Fox
Unfortunately, that tech will indeed have to remain in the realm of fantasy. A magnetic deflector that stops bullets would not only have to be mammoth in size, but to create electromagnetic fields of such magnitude, a person would need some sort of nuclear reactor strapped to their wrist.
The concept was put through grilling tests on a James Bond special episode of Mythbusters, in which the team claimed the maximum strength of magnetism that can be squeezed into such a watch is roughly 575 Gauss. This had no affect whatsoever on the bullet's trajectory.
In fact, to even slightly affect its direction, they had to not only use rare neodymium-iron-boron magnets, but had to set up 13 of them, totalling over 60,000 Gauss. That would obviously be a struggle to carry, let alone strap to one's wrist, and yet it still wouldn't have prevented Bond taking a round to the chest, even then.
Scientists have found ways to stop atom-sized bullets in their path, but to upscale the device to stop full size ammunition is bordering silly.
The coil-gun - a concept born in the realm of sci-fi - accelerates a magnetic projectiles with a series of coiled electromagnetic-induction wires. While this has yet to be replicated in real life, researchers at the University of Texas have built one that works in reverse apparently, stopping atomic particles in their path after being fired through at 1,118mph (499.79m/s), which is faster than the general speed of a pistol round.
Either way you look at it, you're never going to find yourself protected from bullets with a watch. That doesn't stop us strapping-up with chronometers that push beyond simple time-keeping activities, though. And while I have yet to see one, we could always fit a magnet strong enough to unzip a dress at least. Roger Moore eat your heart out.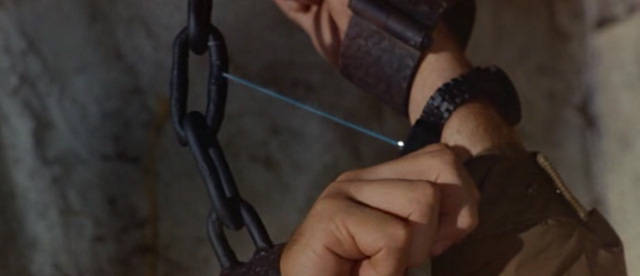 Watch in Never Say Never Again. Credit: MGM
There are plenty of spy-like watches with built-in cameras, sound recorders and 3G mobile capabilities these days, but that appears to be where the tech stops ticking. Lasers strong enough to cut through material may have shrunk in size too, but their deployment in a watch remains a bit farfetched. Which is a tad unfortunate for spies who find themselves padlocked securely into duffel bags with diminishing oxygen.
Gears of awe
While no vehicle could fulfill my childhood driver aspirations quite like a Chitty Chitty Bang Bang, I certainly wouldn't complain if you handed me the keys to one of James Bond's saucy speedsters, either. Sorry Porsche, but there is a substitute.
Bulletproof shields, revolving licence plates, oil slick generators, machine guns and ejector seats were a cruel reminder to Adam West that his substandard budget Batmobile was lagging.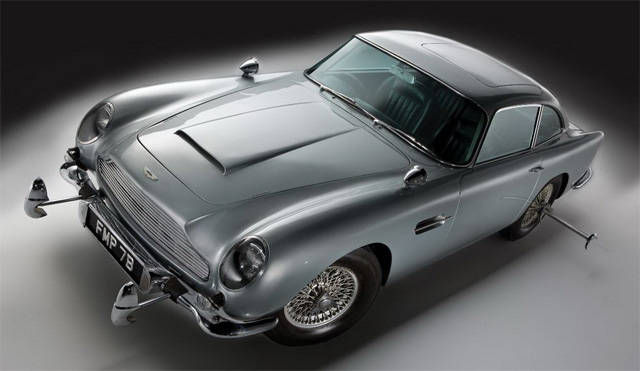 Aston Martin DB5
Self-destruct mechanisms, submarine transformation, remote smartphone control and the daddy of all supercool imaginery tech - invisibility - has pretty much kept the Bond car in pole position over the years, even topping the charts regularly in "cool gadget" surveys.
While Connery's Aston Martin DB5 was auctioned off complete with various Q modifications, some of the aforementioned features of Bond vehicles such as submarine mode, smartphone control and invisibility, are surely harder to implement. Or are they?
Those seeking a Spy Who Loved Me-like aquatic Lotus Esprit should cast their eyes on the sQuba from Rinspeed, a concept car that did the rounds at motorshows back in 2008. While the lucrative "toy for rich people" has yet to enter commercial production, it's nice to know the fusion between vehicles is possible.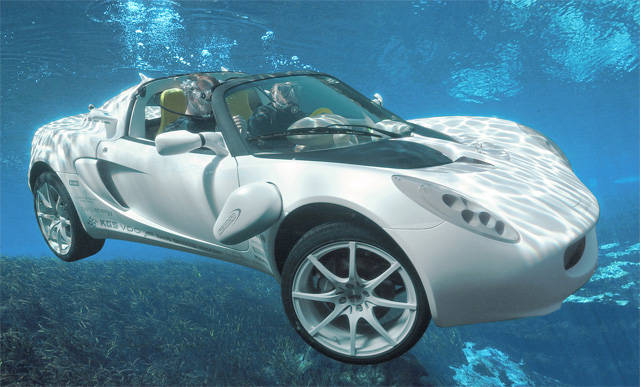 Rinspeed sQuba
Meanwhile, Google is working towards driverless cars and the notion of smartphone control there shouldn't be too surprising, particularly to other tech-minded punters. In fact, the only thing here that feels implausible is the invisibility feature.
After all, we saw Mercedes cloak a car back in March using LEDs that displayed imagery from a DSLR pointing at it. The military has various cloaking tech up its sleeve too, particularly with infrared invisibility from BEA Systems. Systems like the one used by Mercedes, however, are more expensive than the vehicle and add considerable weight once mounted - making them something that only the military can afford to dabble with on tanks... for now.
Smarter smarties
We've seen mobile communication gadgets in Bond since the days of From Russia With Love, but while the introduction of real-life mobile phones in the the 1990s meant Bond's were practically buyable, MI5's mobile range has always packed more punch than your average smartphone.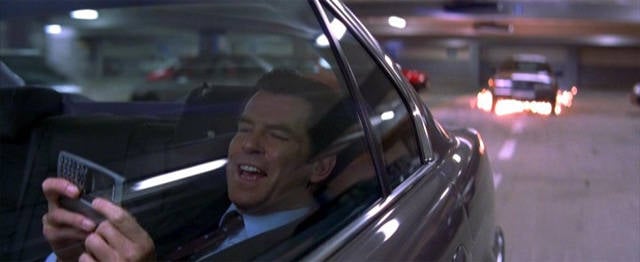 Pierce Brosnan in Tomorrow Never Dies. Credit: MGM
While Ericsson's product placement in Tomorrow Never Dies was shamefully apparent, the phone itself - in the film, of course - was quite a gem, featuring a fingerprint reader, lock-pick tool and even a dangerous stun-gun. Brings a whole new meaning to taking out a contract with a phone, eh?
The idea of stun-gun phones has already been visited commercially, in the US, naturally. The Yellow Jacket iPhone 4/4S case - which narrowly made its fundraising goal on money-please website Indiegogo - packs a 650k-volt taser. Deadlier, K95 stun-guns disguised as Nokias have been found more recently in the UK, though - models which are easily available online and overseas. Shocking.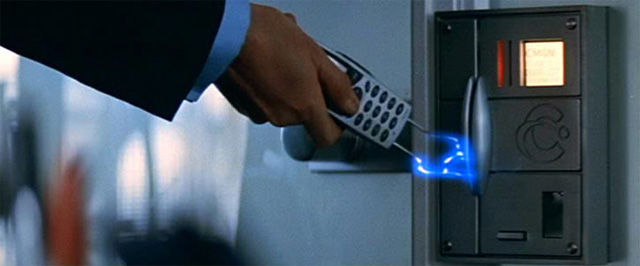 Ericsson phone in Tomorrow Never Dies. Credit: MGM
Meanwhile, fingerprint readers are already on commercial smartphones, such as the Motorola Atrix. Plenty of gadgets we'd still struggle to modify for mobile remain, but at this scintillating pace of tech development, we're never too far behind, either.
In fact, most of Bond's high-tech kit is practically there in one form or another, with mini air supplies, tracking gadgets and stealth communication kits commercially available if punters have the wonga to front it.
Exciting, dangerous, tempting - Bond gets the gear, no doubt. In the real world, though, you'd have to have significant reason to own most of this stuff and in the vast majority of cases you'd be better off without the hardware... trust me. ®