Original URL: http://www.theregister.co.uk/2012/11/05/apple_ipad_mini_review/
Apple iPad Mini 8in tablet review
The tablet even Apple haters won't be able to leave alone
Posted in Personal Tech, 5th November 2012 13:00 GMT
Hitting the Apple Store shelves a whole week after Amazon's new Kindle Fire HD tablets began arriving in the post, and two months after Google launched the Asus-made Nexus 7, the iPad Mini deserves to suffer in comparison. Even Google managed to slip a new 32GB version of its Nexus 7 under the radar at the beginning of the week.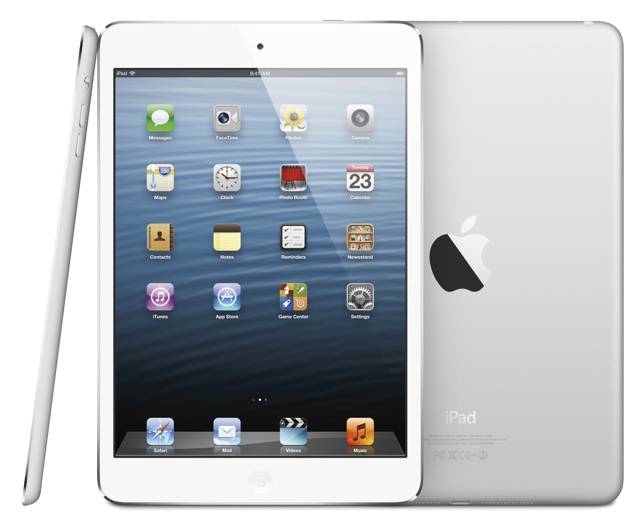 Apple's iPad Mini: a terrific little device?
Practically all commentators argue that Google and Amazon have forced Apple into undue haste to develop its own 7in tablet, so it only stands to reason that the result will be a bodged rush-job... surely?
As it turns out, surely not. The iPad Mini is a terrific little device.
For starters, it is not "just a shrunk-down iPad" – as if doing so would somehow have made it easier to manufacture. Those familiar with full-size iPads will have no trouble locating the power and home buttons, volume controls, option switch and headphone socket. However, the shape of the device as a whole has been altered to allow it a narrower bezel on the long edges. Note that an overlapping thumb touching the edge of the screen does not interfere with scrolling.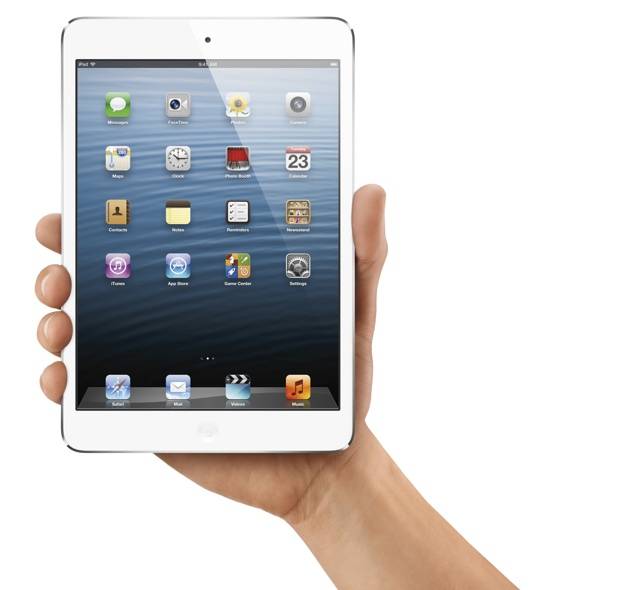 Comfortable to hold in one hand without straining
There are more dramatic differences. Every time I handed the iPad Mini to someone for the first time, they'd make the same two observations: "Oh, it's really light," invariably followed by, "it's really thin". The iPad Mini is comfortable to hold in one hand without straining, in much the same way that you'd hold an e-ink Kindle or Kobo. By comparison, Amazon's Kindle Fire HD is almost a third heavier and thicker.
Despite being the same width and only a little bit taller than the Fire HD, the iPad Mini presents a significantly bigger screen area that Apple rates as 7.9in diagonal. What this bigger space doesn't give you is more pixels: it's not a Retina display. Instead, the iPad Mini's screen resolution is just 1024 x 768 pixels, exactly the same as for the original iPad and the iPad 2 but compacted to 163ppi. In this regard, it's left standing by the beautiful 1280 x 800 pixel competitors from Amazon and Google.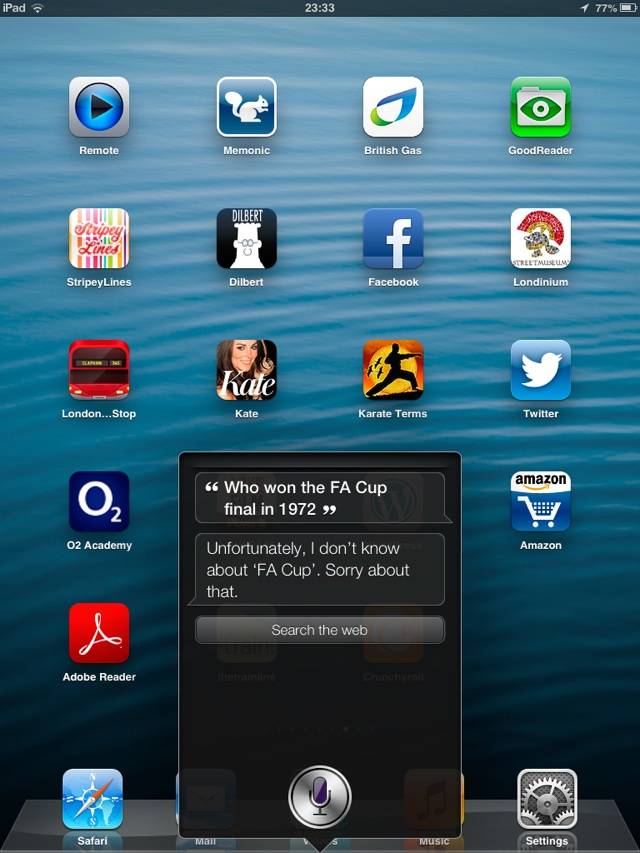 Hurrah! All your existing apps work immediately, unmodified. But Siri remains as useless as ever
Worse, it means the iPad Mini's screen is unable to play HD movies at full 720p. It has the width, sure, but 1280 has to be squeezed down to 1024, and thus 720 to 576.
Detached Retina
I won't defend Apple over this. The inability to view every pixel of an HD movie on a display only 160mm wide is something that will matter to some people more than others. You can play at 720p resolution externally from the iPad Mini wirelessly using AirPlay and an Apple TV, or physically through an HDMI cable and a £39 Lightning-to-VGA or -HDMI adapter.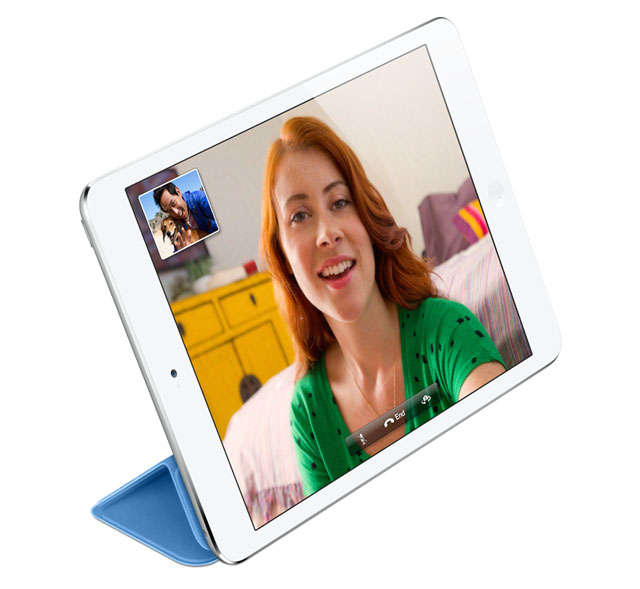 FaceTime supported by a mini Smart Cover
As usual, Apple stands to earn plenty of moolah by selling a whole new generation of adapters like this, having ditched the long-standing 30-pin connector for its smaller Lightning connector as first seen on the iPhone 5.
You can, however, capture video in 1080p and 720p, or photos in 5Mp or 1.2Mp, with the tablet's rear- and front-facing cameras, respectively. Unfortunately, the miserable weather over the weekend made it impossible to test these thoroughly, and there's no iPhone-like flash to assist with indoor shots. But I felt a lot less conspicuous holding up a Mini to take a picture than I did last time I took one with a regular iPad. And I do see a fair few folk out and about taking photos with tablets.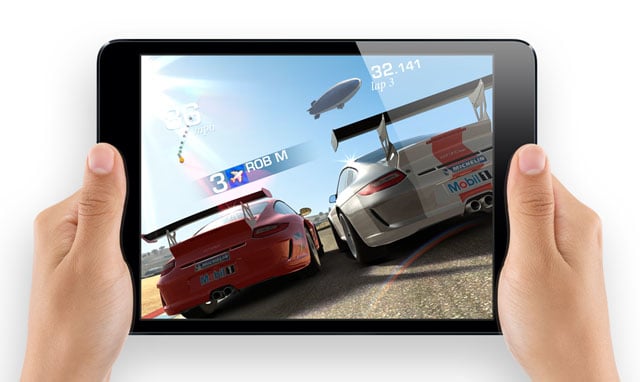 Makes light work of gaming
Apple's iOS framework continues to prevent you from doing anything as simple as transferring videos and images from device to computer via a cable, or even directly over the air by Wi-Fi or Bluetooth, at least not without running iTunes. Third-party file-transfer apps, such as Ecamm's PhoneView, will at least let you drop files over a cable into downloaded apps' sandboxes.
The iCloud service and improvements in iOS 6 have made it a little easier to share your media files but getting at your 100MB+ videos continues to be a major pain in the arse. Email them to yourself? Yeah, right.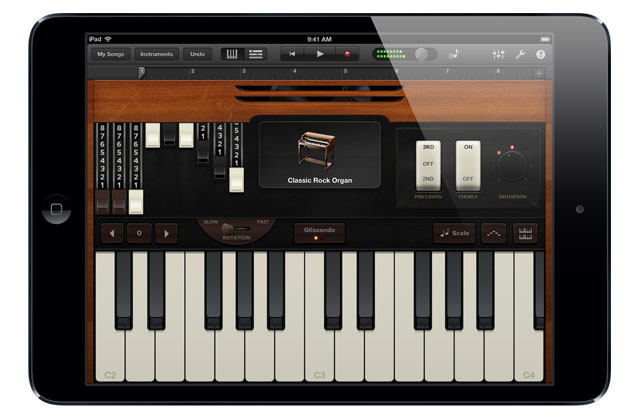 Thumbing a tune on GarageBand
I don't want to brush these limitations to one side, but it's one thing to bitch about Apple's connectivity policy and another to pick up an iPad Mini and play around with it. The size and weight make it ideal for so many everyday situations. I wouldn't dream of heaving out my iPad 3 to read a book or newspaper or magazine on public transport for fear of dropping it or having it stolen, but I don't think twice about whipping out the iPad Mini.
Somehow playing a quick game, dashing off a brief email, interacting with Facebook and twiddling with Garageband – with thumbs! – seems so much more convenient on a smaller screen, as any iPhone owner will tell you. Frankly, I couldn't leave the bloody thing alone. Even back at work, the iPad Mini took up so little space on my desk that I left my full-size iPad in my bag.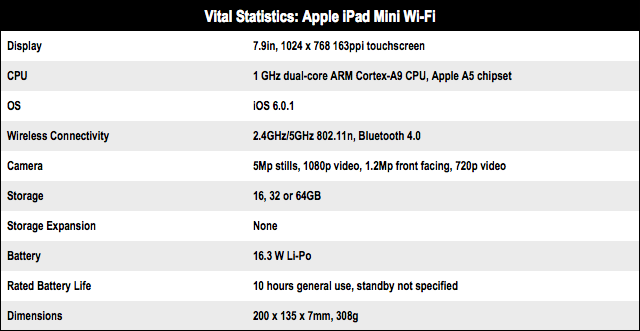 Can't put it down
The reason it works so well, I believe, is that it runs all your iPad and iPad 2 apps right out-of-the-tin, no compatibility issues, no buggering around, no special iPad Mini app updates required. Cynics have dubbed the product "a big iPod Touch" but despite what I wrote earlier it's much more like a compact iPad 2.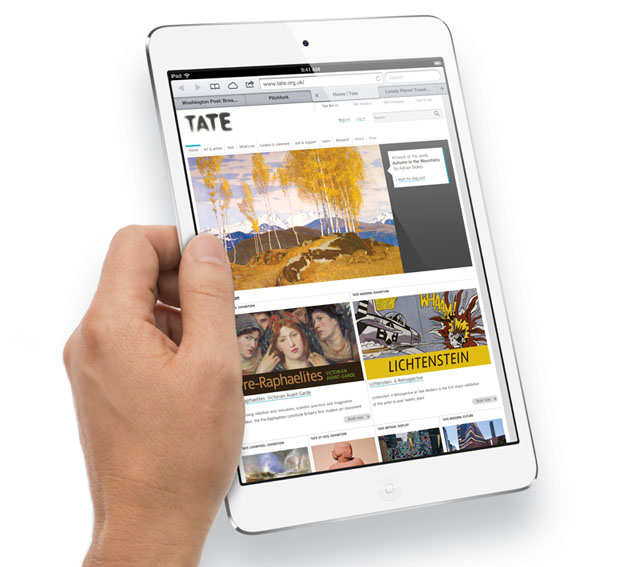 Still plenty of browsing space
Hang on, no, it's better than an iPad 2: it's half the weight, cheaper, includes better cameras and is available in models with up to four times the storage. While the lack of a Retina screen is a shame, the physical pixel shrinkage does make text appear smoother and more comfortable to read than on the first two generations of iPad. With the iPad Mini, Apple seems to have created its own iPad 2-killer, which is bizarre.
The way I see it, the full-size Retina iPads are targeted at the well-off, the show-off and business. The iPad Mini is for everyone else. Don't bother trying to go 'half-way' with an iPad 2 because the iPad Mini beats the pants off it.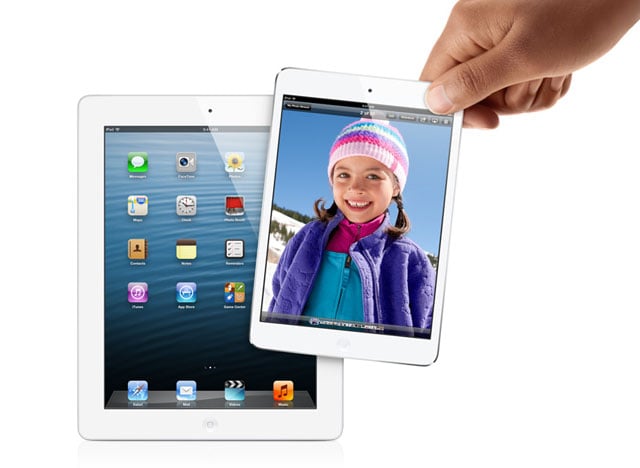 Spot the difference
Now a reality check: look at that ghastly price. Yikes. If you opt for a 32GB iPad Mini like I did, it'll cost you at least £150 more than an equivalent 7in tablet from Amazon or Google. In fact, you could buy two non-HD Kindle Fires for roughly the price of a single – and also non-HD – iPad Mini. Frankly, you'd have to be mad to prefer the latter.
Call a doctor because – God forgive me for writing this – I love this tablet. Apple says: "You won't be able to put it down." Bang on.
Verdict
By all means, compare the tech specs and prices with those of the new wave of Android mini-tablets, and no doubt you'll conclude that Apple has launched an overpriced and under-specced turkey. But make the effort to find an iPad Mini on display, pick it up and try it out for yourself. It's only with the product in your hands that you'll start to appreciate what makes it so special. ®
More Tablet Reviews

Acer
Iconia A110
Toshiba
AT300
Archos
101 XS
Samsung
Galaxy Note 10.1
Asus
Transformer Pad
Infinity