Original URL: https://www.theregister.co.uk/2012/11/02/win8phone_capsule_summary/
Windows Phone 8: Everything you need to know at a glance
Does it match up?
Posted in Software, 2nd November 2012 18:46 GMT
Comment There used to be a popular saying in the industry: "Microsoft doesn't get it right until version 3.0."
I say used to because you don't hear it very much any more. It was arguably true of Windows, which first hit its stride with version 3.0, but not for much else. The Xbox sold from the first incarnation. Windows CE passed the three-version marker then the six-version marker, and still nobody wanted to know.
For Windows Phone 8, Microsoft has finally stopped teasing and on Tuesday unveiled the new operating system and compatible handsets just hours before they went into the shops.
The big news is that it works and works well. Considering that this is a phone running a descendant of Windows NT, this is remarkable. Windows 8 Phone is solid, stable, and greatly improves on the tortuous task-switching that plagued the previous pre-release versions.
Predictions of broken software compatibility between Tango (the codename for updates to Windows Phone 7.x) and Apollo (Windows 8 Phone) were greatly overstated: Windows Phone 7.x apps run just fine on the latest OS, although an upgraded multitasking Skype isn't available in the Store just yet.
The bad news? Well, it isn't so bad - it's more an opportunity missed. So much effort went into pushing Apollo out of the door in time for the Christmas season, and ensuring there were no show-stopping bugs, the device looks very much like it did a year ago. The leap from version 2.0 to 3.0 normally includes adding out a lot of feature requests. Apple added cut-and-paste to iOS 3, for example, which had been a deal-breaker for many, and greatly improved the iPhone email client. But once you're past the home screen, the bundled Windows Phone applications in WP8 look very much like they did a year ago. Improvements we might have expected have been held over.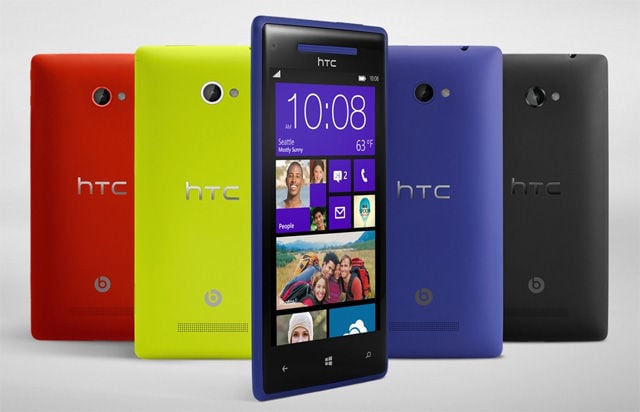 HTC's new Win8 phones win on touch n'feel
So, for example, you can't flag IMAP messages. It's not immediately obvious how to skip backwards and forwards in the music player to, for example, jump over long boring intros - or the first minute and twenty seconds of Roxy Music's Pyjamarama. The music volume isn't independent of ringer volume - still.
In some applications the lack of new options is deceptive. The browser has exactly the same user interface as before, but runs at blistering speed - it has been completely rewritten. Then again, I didn't expect it to offer an identical UI, with no ability to nest or group bookmarks and favourites - they appear in one long great list. We'd expected major improvements to the People hub but got, er, Rooms instead. Which is a daunting feature ("am I spamming my friends? What happens if they're not on WP?"), is slightly unfocussed (is it for BBM-toting teens or enterprise workgroups) and will need some selling.
Given the choice between platform stability and upgrading the bundled apps, it's undoubtedly the right choice. Both Microsoft and its partners will feel some relief. Nokia in particular has so much riding on Windows, a misfiring release would have dealt it a terrible blow.
And it's misleading to conclude that WP8 is the same, but bigger. Tethering is supported by default in the OS, for example. The resizable tiles make a big difference to usability. Both features are being back-ported to Windows Tango in the Windows Phone 7.8 upgrade, to make people who splashed out in the spring only to discover they'll never run WP8 a little less grumpy. (And quite right too.)
The phones look impressive. Nil points to Samsung for wedging it into an old case, but the screen is stunning. HTC's two Windows models are a real surprise. HTC has pinched Nokia's differentiate-by-colour design strategy and done it better: the colours are richer and more subtle, and the case has a very nice tactile feel. They're also very pocketable, although there must be questions over battery life, since WP is like Android in terms of guzzling power. And Nokia's flagship the Lumia 920 is very impressive: the camera living up to all the hype. A review will follow.
All in all, Windows Phone OS is now a strong contender, but there's no room to rest on any laurels. The out-of-the-box apps on rival phones are simply much more fully featured, and Microsoft needs to bring out an upgrade sooner rather than later - say early Q2 - to keep up the pace. ®