Original URL: https://www.theregister.co.uk/2012/11/02/curiosity_portrait_rocknest/
Mars rover Curiosity snaps explicit selfies from ALL ANGLES
This is me with red sand on my bottom LOL
Posted in Science, 2nd November 2012 16:44 GMT
Nuclear Mars truck Curiosity has paused in its scientific exploration of the Martian environment to snap a little self-portrait.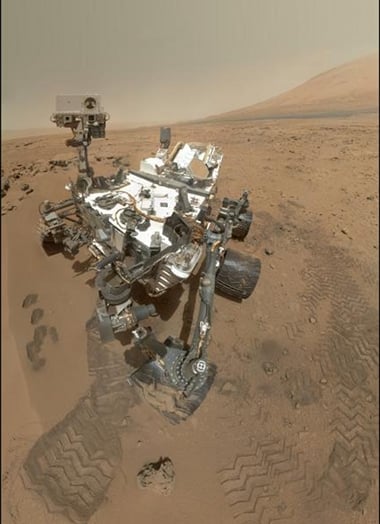 Click for hi-res. Credit: NASA/JPL-Caltech/Malin Space Science Systems
The rover is on a mission to discover if Mars has ever been home to microbial life, but Curiousity put that on the back burner to snap an image of itself at Rocknest, the spot in Gale Crater where it scooped its first soil sample.
Using the Mars Hand Lens Imager (MAHLI) on the end of its robotic arm, Curiosity took pictures from all angles to stitch together a full colour portrait.
Behind the rover, the base of Mount Sharp rises up on the right of the frame, while the mountains on the left mark the northern wall of the crater.
The self-portrait isn't a vanity project for Curiosity. Pictures like this are part of the mission, so boffins on the ground can check out the state of the rover and see how much dust has accumulated on it and how worn its wheels are. ®
Bootnote
For those of you who don't know, selfies are self-portraits, usually taken with an iPhone and shared with Friends on social networks... They range from selfies taken in the mirror, usually bathroom shots of the smuttier type, a la Scarlett Johansson - to the less-charming "this is me at Comic Con" vanity shots taken with the phone at arm's length ...