Original URL: https://www.theregister.co.uk/2012/11/01/nasa_titan_glow/
NASA's long shot shows Titan glows in the dark
Cassini probe captures natural neon sign
Posted in Science, 1st November 2012 01:21 GMT
A series of long-exposure photos taken of Titan have shown the solar system's second biggest moon glows in the dark of Saturn's shadow.
The Cassini probe, which celebrated 15 years of operation earlier this month, has photographed the moon using exposure times of 560 seconds as it was blocked from the sun. The goal was to observe the effects of charged particles from Saturn's magnetic field on Titan's atmosphere.
The expectation was that Titan's thick nitrogen atmosphere would glow at its upmost atmosphere and there was some glowing there. But the photos also showed much stronger emissions deeper in Titan's atmosphere, in broad patches across the moon's surface.
"It turns out that Titan glows in the dark - though very dimly," said Robert West, Cassini imaging team scientist at NASA's Jet Propulsion Laboratory. "It's a little like a neon sign, where electrons generated by electrical power bang into neon atoms and cause them to glow. Here we're looking at light emitted when charged particles bang into nitrogen molecules in Titan's atmosphere."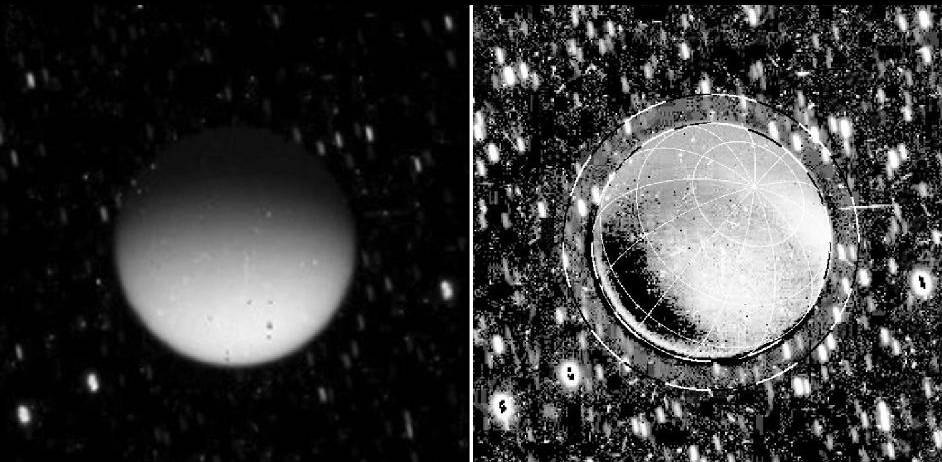 On the left, Titan as normal. On the right the long-exposure shot removing reflected light (click to enlarge)
Before you get your hopes up, the glow itself is too faint to be seen from Earth; it is estimated at something like a millionth of a watt. You could not even detect it even if you were floating on a balloon in the atmosphere.
There is more analysis to come, but the best guess so far is that it is either an internal chemical reaction in Titan's atmosphere or an undiscovered interaction between the chemical components of Titan and its orbital parent Saturn.
"This is exciting because we've never seen this at Titan before," West said. "It tells us that we don't know all there is to know about Titan and makes it even more mysterious."
The moon does fascinate the space community, and it is still the furthest spot from Earth to be the recipient of a landing probe. The Huygens probe and Cassini's measurements show a landscape seemingly similar to that of Earth, with long lines of dunes on a landmass dubbed Xanadu surrounded by liquid seas.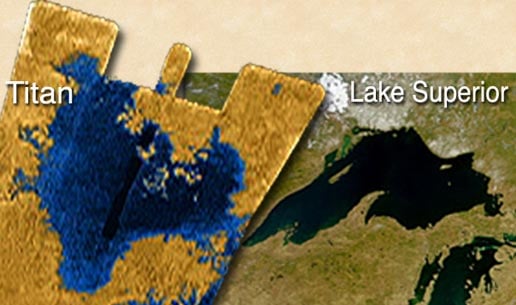 Sail the oily seas of Titan
The seas are thought to be largely composed of hydrocarbons, charged by methane, which falls as rain on the 94 K (−179 °C, or −290 °F) surface. On land cryovolcanos spew out icy slush onto the surface and scientists have postulated that atmospheric conditions resemble those of Earth two billion years ago.
It is a top target for further missions, such as a balloon ride through the Titan atmosphere and an ambitious plan to sail a probe across the hydrocarbon seas driven by the wind and with a decade-lasting nuclear battery for power.
The Huygens probe only lasted 90 minutes on the moon's surface, but what details that have come back have excited the interest of a lot of scientists and planetary engineers. ®