Original URL: https://www.theregister.co.uk/2012/11/01/halo_4_xbox_360_review/
Halo 4 game review
The Master Chief is back but the combat has not evolved
Posted in Personal Tech, 1st November 2012 07:02 GMT
If you're a Halo fan, it's a no-brainer of course. You'll buy Halo 4 whatever I or anyone else says. You'll enjoy it too, no question, especially if you're after its upgraded multiplayer experience. But if you're hoping the game's solo campaign will let you relive the magic of the original Combat Evolved, you may be a little disappointed with the return of the Master Chief in this the first of a new trilogy of Halo games.
You'll know the premise from the trailer. If you missed the online teasers, know that Halo 4 picks up the story four years after the climax of Halo 3, though five years after that game's release and eleven after the arrival of Combat Evolved. The Master Chief is in deep freeze, but he's about to wake to a world of hurt: a hollow planetoid constructed untold aeons ago by the Forerunners, the mysterious race that built the Halo spacestations and who still have designs on the universe.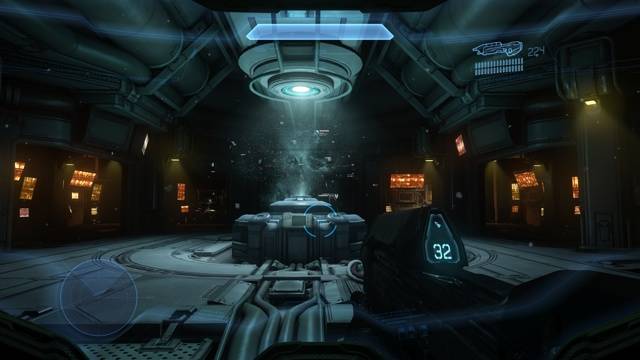 Combat unevolved
You're soon battling it out with boarding Covenant forces then literally plunging planetward to pick up the story, and the fight, on the artificial world of Requiem.
Requiem is Halo-lite: a variety of natural ecosystems and geographies on the outside, awesome - in the true sense of the word - Forerunner architecture on the inside. Halo 4 feels very much like the first title, just enhanced with today's hi-def graphics technology. That's not surprising: Microsoft's Halo team, 343 Industries, took over from series creator Bungie with 2011's 'remaster' of Combat Evolved, which slotted the slick Halo: Reach engine into the original game, bringing it to Xbox 360 gamers for the first time. Combat Evolved is, then, more of a starting point for 343's engagement with the Halo franchise than Reach and Halo 3 are.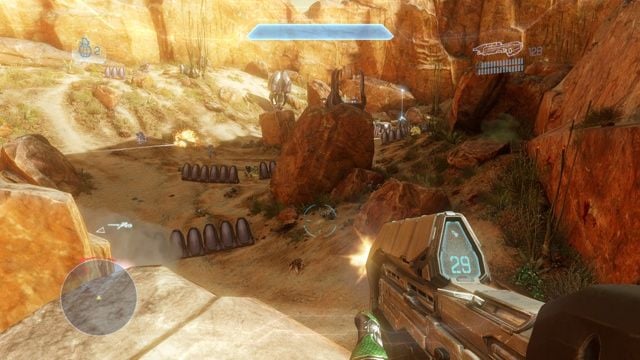 Get your filthy hands off my desert
No wonder that Combat Evolved so informs the Halo 4 experience. Overseeing the CE conversion has clearly informed 343's development of the new instalment. So, it too begins on a UNSC spaceship - now the Forward Unto Dawn, in CE the Pillar of Autumn - and continues on the surface of an alien installation and, later, inside it. All it lacks are anything more than a cursory beam up to a Covenant ship.
There's a similar mix of Master Chief and NPC team-combat levels, courtesy of the Infinity, another UNSC vessel pulled into Requiem's gravity well, and 'Master Chief goes it alone' missions. Some levels are simply about getting from point A to point B, others involve doing so before the world explodes: one Halo 4 level, involving a Ghost-ride across a landscape violently tearing itself apart, plays almost exactly like the original's dash-through-the-burning-Autumn finale. The rest involve what are essentially variations on the 'flip a set of switches to continue' mission, all classic Combat Evolved stuff.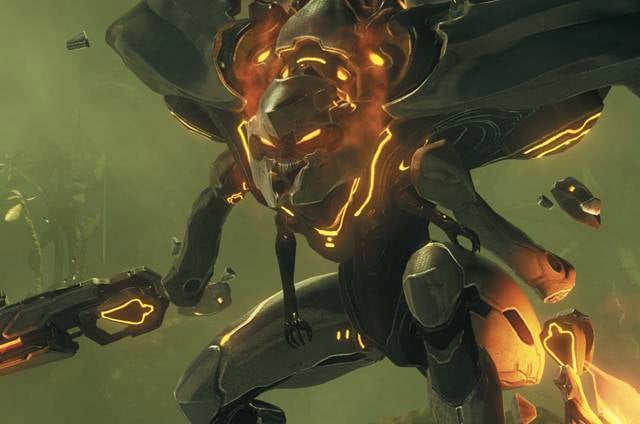 A Promethean Knight channels its inner Alien Queen
There's a real sense here of going back to basics after taking the Halo mythology in new directions in ODST and Reach. 343 doesn't go so far as to chuck out all of the new Covenant races, weaponry and vehicles that were added in those games - and it introduces new ones, of course - but that does nothing to overcome the strong feeling of déja vu the new game evokes.
And I wasn't struck only by the similarities with Combat Evolved - elements of Halo 4 recalled parts of other games and movies too. The new enemies, the cybernetic Promethean warriors seemingly constructed by the Forerunners to combat the Flood, strongly reminded me of other beings from beyond the Halo universe. The Knights, with their spindly, mid-torso extra arms, low, knee-bent gait, and huge bony head carapaces clearly channel Aliens' Alien Queen. Heaven knows Aliens deserves a hat-tip. This is the movie that most inspired the pioneers of the sci-fi first-person shooter genre, Bungie included.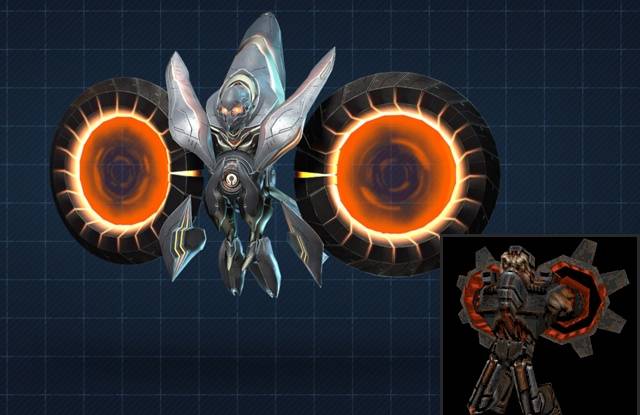 Fellow flyers: Halo 4's Watcher and Quake II's Icarus
iD Software was inspired by the James Cameron film too, and I can see some of the Doom developer's Quake II creations here. The dog-like Promethean Crawler is a lot like iD's canine Parasite; the Promethean Watcher, a flying warrior held aloft by what look like two circular impeller units reminded me a lot of Quake II's Icarus flyers, who also move around the battlefield on two circular impeller units. The Watchers can shield ailing Knights and even bring them back from the dead, effects likewise seen before in Quake II.
I'm not accusing 343 of having lifted these creatures, merely pointing out how developers' immersion in the sci-fi shooter genre will inevitably now result in the recurrence of older themes and ideas. Like pop music, FPS gaming will eat itself. Game creators need to work harder these days to avoid these unplanned parallels.
All dust and echoes
The Prometheans do at least make for interesting, challenging adversaries, especially if you've grown accustomed to Covenant tactics. They're hard to beat, and require some observation before you learn how they behave and what the relationships between the different forms are. But for me they lack the personality of the multi-racial Covenant and the sheer scariness and unremittingly unstoppable nature of the Flood, both of which maintained the first game's sense of immersion in a 'real' world. There's none of the light relief we saw from the likes of 343 Guilty Spark and the Covenant 'Run away!' Grunts.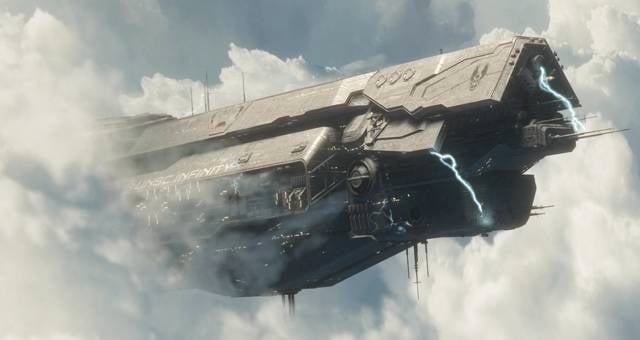 To the Infinity, and beyond
Combat in Halo 4 remains entirely unevolved: it's as much about marksmanship and preserving ammo as it always has. "Remember: short, controlled bursts" - its Aliens again. Beyond the addition of Reach's armour power-ups, there's no substantial change to how you do battle. You still have only two weapons to choose from at any given moment. An assault rifle in your hands and a Covenant Storm Rifle over your should is a reasonable limit, but surely the Master Chief should have figured out by now how to holster a pistol on his thigh too? Couldn't Cortana have helped? She certainly found time to recode the hero's HUD to wrap to the curvature of his one-way visor.
New Promethean weapons extend the list of ordnance options, though like the Covenant kit accrued from ODST and Reach, they're really just alien equivalents of existing kit. Nicely, though, the seem to do more damage to you than to their owners. There are novel additions to the Halo hardware muster, most notably the Mantis, an Avatar-style suit of mechanised armour - what is it with these guys and James Cameron flicks? - that's used to yomp and blast through the cavernous interior of the downed Infinity.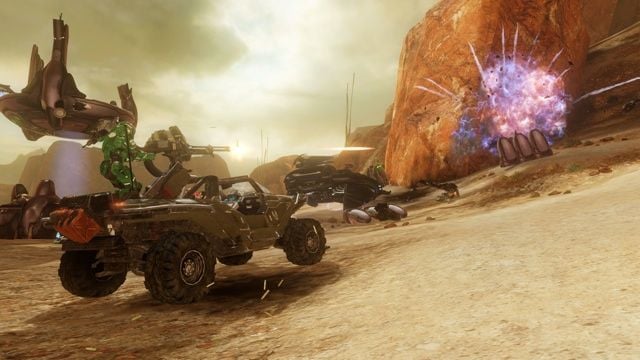 I said 'Warthog' not 'Hogwarts'
The UNSC ship and Requiem are appealingly rendered by Halo 4's new engine, though it's a world that lacks much of the dynamism of Reach. Apart from some waterfalls, there's little going on here that's peripheral to the action: no native lifeforms, no distant lightning or explosions. If Requiem has been seeded with flora, why not fauna? I miss Reach's heavy rain, and Combat Evolved's snow and fog. For me, Reach presented a more real, more atmospheric world that Requiem does. Here, 343's efforts seemingly having gone toward improving the photorealism of the NPCs' faces rather than improving the world they exist in, though their hair is very much of the Lego minifigures' clipped-on-plastic variety.
Still, Halo buffs will enjoy digging into a new chapter in the Master Chief's story, a process which during the game brings out some of the Spartans' less-than-reputable past, messes completely with humanity's established timeline and its ancestry - someone has been watching the Battlestar Galactica remake - acquaints us with a pair of major Forerunner NPCs, one Ying to the other's Yang, and introduces Cortana's "rampancy" - Alzheimer's for AIs, essentially.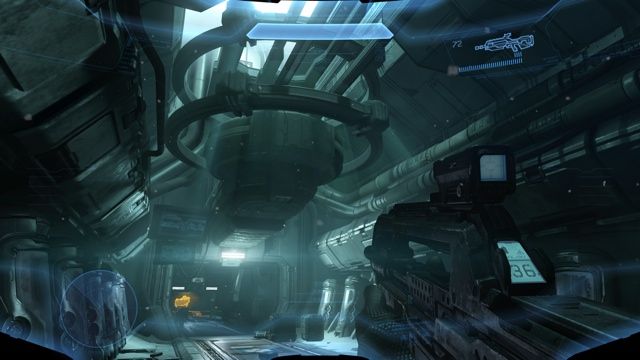 Ship of fuels
Fans of Bungie's Marathon series will have an ideas as to what this is about and should already know more of the seedier side of the Spartan story than gamers who have only played Halo will. There's some attempt here, it feels to me, to tie the two series' storylines together. About time, thank Strauss. Just remember: all roads lead to Sol...
And when you're done playing the linear campaign there's multiplayer, here building on Reach's implementation with a revised 'career' ladder, revamped multiplayer scenarios and joined by 'Spartan Ops', a series of six solo- or co-op scenarios featuring a team of updated Spartans - 4s, geddit?!? - from the Infinity. The notion is, you watch the story then play the scenario. The games are engaging enough, but not meaty enough to stand up alongside the main storyline, or as play-for-the-heck-of-it as the regular multiplayer levels. One for the series' younger fans.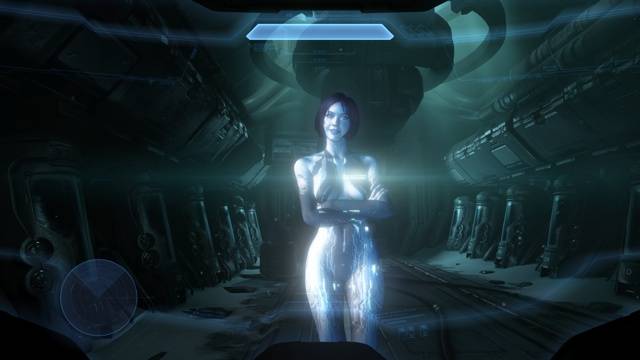 Cooorrr-tana: 'You're looking at my breasts, aren't you?'
Verdict
Has combat evolved over the past eleven years? Not at all. From a gameplay perspective, Halo 4 is Halo with new baddies and better graphics. There's no harm in that - Halo 4 is no less exciting to play, it packs in plenty of gaming and it advances the series' back-story.
Combat Evolved provided a whole new word of eerie interiors and breathtaking landscapes to eye up between battles. FPS gaming wasn't even ten years old then - it was still finding its feet as a genre. Eleven years on, it's time to evolve the now-established format. 343 Industries should really be pushing this kind of game forward, perhaps with multiple outcomes determined by player action, or at least story presentation that's about more than providing breathing space between levels. Halo 4, good though it is, isn't such an game. It's time to give Halo fans a game to engage their brains as well as their trigger fingers. ®
More Games Reviews

World of Warcraft:
Mists of Pandaria
Resident Evil 6
Dishonored
Borderlands 2
Guild Wars 2