Original URL: https://www.theregister.co.uk/2012/10/30/amazon_kindle_fire_ipad_mini/
Hmm, I think I'll order an iPad Mini on Amazon ... Oh no I won't
Etailer offers stinging counter-pooh-pooh to Apple
Posted in Personal Tech, 30th October 2012 16:29 GMT
Amazon has weighed into the tablet pooh-pooh battle, following Apple's blow by blow comparison with a Samsung Galaxy Tab during the iPad Mini launch last week.
The gloves are off down at Tablet Club, and this time the iPad Mini is on the receiving end. Amazon is taking a direct swipe at Apple's littlest Pad with a point by point comparison of the iPad Mini to the Kindle Fire published on the US homepage of the retail site.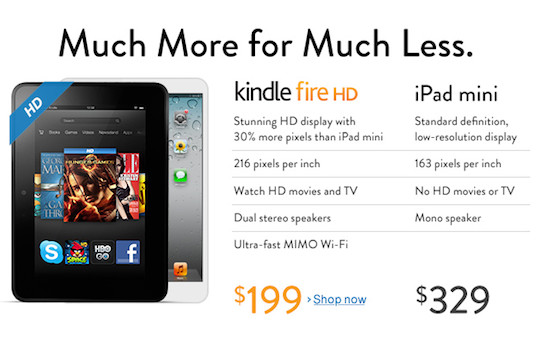 Amazon on the iPad Mini as the Xmas sales fight warms up
The advert for the Fire takes down the the Mini iPad specifically, contrasting the Fire's screen and speakers with the iPad's, and reiterating the price gap, along with a sarky quote from Gizmodo.
It's not exactly a comprehensive review, and there will be areas like build quality, battery life, and depth of screen colour where the iPad arguably outperforms the Fire, but then, it is an advert from Amazon.
The trouble is that Amazon is one of the most visited sites on the web, the tenth most visited according to Alexa, so quite a few people are likely to see this ad. They might even go there in future to buy an iPad Mini, and then find themselves put off.
As we've pointed out before, Amazon is a big thorn in Apple's side, and it might just have got a bit bigger.
As we ramp up to the Christmas season expect things to get even dirtier. ®