Original URL: https://www.theregister.co.uk/2012/10/29/google_launches_nexus_4_10/
Google goes ahead, unveils Nexus 4 and 10
Nexus 7 updated too
Posted in Personal Tech, 29th October 2012 17:07 GMT
Google didn't wait: it has just outed the Nexus 7 with 32GB of storage and the Samsung-made Nexus 10.
The Nexus 7 line now runs from 16GB to 32GB - the old 8GB model is out, replaced by a cheaper 16GB tablet, for $199/£159, and the new 32GB unit, which will cost $249/£199.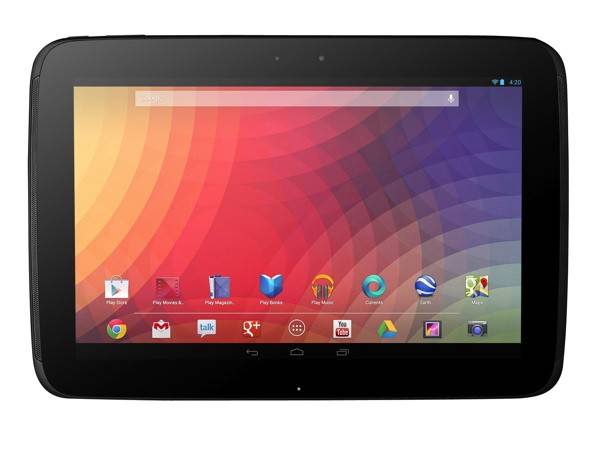 Nexus 10: Samsung made with a 2560 x 1600 screen
Asus and Google will also offer a 3G HSPA+ version of the 32GB Nexus 7 for $299/£239.
The Wi-Fi only models will be available tomorrow; the 3G unit on 13 November. All of them will sell through Google Play.
Ditto the 16GB and 32GB Nexus 10, priced at $399/£319 and $499/£389 respectively. Both come with a 10.1in, 2560 x 1600 display plus front-facing stereo speakers, a dial-core ARM chip, 2.4GHz 802.11n Wi-Fi, 2GB of Ram, 5Mp and 1.9Mp cameras, NFC and a 9000mAh battery.
Finally, there's the Nexus 4 4.7in, 1280 x 768 smartphone based, as expected, on the Qualcomm Snapdragon S4 chip and with a choice of 8GB or 16GB of Flash storage - priced at £239 and £279, respectively, Sim-free. It has wireless charging and NFC.
In a dig at Apple, Google said the 4 is the first phone able to take 360° panoramas - iOS 6 on the iPhone 4S and 5 can only handle 240° linear shots.
The Nexus 4 and 10 will run Android 4.2 - the 7 will continue to ship with 4.1. ®