Original URL: https://www.theregister.co.uk/2012/10/27/review_game_fifa_13/
Fifa 13 game review
Kicks balls
Posted in Personal Tech, 27th October 2012 08:00 GMT
Review Nearly a month has passed since EA kicked off sales for its latest Fifa release and, despite an influx of other impressive titles including PES 2013, the king of footie games remains firmly at the top of the UK charts. That's hardly a surprise in a population so grossly obsessed with the 'beautiful game'.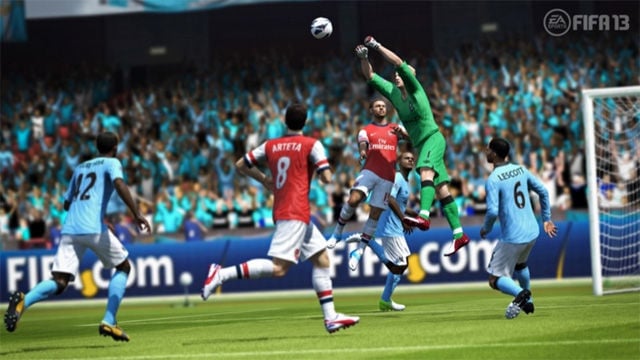 Kept alive with a Hart beat
Five or so million people rushed out to buy the game in the first week of release, most probably happy to simply refresh team kits and player attributes and officially send Van Persie-like traitors to their latest squads. There are plenty of other reasons to upgrade, though. This is undoubtedly the best Fifa yet, then again, I'll probably say that every year.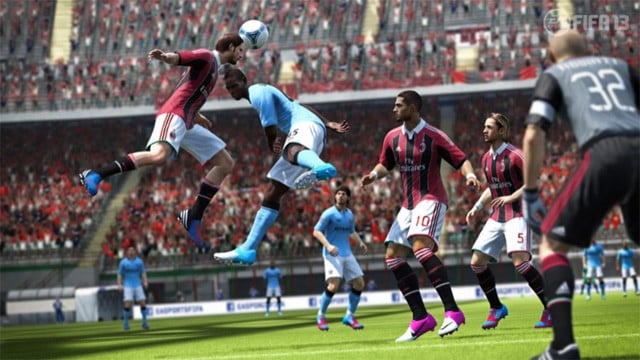 Heads and fails
Gameplay for starters feels more fluent, with player movement fabulously enhanced. Where as in previous versions, AI-controlled teammates would either jog offside too easily or fail to make the desired run at all, they read my mind much faster in Fifa 13, darting onto my through-balls as intended. There is certainly a cleverer feel to attacks.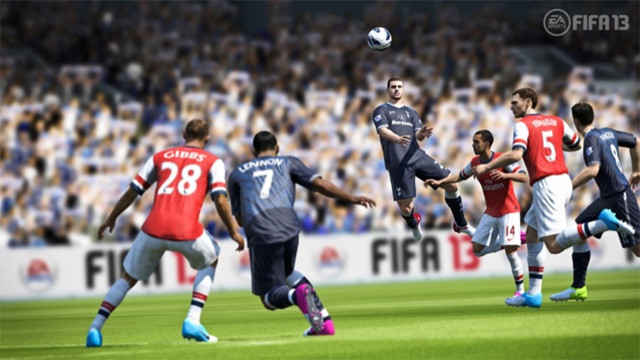 Spurred on to win
To balance this out, EA has introduced 'First Touch Control', which makes players react differently when receiving balls based on their rating, positioning and surrounding pressure. It essentially means gamers have to act with less margin for error to maintain realism; slow down, be accurate, or continuously cock up and lose control. It can be frustrating, but gives those hard-earned goals a greater sense of achievement.
Ease off the accelerator…
This new movement creates an appreciable impression of authenticity too. The ball feels its own entity, rather than an object rigidly attached to a player's radius when in possession. You need even more accuracy for passes and free-kicks are just as impossible as before. Even so, I feel far more in control of what I'm doing and less inclined to blame my controller for mistakes made. Give it a month.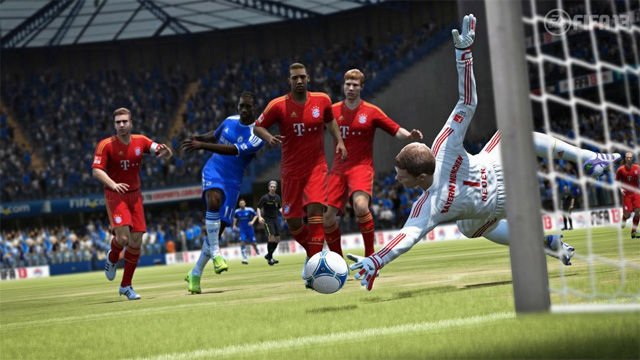 Post tip noted
The logical push to slow things down continues with the game's Tactical Defending, introduced in Fifa 12. This aspect continues to put emphasis on positioning and manual interceptions. Those who wish to pressure and tackle opponents with an secondary AI-controlled player can switch into Legacy Defending in the menu settings for that risky crowd-em-out response. Yet the game plays far better when both sides try to preserve energy and see the match out at a steadier pace. This allows for more skill-play, fun one-on-one situations and some rocket blow-your-eyes-out-the-socket goals.
Commentary, is as harsh as ever with patronising remarks highlighting how crap you are following an error. The addition of various personnel – including waffle from old wide-chops Andy Townsend and sideline injury reports from popular Sky host Geoff Shreeves – makes the whole experience incredibly believable. Some commentary inconsistencies appear and repetition soon creeps in, but the system's overall advancements are admirable. I wish there was a customise commentary option though, recording our own clips to overwrite the ones already there. Time-consuming sure, but potentially hilarious.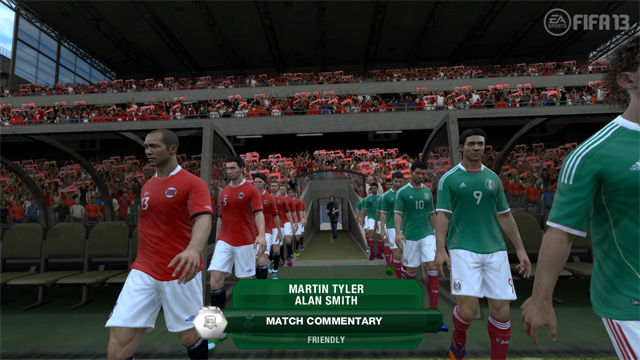 Walk of game
Naturally, someone who has never played a football title before will struggle to compete against ardent Fifa gamers, however, players can tone their skills between games like never before. Instead of simply kicking the ball around while matches load, EA has introduced a collection of skill games aimed at improving one's Fifa talent. It would be nice if controls alternated to Player 2 occasionally, though.
The training games can be accessed from the main menu too, offering a whole new mode in itself. Mastering the higher echelons of these skills is a challenge, to say the least, but you'll certainly become addicted while making it happen.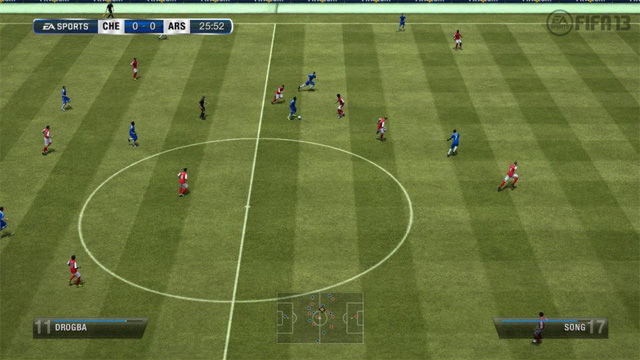 Why aren't you in China already?
Unfortunately, a few annoyances remain while churning through matches. A slow response in team management mode frustrates over the course of a season. Also, the cut scenes that gloss over any in-game loads (with close ups of a particular player), always generate impatient button bashing in an unsuccessful bid to skip. Nevertheless, I'll give the engine a little leeway for the occasional dally, particularly as there really is plenty of content to keep up with.
Mode selector
The highly-engrossing career mode returns with crazy attention to detail, featuring a greater number of pre-match press conferences and additional emphasis on what's happening elsewhere. All scores from across the league are now read out at the end of each game, which can be rather irksome. Where's that mute button? The big thing this year is that managers can now take the reins of an international club and, as you build experience, the opportunities arise to manage both in unison.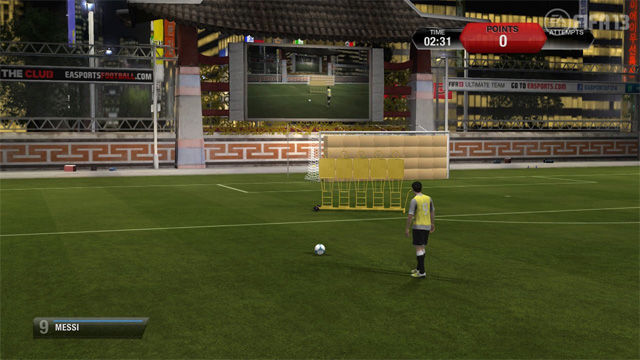 Big train
The enjoyable online modes have also been suitably boosted to provide an additional angle for achievement. For instance, in Online Seasons, players can work their way up through divisions, earning points accordingly for their head-to-head encounters. Division titles can be earned with cups proudly stored in the trophy cabinet. Nice touch.
There's still no online multiplayer option for guests to join in, although it can be achieved over a local network. If you're a Billy Nomates, though, the online modes will probably keep you bashing the pad until Fifa 14, regardless.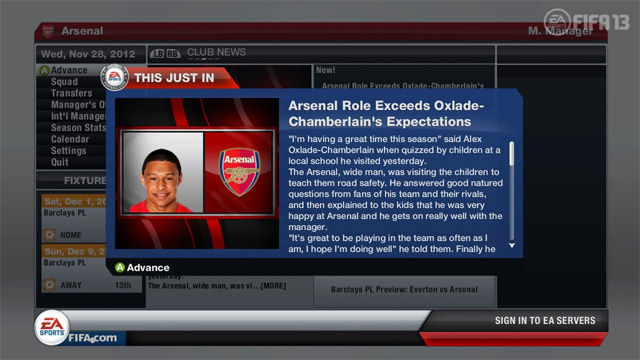 Hot on the Ox
Indeed, EA has pushed the boat out with utilising the network, updating team and player statistics as the season progresses. You can even replay your favourite Premier League matches from the weekend passed with identical squad and weather conditions, all adding to that realistic experience.
There's also the addition of Kinect and Move functionality, not that it's anything other than a gimmick to tick the feature box. I find using my pad quick enough for implementing tactics without shouting them out over my Microsoft motion sensor, but perhaps I'm just old-fashioned.
The Wii U version of the game is said to omit various modes such as Ultimate Team and lacks the same tweaks to the Player Impact Engine, tactical defending and precision dribbling made to Fifa 13 on Xbox 360 and PS3. It'll be interesting to try things out with Ninty's new slate-pad, though. I found little to separate the versions on current consoles, aside from feeling slightly more accurate with the Xbox controller.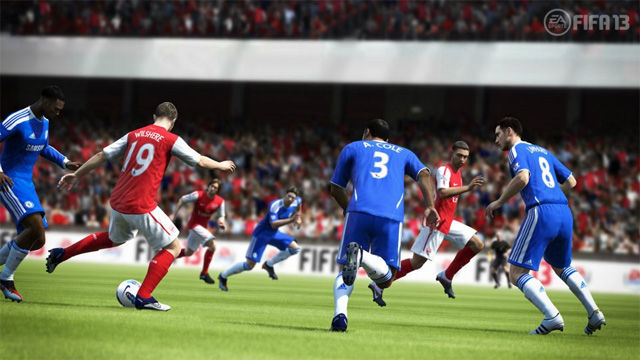 Jack, in the box...
Verdict
While the Fifa franchise is refreshed annually with marginal changes, the wealth of content is hard to discredit. Considering we're all likely to play our beloved footie game through most of the 12 months that follow release, its value can't be beaten. The tweaks continue and there'll always be more to add ahead of a next-gen graphical update. As it stands, Fifa 13 is the most realistic football game I've ever played and, as such, is worthy of serious praise. ®
More Games Reviews

Resident Evil
6
Dishonored
Borderlands
2
Guild Wars 2
Darksiders 2