Original URL: https://www.theregister.co.uk/2012/10/25/fusion_io_q1_fy2013/
Who is it that makes pots of cash from Apple and Facebook?
Putting the flash into the pan
Posted in Storage, 25th October 2012 10:26 GMT
Growth continues unabated at Fusion-io as the server flash storage hardware and software vendor reports record quarterly revenues 59 per cent higher than a year ago plus a $3.9m profit. But growth is about to stop as the economy slams the brakes on.
For its first fiscal 2013 quarter revenues were $118m, compared to $74.4m a year ago and $106.6m in the previous quarter. The profit a year ago was $7.2m but profit was up sequentially as the previous quarter saw a loss of $2.4m. Fusion-io is in a strong enough growth phase that the economic malaise affecting mature storage companies such as WD and EMC don't put a dent in its numbers.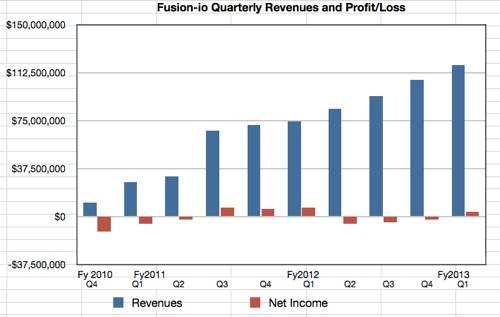 Turning to the earnings call, CEO and chairman David Flynn was pleased – his company troops did well and gained market share. Dennis Wolf, the CFO, said Fusion-io was in a healthy financial position and could continue to invest for growth.
He provided this snapshot of partner and large account sales:
We saw strength EMEA and A-Pac driven by partners HP, IBM and Dell, and our public sector business was also the strongest past quarter.

Partnerships with CISCO and NetApp are still in the early stages. We expect them to be meaningful contributors to revenue in the second half of the year. Facebook and Apple represented approximately 56 per cent of total revenue, higher than we had forecasted due to deployment schedules.

...Many of our end-user customers choose to fulfill our product through HP. As a result HP also exceeded 10 per cent of revenue this quarter. In aggregate HP, Facebook and Apple represented 70 per cent of revenue compared to 72 per cent of revenue in the prior quarter.
Interestingly HP has just indicated, background here, a flash array reselling partnership with Violin Memory,geared to building Oracle Exadata-countering systems, is not going to be extended beyond 2014 as it focusses on its 3PAR array as a flash storage platform.
Flynn discussed the server vendors in his remarks: "We are pleased to be able to support basically every major server vendor including HP and CISCO blade server systems, with special form factors of our products. No one else does this.
"With our ioTurbine, Direct Cache and ION data accelerator software products, we are pleased to be able to improve the capabilities of their storage platforms including HP's 3PAR, IBM's D series, Dell's Compellent and NetApp's ONTAP."
With regard to NetApp he said this: "To date, we've trained over 500 sales people within NetApp, they're extremely eager and rearing to go, because this expands their market addressability, allowing NAS to go more into the performance strong hold, where SAN use to have sway. So we're very excited about the relationship, but don't expect it to be material until on the second half."
Closed product smackdown
He called out Violin Memory:
Our products and go-to-market strategy are designed to complement our partners existing server and storage businesses. By contrast closed products like the proprietary flash appliance offered by Violin memory are not designed to complement, but instead attempt to replace.
He also discussed the IBM acquisition of Texas Memory Systems (TMS), some of whose products, the PCIe RAmSans, compete with Fusion-io:-
Texas Memory Systems was purchased by IBM's Storage Division for their memory appliance. We work with their server division on the flash within the server. And we think it's rather backwards-looking to be focusing on a proprietary flash appliance versus how to take off-the-shelf servers and have them perform the same role from within an open platform.

So this actually takes a would-be competitor off the market; TMS was attempting to get into the market with PCI Express devices to go into servers. But that's not what they were acquired for and we don't expect that to be a part of their business inside of IBM.
Profit margins were high as NAND cost increases were avoided through multiple NAND supply arrangements and long term purchase agreements.
Wolf added: "Longer term, we believe that our NAND cost will continue to trend down particularly with qualifying new suppliers and the move to new lithographies."
Flynn defined the company's focus as: "To drive continued growth, our key goals for the year include developing new key customers, especially in the hyperscale market, extending our technology leadership with continued innovation and leveraging ongoing investments in our go-to-market strategy through strong partnerships and a world-class direct sales team."
The outlook for the next quarter is for the economy to slow Fusion's growth right down, with revenue essentially the same as this quarter. However this is seen as a temporary blip, with full fiscal 2013 revenue growth of around 45 per cent to 50 per cent over 2012.
A single customer, probably Apple or Facebook, affected this quarter and the next, with Wolf saying: "We fulfilled approximately $10m in the first quarter to a key customer that we had originally expected to fall into the second quarter." ®