Original URL: https://www.theregister.co.uk/2012/10/24/windows_8_should_you_upgrade/
Windows 8: Is Microsoft's new OS too odd to handle?
Not ready installing on drive C: abort, retry or fail?
Posted in Software, 24th October 2012 09:30 GMT
The big question. You are happily trundling along with Windows 7 and everything is fine. Should you upgrade to Windows 8, at Microsoft's tempting price of £24.99, or $39.99, for a downloadable copy?
There is always the safe option of leaving well alone, but tell that to anyone who regretted installing Windows Vista and had to wait until Windows 7 arrived. For them, upgrading was a no-brainer: Windows 7 was faster, prettier and more stable than the previous edition. You know, the sort of thing you expect from an operating system update. But how does Win 7 compare to Win 8, the operating system that attempts to work as well on touchscreens as it does with a mouse and keyboard.
A quick straw poll on Twitter revealed a mix of delight and uncertainty. "I will definitely update my two Windows 7 machines on 25 Oct," said developer John Wright. "I really like the new user interface."
Writer Jon Hassell likes it too, adding: "I found after a week I was used to it, and now using a Windows 7 machine, I miss some things."
Not so for Chris Nahr, another programmer. "I plan to get a Surface [Windows 8] Pro but I won't upgrade on desktop because Win 8 really seems a downgrade there," he said. It's was a thought echoed by a Twitter user pretending to be a cat: "Very minor improvements on the desktop side are far outweighed by it making everything slightly more frustrating."
Designer Ian Smith commented: "I want to run one OS that's solid, not two that keep interfering with each other and appear to have been rushed to market."
No consensus then; but here is a dispassionate look at the issues. How hard is it, and what are the gains and losses?
Upgrading Windows can be painful. In-place upgrades risk spoiling the new OS with lingering problems from the off, while clean installs mean reinstalling applications - and where was that activation key again? But do you have the choice? This chart on TechNet lays out the options: you can only preserve application installs if going from Windows 7 to Windows 8 and not leaping from 32-bit to 64-bit. Most applications that work on Windows 7 still work on Windows 8 - even Minecraft, whose creator Markus Persson claimed Microsoft is "trying to ruin the PC as an open platform".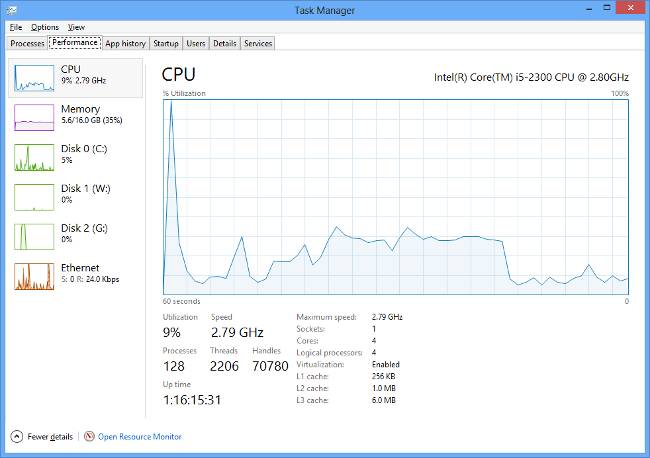 The new Windows 8 Task Manager is prettier and more functional than before
There are exceptions, especially with software that interacts with the hardware at a low level - such as drivers and printer drivers - so proceed with caution.
Presuming you have the time and patience though, there are some solid gains even for desktop users. Performance is better. Windows 8 boots faster thanks to a new hybrid between cold boot and hibernation; Microsoft claims a 30 to 70 per cent improvement. Graphics performance has also been boosted, we're told, and switching between networks is faster: small details, but my own experience with the RTM (release to manufacturers) build confirms that Windows 8 feels faster.
There are also some handy new features. One of the biggest (for those who need it) is Hyper-V, Microsoft's hypervisor for running virtual machines, which has now come to the desktop in place of the inferior Virtual PC. Another feature migrated from the server side of the OS is Storage Spaces, which lets you consolidate multiple drives into a single expandable pool of storage.
A new Task Manager is both prettier and more powerful. Explorer has a ribbon UI, which has received a mixed reaction though it is better at exposing all the options, and there is a new dialogue box during file copying that shows all the underway transfers with options to pause and resume them.
These are nice though not game-changing improvements, so why the controversy? The problem is Microsoft's decision to bolt a new touch-friendly platform onto Windows. The Start menu is replaced by a Start screen, and desktop users find their computing interrupted by full-screen apps with huge fonts and hidden menus and settings.
Windows 8: Painful, incoherent - all words Microsoft doesn't want to hear
First steps with Windows 8 are usually painful and disempowering for users skilled with Windows 7 and earlier, and some things are worse than before even once you are used to it. The biggest issue is nothing specific, but rather a sense that the operating system is less coherent than before. The classic desktop user interface cannot really be dismissed as a legacy feature, because that is where all the applications we want to run live, making it inevitable that users will either live in the desktop and regard all the new Windows Runtime side as annoying clutter, or at best suffer jarring transitions when switching between the two.
By way of mitigation, the long list of things that users think are harder in Windows 8 dwindles to almost nothing after analysis. A right-click in the bottom left corner, or Windows key and X, shows an administrative menu that gets you to things like the Event Viewer or an administrative command prompt quicker than before.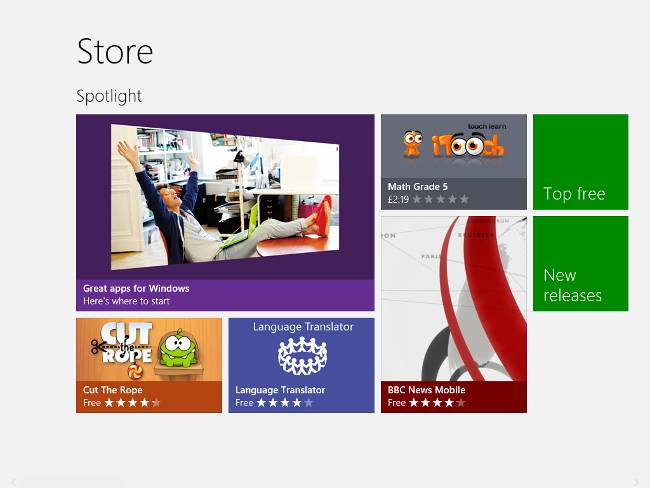 Windows 8 apps: the real reason for upgrading, but still thin pickings
The Windows 7 list of recently opened documents is missing, but right-clicking on an application pinned to the taskbar usually shows one. Even the new Start Screen is not as bad as it first appears, with fast searching and new grouping options that with effort make it work as well or better than before.
Some things are annoying long-term though, like the power button that is hidden on Settings that is hidden on the Charms bar - the new right-hand menu with Search, Settings, Share and other options. Showing the Charms bar is awkward with mouse alone, especially on multi-monitor setups, since you have to move the mouse to the right or left corner of the screen without straying too far into the next display, though you can use the rightmost display to get around this.
The bottom line is that upgrading for desktop-only users is a mixed experience; there are real benefits, but getting to the point where you can enjoy them will not be worth it for everyone.
It is important not to lose sight of Microsoft's goal with Windows 7, which was to make a version of Windows that works well with touch and to establish a new app ecosystem based on the new platform and store. Currently there are about 3,000 apps in the online software shop, but real excellence is hard to find. That said, the experience of installing and removing apps via the store is a pleasure and far removed from the hassles of Windows Installer setups.
Here, then, are the real reasons for upgrading. One is to use Windows on a tablet, where the new version works far better than before even for desktop users. The other is to run new-style apps. Will there be many worth running? That is the question; but given the distribution that Windows 8 will get as the default operating system on new PCs and laptops, there probably will.
You can also expect the howls of dismay from users trying Windows 8 for the first time to quieten eventually as world+dog gets more used to Microsoft's latest effort.
Despite all that, immediately migrating an office of contented Windows 7 users quietly getting on with their work would be a courageous (that is, stupid) decision. The upgrade is worth it, if you can live with a little oddness, but not something to take on lightly while Windows 8 is still unfamiliar to most. ®