Original URL: https://www.theregister.co.uk/2012/10/24/datacore_picture/
Can a 'one-trick' software firm survive in era of converged engorgement?
Staff-owned software SAN appliance firm DataCore on why it's the last man standing
Posted in Storage, 24th October 2012 10:43 GMT
Why is DataCore the only dedicated software SAN virtualisation appliance vendor left standing? The answer lies in a skewed revenue geographic model, staff majority ownership of the company and a fair amount of luck.
It's also down to a solid product, though other companies with great products have failed where DataCore did not.
DataCore has absorbed $100m worth of funding and developed nine generations of storage virtualisation software – which it calls storage hypervisors – while other software storage virtualisation developers have withered and died in the face of storage array and server vendor selling their own storage virtualisation software paired with hardware; IBM's SAN Volume Controller (SVC) for example. How has DataCore managed to prosper - it has prospered - and survive in the face of such competition? The answer lies in the unique nature of the company and its founders.
DataCore was founded in 1998 with the realisation that a SAN disk drive array was, or could be, an X86 server running drive array controller code, using its attached storage and presenting as virtual disks of networked, block-access storage. Customers could buy standard servers, provision them with commodity disk drives, and so have freedom of choice rather than being restricted to storage array manufacturers' disk drive prices, often quite high, software licensing and functionality. They can also buy external storage arrays and have DataCore's SANsymphony software control them too. Thus DataCore helped pioneer the SAN virtualisation appliance idea.
SANsymphony, a storage hypervisor as DataCore views it, and its associated products support a variety of server operating systems and hypervisors, and provide modern SAN array features such as virtualisation, high-availability and thin provisioning. It can run in a dedicated server or as a virtual machine and there are more than 6,000 DataCore customers with more than 20,000 software licenses bought.
DataCore situation
However, in this era of customers increasingly wanting simplified purchase and operation, what are the prospects for suppliers like DataCore that offer a single component of a system? Converged server/storage/network systems are being produced on the one hand, and cloud storage services being offered on the other, while flash-enhanced servers are offering faster-than disk storage IO – in this case storage array controller software. Will end users continue to buy DataCore's storage controller-only software in the face of simpler all-in-one converged systems, as an alternative to remotely-accessed storage "in the cloud" with no need for on-premise storage arrays, and as a way of delivering data over the network when servers with flash storage get it much faster?
Storage and server vendors are introducing Virtual Storage Arrays (VSAs), storage array controller software running in a server and using disks connected to that server as a SAN resource. This is the core of what DataCore is doing and so a new avenue of competition is opening up.
Storage array vendors are also introducing flash caches in connected servers that cache hot data from their SAN arrays and so provide faster data access. EMC's VFCache is typical of his approach. What are DataCore's responses to these challenges?
At a press briefing in DataCore's Fort Lauderdale HQ we heard about DataCore's situation, strategy and prospects from CEO and founder George Teixeira and chairman Ziya Aral.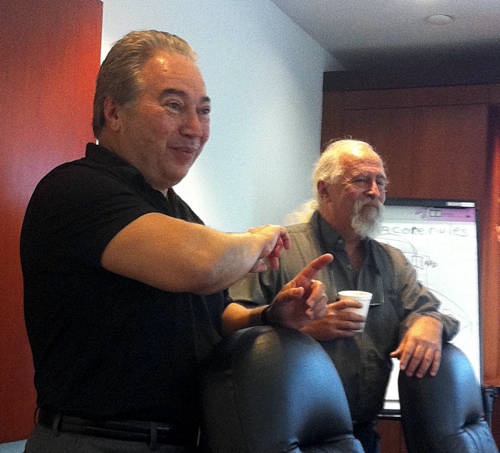 Datacore CEO George Teixeira (left) and chairman Ziya Aral (right)
Founding and funding
The DataCore story starts with Massachusetts-based Encore Computer Corporation, a pioneer of parallel processing systems along with Pyramid and Sequent. George Teixeira was VP and general manager of the product business unit and Ziya Aral its VP for engineering and the chief technical officer. Encore bought the Fort Lauderdale-based Systems Engineeing Labs from Gould in 1989, with its line of 32-bit computer-based products and control systems for NASA. It then built Infinity-90 storage devices for Unix, Windows and mainframe computers, using a reflective memory design that enabled SAN (Storage Area Network) functionality; the storage device could be shared by accessing servers.
Encore's storage products group was sold to Sun Microsystems in 1997 for $185 million, with some 200 employees going with it, and Sun sold the storage product as the A7000. It didn't last long and was dropped. After Sun bought the storage products group both Teixeira and Aral left, with Teixeira founding DataCore in Fort Lauderdale, Florida, in February 1998.
The great problem for us has always been the US. [I] think we're seeing headway.
Aral joined as chairman and other Encore-era colleagues of the two joined in as well, a dozen in all. They worked with no pay until the January 1999 infusion of nearly $8 million angel investment and venture capital funding.
DataCore built on the Infinity-90 idea but, having been burnt by HW vendors dropping products, they decided to make a software SAN product that wasn't dependent on HW vendors and their components. Luckily they picked the X86 processor environment and have ridden the rising power curve of that most successful of all microprocessor products ever since.
The first SANSymphony product was released in 2000 and it's been successively revised, extended, and developed ever since.
Teixeira noted elsewhere that in earlier years "IBM resold DataCore, Hitachi invested and did an OEM deal with DataCore years back and we did OEM deals with NEC and Fujitsu. IBM and Hitachi now have their own storage virtualisation products".
Fujitsu also invested in DataCore, like Hitachi, with both wanting to learn about thin provisioning. IBM resold DataCore SW to learn about storage virtualisation according to Teixeira.
SAN virtualisation start-ups mushroom
Around this time, SAN virtualisation start-ups and technologies emerged, all being SW or H+W that ran in the SAN fabric, at its edge or in a storage array controller to virtualise multi-vendor SAN storage and present it as a a single virtual pool. IBM had, and still very successfully has, its in-fabric located SAN Volume Controller. HDS had its virtualising USP array. Israeli start-up StoreAge ran in an appliance in the fabric. EMC had its Invista product. Cisco had something going with Incipient's iNSP SW which ran in Cisco fabric switches. FalconStor had its technology. Brocade had its Rhapsody product
Effectively they all bombed – except HDS's USP, IBM's SVC and... DataCore.
StoreAge was bought by LSI for $55m in October 2006 and put inside Engenio, its storage array business, calling it Storage Virtualisation Manager. HP signed on as an OEM but then, for reasons that are still not clear, the deal collapsed, the StoreAge SW was effectively abandoned (background here) and Engenio was sold to NetApp.
EMC's Invista quietly slid away and died. FalconStor moved into data protection with deduplication, virtual tape libraries (VTL)and continuous data protection (CDP). Rhapsody disappeared. Incipient just faded away, leaving a website shell.
There is only one viable software SAN virtualisation product available today and that is SANsymphony. HDS has pressed on with the USP but this is primarily a storage array which can virtualise other storage arrays. NetApp has its V-Series which does the same thing; provide the vendor's storage bring in competing vendor's storage. IBM's SVC was completely separate from storage products and was the only in-fabric pure SAN virtualisation product left. It is now appearing as part of the StorWize V7000 array's functionality and, if the promise of FCoE is realised, will have a limited future, possibly, as an in-Fibre Channel fabric SAN virtualisation device.
Last SW SAN appliance man standing
So, effectively, again, DataCore's SANsymphony is the last SW virtualising appliance left standing. How has DataCore pulled off this trick, survived and prospered, though not to an IPO or to being acquired, when everyone else – except big hardeware vendors HDS, IBM, NetApp and latterly EMC also with VPLEX – has given up the SAN virtualising ghost?
Firstly, the product is good; it does what it says it does on the box. DataCore nodes can be clustered and full continuous data protection (CDP) is provided. Secondly, DataCore has been good at tactical selling alliances, teaming up with fast networked storage vendors like Xiotech (X-IO now) and Texas Memory Systems, each with HW to sell and no data management or controller software, but not to the exclusion of forgetting its reselling and system integrator channel. It's done the OEM thing, but also not to the point of becoming utterly dependent on OEMs so that when they went away so did its business
Thirdly, and fourthly, in El Reg's view, DataCore has survived because the majority of the shares are not owned by the backing VCs, and the company is run by and its culture looked after by a group of long-term employees. It has the atmosphere of a family business with no grandstanding, privileged, executive office suite grandstanding by the execs. This isn't a Harvard Business School textbook example of how to run a lean, mean, ruthless corporate efficiency machine using the Mark Hurd rule book.
'Family' business
Nope, folks, think of the Bonanza TV Series back in the '90s and the Cartwright family in their Ponderosa Ranch. Look at DataCore – founded, settled and operating in Miami, well-clear of the hyped-up IT startup silicon valley, or the Boston-New York east coast IT axis. This is Fort Lauderdale too, a million miles away from any trace of Miami Vice froth; think Miami Nice instead.
The key event in this reading of DataCore's independence and longevity was in 2005, a hard year revenue-wise, when the DataCore execs and many of the staff raised cash again and bought out some investors to gain control of the company. In 205 and 2006 the venture capital backers lost interest, so Teixeira, Aral and other employees mortgaged their houses and bought them out, with only one left. Two VCs put invested $35m later, in 2008, and received a preference share stake.
Another point is that EMC (Invista). Brocade, LSI and the other hardware vendors that exited the general SAN virtualisation market did so because it wasn't a big enough market for them. HDS and IBM had their own customer bases sewn up and it was to difficult for Brocade, LSI and EMC, with Invista, to make any sort of worthwhile progress. DataCore perhaps had less high of a hurdle to get over, from the investment ROI angle, and its staff were more committed to their product than EMC or Brocade or LSI, where storage virtualisation was a minor thing in their overall scheme of things.
Revenues and IPO
DataCore's revenues are skewed towards Europe, with two-thirds of its business coming from that geography, with 10 per cent from Asia-Pacific and just 24 per cent from the USA. This is the opposite of most US storage start-ups, indeed of most US IT start-ups. It has given DataCore a revenue bedrock that US market-focused competitors haven't been able to tap, which must have limited their revenue growth and hastened their exit from the market.
This revenue skew came about because of the dot-com crash, which found DataCore selling direct in the USA and encountering sales resistance with customers reluctant to buy from a small and unknown company. It set up a distribution channel in Germany in 2007, which was very successful with growth rates of 80 per cent a year or higher. It extended this beach head with an office in France, more in Germany and also in the Netherlands. AS a result there are some 500 hospitals in Europe that use SANsymphony. Today all of DataCore's sales are through the channel by the way.
Aral said: "I believe we've hit critical mass in Germany, Switzerland and Austria, and will hit it soon in other European countries. We're beginning to see large iconic deals in France and we have good hopes for Italy and Spain."
"The great problem for us has always been the US. There we're seeing headway … In the US there is a great deal of confusion in the storage market. The channel is not trusted in the same way as in Europe. Many channel members are vendor-specific." "
Would DataCore go public now? The execs say that they take a three year or so view, with a $100m annual revenue run rate being the level at which an IPO would be conceivable.
RAID and mirrors? The structures will become figures of speech
What about convergence, virtual storage appliances, flash-accelerated servers, and the cloud? DataCore will tweak, tune, optimise and develop SANsymphony to take account of them all and deliver what it has been focused on all along; a virtualised pool of SAN storage delivering data to servers in a fast and protected manner. Read how SANsymphony 9.0 responds to the cloud here.
A virtual storage appliance is a storage controller running as a virtual machine. SANsymphony can do that and provides a wider set of features than some VSAs which are limited in their functionality. The cloud is another storage tier or tiers and SANsymphony can deal with that. The company also has a cloud service provider program with providers renting the SW instead of buying it.
A converged system combines storage, server, networking and hypervisor in one overall system. DataCore has no alliances with mainstream vendors to take part in things like EMC Vblock and VSPEX systems or NetApp/Cisco FlexPods or the HDS UCP. This is a challenge yet to be taken up by the company but it will obviously play nice with any vendor os system integrator that wanted to build a converged stack.
Flash-accelerated servers use either a flash cache, which a DataCore SAN can feed with data, or a networked flash array which sits logically in front of any disk-based SAN. It is the disk-based SAN which is the heart of DataCore's turf. Having a separate flash array in front of that SAN is putting a separate storage silo in place and DataCore says its system builder program provides a way for its capacity storage to be combined with flash storage. SANsymphony auto-tiering can move data to/from flash storage and its DRAM caching can spit data out to servers fast.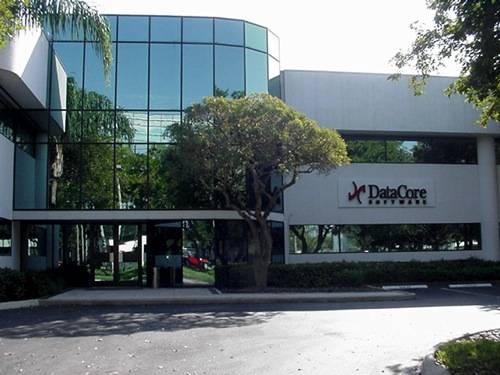 In fact, the company says, if DataCore's SW runs in the flash-accelerated server then its DRAM caching makes the machine go faster.
Product feature and storage futures
Aral said DataCore has no intention of adding deduplication to SANsymphony, as it requires resource-sucking indices. Clustering will expand from the four supported nodes now to eight or 16 later this year and then go higher. We might see 128 nodes revealed as a target next year.
He thinks that Big Data is going to have to prompt a major change in storage: "We are looking at breaking the structures - volumes, LUNs, virtual disks, etc. - we are at the limits already. All of that has to go away. … We will have to go to "one big disk" and probably stop calling it a disk. It will be part solid, part spinning, part local and part remote."
Aral thinks there will be a series of innovations in the next three years to answer this need: "We will not see single disk drives." Protection will move away from RAID and mirrors and "the structures will become figures of speech."
RAID may get replaced by erasure coding. "Eventually we'll be able to do mirrors that are based on CDP instead of real mirrors, compressible queues of CDP data stamps," and "we could add asynchronous deduplication to [such a] mirror."
He isn't sanguine about the future of object storage, saying: "It won't be a commercial success without major new innovation." He doesn't see it becoming the third leg of the storage stool alongside file and block.
The move to direct-attach storage (DAS) is a retrograde step with one issue being speed-matching of DRAM, SDDs and disk. DataCore SW must run locally on the servers, like the hypervisor, as well as on the SAN.
SANsymphony v9.1 will come out probably in the first quarter of next year and provide more scaling, reporting and management. A Windows 2012 release candidate will be available by the end of November with Windows 2012 support ready in the first 2013 quarter.
Where does all this leave us? DataCore is heading towards 25,000 licences and has track-record of sticking to its multi-vendor SAN virtualisation knitting and delivering cost-effective and full-featured software that is better than major vendors – SAN virtualising products for its customers.
There is no reason at all to suppose it won't carry on doing exactly what it has been doing, which is growing revenues at 30 per cent a year , hitting $100m in annual revenues around 2015/2016, and staging an IPO –, no reason at all that is, unless converged system sales take off like a rocket at all levels of business and blow multi-vendor, best-of-breed component sales out of the water. No, we can't see it either. ®