Original URL: https://www.theregister.co.uk/2012/10/23/telerik_icenium_launch/
Telerik uncloaks Icenium cloudy mobile app dev suite
Build iOS apps with no SDKs and no Mac
Posted in Software, 23rd October 2012 01:26 GMT
Tools vendor Telerik has unveiled a new, cloud-enhanced development environment aimed at making it possible for coders to build cross-platform mobile apps without juggling multiple software development kits (SDKs) and build environments.
Called Icenium, the new tool allows developers to build sophisticated mobile app UIs using HTML, JavaScript, and CSS, then deploy them as hybrid apps for both Android and iOS through the aid of Telerik's cloudy source code hosting and build management services.
Telerik is calling Icenium an "integrated cloud environment," an idea the company says replaces the traditional concept of the integrated development environment (IDE).
In an interview conducted at The Register's San Francisco offices, Telerik executive VP Doug Seven explained that although nearly every other category of software has been moving toward the cloud, so far IDEs have been the notable exception.
"Modern IDEs include everything you need, but they're all local," Seven explained. In addition to the code editing and debugging environment itself, he said, developers must also install all of the SDKs and frameworks needed for the platform they want to target.
That can add up to a lot of software to manage. According to Seven, the current version of Apple's Xcode IDE for building iOS apps clocks in at around 1.6GB. The problem is only compounded when developers want to target multiple platforms, because they often have to install an entirely separate tool stack for each mobile OS.
Icenium aims to change that by allowing developers to ignore the hassles of managing their build environments and concentrate on creating their apps.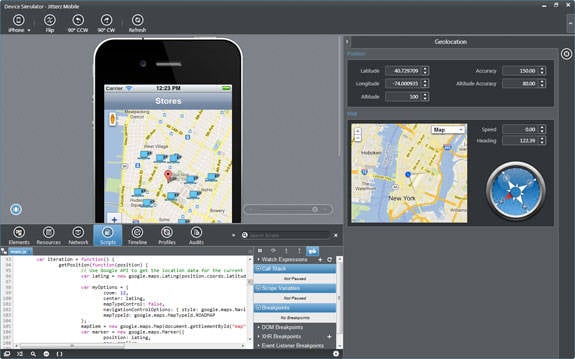 Icenium Graphite offers integrated code editing, debugging, and simulation of cross-platform apps (click to enlarge)
"We built a coding environment for developers that provides them all of the advanced tooling that they're used to – things like statement completion, refactoring tools, the things that make writing code easy – then took that ugliness of SDKs and big bloated chunks of stuff and put them into the cloud that we will manage," Seven said.
With Icenium, Android developers don't need to install Eclipse or the Android SDK, and iOS developers don't need to install Xcode or even own a Mac. Instead, developers for both platforms do all their code editing, debugging, and project management within the Icenium environment.
Taking mobile app dev to the cloud
To be precise, Icenium offers two different, but similarly featured development environments to choose from. One is Mist, a completely web-based tool that offers simple code editing and project management capabilities and does not install any code on the local computer.
The other is Graphite, a more full-featured development environment that adds additional code formatting, navigating, and refactoring capabilities. This version has to be installed, but as Seven pointed out, the Graphite client is only around 10MB of code, compared to the gigabytes that have to be installed with traditional IDEs.
Even when using the Graphite client, however, Icenium development is fundamentally cloud-connected. Projects and source code are saved on Telerik's servers, rather than the local computer, and they are managed using simple, Git-based version control.
For larger development teams and projects, Icenium can also synchronize files with any other Git service, including a private one, as long as it can be accessed from outside the firewall.
Because Icenium projects are hosted on Telerik's servers, the actual build process takes place in the cloud, too. Telerik assumes responsibility for making sure it's up-to-date with the latest versions of the Android and iOS SDKs and their associated frameworks. All developers need to do is save their code to the cloud and press "build."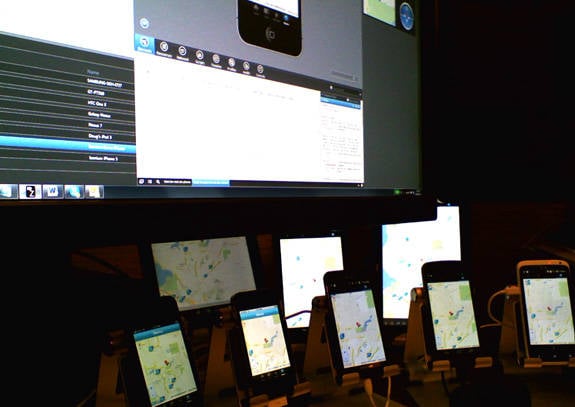 Icenium Live Sync demo showing multiple devices displaying synchronized UIs over USB (Source: Telerik)
One of Icenium's greatest strengths, however, is that developers don't actually need to deploy their apps to find out how they will look on a variety of devices. Graphite and Mist each include a configurable device simulator that can show how app UIs will look on various screens and form factors, right on the PC screen. Right now, each simulator supports one smartphone and one tablet profile for both Android and iOS, but Seven says Telerik will add more device types as time goes on.
Once an app is looking good in the simulator, Icenium makes it easy to test it on actual devices, too. Using technology called Icenium Live Sync, developers can use Graphite to deploy their apps to multiple devices connected to their PCs via USB. Then, as they adjust their code, the displays on all of the connected devices automatically update to reflect the new changes.
The web-based Mist client offers a similar, though less instantaneous testing process. It can't push the latest app build to devices the way Graphite can, but development versions of Icenium apps allow the user to tap on the device screen with three fingers to pull the latest code changes down from Telerik's servers.
A separate technology, Icenium Ion, enables similar auto-updates on iOS devices, allowing test versions of apps to be deployed over-the-air, bypassing Apple's App Store.
Web developers wanted
What really makes such rapid, iterative development possible, however, is the fact that Icenium apps are written primarily using HTML, CSS, and JavaScript. Thus, the overall process of developing Icenium apps is remarkably similar to that of building web apps – something Seven says is entirely intentional.
"We think web developers will be the primary target," Seven told The Reg. "They tend to be more opportunistic than other developers. They're our primary audience, or at least our early adopter audience."
Some developers will worry that the hybrid app development style won't give them all of the performance or capabilities they need. But Icenium takes advantage of the Apache Cordova framework to give JavaScript developers access to device-specific features, such as cameras and sensors, without resorting to native code.
What's more, developers of hardcore games and similarly performance-intensive apps were never really Icenium's intended audience, Seven explained. Companies whose primary business is in devices will probably always choose native development, he added, while Icenium makes it possible to accelerate mobile app development for companies for whom devices are only a sideline.
For now, Icenium offers only limited assistance in publishing finished apps to Apple's and Google's respective app stores, although Seven said Telerik's goal is to "get to a wizard kind of approach" eventually.
One thing Icenium can do, however, is aid in digitally signing apps for submission to the iTunes Store. Ordinarily, developers need to run an OS X application to sign their apps, meaning they needed a Mac to complete that step of the process, if nothing else. Icenium can generate the appropriate signatures automatically, meaning that, for once, app developers can actually deploy to iOS without owning any Macs at all.
In fact, Icenium developers might be better off without one, at least for now. The Graphite client is currently Windows-only, meaning OS X users are stuck with the web-based Mist client.
On the plus side, Mist will even run on an iPad or any other device with a large enough screen and a standards-compliant browser. On the minus side, it lacks valuable features from Graphite and it pales in comparison to the capabilities of any modern IDE. Seven said an OS X version of Graphite will be made available next year.
Icenium's mobile OS support is also somewhat limited. For now, Android and iOS are the only platforms supported, although Seven – a former Microsoftie who spent several years on Redmond's Visual Studio team – says Windows Phone 8 is not off the table. The main challenge there, he said, would be adapting to WP8's radically different user experience.
The full Icenium suite is available beginning on Monday, including Graphite, Mist, Ion, and unlimited project hosting on Telerik's servers. As a promotion, Telerik is offering the whole shebang free of charge through May 1, 2013.
After that, the suite will be offered via a software-as-a-service (SaaS) model, which Seven said he expected to cost around $20 per developer, per month. Eventually, Seven expects the company to move to a tiered pricing model, with advanced features for enterprise customers offered for a higher fee, though he wouldn't share any specifics.
Nor would he disclose what was planned for the next iteration of the product, now that the veil has been lifted and Icenium has been made public. All El Reg could get from Seven – whose official title at Telerik is "Executive Vice President, Black Ops" – is that there remains "secret stuff" in the works. ®