Original URL: https://www.theregister.co.uk/2012/10/22/apple_ipod_touch_fifth_generation_2012_review/
Apple iPod Touch 5G review
Super, sexy media star about to be killed by cheap tablets?
Posted in Personal Tech, 22nd October 2012 07:00 GMT
It's fitting that this is the fifth generation of the iPod Touch, because what you've got here is, in effect, an upgrade almost as ambitious as the recently launched iPhone 5.
Like the iPhone 5, the new Touch has had a bit of a growth spurt, stretching just over a centimetre to accommodate a larger 4in, 1136 x 640 "Retina" display. It's thinner too, slimming down to just over 6mm thick and dropping 13g of weight in the process. To be honest, it feels a bit lightweight and flimsy when you first pick it up, but the new aluminium casing – carved, like the MacBook laptops, from a single sheet of the metal – should be tough enough to cope with a few knocks in a backpack.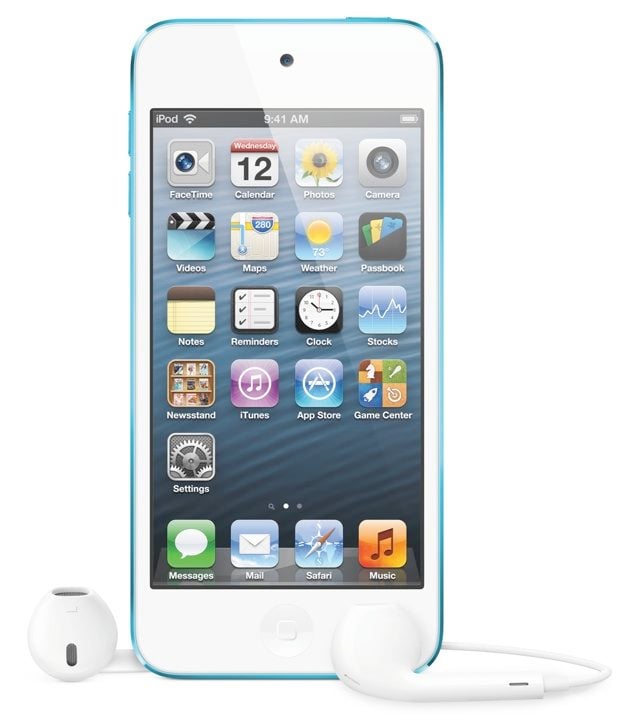 iPod Touch: neither phone nor tablet
And though it's not scratch-proof, it's not going to graze anywhere near as badly as the chrome-backed Touches of old.
The new screen is visibly better than the previous Touch's screen, offering not merely more pixels, which is nice enough, but also greater colour saturation and an even wider viewing angle. Using in-cell technology to reduce the number of layers that have to be bonded together to make the IPS LCD panel brings the image closer to the front of the Touch.
Like the new iPhone and iPod Nano, the Touch now comes with a pair of Apple's new 'earpods', albeit without a mic and control pod. These do provide better audio quality than their predecessors, but I still prefer to use a decent set of cans when listening to my music – so out came the Iron Fist headphones from Motorhead. The 32GB model I tested was large enough to accommodate my entire music library in 256Kb/s AAC format, and my collection of shamelessly 1970s rock and pop sounded great through the Iron Fists.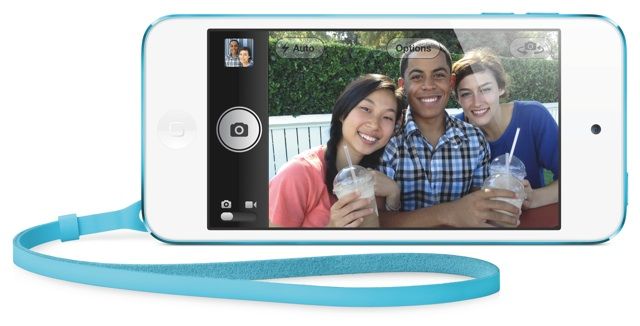 The bundled wrist strap will appeal to the Touch's youthful audience... but will the price?
The iPod's Bluetooth support – now updated to Bluetooth 4.0 – worked just fine with the Altec Lansing wireless speakers that live in my bedroom. Handy that, since, the Touch has Apple's new Lightning connector, which is incompatible with speakers sets like mine unless you cough for a £25 adaptor first. Wireless audio means you don't have to.
The Wi-Fi side of things has been updated too, adding support for the 5GHz to the regular 2.4GHz. Nice, that, for folk with dual-band WLANs - the higher-frequency band is less interference prone than 2.4GHz. But it's not a must have upgrade. Apple favours audio to be streamed over Wi-Fi, but I didn't have any AirPlay speakers to test the Touch this way.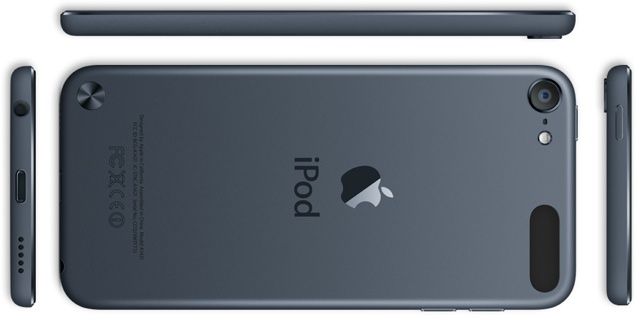 It is very thin
Music is all very well, but games have really been the killer app for the Touch. With that in mind, Apple decision to update the processor to use its own dual-core A5 chip will make the new Touch more tempting for owners of older models. The clock speed is unspecified, but reports online suggest it's the same 800MHz chip found in the iPhone 4S. Apple says that graphics performance is as much as seven times greater than that of the A4 processor in the previous Touch, while general CPU performance is 2x greater. It certainly feels very snappy when flicking from screen to screen and launching various apps. Web browing with Safari felt faster and smoother too - the 5GHz Wi-Fi does have some advantages - and 3D games such as Infinity Blade II and Need For Speed run more smoothly than before.
Good at games
Aware that the iPod Touch is used by a lot of young 'uns, Apple has thrown in a little rubbery wrist-strap with this model. I wouldn't recommend swinging the iPod wildly around your head - the pop-up catch isn't that strong - but the strap should at least prevent you from dropping the iPod when you're holding it up to use the camera.
Which has also had a big boost, the main snapper gaining an LED flash and stepping right up from 0.7Mp to 5Mp for stills and 1080p for video. The front camera has also been upgraded from 0.3Mp (VGA) to 1.2Mp for stills and 720p for FaceTime video conferencing. Those specs make it an ideal replacement for ageing Flip-style camcorders, and when I took it out on a grey October morning, it produced brighter images - and seemed less susceptible to shaky-hand syndrome - than the older models I brought along with it.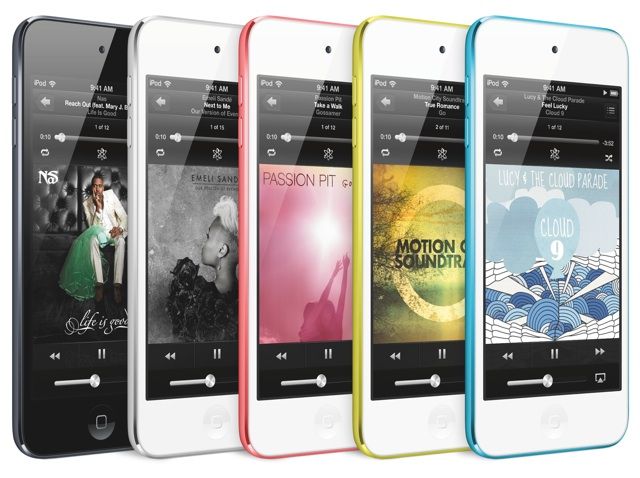 Inevitably multi-coloured
It's certainly fine for the quick point-and-shoot snaps people take with phones and compact cameras. And, with iOS 6 on board, the Touch also gains goodies such as the new Panorama shot option. It even gets Siri too, though it requires an internet connection, a real limitation for a Wi-Fi only device. It's a gimmick.
Apple rates battery life for video playback at eight hours – up from seven hours on the previous model – with music playback staying steady at 40 hours. I tried the iPod Touch on and off for three or four hours to simulate listening on the way to work and back home again. With the standard earphones plugged in, the modest drop on the battery meter suggests that those claims aren't exaggerated.
There have been some shock-horror stories on the net complaining that the new Touch no longer has an ambient light sensor, dropped because there was simply no room inside the slimmer casing. I can't say that occasionally having to adjust the brightness manually strikes me as a step back into the stone age.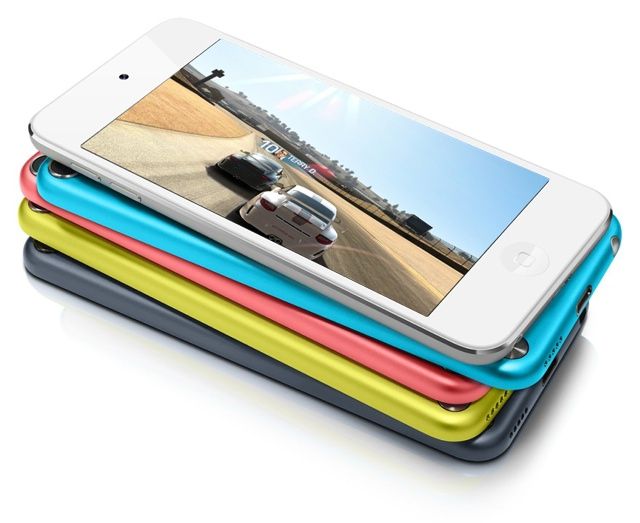 Still a great games machine
I was, however, somewhat annoyed to discover that you can't buy this fifth-gen model with 8GB or 16GB of storage, as you could with previous models. That means you have to jump straight in at £249 for a model with 32GB; £329 if you want 64GB. There's a reason: Apple still has stocks of 16GB and 32GB old Touches to get rid of, for which it's now charging £169 and £199, respectively.
Verdict
The new iPod Touch is improved in almost every way, and makes a terrific portable entertainment system for music, video, photography and games. But at this sort of price I'm not entirely sure who it's aimed at anymore. Apple-loving adults will probably prefer an iPhone – which also allows them to spread the price over a two-year contract. Previous models with a sub-£200 price tag will stay popular as a present for kids, but the decision to set the starting price for this new model at £249, at a time when you can get a 7in tablet for £160, is really stretching the Christmas spirit to the full. ®
More Media Player Reviews

Apple
iPod Nano
Apple
iPhone 5
Samsung
Galaxy Note 2
Samsung
Galaxy S WiFi 5.0
Apple
iPod Shuffle 4G