Original URL: https://www.theregister.co.uk/2012/10/19/rumoured_google_tablet_shown_in_picture_data/
Iffy image said to signify incoming 10in Google tablet
'Nexus 10' eyed in EXIF data
Posted in Personal Tech, 19th October 2012 09:38 GMT
It's thumb and forefinger sodium chloride collection time, perhaps, but a photo has turned up on Google's Picasa picture-sharing site that was taken on a device called the Nexus 10.
The reference to the device is embedded in the image's EXIF photo metadata. The picture, uploaded on 15 October, is of a rather blurry multi-colour wallchart.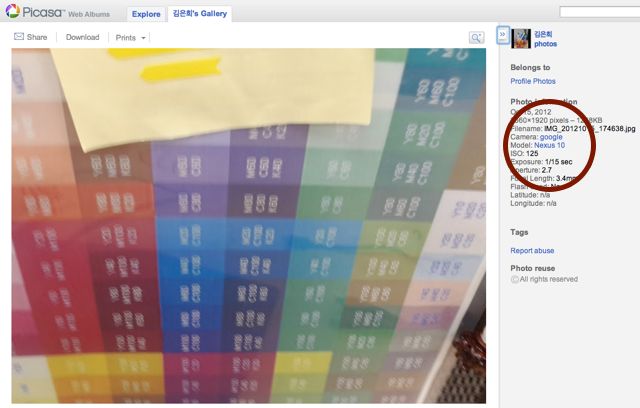 In fact, it's so poorly shot, and with such a seemingly pointless subject, as to suggest the snap has been put there deliberately to host fake metadata. EXIF information is not difficult to overwrite, and the emphasis on the device name says to us that this is a cheat.
The only hint at authenticity - and it really is only the merest of hints - is that the picture was uploaded by a South Korean. A Samsung employee showing off, perhaps? That's not sufficiently strong evidence for us.
The snap is 2560 x 1920. Some observers have lept to the conclusion that this is device's screen resolution, but surely it's the from a 5Mp camera?
Google is hosting a Google Play-themed event on 29 October in New York at which it's entirely possible it will announce the already confirmed 32GB Nexus 7 tablet and, some pundits have suggested, a 10in model. Unless, of course, Google wants folk after screen sizes larger than seven inches to opt for its Chromebook 11.6in notebook?
We shall see. ®