Original URL: https://www.theregister.co.uk/2012/10/19/review_game_resident_evil_6/
Resident Evil 6 game review
It's bite night tonight in a horrorfest sporting an impressive engine
Posted in Personal Tech, 19th October 2012 07:00 GMT
Review What a dumbfounding series Resident Evil is. First, we have the innovations – popularising the survival horror genre for one. Then later, perfecting the third-person shooter camera, before taking environmental interaction to new heights. The game even led the way in cooperative campaign mechanics. But then there's the series' bizarreries – and I'm not talking its roster of mutated freaks and shambling undead.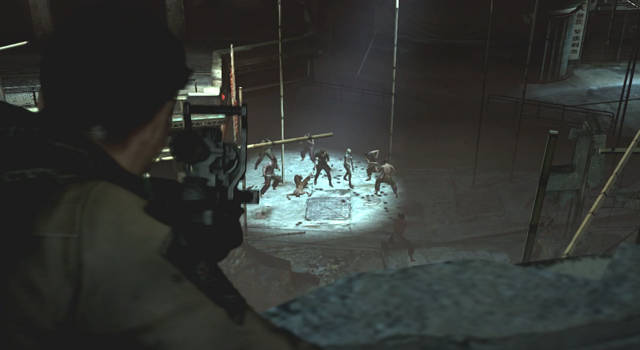 Long shot
The most infamous of these quirks is the aiming mechanics which, up until Resident Evil 4, prevented our all-action heroes from moving and shooting at the same time. Lest we forget the continued over-reliance on boss fights, which go on long past their relevance or ability to shock, as transformation after transformation of said boss, tests the patience more than your trigger finger.
Elsewhere, current examples such as Resident Evil: Revelations on 3DS have taken the franchise's sprawling narrative to all new levels of madness too – to the point where most will be tempted to simply bypass cut scenes vaunting 'Bio Organic Weapons' in awkward voiceovers.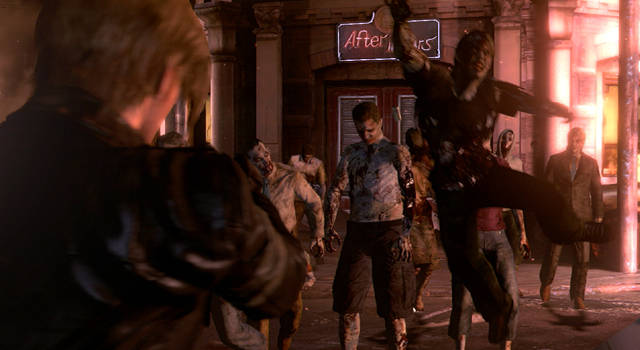 Dead can dance
These same contemporary entries have also upped the close-quarters fighting stakes, with our protagonists now looking to kick zombies' heads off via QTEs, rather than go down the traditional route of lodging bullets in undead brains.
While perhaps most perplexing is the retention of the health restoring green herbs – seriously, Capcom, you don't need to continue with that 'iconic' feature, it's done...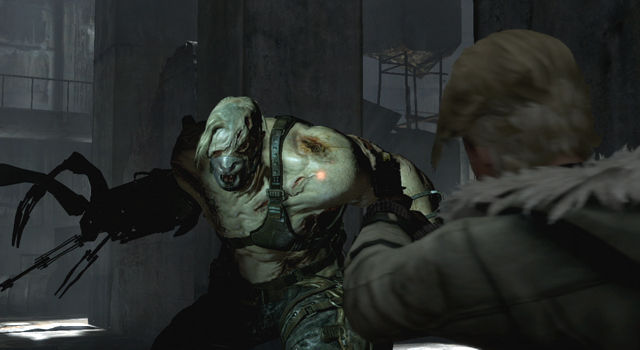 What happened to my old dentist?
Yes, it's fair to say the franchise has had its triumphs and its issues, but why am I telling you of entries past when I should be talking about Resident Evil 6? Well, aside from the fact that since RE4 characters can now move while shooting, the exact same comments and criticism can be levelled at this latest example.
Dead legs
It was Einstein who famously quipped that insanity is 'doing the same thing, over and over again, but expecting different results,' and it's an observation Capcom really should have heeded.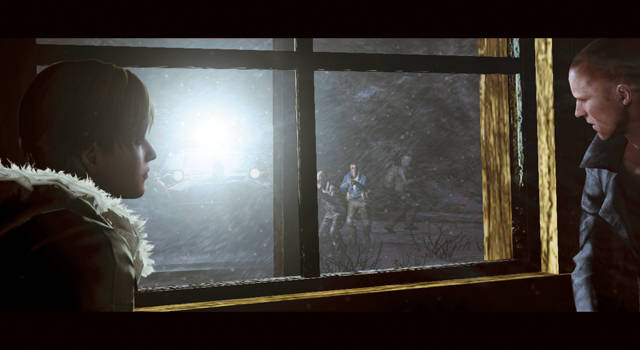 Paneful sight
In RE6 you will roundhouse kick zombies into oblivion, partake in needless QTEs (and how), collect green herbs and, as is seemingly par for the course now, most of us won't have a clue what's going on thanks to characters who seem incapable of finishing sentences.
And what a lot of characters there are too, because rather than focus on one or two protagonists RE6 throws returning leads Leon S. Kennedy, Chris Redfield and Ada Wong all into the mix, while introducing a host of newbies across its lengthy and interlinked episodes. All characters, with the exception of Ada, have co-op play partners and when campaigns do intertwine, there's even the option to buddy-up for four-player action.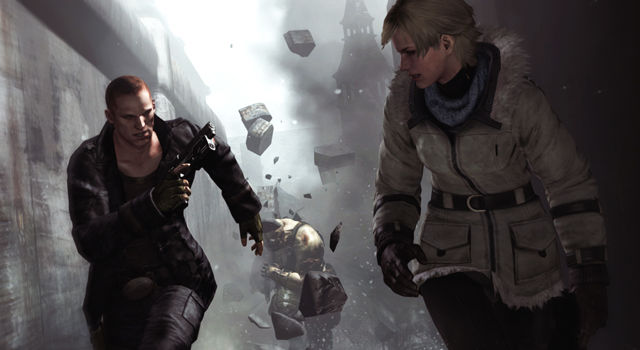 Bricking it
Presumably the idea of throwing all this content at us (and you're looking at 40+ hours) is for Capcom to cater to all tastes but, to roll out an overused cliché, it ends up as something of a Jack-of-all-trades.
Despite the impressive engine – which can throw swarms of zombies at you while simultaneously setting off a cacophony of explosions – the experience is more akin to that of an old hat corridor shooter than anything progressive. Indeed, I've been playing Dishonored alongside RE6 and, though clearly very different games, the sheer gulf in ambition between each title is almost laughable.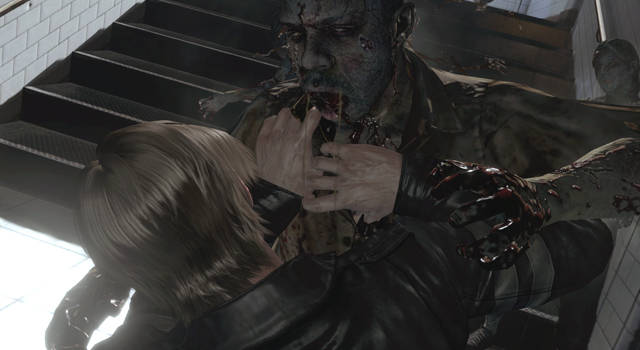 Killer bites
The fact too that QTEs are sudden and of the kind that require lightning fast reflexes means you'll be unavoidably insta-deathed at times – surely by now a development no-no? Boss fights meanwhile will go on... and on... forever. That's not to say that such encounters aren't stunning, but with one such fight in Leon's campaign lasting for something approaching three hours, they're a bit much. Indeed, I'm still not convinced it's really dead.
Chomping at the bit
Chris' owes a lot to Epic's Gears of War, as new insectoid enemy, the J'avo come armed to the teeth and are only too happy to shoot back. So it is that the spectre of bad cover mechanics pops its head out from behind a conveniently placed overturned car.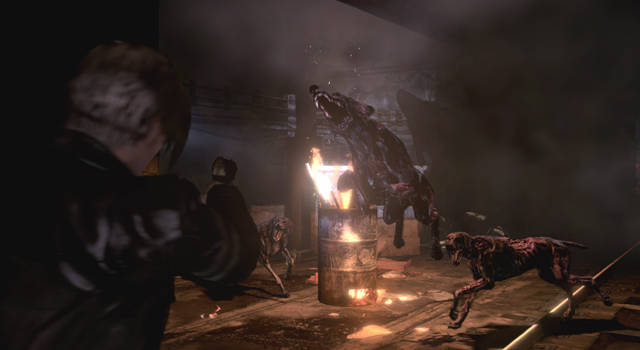 Hot dogs
In fairness, it's often possible to sidle up to foes, deliver a quick one-two combination and leave them to disintegrate, but to force us into a poorly implemented cover system, when the action heats up, is galling.
Better are the numerous 'trap' points (similar to RE4's famous church bell scenario) where you're assailed from all sides for a set period. Though none impact in quite the same way as RE4's – not 'least because there's never that moment where a chainsaw suddenly revs into life behind you. They are still tight and tactical though, even scary, and perhaps indicative of where the series should be heading.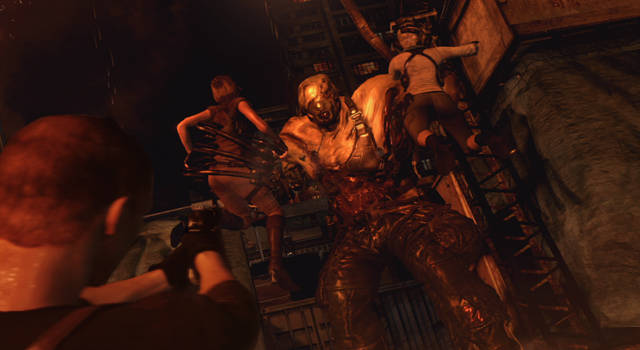 Freddy's dead
Finally there's the cooperative play which (almost) works locally but fails to convince online. This is because avoiding taking damage from zombies is nigh on impossible (remember, they have guns now), meaning you'll regularly end up with no health and in need of a shot of adrenaline administered by your partner.
Being all but indestructible, your AI partners are much more likely to help you out than human ones, making online play a more difficult proposition.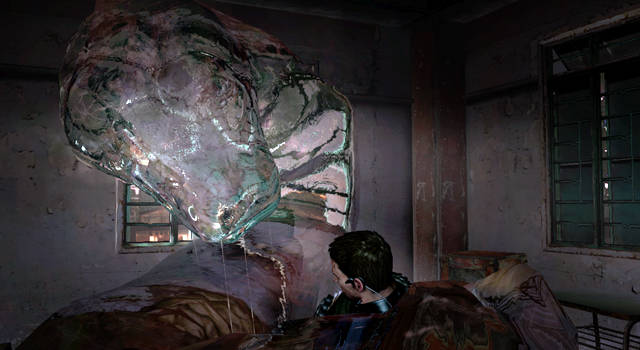 When jellied eels strike back
Despite my review of mostly criticism I'll freely admit I was still entertained by Resident Evil 6, as the odd fantastic boss fight and sheer scope of spectacle dazzled the senses. In fact, playing the game is similar to watching the next Die Hard movie: you know that by now any scrap of credibility has long gone, but by god you'll watch it anyway if only for those blockbuster moments. Ultimately though, like a fading Hollywood star sporting one too many facelifts, it is simply old-school design grafted onto an impressive engine.
Verdict
Capcom's latest plays like a seven-year-old game, which is fine given there were some crackers back then. But, as seems to be the case in general with the triple-A side of the games industry right now, it falls down by skipping on the trickier, yet essential, aspects of game design, such as innovative gameplay and freedom of choice. ®
More Games Reviews

Borderlands
2
Guild Wars 2
Darksiders 2
Lollipop
Chainsaw
Ghost Recon:
Future Soldier