Original URL: https://www.theregister.co.uk/2012/10/18/apple_ipod_nano_seventh_generation_review/
Apple iPod Nano 7G review
The quest for the correct compact form-factor continues...
Posted in Personal Tech, 18th October 2012 07:01 GMT
Having sold something like 350 million iPods in the last decade, Apple has quite sensibly stuck to pretty much the same basic designs for most of the iPod range.
The glaring exception to that rule is the ever-changing, shape-shifing iPod Nano. This is the seventh version of the Nano in seven years, and in that time it's bounced back and forth between fat and thin like a D-list celebrity with an eating disorder. Its feature set has varied unpredictably too, with photo and video capabilities coming and going almost at random.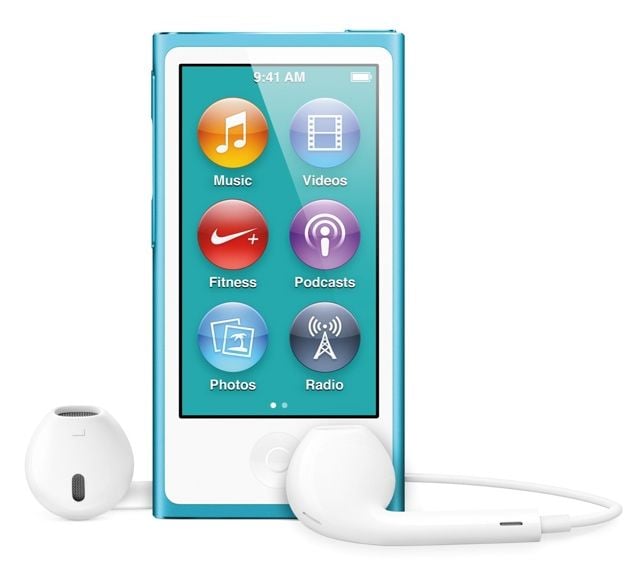 The sixth-generation model launched in 2010 was short and squat, a Shuffle with a screen. This year's model reverts back to tall and thin in order to accommodate a larger, 2.5in screen with a 240 x 432 resolution and a 16:9 aspect ratio. And, yes, that does mean that the new Nano regains the video playback function that went AWOL in 2010.
The larger screen means that the Nano's overall size and weight have increased too, stretching from 40mm to 76.5mm in height, and going up from 21g to 31g in weight. However, it's also quite a bit thinner than before, slimming down from 8.8mm to an extremely svelte 5.4mm.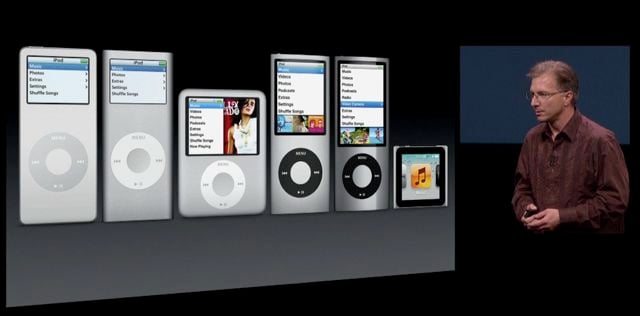 One day we'll get it right...
It's that streamlined design that you notice the most. It's like a having a little musical credit card in your pocket. And like all the best Apple products it has that strangely tactile elegance that makes you want to pick it up and roll it around in your hand just so that you can admire the way it feels.
The new screen isn't in the same league as the "retina" display on the new iPod Touch, but it's fine for the device's icon-based graphical interface, which now consists of just two screens full of icons rather than the four somewhat disorganised screens of the previous model. And while I wouldn't recommend watching the Director's Cut of The Lord of the Rings on a screen of this size and resolution, it's still nice to be able to watch the occasional music video or podcast when you're sitting on the tube. It'll only play videos encoded at standard definition.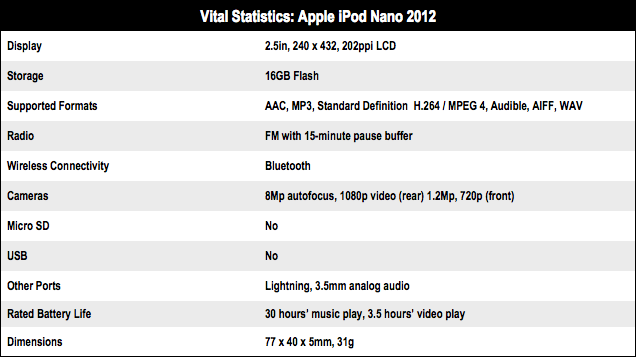 Compact disc-less
The screen also supports multi-touch gestures, such as pinch-to-zoom when you're viewing photos. That adds something of an iOS feel to the new Nano, as does the new Home button just below the screen. It's clear that Apple wants the Nano to look and feel like a member of the iOS family even though it doesn't actually use iOS as its operating system.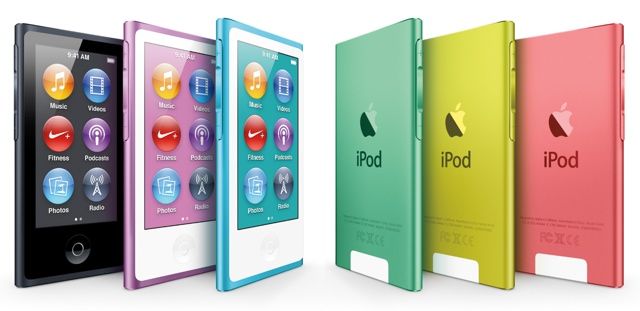 Colourful
I was also pleased to see that the Nano now supports Bluetooth. That gives it access to the increasing range of Bluetooth speaker systems that are now available – something which is especially important as its adoption of Apple's new Lightning connector means saying goodbye to older docks and speakers unless you're prepared to cough up £25 for one of Apple's new adaptors.
The other big change on the accessory side of things is, of course, the inclusion of Apple's new 'earpods', which were first introduced with the iPhone 5 last month. The iPhone earpods have received somewhat faint praise in the reviews I've seen, but I have to confess they sounded better than I expected. The bass output is fuller and stronger than before – though that's not saying a lot – and higher frequencies also seem a bit clearer and sharper. They're not great, but they're definitely not as outright awful as the original Apple earbuds. The Nano puts out a decent sound with any other headphones you care to plug into to its 3.5mm socket.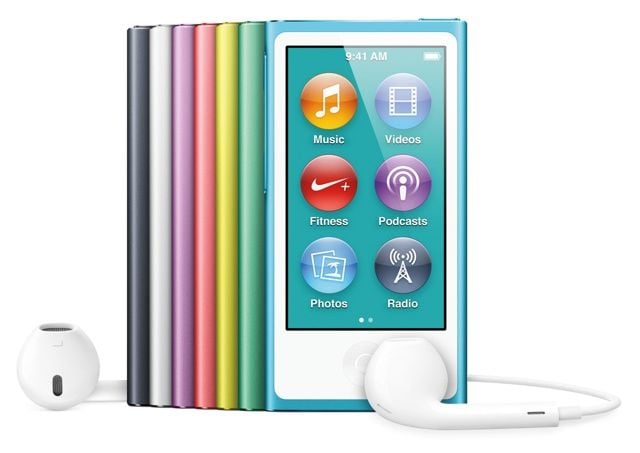 Battery life is improved too, up from 24 to 30 hours for music playback. Video playback is a mere 3.5 hours, but any longer on such a small screen would probably fry your eyes anyway.
There's also some good news on the pricing front. The previous version of the Nano cost £129 for 8GB storage and £159 for 16GB. This new model is only available in a single configuration with 16GB for £129. It's a shame that Apple didn't keep the 8GB option and sell it for £100, as that'd make a great Christmas present – but then you don't get to be the richest hardware company in the entire universe by being generous.
Verdict
Like millions of other people I now use my smartphone as my primary portable media player, and this redesign isn't going to reverse that trend. Even so, this is still a pretty smart update, and the Bluetooth capability and slimline design of the new Nano make it a great option for working out at the gym or other occasions when you need a really lightweight and portable music player. ®
More Media Player Reviews

Apple
iPhone 5
Samsung
Galaxy Note 2
Archos 35
Home Connect
Samsung
Galaxy S WiFi 5.0
Apple
iPod Shuffle 4G