Original URL: https://www.theregister.co.uk/2012/10/16/cassini_probe_turns_15/
NASA's Cassini spacecraft turns 15 while spying on Saturn
Awaiting springtime on the ringed planet
Posted in Science, 16th October 2012 00:17 GMT
NASA's Cassini spacecraft celebrated a very lonely 15th birthday on Monday from its orbit near the planet Saturn, roughly one billion miles from Earth.
Cassini was originally launched from Cape Canaveral Air Force Station in Florida on October 15, 1997. Since then, it has logged more than 3.8 billion miles in a tour around the Solar System that included views of Venus and Jupiter, in addition to its current mission to Saturn and its moons.
Along the way, the probe has transmitted around 444GB of scientific data back to Earth, including some 300,000 images of planets and other objects. The data it has collected has informed more than 2,500 reports published in scientific journals.
In December 2004, Cassini was also responsible for launching the probe Huygens, which drifted to the surface of Saturn's moon Titan in the first landing ever accomplished in the outer solar system.
In honor of the spacecraft's illustrious career, NASA has published a new illustrated timeline highlighting its various endeavors.
As Cassini now nears the end of its mission, NASA space boffins say they'll use what time it has left to study what happens to Saturn during the changing of the seasons from Winter to Spring, a process that has never before been observed on a gas giant planet.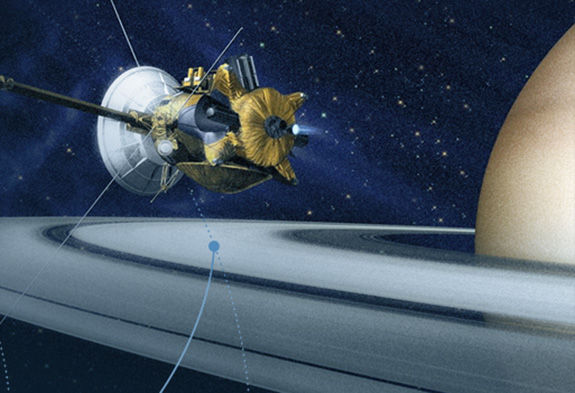 Artist's rendering – obviously – of Cassini in orbit near Saturn
"Cassini is entering middle age, with the associated signs of the passage of years, but it's doing remarkably well and doesn't require any major surgery," Cassini program manager Robert Mitchell said in a statement, adding that other than some minor bumps and chipped paint, all of the probe's systems are still in working order.
That doesn't mean it will be able to keep transmitting information indefinitely, though. In fact, unlike some other unmanned space missions, Cassini's story has a very definite end.
Five years from now, on September 15, 2017, after many more observational passes of Saturn, the probe will enter the atmosphere of the ringed planet, where the temperature and pressure will ultimately destroy it. 
Between now and then, however, scientists expect Cassini to return millions more bytes of data from its various sensors. According to NASA scientist Linda Spilker, "Cassini has many more miles to go before it sleeps, and many more questions that we scientists want answered. In fact, its last orbits may be the most thrilling of all, because we'll be able to find out what it's like close in to the planet, with data that cannot be gathered any other way." ®