Original URL: https://www.theregister.co.uk/2012/10/15/review_asus_n56vm_15in_notebook/
Asus N56VM 15.6in notebook review
Audio enhanced entertainer complete with a separate sub
Posted in Personal Tech, 15th October 2012 07:00 GMT
A good journalist always tries to avoid clichés, but sometimes when I'm writing laptop reviews I do find myself reaching for a few stock phrases, such as: the speakers are crap. Imagine my relief, then, to discover that the speakers on the Asus N56VM don't fall into the crap category, but are actually rather good, no doubt helped by the fact that this laptop even comes with its own external sub-woofer.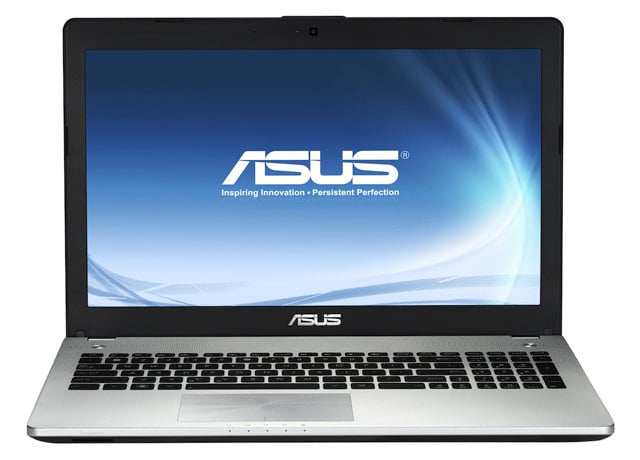 Sound idea: Asus' N56VM
Undoubtedly, the N56VM is focused on entertainment, offering a good set of multimedia features in addition to that unusual 2.1 speaker set-up. Things get off to a good start with the matt finish 15.6in screen, with its 1920 x 1080 resolution. It's not the brightest screen I've ever seen but the viewing angle is still good – close to Asus' claimed 150-degrees – so you can slump on the sofa and watch your films without having to set the laptop at just the right angle.

Blu-ray spinner on-board
Asus has also included a Blu-ray drive to make the most of the HD display, along with both VGA and HDMI interfaces for hooking it up to a larger monitor or TV screen. And, in addition to the headphone and microphone sockets, there's a special audio connector for the little sub-woofer.
You can use the laptop's built-in stereo speakers on their own without the sub-woofer, and even then they sound better than any other laptop speakers that I've heard recently. Higher frequencies manage to avoid the harsh, tinny edge that afflicts most laptops. The overall sound is fuller and warmer too, and does a decent job of rendering multi-layered Queen harmonies.

The sub gets its own output port to the left of the VGA interface
And, of course, plugging in the sub-woofer – which is about the size and weight of a small tin of beans – adds a little more body to the bass. It's obviously not going to have the roof rattling, but it does make a noticeable difference on bass-heavy tracks like Kylie's Can't Get You Out Of My Head.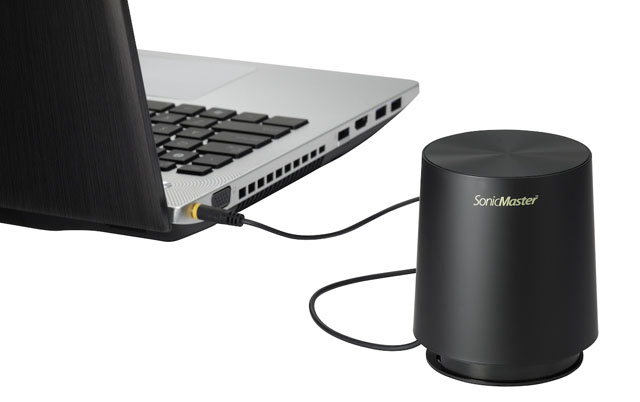 A separate sub is perhaps not the most elegant approach to getting more bass from a laptop, but it's certainly an effective one
The sub-woofer is just about small enough to slip into a backpack or briefcase when you're travelling. However the N56VM weighs 2.7kg on its own, so you'll probably want to leave the sub-woofer back home most of the time. Even so, the basic stereo speakers are certainly good enough for some casual music listening – which is something of an achievement in itself.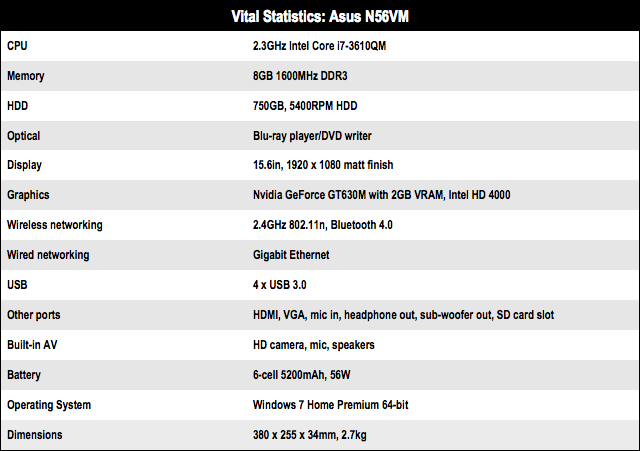 Max headroom
My only complaint here is that the Waves MaxxAudio 3 software provided with the N56VM isn't particularly intuitive for less technical users. It provides a multi-band equalizer with detailed options for creating your own custom EQ settings, but there are no presets that beginners can use to quickly adjust the sound for pop, rock or other types of music.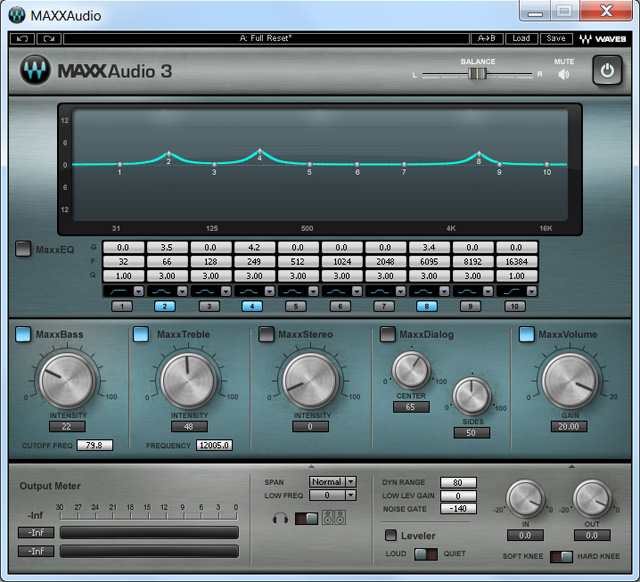 Music technology plug-in developer Waves applies its expertise to laptop listening with MaxxAudio
You could argue that MaxxAudio 3 encourages experimentation and while the equalisation controls are easy to get to grips with, some may find becoming acquainted with its dynamics functions less familiar territory. Still, there's no doubt that the N56VM's audio and video features make it an excellent option for entertainment at home or business presentations at work. It's powerful enough for a variety of business and entertainment applications too.
The review unit costs £800 from Comet, and features a quad-core 2.3GHz Intel Core i7-3610QM Ivy Bridge processor, along with 8GB of 1600MHz memory, and 750GB hard disk. There's also an i5 version available from Dixons for about £100 less.
The N56VM didn't produce an outstanding score in our benchmark tests – coming in at a relatively modest 2547 with PC Mark 7 – but that was primarily due to the use of an unremarkable 5400rpm hard disk, which is left standing by the SSD drives found in many current laptops. Nonetheless, the N56VM feels nice and snappy most of the time and – despite the sluggish hard drive – wakes from sleep in less than five seconds.
It's more than adequate for running business software, as well as multimedia work such as audio recording or video editing. The humungous vent on the left-hand edge of the unit did have me a bit worried about overheating from the i7 processor, but the base of the N56VM never became more than mildly warm during several hours of benchmark testing.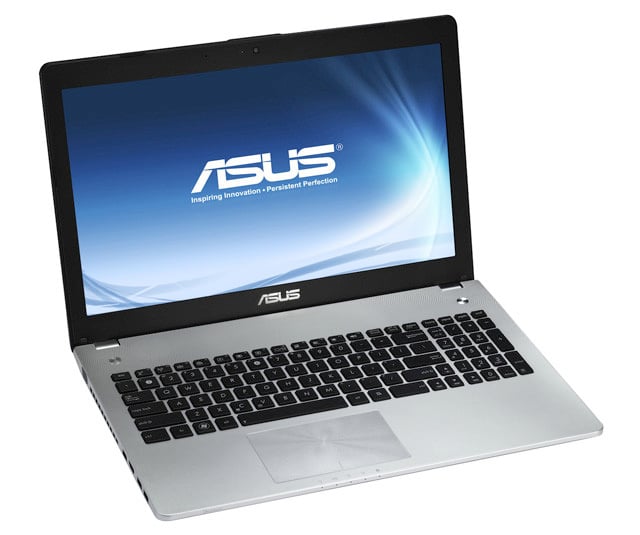 Quad core CPU but could really benefit from an SSD but as a multimedia machine, you'll want that space on the HDD
It even passes muster for some light gaming too. In addition to the integrated Intel HD 4000, the N56VM also includes a separate GeForce GT630M graphics card. Admittedly, this is a pretty low-end chip, but it managed a respectable 60fps when running Far Cry 2, compared to just 25fps for the Intel HD 4000. That's not exactly hard-core, but it'll do for a spot of casual fragging every now and then.
Battery life is more modest, though. The N56VM only lasted for 105mins when using the GeForce graphics chip with the PowerMark 1.1 benchtest. That was extended to 150mins with the less power-hungry integrated graphics, but is still considerably less than the 4-5hrs offered by many current laptops. However, I was able to get 3.5hrs when using Wi-Fi to stream video off the BBC iPlayer, so you could probably stretch that to around four hours for basic web browsing and running MS Office.
Verdict
You are paying a bit of a premium for the 2.1 speakers, HD screen and Blu-ray drive, so if you simply need a fast 15.6in laptop then there are obviously cheaper options available. However, the N56VM is a very capable multimedia laptop that will earn its keep as part of your home entertainment system, or delivering slick multimedia presentations in the boardroom. ®
More Notebook Reviews

Sony
Vaio T13
HP
Spectre XT
Ivy Bridge
for Ultrabooks
Acer Aspire
Timeline M3 Ultra
Toshiba
Portégé
Z830-10N