Original URL: https://www.theregister.co.uk/2012/10/12/james_bond_villain/
Inside the mind of a Bond supervillain: Psychotic, autistic - or neither?
Also - 007's Dr Who style differing personalities
Posted in Bootnotes, 12th October 2012 08:00 GMT
Bond on Film Without villains there'd be no James Bond. SPECTRE, SMERSH, megalomaniacal industrialists and media tycoons have all contrived fiendish, intricate plots to take over the world, seize its wealth, provoke nuclear war, destroy London's financial system, eliminate the human race etc etc. These people and their plots have needed to be stopped, and that's where 007 has traditionally stepped in.
In general villains fall into three categories. Most numerous is the nameless goon, minimum-wage spear carriers who are essentially a call-centre with machine guns.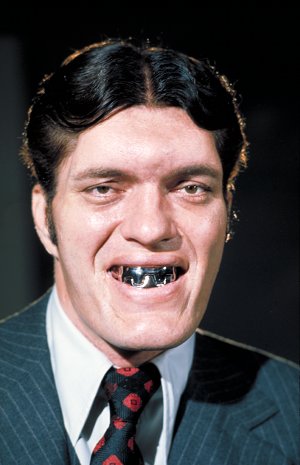 It's difficult to see past the smile
Then there's your élite henchman, the "end of level" bosses such as Oddjob, Jaws, Xenia Onatopp etc who are distinguished by strange physical features, special skills and/or weapons, minority sexual tastes etc. Their rewards for success are nebulous at best. The penalties for failure generally involve sharks.
But what of the third class, the brains and prime movers behind the plans? It's these upper-bracket villains who have the most appeal, who offer a more discerning evil career choice for anybody with a brain.
These generally tech-savvy (self-proclaimed) supermen are always the real villains. Whether you're talking about Dr No, Blofeld, Drax or Zorin, your scientists, industrialists and geniuses have figured prominently with their master plans to remake the world in their own image. Einstein said "intellectuals solve problems, geniuses prevent them," but in Bond's world, geniuses - generally enabled with some kind of advanced technology - are nothing but trouble.
Why are these men who want to destroy the world "people like us"? Other than the fact that in Skyfall the villainy is dependent on IT?
Mercifully in the real world we don't have to face all that many genocidal schemes to scrub the planet clean and start civilisation again. Not since Noah, anyway. But if there were evil masterminds at large today, where would they come from?
There are two essential ingredients. First, one must possess enough technical knowhow to concoct a scheme involving an orbital EMP cannon, humanity-extirpating nerve gas bombardment, ultimate computer virus etc. Second, it's essential to have the means to fund large-scale building projects (including but not limited to the hollowing-out of volcanoes, snaffling of space shuttles etc) while still maintaining sufficient cash flow to payroll a substantial private army (see above).
Let's look at a few possibles.
Rupert Murdoch:
Transparently the model for Elliot Carver in Tomorrow Never Dies, the workaholic newspaperman hasn't actually used a miraculously puissant stealth warship to precipitate a global conflict by machine-gunning helpless sailors adrift after sinking their ship. Not yet anyway. It seems implausible that he personally eavesdropped on anyone's voicemail, and even more so that he could have done so without technical assistance.
About the most evil thing Murdoch's ever done is treat a politician to a very agreeable lunch and/or colossal, possibly election-tipping media support in exchange for business concessions. And, his recent adoption of Twitter notwithstanding, he doesn't come across as the most technical person. He tends to outsource that kind of thing, so his schemes are more likely to be dull and pedestrian rather than madly, murderously original.
Julian Assange:
Well, with his bizarre appearance and his penchant for irritating the governments and intelligence agencies of the Western world Assange certainly seems to have some of the qualifications of a Bond villain. His name, too, definitely has the right ring to it. His propensity for snaffling highly classified secret files sounds like the kind of thing a Bond villain might get up to. And reports have it that he's certainly a bit, well, strange.
But hiding in an Embassy? And a two-bit little one at that? Either hollow out a volcano like a man, or get out of the business.
Osama Bin Laden:
Undeniably the most genuninely evil of the evil geniuses under discussion. If we allow ourselves for a moment to set aside the appalling murderous intent of 9/11, the repurposing of an airliner as a weapon would definitely have been seen as movie-plot stuff until it actually happened. And rumours persist (not least in the Bond films, for instance in the most recent Casino Royale) that he manipulated the global stock market in the wake of the attack to make millions for his twisted cause. Certainly the net effect of his campaign of terror has been to spark two ruinously expensive wars, if not an actual global nuclear apocalypse. Unless something happens to perk the Western economy up, he may yet succeed in his aim of bring us all to our knees.
Evil? Definitely. Brilliant? Possibly. Alive? Not remotely. That rather puts paid to world domination for Osama.
Have I got it in me, Doc?
On a less flippant note, I spoke to Alice Jones, PhD. She's a Senior Lecturer in Psychology at Goldsmiths' College, Univeristy of London. She's responsible for some influential research in the area of neuropsychological and neuroscience investigations of antisocial behaviour, including callous-unemotional traits and early psychopathic behaviour.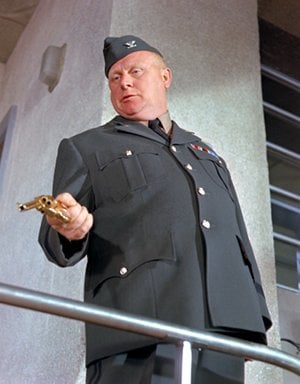 A vaguely sinister name is always good
What I wanted to know was:
"How would I know if I had the potential to be an evil genius? Or how would know if one of my co-workers did?"
"Psychopathy is best characterised by lack of emotional empathy for other's feelings - the inability to feel an emotional response to someone else's emotional state," says Dr Jones. "Imagine growing up like this - it's likely to create an individual who doesn't really understand guilt or fear. Their own biology means that their brains don't respond as strongly to fear and distress in the people around them."
Our expert continues:
"Psychopaths don't build normal friendships with people around them, rather they are motivated by status and social dominance. Being top dog is far more important than being liked. They are able to achieve this by taking advantage of others' natural capacity for anxiety, fear and guilt - treading on toes or intimidating others isn't a problem. Psychopaths also sometimes seem to have precious little personal regard. They are natural sensation seekers, but also behave in confusing ways to get what they want - there are cases of men who on being released from prison immediately go out to kill someone who they're harbouring some grudge against. They end up right back in prison, but for them, it was somehow worth it. Given that personal relationships aren't a priority, it's also common for psychopathic individuals to flit between 'romantic' relationships - many have lots of children, but don't care to provide for them in any meaningful financial or emotional way."
Whatever we might think of our line managers, though, there are comparatively few full-blown sociopaths in the modern workplace. There is, though, undoubtedly a correlation between other conditions like Aspergers' and the intense, narrow focus that makes for great coders. These autistic-spectrum disorders aren't by any means the same thing as being a psychopath, however.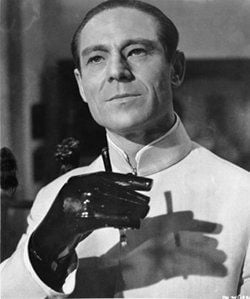 Imagine if he'd been Doctor Yes
"This is something I have explored in my own research, and broadly, while there are some observable behavioural similarities, they don't seem to be underpinned by the same deficits. So, while people with Aspergers can seem uninterested in small talk and social niceties (just as you'd imagine from someone with psychopathic traits), people with ASD are able to emotionally empathise (providing they understand the other person's thoughts and feelings in the first instance).
"Whereas psychopathic individuals are usually able to understand and recognise someone else's emotional state, they're just not moved by it themselves. This makes them excellent at manipulation. By contrast I think that it would be quite unusual for a supervillain to really be on the autistic spectrum."
Alice looked at a few examples from Bond lore for us too:
Blofeld:
"According to Fleming, Blofeld has a fairly plain sort of a history. He went to university, got a job in the government, then started insider dealing and trading with the enemy. I guess you could see Blofeld as the most like a modern successful psychopath - although his constant schemes to ruin the world take him a bit over-the-top."
Men only
Renard:
"A psychopath who can't feel pain - a double hit. I think I like Renard the best. He was kicked out of the KGB for being too mental, and then he became a terrorist. There's no better CV for a hardcore psychopath, is there? There's an idea that Renard feels 'depressed' about not being able to feel physically, but I don't think his behaviour can be explained by this injury - it happens after he gets sacked from the KGB. I remember watching this at the cinema being totally impressed at this portrayal of someone who doesn't really seem to feel anything. How do you empathise with a psychopath like this?"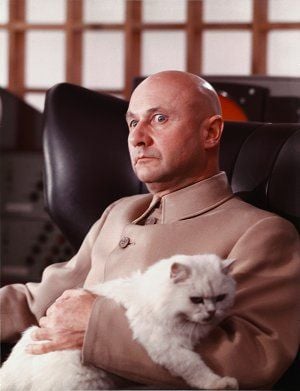 Kind to animals - not always a good sign
Scaramanga:
"A gun for hire. His early life is interesting - a trick shot with the circus, killing a policeman who shoots a rampaging elephant. Perhaps this suggests a human side to him, but I wonder whether this was a child who didn't get much pleasure and friendship from humans, preferring animals instead. He's another ex-KGB type - this time one who got bored. He's motivated by money, uncaring about the humans he's hired to kill, and doesn't seem to care much for human company."
We searched in vain for any really good female Bond villain examples.
"Rosa Klebb is a bit of caricature, and Miranda Frost's just a boring honey-trap double agent. Elektra King is the closest thing to a proper female villain, but I think she's outdone by Renard, who did kidnap her in the first place. Bond thinks she has Stockholm Syndrome, and maybe this is sensible, but I think it's clear that she is a pretty cold-blooded individual. I guess a proper villain should be seen as pretty psychopathic - you don't want your audience to start feeling sorry for them."
Finally, what about Bond? What kind of troubled mind becomes the perfect secret agent?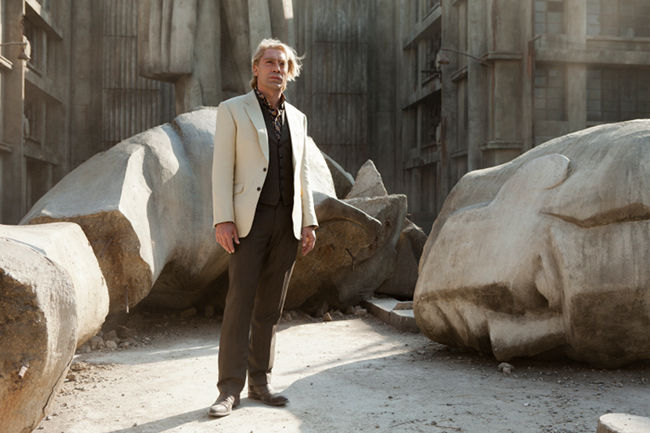 What madness can we expect from this fellow?
"I think that you can take two perspectives on this. You could argue first that he's a narcissist with psychopathic type personality traits - but a very British kind - he doesn't need to commit crimes to get his fill of danger, excitement and status - the British government is paying him for that. This Bond is quite low in emotional empathy, he's loyal to those he believes in, but not so far as to let it cloud his judgement. He's very low-anxious, with a very high opinion of himself. In this view, Bond really fulfills the personality characteristics desirable in fighter pilots: importantly, he does what he's told by his superiors.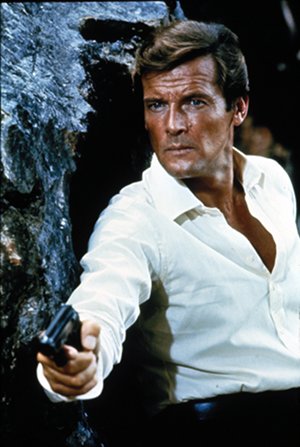 The most emotionless killer of them all?
"The second view you can take is that 'Bond' is as much a code-name as 007. If you take this view, then you can see that not every Bond copes well with the demands of the job. In this scenario, George Lazenby's Bond only lasts one outing - the death of his wife was clearly too much for him. After that, Bonds become a little tougher in character. Dalton's, particularly, tried to get closer to Fleming's idea of a darker, more conflicted man.
"Compare this to someone like Brosnan or Connery, who seem to relish their jobs with much less personal darkness. It's then not so much of a surprise that these Bonds lasted longest. Daniel Craig's Bond appears to be coldest yet. This is my favourite view - I like the idea that each Bond is individual. It also allows you to deal with inconsistencies in behaviour."
On that basis, the most well-balanced Bond is Sir Roger Moore. Unruffled to the last, he met triumph and adversity each with the same wry lift of an eyebrow.
As a method of coping with the stress of a modern, high-pressure work environment the Roger Moore method just can't be beat. ®