Original URL: https://www.theregister.co.uk/2012/10/11/review_jaws_blu_ray_disc/
Jaws restored Blu-ray disc set review
The great white is back in Blu
Posted in Personal Tech, 11th October 2012 07:00 GMT
Jaws is back, and the old shark's gnashers are looking sharper than ever thanks to a painstaking remastering job by Universal's backroom boffins. The title is being released as part of the studio's centenary classics program for Blu-ray, which also includes E.T The Extra Terrestrial, The Birds and Frankenstein. The timing couldn't be better. As Spielberg himself says in the disc's explanatory featurette, "the negative of Jaws was pretty crummy, it was pretty bad."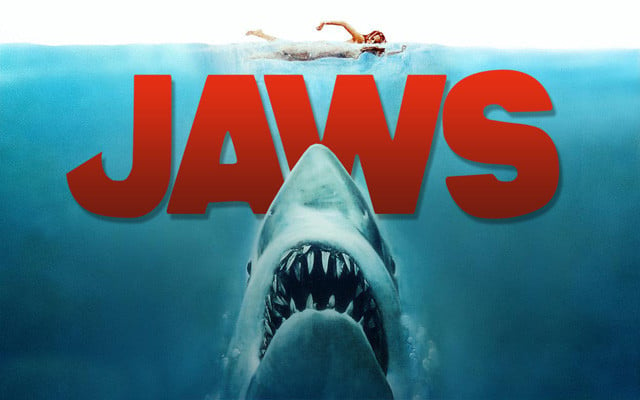 Jaws: restored as part of Universal's 100th anniversary
Few would argue that the film deserves its legendary status. The question is: does this eagerly-awaited high definition release actually do it justice? The short answer is yes… and no.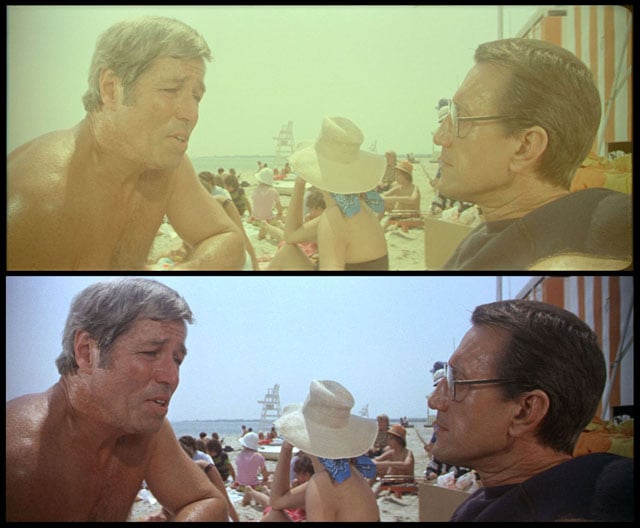 Colour restoration
There's no denying that the studio techies have done a wondrous job with the restoration, the image clean-up is truly extraordinary. There's no digital artifice about the picture, which remains authentically filmic; 35mm film grain to the fore rather than digital gloss. Original colour aberrations have been corrected, brightness and contrast balanced. Of the result, Spielberg says: "The image on a really good high-def TV screen looks better than the film looked when first projected in 1975."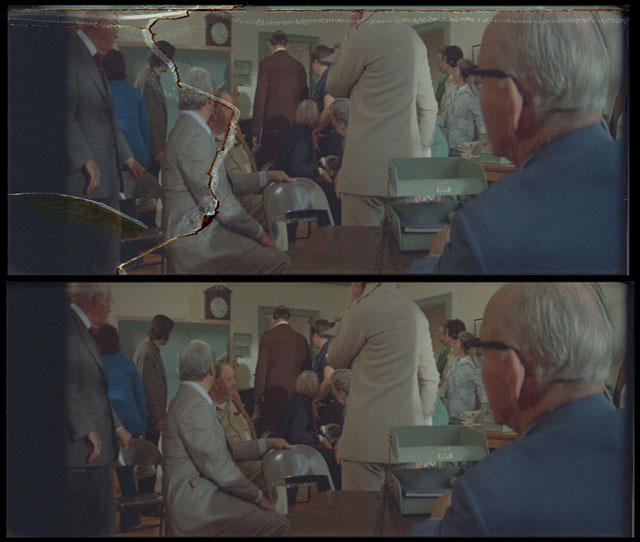 Damage limitation
When pulled from the vaults, the original 35mm film elements were found to suffer from copious vertical scratches. This damage was removed by wet-gate scanning the negative to 4K resolution. A frame-by-frame damage-removal process then began on the digital file, to combat dirt, dust and tears. Spielberg and his Amblin Entertainment post-production team oversaw the entire process.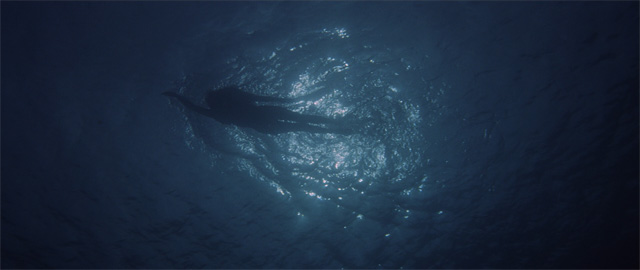 Nice day for a swim
The sound re-design has been equally well handled. The original elements have been up-mixed elegantly into DTS HD Master Audio 7.1, without recourse to over-wrought sound steerage. The new mix offers clean dialogue, and breathes chilling LFE life into John Williams' iconic score.
A fishy tale
The movie, charmingly dismissed within the disc's extras by writer Peter Benchley as "a story about a fish," wears its history well. Nominated for best picture in 1975, but losing out to One Flew Over The Cuckoo's Nest, it went on to win Best Sound, Best Film Editing, and Best Original Score. All three aspects are showcased brilliantly by this new edition.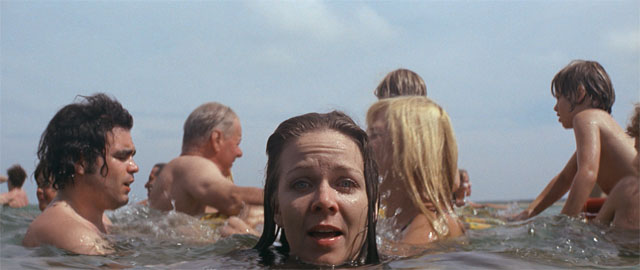 There's something in the water
Familiarity hasn't seen the yarn lose any of its bite either. It still thrashes along, seducing you with character development long before filmdom's most unconvincing predator swims into frame (yes, you still will jump).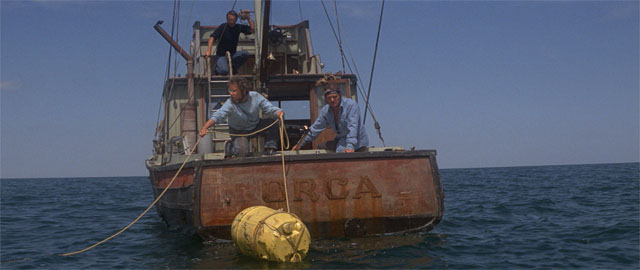 Whatever floats your boat
Richard Dreyfuss remains intensely likeable as the shark expert; Robert Shaw's Ahab-like shark hunter provides the film with a gritty centre, while Roy Scheider is the magnetic everyman seemingly drowning in a mounting tide of salty horror. The title may have lost a little lustre when it turned into an increasingly bonkers franchise, but this original cast remains a class act. All of which is more than can be said for the extras assembled for this release.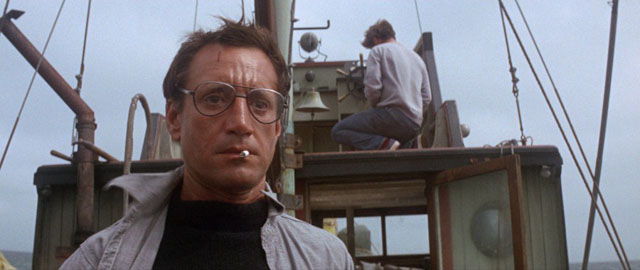 "Looks like I picked the wrong week to quit smoking"
If you've have Jaws on DVD, much of the supplemental material will be familiar. There's the feature-length The Making of Jaws documentary (made in the mid-nineties and seen previously on the 30th Anniversary DVD release), a chunk of uncurated outtakes and deleted scenes, a set visit report by Iain Johnson (best known for helming the BBC's Film show after Barry Norman left) and a gallery of storyboards, production photographs and marketing material.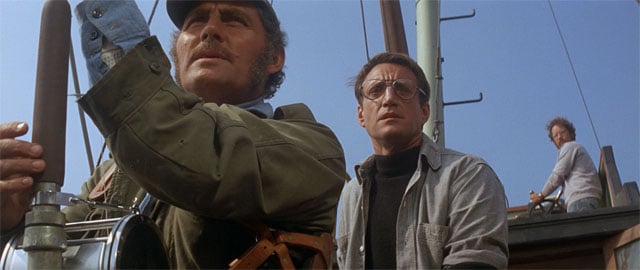 A couple of rods
The presentation of these latter items is woeful, centred as they are within a diminutive floating frame, centre-screen. They are so small and low-res as to be unreadable; why they too couldn't have been rescanned into HD is a mystery.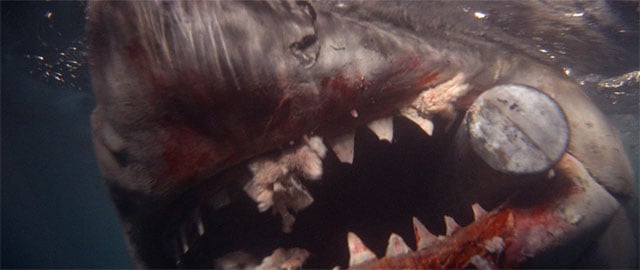 Don't forget to floss
The disc's big new attractions comprise a short piece on the restoration project itself (interesting enough), and the 2007 documentary The Shark Is Still Working. On the plus side, this independently-produced 101 minute love letter to Bruce & Co. is packed with welcome anecdotes, interviews and insights into the movie and its subsequent legacy.
On the debit side, it looks awful – a low-res non-anamorphic YouTube escape that appears a lot more tired than its vintage might indicate. I had to fiddle with my TV's aspect ratio/zoom settings just to get an acceptably framed image.
Verdict
So while Jaws Blu-ray debut isn't quite the catch it might otherwise have been, the sheer quality of the restoration still makes it worth fishing for. ®