Original URL: https://www.theregister.co.uk/2012/10/11/nokia_meego_inside_story/
How Nokia managed to drive its in-house Linux train off the rails
When Meego lost its mojo
Posted in Software, 11th October 2012 14:25 GMT
Special Report Nokia's strategy to revive its fortunes with its home-grown Linux was derailed by academic theory, bureaucratic in-fighting and a misguided partnership with Intel, a new report reveals.
Finnish publication Taskumuro has published an extensive history of the Meego project which contains a mixture of old and new: some information that's familiar - and some intriguing new details. The report confirms what we know: that Nokia had developed a competitive successor to its ageing Symbian platform years before Apple's iPhone appeared - but fluffed the execution so badly, it would eventually junk almost all of its internal platform software development.
Since February 2011, Nokia has abandoned Symbian, cancelled Meltemi and mothballed Meego - and will license Microsoft software for its high- and mid-range phones. Nokia continues to develop only its venerable Series 40 software in-house.
In short, Meego arrived a dollar short and a year or two late. However, Meego's problems weren't over. As we know from earlier reports, Meego ran into political problems: Nokia wanted to license it as an industry platform, but rival manufacturers were wary. The Finnish giant therefore faced a choice of building its own "ecosystem" or partnering with Google or Microsoft, and ultimately plumped for the latter.
Ironically, Meego lives on. Ex-Nokia staff have formed a spin-out called Jolla, snaffled up some investment, and are pitching the platform (now called 'SailFish') at the Chinese market. The first fruits of the venture will be unveiled at the end of this month.
Trolltech, dev teams and working at cross purposes
Nokia's first Linux device, a touchscreen tablet, made its debut seven years ago, in May 2005. With considerable foresight, Nokia persisted with the Linux-based platform Maemo, leaving it with a mature platform by the time Apple entered the market. The iPhone saw a significant shift as demand for smart devices soared, and the devices themselves changed from being phones with data, to tablets that also did phone calls. Taskumuro confirms that by early 2009 Nokia had positioned Linux as the company's No 1 strategic platform.
This was confirmed in September 2009 at the annual Nokia World event, which was held in Stuttgart. Executive Anssi Vanjoki explained that Nokia's Linux was in its fourth generation, embodied by the N900 tablet, which made its debut at the event. Vanjoki said at the time that the fifth generation would be the first, true mass market iteration.
And indeed, we now learn, Nokia had a range of products sketched in for 2010 launch including a Meego communicator with slide-out keyboard, much like the ill-fated N97.
So what went wrong?
A Nokia Linux timeline
May 2005: Nokia unveils its first Linux device: a 800x480 pen-based tablet, the N770. It does VoIP calls, plays net radio, and uses the Opera web browser. It borrows UI design from Hildon, and the platform OS from Debian.
January 2007: Apple announces the iPhone; second generation Nokia tablet announced – the N800.
October 2007: Nokia's N810 sprouts a keyboard.
January 2008: Nokia acquires Trolltech, whose Qt cross-platform framework is used for Google Earth and Skype. The plan is to unify all of Nokia's platforms with one API.
June 2008: Nokia acquires Symbian, spins ownership out to a Foundation, and removes license fees, all in response to Google's free Android OS.
September 2008: Nokia announces cellular telephony is coming to Maemo 5.
June 2009: Nokia and Intel cosy up
July 2009: Third-generation iPhone appears.
September 2009: Nokia confirms the next, fifth iteration of Linux will be the future smart device platform. Apple loosens carrier exclusivity on iPhone, and Orange and Vodafone UK announce the device will be available on their networks.
October 2009: Android 2.0 released to phone manufacturers, with new UI, and wins widespread support. Devices incorporating the software spread like bunnies over the following spring and summer.
February 2010: Nokia and Intel announce they're pooling their respective Linux platforms – Maemo and Moblin – to create Meego - which will "support multiple hardware architectures across the broadest range of device segments". It'll come to netbooks, TVs and cars ... and smartphones.
May 2010: Nokia board begins hunt for replacement for CEO.
September 2010: Stephen Elop appointed CEO of Nokia, instigates urgent review of platform options.
February 2011: Elop announces partnership with Microsoft; Meego is relegated to "project" status for "longer-term market exploration" on devices, platforms, and "user experiences". Nokia's Meego chief and board member Alberto Torres resigns.
June 2011: Nokia quietly announces its first and last MeeGo smartphone, the N9, running what it calls "MeeGo 1.2 Harmattan". It's a stunning design with a radical new 'Swipe' UI, but only launches in selected markets.
Well, we know that Nokia wasted thousands of man years of developer time in-fighting. Even though the management made the right long-term call, acquiring Trolltech for its excellent Qt framework, it lost control of the engineering organisation. A huge project called Orbit vied for resources with a rival, a framework called libdui – or DirectUI. "Both teams had built the wrong thing," one developer later explained. Former Sun CTO Rich Green would cancel both.
What we didn't know is that Maemo, later Meego after the alliance with Intel was formalised, went through three different UI designs. Most of the time it was absorbed by a series of concepts drawn from theory.
Activity Theory
"The Harmattan UI was originally based on the Activity Theory principle, a frame of reference for studying human behavior and development processes. The goal is to understand society, personality and, most importantly, how these two are connected. The theory was originally developed by the Russian psychologist Vygotsky," notes Taskumuro.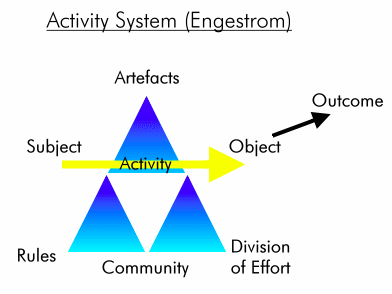 Does this make sense? We'll have a quiz at the end.
It turns out this isn't actually a theory at all, in any scientific sense. It isn't a falsifiable hypothesis. It has no predictive value. Wrap your chops around this to get a flavour:
Activities are open systems. When an activity system adopts a new element from the outside (for example, a new technology or a new object), it often leads to an aggravated secondary contradiction where some old element (for example, the rules or the division of labor) collides with the new one. Such contradictions generate disturbances and conflicts, but also innovate attempts to change the activity.
The "activity theory"-based UI absorbed an enormous amount of effort at Nokia, and the team missed the first deadline for a device. Product teams were waiting for a finished Maemo to put in the chassis of the Nokia N8 - for a phone code-named Columbus. But the resulting work was a UI that looked remarkably like everyone else's: a kind of 'digital dashboard'. The theory-based UI was abandoned at the end of 2009. The N8 eventually appeared in 2010, but Columbus had to be cancelled.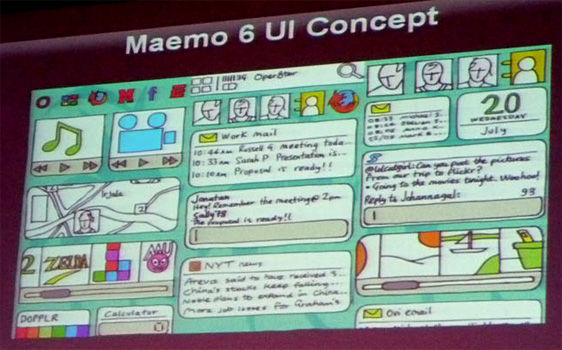 Back to the drawing board: the Harmattan UI was abandoned
The Harmattan UI's replacement was a generic 'Simple Dali' design, intended to be finished by July 2010. But this a bare bones UI was deemed to insufficiently different from any one else's UI. The third UI was Swipe, and knocked together quickly. This was eventually what appeared in the N9 last year.
According to Nokia roadmaps, before Meego was sidelined the N9 was due to be called the N9-01. Preceding this N9 would be a keyboard communicator design, very similar to the Symbian-based E7, only running the Swipe UI. It was cancelled close to the production date.
The report also has some details of Nokia's cancelled tablet - codenamed 'Senna' and using the same design language as the N9 (and subsequent Lumia 800 and 900) - but much larger.
There were more bumps which eventually caused the wheels to fall off Nokia's Linux.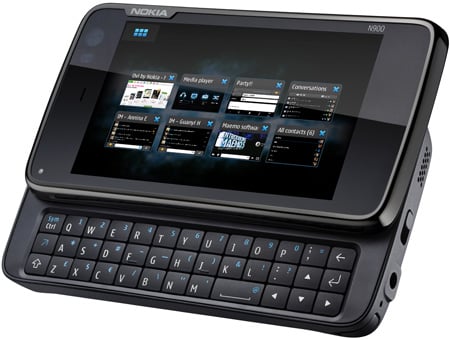 The fourth generation tablet, the N900 ,also made phone calls
Intel had thrown enormous resources behind the WiMAX technology, which was a market flop - network operators opted for LTE instead, and investors didn't fancy setting up hugely expensive rival WiMAX networks to vie with LTE. One exception was ClearWire, which has since switched to LTE. Similarly, the only major network to bet on WiMAX, Sprint, is also now turning to LTE. Intel has also had to acknowledge reality and play catch-up: it doesn't today have WiMAX support for its Atom chips.
As Meego became the "platform of the future", staff piled in - it was the "hot" development project to work on. But as the report notes:
"Everyone inside Nokia had their opinion on MeeGo and the MeeGo team listened [to] everyone."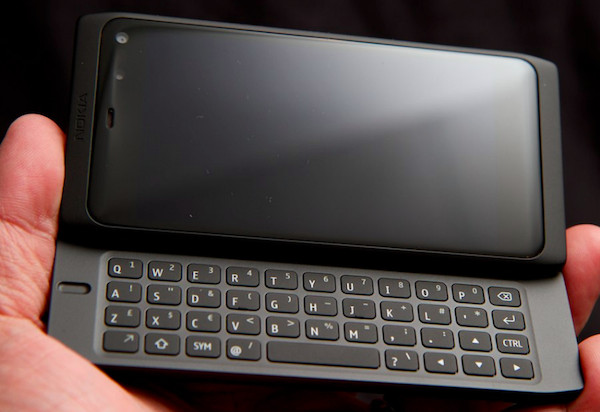 What might have been:
The never-released Nokia N950 brought a QWERTY slider keyboard to the slick N9 Swipe UI.
And finally, Nokia failed to win cross-industry support for MeeGo from rival manufacturers. They were perfectly happy with Google's Android, which had given them a competitive platform, and was yet to be ruffled by licensing and patent issues.
"In the war of the ecosystems, breaking into the North American market without LTE support and proper support from other manufacturers and operators would have been an impossible task for Nokia," The Taskumuro report continues.
Too much, too late?
As we've discussed before, Nokia's long-term vision can't be faulted - it embarked on developing a rich mobile tablet OS years before the market demanded one, and bravely kept the project going through years of poor sales.
The iPhone's success saw the market demand for devices which were primarily tablets, information devices, but with added cellular phone capability. By that time Nokia had one in the bag, and it was mature. But it wasted valuable time with conflicting and anarchic development efforts. It couldn't ship. Yet almost anything would have been an improvement on Symbian, which was tarnishing Nokia's reputation - particularly after the N97 debacle. It's tantalising to think what might have been if Nokia had shipped the N9 two years earlier, in the summer or autumn of 2009.
Success tends to breed success - people want in. Perhaps with a popular Meego product Nokia could have picked up some licensees nervous about a reliance on Android. Who knows?
As it was, Nokia finally had a competitive platform but would have had to go it alone. That wasn't a gamble that Elop was prepared to take. Microsoft now does the heavy lifting, at huge expense, to will the "third ecosystem" of Metro into existence.
Well done to Sampsa Kurri - who we believe wrote the feature, which isn't bylined - for teasing out some new details.
It's all over here.®