Original URL: https://www.theregister.co.uk/2012/10/10/review_view21_vw11fvrhd50_freeview_plus_hd_dvr/
View 21 IPTV Freeview+HD DVR review
iOS telly addicts, look no further
Posted in Personal Tech, 10th October 2012 07:00 GMT
The Freeview+ HD market has suddenly sparked into life. Having spent an age coasting on the coattails of Humax's HDR-FOXT2, there are suddenly a slew of better-specified recorders hitting the streets. The View21 VW11FVRHD50 is one such newbie, mixing Freeview+ HD with IPTV connected services. While it doesn't offer full-on Catch-Up like rival YouView, there is BBC iPlayer, YouTube, Flickr and Twitter onboard.

View21's VW11FVRHD50 Freeview+HD DVR with app control to boot
The View21 is a curiously designed DVR with a slightly bowl-like roof. If nothing else, it's somewhere to put your bananas. Beneath the lid is a 500GB hard drive, enough room for around 312 hours of SD, or 125 hours of hi-def.
Connections include a Scart loop-through for legacy CRT owners, single HDMI and digital optical audio out, the aerial I/O, Ethernet and a USB 2.0 connection. The latter appears to be dormant, most likely for upgrade service use only. There is no HDMI switching or integrated Wi-Fi onboard.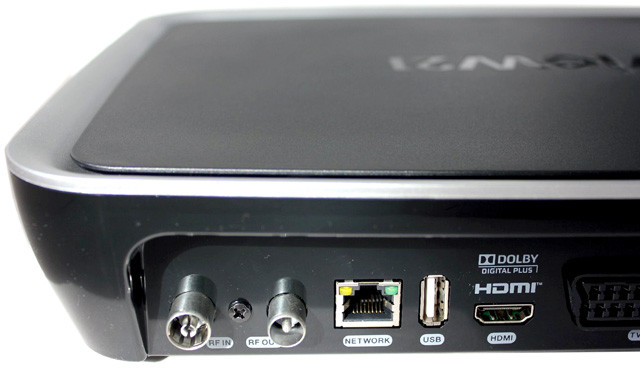 Just about all you need round the back
To use the Scart output would, of course, be crime against clarity. Especially a shame here as the GUI is wondrously crisp; it's this which gives the entire box hi-def sheen, even when navigating skanky low-bitrate fare in the Freeview backwaters.
The box's TV guide offers a live channel window and some familiar Freeview+ HD niceties: select an SD channel, and if available, you'll be offered a one-touch jump to an HD version if it's accessible, while the i-plate gives presents the usual programme info. However, the D-Book 7 recommendation engine hasn't been implemented – this offers the user a choice of a similar shows to watch or record.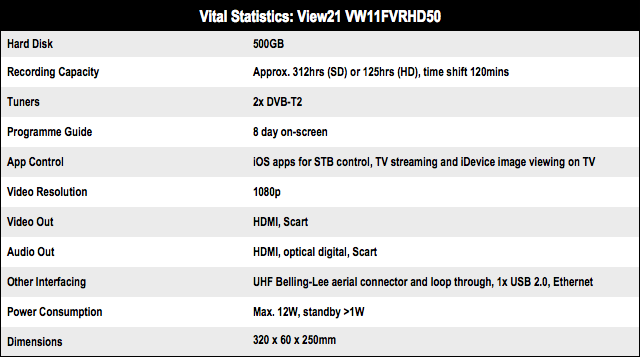 Double vision
The View21's twin tuners mean that two channels can be recorded at the same time, with Chasing Playback supported if you just want to watch stuff on time delay. Recordings can be ploughed through at a rate of knots. Search speed is variable between x2, x4, x8, x16, x 32 and x64. Even with the recorder all tied up, you're still able to take the box online. There's a standard Live Pause feature, with adjustable cache variable between 30-, 50-, 90- and 120-minutes.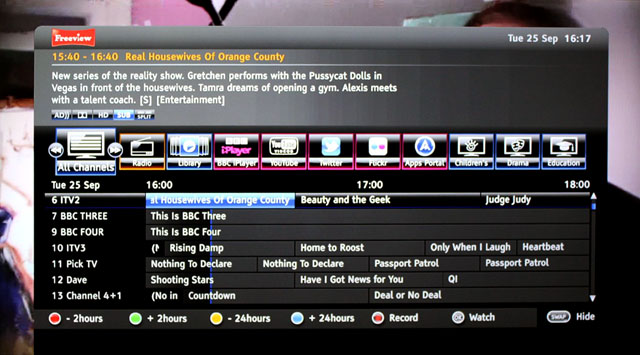 EPG
The View21 on-line offering may be bare bones, but the BBC iPlayer iteration is a treat, with improved navigation and full-screen menu pages (iPlayer with a whiff of XBMC?). The YouTube leanback implementation is also rather dandy.
Providing backup are Flickr and Twitter. I'm not a fan of social media clients on TV, and their inclusion here seems rather token. You can run a Twitter bar across the bottom of the screen, search for topics and users, but you can't post from the set. Fine if you just want to read other people's funnies during X-Factor.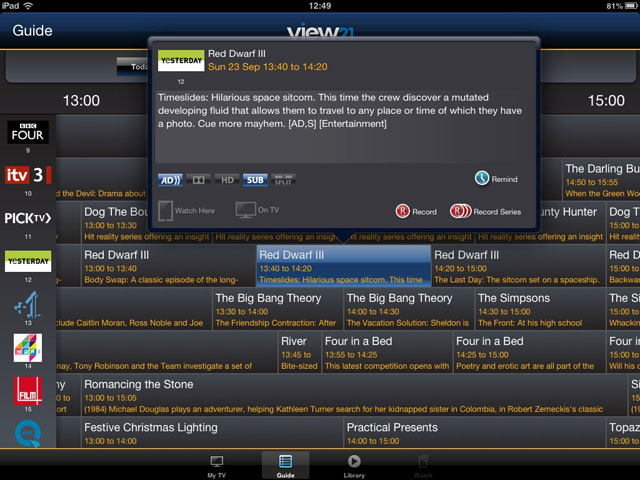 EPG on the iPad
Navigation is nimble enough, and the UI is generally well designed, although the unnecessarily tabbed Main Menu bar does rather clutter TV listings.
Yet to really cut it as a DVR in 2012 you need a USP, and here it's the deck's companion apps. Currently for iOS only, View21 Play and View21 Photo significantly improve the user experience. Of the two, the iPad option is the most compelling. Partnering device and deck is a doddle. Provided your iOS gadget is on the same network as the View21 deck, when you fire up the app, it automatically prompts you to connect.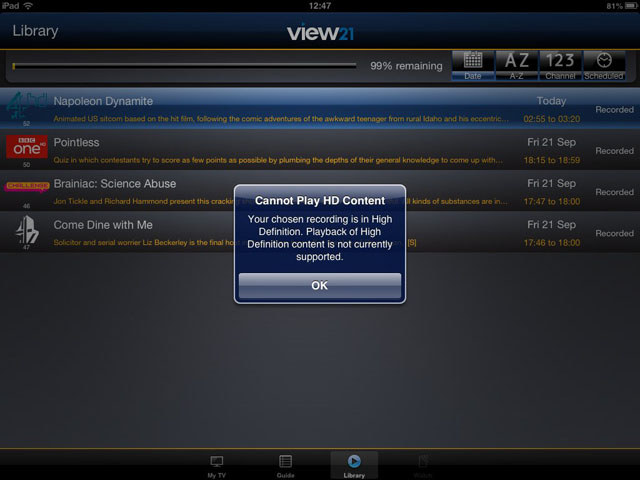 Viewing TV on the iPad works fine, so long as it's not HD content
View21 Photo is used to fling digital still images to the screen; it's simple but effective. View21 Play is where the action really happens. You can second screen the TV guide, looking ahead 8 days to plan recordings or set reminders.
You can also watch live TV on the iPad from one of the deck's two tuners – this proves to be boon if you want a mobile screen in the kitchen or bedroom. Even better, the View21 app will stream recordings direct from the hard drive library to the set top box, although there is a significant caveat – HD recordings are not supported. This is a bit of a bind if you routinely chose to record stuff at the highest resolution.
Quality player
Programmes chosen from the app's TV guide can be either viewed on the device, using the 'Watch Here' button, or selected on the TV via the 'Watch on TV' icon. Unfortunately, that's about as far as control goes. You don't get total control of the box, so you can't ferret around in the settings menus. Neither can you use it to stream content to the device if the DVR itself is playing BBC iPlayer.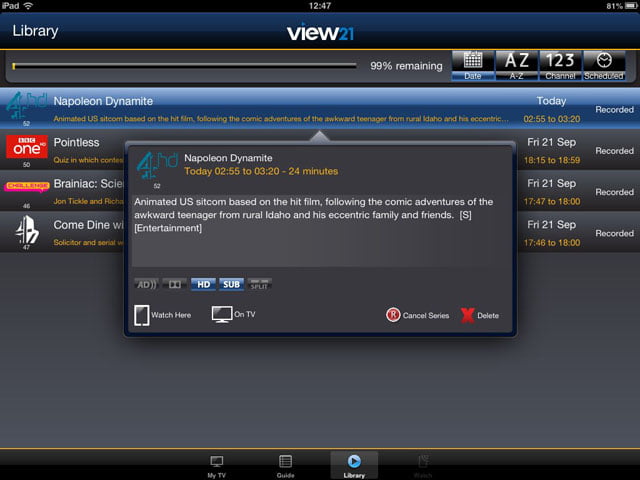 Content library
The DVR's image quality is extremely good. Recordings appear transparent to source, so the real test is the quality of the upscaling in the box. There's a choice or fixed 576p, 720p, 1080i or 1080p output settings. There're no obvious deinterlacing artefacts in SD content should you opt for progressive. Recording can be padded by up to 5 minutes. The unit also proves to be exceptionally quiet in operation.
Bizarrely, I noted that the View21 box reacts to IR commands from an LG TV remote when it's in Stand By. Pressing a button on the LG zapper causes the orange Stand-By lamp on the View21 to momentarily flicker blue and the hard drive gives a little spin. It's a bit like poking a sleeping bear with a stick. No other branded controller appears to have the same effect.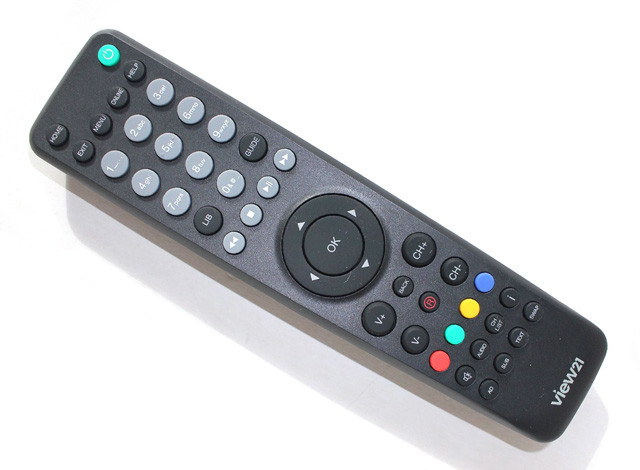 View21 remote, although others might influence its behaviour
Verdict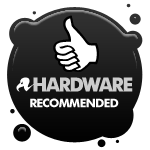 Overall, the View21 can be considered a well-equipped step-up TV recorder. Performance is solid and its (admittedly limited) IPTV services welcome, however it's the app functionality which really adds lustre. iPad owners should go out of their way to give it a whirl. ®
Thanks to Vodafone for the loan of the iPad.
More AV Reviews

Humax
YouView
DTR-T1000
Ten... monster TVs
for all budgets
Build a bonkers
Hi-Fi
Panasonic
DMP-BDT320
3D Blu-ray player
Apple TV
2012