Original URL: https://www.theregister.co.uk/2012/10/10/hds_ucp/
Hitachi Data Systems dons converged system cloak
Anything EMC and NetApp can do ...
Posted in Storage, 10th October 2012 09:42 GMT
Hitachi Data Systems has announced its UCP converged server-storage-networking system both in integrated system and reference architecture form, taking on EMC and NetApp while partners Cisco and VMware triumphantly play the field.
The Unified Compute Platform comes in Pro and Select versions, 11 versions in all. The UCP Pro is a fully integrated single system like the VCE Vblock, while the UCP Select is a reference architecture like NetApp's FlexPOd and EMC's VSPEX.
The UCP Pro and Select systems are built in layers, starting with storage, then networking, servers, the hypervisor and, finally, the application. HDS's Ravi Chalaka, VP for product and solutions marketing, says these are second generation converged infrastructure systems that have very much better management and orchestration software as well as being far simpler and quicker to deploy than first generation products. He also claimed they have greater reliability and availability than commodity hardware-based converged systems, not that he named names. He did say the non-converged way of doing things involved:
too many handoffs,
too many tools,
too many vendors,
too much time and
too much cost.
But he did not provide comparative cost or, for that matter, comparative performance numbers.
The UCP Pro uses Hitachi VSP storage and CB500 servers, a CR210 management server, Brocade Ethernet and Fibre Channel networking. The hypervisor is from VMware in the initial version. The supported applications are from Oracle (9, 10 and 11g databases), Microsoft Exchange and SQL Server, SAP HANA, Citrix and VMware. It can support up to eight server blades per chassis, supporting in turn up to 1,000 virtual machines. There van be up to eight server chassis in the system, meaning 8,000 VMs are supported.
Its UCP Director management and orchestration software, which looks after both the physical and virtual infrastructure, is fully integrated with vCenter, and Chalaka claims this gives HDS an up to 18-month lead time over the competition. Systems can be deployed in under a week, down to as little as two days, which he contrasted with competing systems – which he said could take up to six weeks.
The UCP Pro, which also includes element management software, is configured by HDS and installed by HDS or HDS Systems Service Specialisation Program (SSP)-certified partners.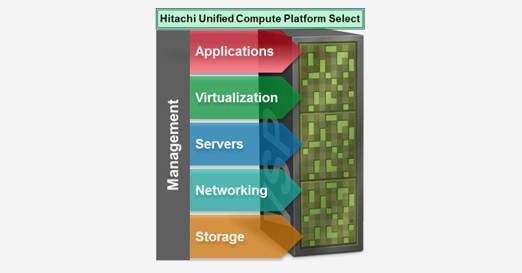 The UCP Select systems offer a selection of HDS storage, Cisco or Hitachi servers and Brocade or Cisco networking. They do not have the UCP Director software but include the same element management software as the Pro. The system can come either with embedded vSphere, HyperV or the kit can be supplied as "bare metal." There are small, medium and large sizing options, and the hardware is installed and supported by HDS or an SSP-certified partner.
The UCP Select for VMware vSphere with Cisco UCS is the initial offering, that combines Hitachi VSP storage with Cisco UCS B Series blade servers and Nexus or MDS switching, as a Cisco Validated Design (CVD), and it is pre-validated with VMware vSphere. Other elect systems combine Hitachi servers and Brocade networking and there are nine of these:
Citrix Xen Desktop
Microsoft Exchange 2010
Microsoft Private Cloud
Microsoft SQL Server 2008
Microsoft SQL Server 2012
Oracle Database (9, 10 and 11g)
SAP HANA
VMware View
VMware vSphere
No doubt more applications will be supported in coming months.
With these converged systems HDS has served notice that it is broadening its storage and system offerings and, like EMC and NetApp, working hand-in-glove with Cisco and VMware to deliver converged systems that compete with the ones offered by the three mainstream server vendors Dell, HP and IBM. It is, perhaps, potentially stronger than EMC in one area as it has its own server offerings, but then EMC owns VMware and that is a monumental advantage. There are now six converged infrastructure vendors and we can expect such a level of competition to speed system development as the vendors vie for customer favour.
Potentially HP and Dell have the best hand of cards to play, owning their own server, switching and storage technologies as they do. Whether that can translate that into winning products, we'll have to wait and see. It certainly ought to be more nimble than suppliers who have to juggle switching and server partners with their own storage products – as EMC, HDS, and NetApp each have to do.
All the UCP systems except the Xen Desktop and VDI View configurations are available now; the two virtual desktop ones will be available within 50 days. Prices can be obtained from your HDS contact or SSP-certified partner. ®