Original URL: https://www.theregister.co.uk/2012/10/10/brightman_iss/
Sarah Brightman plans International Space Station gig
Soprano evidently did lose heart to a Starship Trooper
Posted in Science, 10th October 2012 15:28 GMT
Singer Sarah Brightman has announced she's off to the International Space Station, from where she'll become "the first professional musician to sing from space".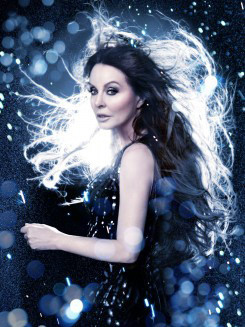 The classical superstar, 52, is the best-selling soprano in history, so she's obviously not short of the few quid it will cost to be lifted heavenwards atop a Soyuz rocket, ahead of a 10-day stay aboard the orbiting outpost.
Brightman is also an UNESCO Artist for Peace Ambassador, and "sees life on board the space station – which requires the mindful, shared consumption of resources and a clear and unwavering focus on sustainability – as a model for how we might better inhabit our planet".
She also intends to use her jaunt to "advance education and empower the role of girls and women in science and technology in an effort to help close the gender gap in the STEM (Science, Technology, Engineering and Mathematics) fields".
In a press release from extraterrestrial travel agent Space Adventures, which arranged the trip, Brightman said: "I don't think of myself as a dreamer. Rather, I am a dream chaser. I hope that I can encourage others to take inspiration from my journey both to chase down their own dreams and to help fulfill the important UNESCO mandate to promote peace and sustainable development on Earth and from space. I am determined that this journey can reach out to be a force for good, a catalyst for some of the dreams and aims of others that resonate with me."
Those of you who imagine a quinquagenarian chanteuse may not have the Right Stuff are directed to a statement by Alexey Krasnov, Head of Piloted Programs Department at Russian space agency Roscosmos, who clarified: "I am pleased to announce that Sarah Brightman has been selected to participate in our spaceflight training program. This past July, Ms Brightman completed and passed all of the required medical and physical evaluations; she's fit and mentally prepared for our spaceflight training program."
Just when Brightman will blast off has not yet been scheduled. You can follow the progress of here "extraordinary journey" right here.
What's also unclear is just what ditty she'll be singing from space. We're sure she's considering something suitably profound, but would like to send a request for I Lost My Heart to a Starship Trooper, which was a hit for Brightman and dance troupe Hot Gossip when she was a slip of a lass back in 1978...
Yes indeed. We too want to "feel that galactic thrill".®