Original URL: https://www.theregister.co.uk/2012/10/09/curiosity_spots_bright_object/
Rover spots 'possibly artificial' MYSTERY SHINY OBJECT on Mars
Might be a piece of Curiosity, speculates NASA
Posted in Science, 9th October 2012 09:20 GMT
Martian nuclear tank Curiosity has spotted a bright metallic-looking object sparkling on the planet's surface as it went in for its first soil sample, which could be a piece of the robot rover itself.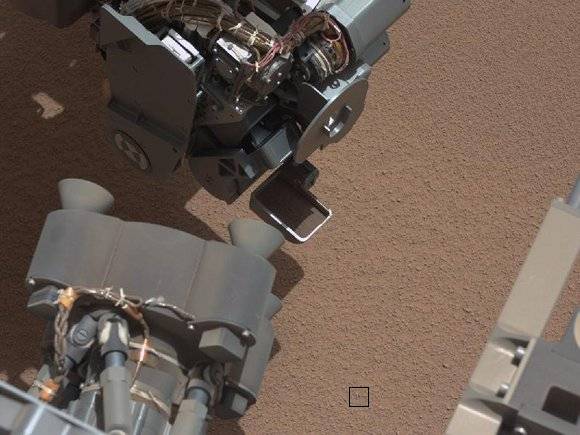 The rover was scooping sand for the first time with its robotic arm when its camera picked up on the object. NASA boffins have put a stop to any further Curiosity activity while the rover takes extra pictures to try to figure out what the mysterious, but tiny, thing could be.
Curiosity is set up to take soil samples so that it can run chemical and mineralogical tests and discover what makes up the Red Planet's surface. Looking at the chemical makeup of the dirt is just one of the ways that the rover's science instruments will analyse whether Mars has ever or could ever support microbial life.
The roving truck took its first scoop on Sunday and was due to take some more samples yesterday, but mission control called a halt to any robotic arm shenanigans until the bright object is identified.
NASA didn't speculate on whether instead of finding microbes, Curiosity has instead found a piece of an alien craft. The agency's only guess so far is that it could be a bit of the rover itself and they're holding up to see if its presence on the surface will muck up the soil samples. ®