Original URL: https://www.theregister.co.uk/2012/10/08/view_to_a_kill/
Target Silicon Valley: Why A View to a Kill actually made sense
Bond villain Zorin's plan wouldn't work today, though
Posted in Bootnotes, 8th October 2012 09:00 GMT
Bond on Film A View to a Kill is generally regarded as one of the least successful Bond movies. Yet it stands out for two things: a suave villain who is deranged in an entirely believable way, and a villainous plot that appeared both logical and plausible.
While its box office performance was passable at $152m, on a budget of $30m, even Roger Moore accepted that at 57 he was too old for the part of James Bond. He was older than co-star Bond-Girl Tanya Roberts' mum.
But Christopher Walken won plaudits as the charming, plausible and fantastically deranged villain, Max Zorin. The result of Nazi steroid experiments on concentration camp inmates, he is co-opted by the Russians and groomed to be a hyper intelligent spy, before his money-oriented extra curricular activities recast him as a rogue agent.
Zorin was a very modern 1980s villain. There was the (possibly peroxided?) blond hair and impeccably cut suits which complemented the psychotic narcissism that was the unfortunate side-effect of his steroid-modified intellect. That mid-'80s gloss was further polished with the casting of Grace Jones as androgynous love interest cum hitwoman, May Day.
Like any self-respecting yuppie, Zorin was interested getting rich and this, combined with his interest in semiconductors, resulted in what is arguably one of the more plausible plots in the Bond series.
Or as Zorin puts to his potential co-conspirators in the chip industry, in a conference room aboard an airship bobbing over San Francisco: "For several years we've had a profitable partnership: you as manufacturers, while I passed on to you industrial information that made you competitive, successful.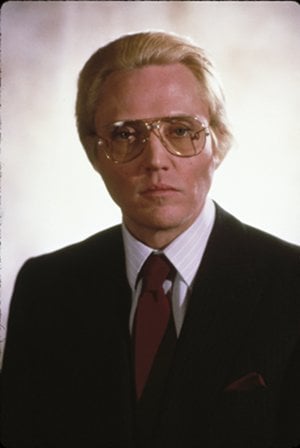 Christopher Walken's Zorin: a villain for the '80s PC revolution
"We are now in the unique position to form an international cartel to control not only production but distribution of these microchips... I propose to end the domination of Silicon Valley."
Thirty years on, re-examining Zorin's proposition shows how Silicon Valley - like Bond - has changed while also staying largely the same.
At the time, as now, many organisations wanted to end Silicon Valley's dominance of the chip industry. However, these efforts usually relied on some combination of government funding and protectionism and, occasionally, judicious reverse engineering.
This being a Bond film, Zorin's MO in achieving his strategic aim was more spectacular: a vaguely defined plan to pump water into the faults underlying San Francisco and the Santa Clara Valley to prompt a massive earthquake, potentially killing millions in the process. All of this viewed in real time, of course, from that airship.
Even as scriptwriters Richard Maibaum and Michael Wilson were putting together their plot, the IBM PC was popping up in offices and homes. Ridley Scott's groundbreaking Apple Mac ad had aired during the 1984 Superbowl. On the big screen, Tron and Blade Runner had both pitched computer technology into the heart of action films, and in the case of the former had even pushed a few techie terms like "input/output" and "user" into popular parlance. Calculators were essential items for schoolchildren. Chips were creeping into our lives.
But Silicon Valley was an almost mythical place. The term had been coined barely a decade earlier, and even as Zorin let his co-conspirators in on his plan, Maibaum and Wilson felt compelled to follow the phrase "Silicon Valley" with the explanation "near San Francisco".
The Valley itself consisted of suburbs, open country, commercial parks and Stanford University. While there were indeed still chip manufacturing facilities dotted around the sub-divisions and orchards even in the early 1990s, there were also vast empty lots waiting for the '90s PC explosion and the dot-com boom to choke up the place and bring Highway 101 to a crawl. No surprise, then, that the filmmakers set most of the action in San Francisco - a place with a recognisable screen personality thanks to films like Dirty Harry and - of course - The Towering Inferno.
But things were changing at breakneck pace. In 1977, the first year for which it publishes full figures, the Semiconductor Industry Association pegged worldwide semiconductor sales at $3.8bn. By 1984, when filming of A View to a Kill was underway, the chip business was worth $24bn and US firms accounted for between 50 to 60 per cent of this. It's fair to assume that much of that was designed, if not completely manufactured in the Valley. Zorin certainly thought so.
So, as one of Zorin's backers, coughing up a mere $100m and half your net profits going forward for a share of a chip monopoly would perhaps have been a compelling proposition given the sort of profit margins you might have expected to be making.
Valley guys and earthquakes
If anything, prospective partners might have thought Zorin's proposition was based on a ludicrously low entry fee, with too much of his share being backend loaded. But they'd have kept this view to themselves - either to maximise their own profit, or to avoid being asked to "step outside" the airship where the meeting was held.
But the industry - less than two decades old depending how you date it - was changing, in ways that could undermine the whole logic of the plot even before filming began.
For a start, Zorin's figures are a little out – he tells his conspirators the Valley is home to "250 plants" and 80 per cent of world microchip manufacturing. These figures put him at odds with the SIA.
A drift of chip manufacturing was already underway out of the Santa Clara Valley by the end of the 1970s. The innovators in computing were also innovators in rationalising production and exploiting near-shore and off-shore production, according to David Laws, a curator with the Semiconductor Special Interest Group at the Computer History Museum in Silicon Valley. Laws is a 40-year veteran of the Valley, having worked at firms from Fairchild to AMD.
This wasn't just theory; land was already expensive there, while the populace along Route 101 was already acutely aware of the potential environmental impact of the esoteric chemicals being used in chip production, says Laws.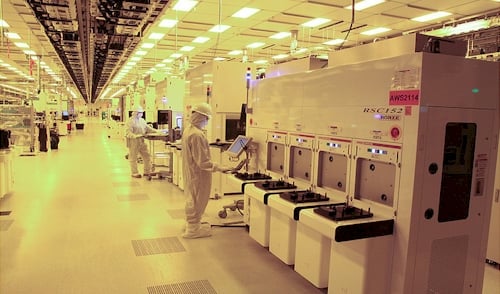 A Zorin plan would miss chip plants like GlobalFoundries' Fab 8, outside Silicon Valley
So by the time Zorin was fleshing out his plan, large-scale fabrication had already moved out of the Valley - AT&T and IBM had always had their own plants elsewhere. Meanwhile, says Laws, packaging and testing had already moved overseas, to the Philippines, Malaysia and Korea. The fabs still in the Valley were focused on prototyping and initial manufacturing.
Nonetheless, Laws says that taking out the Valley "would have been pretty devastating" - but Zorin would have been obliterating brain power, not manufacturing muscle.
"In Silicon Valley you had such breadth of experience, in so many specialisms," says Laws, whether microprocessors, analogue or mixed signal.
Even with the manufacturing elsewhere, there was enough of a critical mass of brains in the Valley that it would have been hard for the rest of the industry to pick up the slack, at least in terms of future development.
So Zorin probably got it right with his target, although not quite for the reasons he expected, and for a limited time only.
As for his methodology, disguising one's assault as a natural disaster is a great way of covering your tracks. But just how easy is to stage a major earthquake?
The understated response from Roger Musson of The British Geological Survey, Fortean Times contributor and author of the forthcoming book The million death earthquake, is: "It's not very plausible."
The concept of a geological lock is standard seismological theory, Musson explains. But Zorin's method of unpicking it is fanciful.
The San Andreas Fault lies between 5km and 15km below the Valley's surface, he explains, meaning the explosion in the mine Zorin set off to cause the quake catastrophe would have had little practical effect, not least because the energy from explosions tends to be directed upwards.
Likewise, the explosions on the lakes would have resulted in "some spectacular fountains, but not much else."
However, the producers did not completely ignore earthquake science. Indeed they consulted the BGS on what a seismological monitoring lab should look like. This at least they got right for the few seconds it appears on screen.
"It looks like ours," observes Musson.
And if the word of scientists is not good enough for you, bear in mind that A View to a Kill is one of the few Bond plots which has been tested in real life. Just over four years after A View to a Kill premiered in San Francisco, the Bay Area was hit with a major Earthquake - the 6.9 point Loma Prietta. While this was enough to collapse freeways and close off whole neighbourhoods of San Francisco, the effect on the semiconductor infrastructure was negligible.
"I don't think it was a major hiccup," says Laws. More of a problem was the US's appetite for orchids and other Asian perishables, which often bumped silicon components off trans-Pacific flights.
"An airplane coming in late was more of a problem [than earthquakes]," he says, reflecting the industry's increasing reliance on air freight to move parts from fab to testing and assembly plant and back again.
In fact, one plane did go down in the Bay in the '70s, he says, and while all hands survived, a whole over-stretched industry suddenly discovered they might have had parts on it:
"Everyone blamed that disaster for delays to customers."
It's the brains, stupid
So. Zorin's plan to control chip giants has merit but it's the wrong attack vector. However, this is the world of Bond: suppose Zorin emerged from the chilly waters of San Francisco Bay where Bond hurled him at the climax of A View to a Kill and - Blofeld-like - re-established himself. Would Silicon Valley still prove a tempting target for a hyper-intelligent megalomaniac wishing to dominate the world's tech economy?
Well, it's become home to personalities such as Mark Zuckerberg, Larry Ellison and a positive swarm of venture capitalists. But whether the semiconductor industry would still be the target is open to question. The evacuation of semiconductor manufacturing from the Valley that Zorin failed to completely grasp in the 1980s is more or less complete. Today there is just one 300mm fab still operating in Silicon Valley, according to fab kit trade group Semi.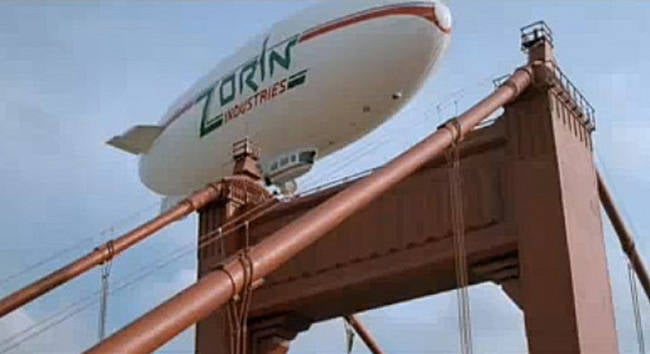 Back from the dead: would death-cheating Zorin today hit Facebook, Zynga or the Valley's VCs?
To take the most obvious example, Intel's 300mm wafer fabs are now spread across Oregon, Colorado, New Mexico, Ireland, Israel and China. Other functions such as testing and packaging take place around the world. That human-triggered earthquake would not necessarily disrupt Chipzilla's R&D either. Intel found as it set up facilities around the world that local talent could be groomed to do more than just keep an eye on the machines.
Other Silicon Valley stalwarts, such as AMD, have moved out of the Valley altogether, while it's a safe bet that today's up-and-coming chip firms would simply go the fabless route.
But let's assume that Zorin is still a single-minded psychotic, turned vengeful by Bond's thwarting of his plans. What if he decided to take out Silicon Valley anyway? What would he achieve?
He'd probably cause some disruption to the HQ functions of a lot of tech companies. A lot of iPhone prototypes might be lost, but as long as Jonathan Ive and Tim Cook were travelling, Apple would arguably be OK. The tech world might arguably not shed a tear over the loss of Hewlett-Packard; and Oracle presumably has backups of its binaries somewhere safe as it's a software company.
Which leaves what? Facebook, Zynga and an awful lot of venture capitalists is the flip answer. Hell, we might even find ourselves cheering Zorin on.
But, argues Laws, in some ways the dislocation caused by a modern day Zorin would be more far reaching, precisely because the Valley and the tech industry are nowadays about more than the chip. It's home to the whole infrastructure and knowledge that's at the heart of the modern tech industry.
"If the Valley disappeared there would be massive dislocation. These days it's not just chips, it's now software and systems. The dislocation would be more devastating," Laws argues.
But the essential elegance of the original View to a Kill plot is missing here. Hitting Silicon Valley today might indeed cause massive upset to whole sectors of the tech industry, but the thing that made Zorin's plan almost logical - domination of what was becoming a strategic industry - is missing.
What are the alternatives for today's Zorins to try and dominate? As with the chip industry, so goes high-tech hardware as whole. Thanks to the globalisation that occurred after the collapse of the Iron Curtain, manufacturing has become spread throughout the world, offering at least a degree of supply chain resilience. Our modern day Zorin might take out Foxconn's iPhone plant, but he'd need his own equally desirable product ready to go - and he'd need to have Samsung or somebody else in on the act.
So let's leave manufacturing. Perhaps the older, wiser but still vengeful Zorin would target the world's information infrastructure. Data centres might be seen as the nodes of the modern tech industry, but they too are widely diffused.
An electromagnetic pulse (EMP) wave such as that generated by a nuclear blast might knock them out over a given area. But this would also take out an awful lot of other things.
And this is IP infrastructure we're talking. Redundancy is part of the point. The most you'd achieve is a monopoly on an electronic wasteland - unless you'd been able to construct an entire globe-spanning comms network unnoticed. That's before the difficulties of securing a nuclear bomb and hiking it into space undetected are taken into account.
Other scenarios might sketched out: a Stuxnet-like virus attack or some other digital assault on critical infrastructure? Possibly, but where's the payback? If it's blackmail that could leave some sort of paper trail. And, let's be honest, without the possibility of millions dying, where's the fun?
The problem is all the obvious scenarios lack the elegance and logic of Zorin's original plan: a staged, but otherwise completely expected, natural disaster taking out the crucible of a growing industry, giving the plotter-in-chief an invisible monopoly and ensuring he gets a share of every transaction going forward.
So Zorin today might be expected to launch a much more insidious, invisible method of dominating tech and making sure he gets his take on every transaction. A Bond movie about patent trolls or venture capitalists would be rather short on action, though. ®