Original URL: http://www.theregister.co.uk/2012/10/08/review_sony_vaio_t13_ultrabook_svt1311w1es/
Sony Vaio T13 Ultrabook review
Sony making ultrabooks more affordable? Remarkable!
Posted in Laptops, 8th October 2012 08:34 GMT
It's only natural that manufacturers want to show off their biggest (or in this case, smallest) and best but Sony has spotted the flaw in this plan. By thrusting their fabulously lean but powerful sexy bits in your face all the time, Ultrabooks have gained a reputation for being the Page 3 girls of computing: naughty, vigorous and lustworthy… but frankly out of your league, you leery old bastard.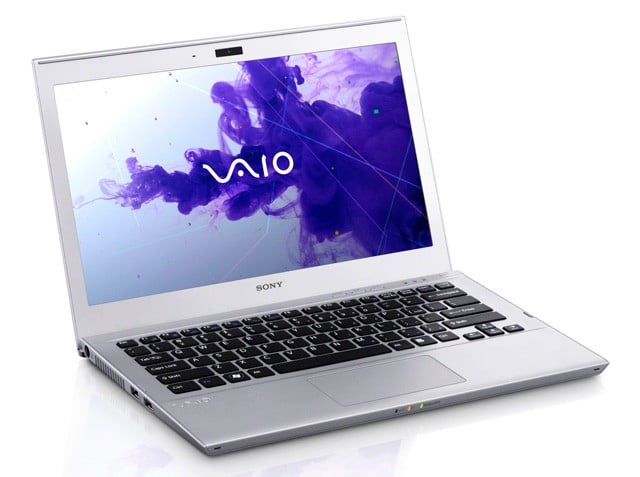 Sony's Vaio T13 Ultrabook: Light and compact, with flickery LEDs at the front to let you know it's switched on
'Look but don't touch' is not what I want from a computer, especially if I'm carrying her under my arm half the time and running my fingers over her the other half. I'm really enjoying this analogy and I hope you are too but it's time to move on.
Sony's T-series Ultrabooks have just received an Ivy Bridge spec refresh, and here we're looking at the entry-level, all-flash-storage model of the T13, based on an Intel Core i5-3317U running at 1.7GHz.
Built in a magnesium and aluminium case, the Vaio T13 feels light but sturdy. I wouldn't dare try a drop test but at least I don't have the feeling that I could tear it apart with my bare hands, as I get with plastic-cased lightweight notebooks.
It may be a matter of personal taste but the angular design of the case is pretty ugly. The sharp edges and tight corners tend to catch on the zipper pocket opening, as I pull the T13 out of my laptop bag, in a way that curved and rounded corners wouldn't.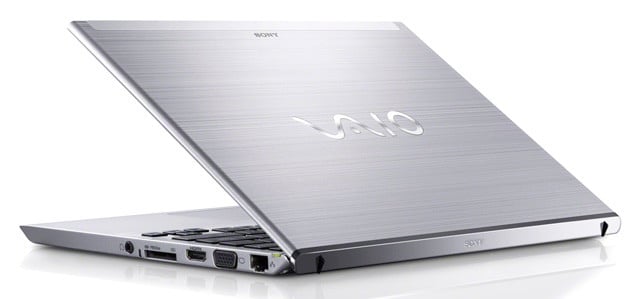 Sony pretends that the fashion for brushed aluminium didn't end five years ago
The unit opens up nicely without tipping backwards and sits flat and firmly on a tabletop without sliding around. The 13.3in screen is small but, at WXGA resolution, perfectly usable and clear. Viewing angles are wider than I have experienced on other ultrabooks, such that I don't have to waste time fiddling with the display angle and swivelling the computer around to obtain good vision. While the benchmarks were running, I put the T13 to one side on my desk but I could still see clearly what was happening on-screen from my relatively obtuse viewing angle.
Monitoring matters
Video playback is very good. I saw no evidence of display blurring and no latency or jerky issues at all. I watched some downloaded TV episodes very comfortably on the T13. The keyboard is OK: it's not backlit or anything fancy but its key action is about right, even for rapid touch-typists like myself. There are three quick-launch buttons at the top right of the keyboard for opening system Help, running a web browser and invoking Sony's bouncy Dock-like program launching bar.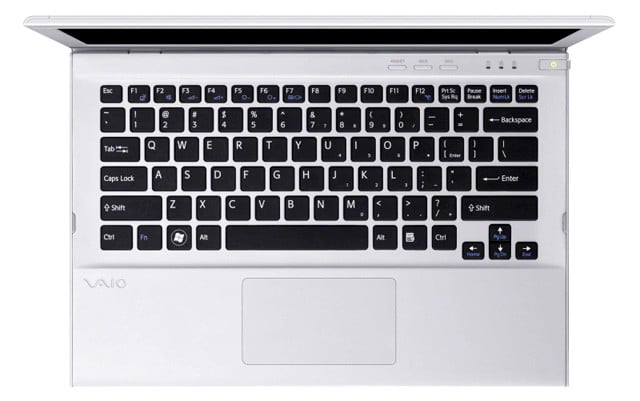 Trackpad tweaks maybe required to
The Synaptics trackpad, sized 10 x 5.5cm, is well-featured but required a bit of Control Panel adjustment before I could persuade all my gestures to be recognised consistently. It seemed to have an occasional problem recognising my double-tap-and-drag gesture for moving windows around without having to press down to click. My fingers may be at fault here but I don't remember it being an issue before.
The inclusion of ye olde teknologie such as a standard VGA port (no adapter required!) is fabulous. Of all the projector and external display cables I am handed at client sites, 99 per cent are still VGA. Also appreciated is the provision of both wired Ethernet and Wi-Fi, the latter working very well. Many laptops running Windows seem to dawdle around before making Wi-Fi new connections – God knows why – and flake away easily but the T13 latched on to new networks quickly and kept them alive without fail as I moved the computer around.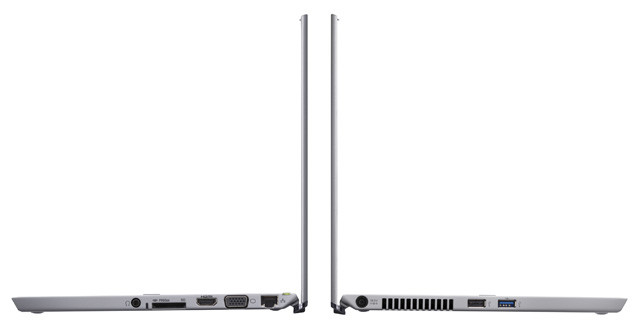 Laugh if you like but that VGA port will get used nearly every day I'm on the road
Not so impressive is the USB provision. I really don't see the point of the T13 being fitted with one USB 2.0 port and one USB 3.0 port. Why not both USB 3.0? Almost all my external storage devices, including Blu-ray/DVD writer and portable hard disk, are USB 3.0 these days.
Rapid Wake and Eco features appear to be well implemented. Sony says you can close the Vaio T13 to send it to sleep and re-open it 30 days later to carry on working from where you left off. Unfortunately, I wasn't able to put the review model to this particular test, but the speed at which the computer wakes from sleep – consistently two seconds in every test I conducted – is delightful.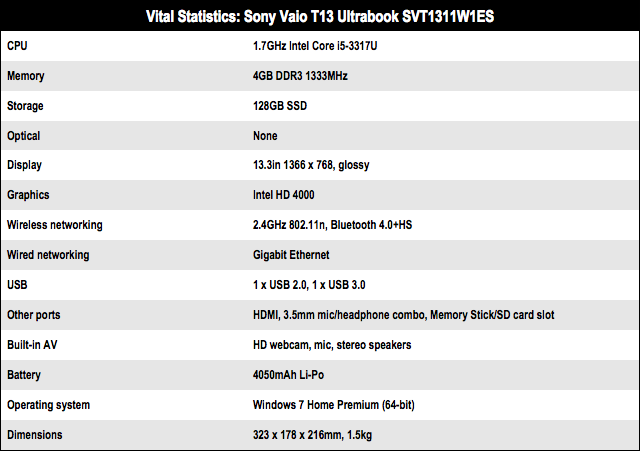 Battery life is about right, if hardly a barnstormer in our Powermark test. Even with all of Sony's power-saving features enabled, I couldn't squeeze more than 3.5 hours of full-on processor and display thrashing from the battery. Remember, however, that real-world work is usually less intense and you could possibly get twice as long.
PCMark 7 Results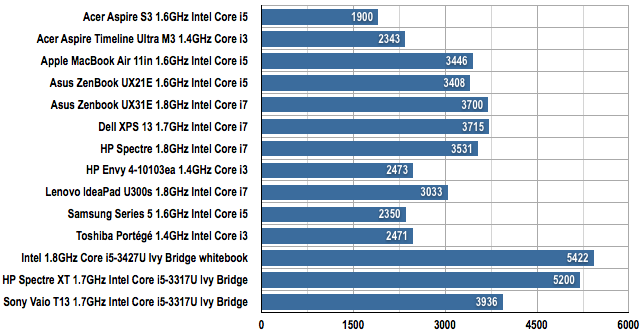 Longer bars are better
The Vaio T13's result in the PCMark 7 benchmark confirms what we should expect from an entry-level Ivy Bridge processor: it beats just about every pre-Ivy Bridge Ultrabook Register Hardware has tested to date, although the HP Spectre XT reviewed recently, puts in a surprisingly high score from the same chippery. Subjectively too, the T13 feels snappy and responsive.
Given all the positives, I assumed this product would cost the usual '£1 less than a grand' – or even more since it's using Intel's latest Ultrabook processor. So it's with some pleasure that I can report it costs some £120 less than expected. In fact, if you're prepared to sacrifice the wake-up speed, you can buy a hard disk (non-SSD) model for £679. That's not much more than you'd pay for a conventional brand-name laptop that's twice the size but half as good.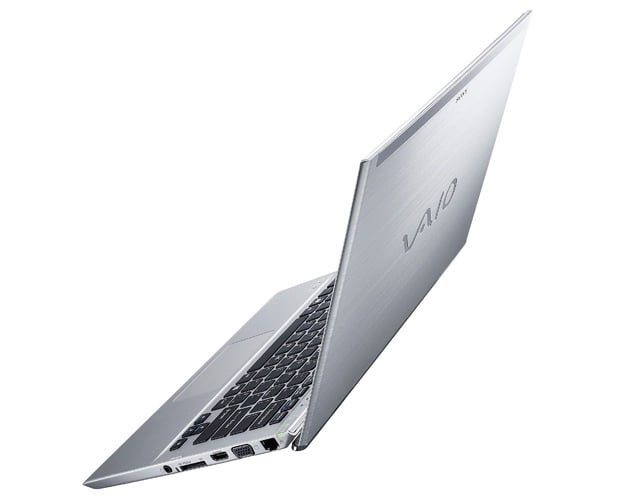 I don't like the angular case design but the T13 is still a damn fine Ultrabook
Of course, therein lies the problem with all true Ultrabooks: flash storage is still sickenly expensive and many users, like myself, won't find 128GB enough – hence all my USB 3.0 external storage devices. An upgrade to 512GB SSD storage will add (holy cow!) £900 to the price. On the other hand, choosing 8GB RAM instead of 4GB should only cost an extra £40, which I think is a bargain for those who want longevity from their Ultrabook purchase.
Verdict
Overall, Sony gets a thumbs-up from me for starting to prise open the Ultrabook market by making it more affordable to people like me. That Sony, of all companies, should being doing this is remarkable. ®
More Ultrabook Reviews

HP
Spectre XT
Acer Aspire
Timeline M3 Ultra
Ivy Bridge
for Ultrabooks
Toshiba
Portégé
Z830-10N
Dell
XPS 13