Original URL: https://www.theregister.co.uk/2012/10/06/ibm_lto_6_drive/
Big Blue beats off rivals to push out first LTO-6 tape drive
Tape: All the cool kids are doing it
Posted in Storage, 6th October 2012 09:00 GMT
IBM has announced an LTO6 tape drive, the first one out there.
LTO6 is the latest LTO Ultrium tape format, offering 6.25TB compressed, 2.5TB raw, and transfers data at 400MB/sec compressed, 160MB/sec raw. The current LTO-5 generation offers 1.5TB raw capacity and a 140MB/sec transfer rate.
The LTO-6 capacity increase comes from using a barium ferrite recording material with the tape having greater linear density of data signals, a larger number of tracks and longer length compared to LTO-5 tape. The drive can run at one of 14 speed levels to match more closely the sending host's data rate, after data compressibility has been factored out.
There is a Giant Magneto Resistive (GMR) head with a dual-stage, 16-channel, head skew actuator to support the higher track density.
The IBM TS1060 drive offers these LTO-6 specs, meaning LTO-6 offers 66.6 per cent more raw capacity and 14.3 per cent faster data transfer. It sounds much better with the 2.5:1 compression totals of 6.25TB and 400MB/sec, but LTO-6's compression rate compares to LTO-5's 2:1 rate.
This LTO-6 spec in raw capacity and data transfer terms is not as great an advance on LTO-5 as that was on LTO-4 with its 800GB raw capacity and 120MB/sec transfer rate. Tabulating these four formats' raw capacity and bandwidth we get:
LTO-6 - 2.5TB and 160MB/sec
LTO-5 - 1.5TB and 140MB/sec
LTO-4 - 800GB and 120MB/sec
LTO-3 - 400GB and 80MB/sec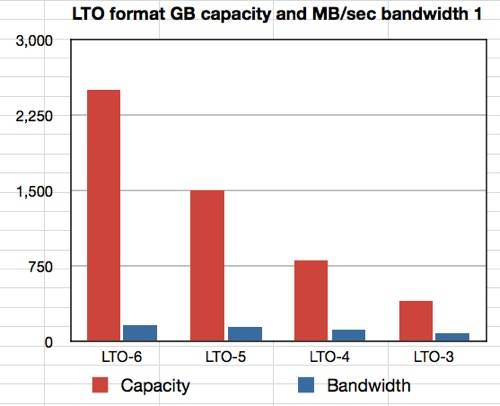 Although the rate of compressed capacity increase is high, the rate of raw capacity increase has slowed but is still very much greater than the raw bandwidth increase. The time to write a full tape is lengthening dramatically. With LTO-6 data tracks are written 16 at a time. Could this be increased to 32 with the next format?
Whether 2.5:1p compression rates are achievable from the drive's hardware by the way depends upon the data being written, and your mileage may vary.
IBM's drive has a dual-port 8Gbit/s Fibre Channel interface and supports LTFS, the Linear Tape file system enabling a drag-and-drop file:folder interface. The drive, which supports encryption for LTO-6 and -5 media, can be used in IBM's TS3500 L53 and D53 tape libraries and the L52, L32, D52 and D32 models in the 3584 tape library range. The drives can read and write LTO-5 cartridges and read LTO-4 ones. Write-once-read-many tape cartridges are available
The LTO consortium includes HP, also a drive manufacturer, and Quantum. We can expect HP to announce its own drive soon enough and Quantum will resell either IBM or HP drives. Sony has been licensed to make LTO-6 tape.
There are two more LTO-formats to come: LTO-7 and LTO-8, with LTO-7 slated roughly for 2014 and holding 6.48TB of raw data, and with a 315MB/sec transfer rate. LTO-8 is due in 2016 and should hold 12.8TB of raw data, moving it to and from the drive at 472MB/sec. With Amazon pioneering archive data storage in the cloud using disk, the actual dates may be pushed out. Product might not even appear; it depends upon the fortunes of the tape archive market. Bluntly, will customers keep buying tape in sufficient amounts to justify the product development by IBM and HP?
IBM's LTO-6 drive will be available from 9 November. ®