Original URL: https://www.theregister.co.uk/2012/10/04/rice_memory_glass/
Boffins: Our memory film is like your girlfriend - transparent and cheap
But also very ... bendy
Posted in Science, 4th October 2012 08:17 GMT
Boffins at Rice University have invented flexible see-through resistive memory that can replace flash drives and be attached to car windscreens or device displays.
The memory, described in Nature, is made from a layer of silicon oxide (SiOx) sandwiched between two checkerboard arrays of graphene or indium tin oxide, which form a cross bar array, with electrical circuits existing where the array lines intersect above and below the silicon oxide layer.
Building on earlier work Rice chemist James Tour and his research boffins found that when a high voltage is put across the silicon oxide, the oxygen atoms are stripped out of a channel 5nm wide between the the two terminals used in the circuit leaving pure silicon behind. Applying a weaker voltage reinstates the silicon oxide. The two silicon and silicon oxide states provide different resistance levels and there we have binary one and zero. The effect can be repeated thousands of times.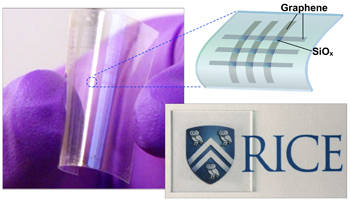 Rice University silicon oxide memory graphic
NAND memory needs three terminals for the setting and reading of bit values. Rice's graphene silicon oxide memory only needs two, making it simpler to manufacturer, say the boffins. They get an 80 per cent yield from their manufacturing process in the Rice lab fab and expect industrial scale manufacturing to improve on this.
As the scientific paper's abtract says; "[This] two-terminal, nonvolatile resistive memory can also be configured in crossbar arrays on glass or flexible transparent platforms," making it usable where we peer through glass screens or look at device displays.
The abstract sums up the potential benefits of this technology:
The filamentary conduction in silicon channels generated in situ in the SiOx maintains the current level as the device size decreases, underscoring their potential for high-density memory applications, and as they are two-terminal based, transitions to three-dimensional memory packages are conceivable. As glass is becoming one of the mainstays of building construction materials, and conductive displays are essential in modern handheld devices, to have increased functionality in form-fitting packages is advantageous.
This invention could herald useful technology that could be in products like head-up displays, El Reg guesses, within five years or so. ®