Original URL: http://www.theregister.co.uk/2012/10/04/review_griffin_stompbox_ios_effects_pedalboard/
Griffin StompBox iOS pedalboard review
Playing footsie
Posted in Personal Tech, 4th October 2012 07:00 GMT
Music making on Apple's iOS devices has long since migrated from mere display driven ditties to a range of additional hardware better suited to musicians. Alesis, Digitech and IK Multimedia, to name a few, are known music technology brands working the iOS instrument dock market. Nowadays, mainstream iDevice accessory vendors, such as Griffin Technology are vying for position here too.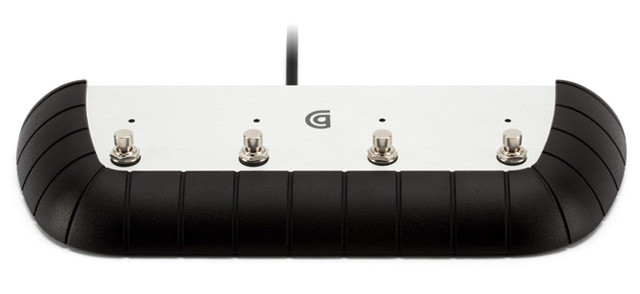 Toe tapping tech: Griffin's StompBox guitar pedalboard for iOS devices
Griffin's StompBox appears to be a natural progression from its simple GuitarConnect cable and app combo it introduced when the iPhone was still in short trousers. As its name suggests, the StompBox is a pedalboard and yet it relies on GuitarConnect cabling as part of its configuration and uses the same Frontier Design iShred Live app, more on this in a moment.
The four button pedalboard has a durable iOS docking cable and takes its power from the iPad, iPhone or iPod Touch. Apart from its switching circuitry and its four LEDs above each footswitch, the pedalboard is dumb and blind. There's no display of any kind nor additional controls for tweaking – that's all done from the app. That said, if you have an expression pedal, there's a 1/4in jack socket round the back, so you can utilise it as a wah or volume pedal when assigned to a suitable virtual effects unit.

Instrument interfacing relies on the Griffin GuitarConnect splitter cable
With iShred Live downloaded and the Stompbox plumbed in to your iOS device, all that remains is to get the guitar signal into this arrangement. Rather than plug the guitar into the pedal board, as you might have assumed, the GuitarConnect splitter cable – with it multi-pole 3.5mm jack – functions as an in/out interface. So one end is a 1/4in guitar jack plus a 3.5mm headphone socket, the other is a single 3.5mm plug for the iOS device – I'll say iPad from now on, as that's what I tested it on mostly.
So your iPad ends up with a dock cable at one end and an audio splitter at the other. The pedalboard lies on the floor, although the iPad can end up on a table, as the cables are long enough, thankfully. If you're thinking this sounds a little inelegant, you're not alone. I used a Griffin Wavestand to prop up the iPad in landscape mode and found that over time the weighty dock connector cable would disconnect as it slowly eased out of the socket. The pedal icon disappears from the bottom of the screen when this happens. You're also warned when the audio cable isn't present.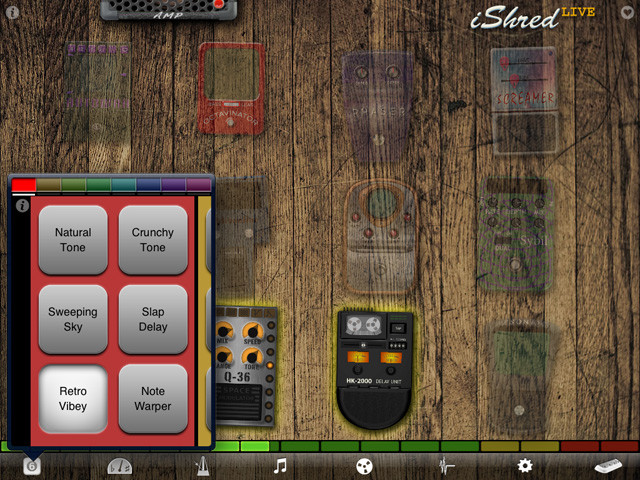 Favourite effects combinations can be saved as presets and recalled from the StompBox
The pedalboard is configured from the iShred Live app and apparently works with JamUp Pro XT too. Indeed, Griffin is pushing this app quite hard as an alternative, with no iShred Live pics showing on its StompBox site. Another StompBox app is Griffin's own Qscript, which has nothing to do with guitars at all, but is a foot controlled speech prompter.
Stomping at Decca
It may only have four footwitches but the StompBox also has four banks you can access – effectively providing 16 foot controlled functions. Simply press and hold one of the four stomp switches and you'll enter that bank. Currently active effects in the bank will show as illuminated LEDs alongside each footswitch. If you're not convinced that the change you were engaging has been successfully stomped, the app can be configured to display the currently active effect, so you can tweak as you twang.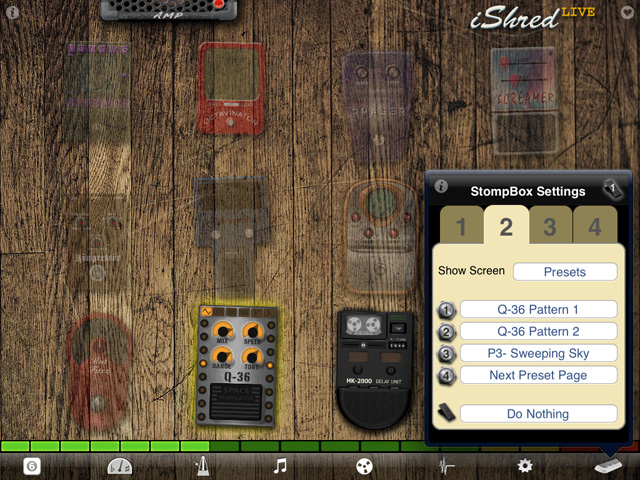 Pedal assignments cover a range of options – note the ghostly pedals are those you have to pay for
In use, there was a bit of lag between changes and also a bypassed effect seemed to be merely muted. So unmuting the delay before continuing playing resulted in a cascade of echoes from the previous phrase, which is less than ideal.
Talking of effects, the Stompbox/iShred Live combo is not brimming full of them, not for free that is. The virtual pedalboard area is littered with ghostly images of pedals that you need to pay for. Admittedly, some are only 69p, others £1.49 or £1.99 but it's not the money that matters, it's the meanness. As far as effects go, all you get from this package is a modulation (chorus) pedal and a delay (echo) unit. There is an amp with clean and overdriven settings along with a noise gate and tuner, but it's a really underwhelming out-of-the-box experience.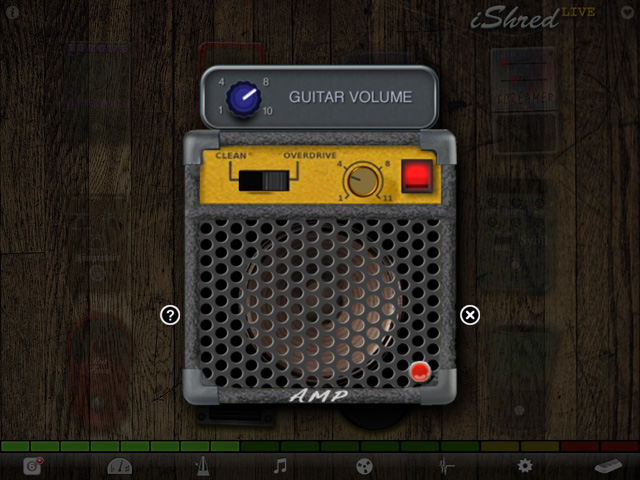 The lack of tone controls on the amp makes for a rather lacklustre sound
More underwhelming still, is the sound of that amp, even playing with coil taps and back pickup positions on Reg Hardware's Yamaha Pacifica 120H in-house axe, the sound is muddy and lacks bite. This is a shame because the modulation effect suffers as consequence, becoming dull rather than luscious and colourful. You could cough up £1.49 for the Adrenaline treble booster pedal, that should improve things – the preview before purchase that plays before and after demos seemed fairly effective – and no doubt JamUp Pro XT at £14 would end iShred Live's useful life for any StompBox user.
Still, if you're keen to practice, iShred Live not only has a handy metronome but more useful is its Music Player that can access songs in your iOS device's iTunes library, as well as tracks recorded in the £1.99 recorder option. The Music Player also allows looping of songs or just specific sections, so you can hone your craft along with the finest. The pedalboard can be configured for metronome tempo tap and transport controls too, which is handy.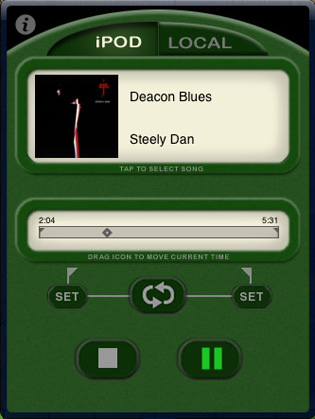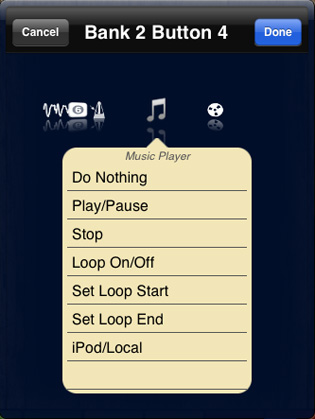 Music Player to jam along to can also have bank button assignments for transport controls
Verdict
Griffin's Stompbox seems like a good idea but in use it is a somewhat cumbersome one, especially using an iPad in landscape mode, with cables proving less than secure. Ideally you'd want all the audio connections to be housed in the pedalboard, rather than juggle with the potential tangle of dock connector and audio splitter leads. The pedalboard also feels like you're flying blind in terms of banks and modes, and while some favourite set-ups could easily become well-worn, a couple more free effects apps would certainly make the purchase more appealing. And talking of purchases, Griffin's US store has it discounted at the moment which, including shipping to the UK, works out at about £50. ®
More Audio Gear Reviews

IK Multimedia
iRig Mix
M-Audio
Keystation Mini 32
Digitech
iPB-10
Colorfly
Pocket Hi-Fi C4
Mackie
Onyx Blackjack
USB audio interface