Original URL: https://www.theregister.co.uk/2012/10/02/review_games_guild_wars_2/
Guild Wars 2 game review
A real Blizzard stomper?
Posted in Personal Tech, 2nd October 2012 07:00 GMT
Review I've just been reigning supreme on Tekken Tag Tournament 2 playing Panda and knocking out the advanced bear fighting moves while I wait to play a Panadrian Monk in the mother of all MMOs World of Warcraft. I wasn't planning on playing Guild Wars 2, as I was worried it might become a distraction in couple of weeks when I need to dedicate all my time on leveling. But since its release I started hearing whispers that this was the WoW killer and finally I was convinced to give it a whirl.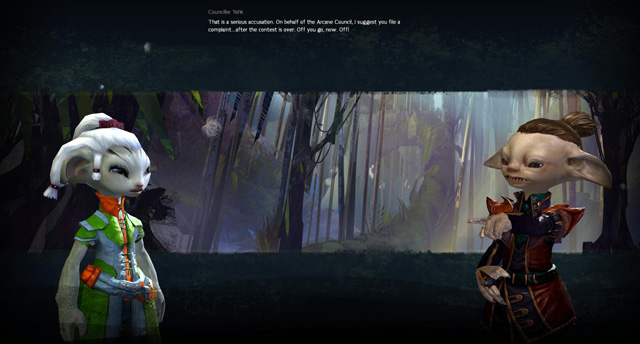 Make a point
Guild Wars 2 is so much more than a distraction and this review will surely just be an introduction to its complex, charismatic world. If you consider yourself in any way a gamer, this should be an essential purchase, but let's start with why you should buy it. For starters, there's no pay-to-play. After playing Guild Wars 2 it will be very hard for me to justify a subscription to WoW or anything like it ever again.
The game takes place 250 years after its predecessor, and the world of Tyria has taken on an epic scale. This is a beautiful world of brush strokes and a triumph of the imagination that demands attention and exploration. The best-looking game of 2012, Guild Wars 2's cities and towns are full of stunning distractions. I'm in love with the expandable minimap and this is just one of the creative flourishes that decorate this game.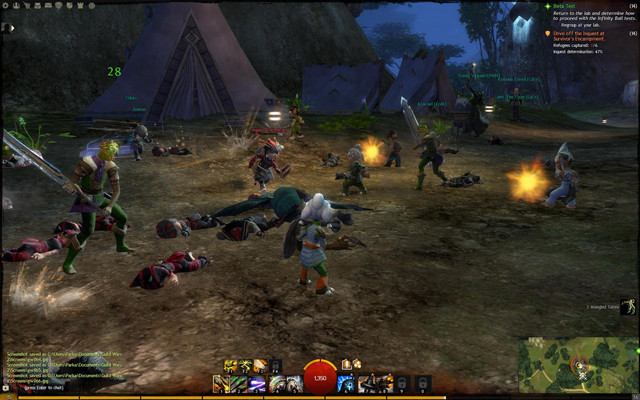 Camp behaviour
The playable races and creature design compare favorably in cartoony realism to WoW's Paladins, pandas and werewolves. The five playable species each have their own rich lore and suitable starter area. I chose to play an Asura because they seemed to be the cutey of choice for every girl gamer.
There are eight professions to mold my skills and a wealth of customisation options. I chose engineering which allows me to spawn turrets and open weapons kits which were extremely valuable for the flame throwers and their short ranged AOE.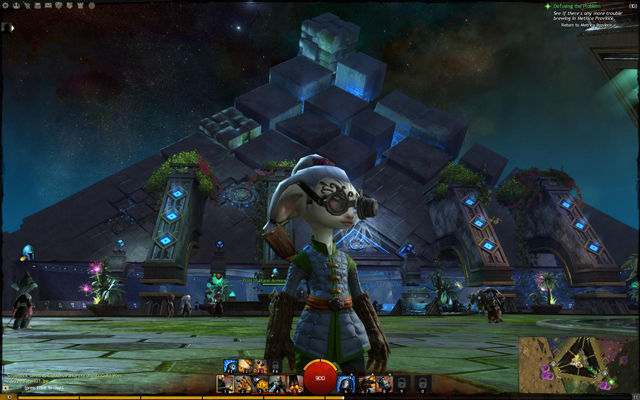 Cube base
Camp out
With Guild Wars 2 there's no grind! All the back-tracking to hand in quests to NPCs and fetch quests are gone, replaced by 20-plus zones and a multitude of fun and creative goals represented by hearts pulling me around the map. The traditional MMO linear quest grind is replaced with an amazingly natural feeling open-ended journey.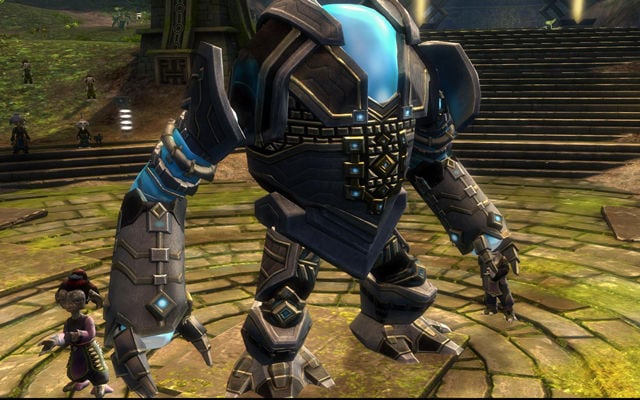 If Big Daddy and R2-D2 had a baby...
Collaborating with friends, who are sure to be playing too or even just random people on quests with multiple facets makes me feel that what I am doing has real purpose. Camping is a thing of the past, and now I look forward to other players showing up to help me out.
Grouping is automatic and inherently social; the bosses and quests change difficulty, particularly how many people keep showing up to join the fight. Everyone gets their own loot and experience so there's no difficult silence when you all roll for BoP goodies.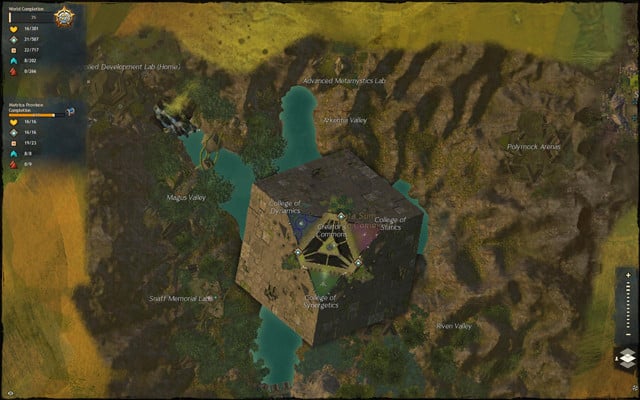 Sense of direction
Guild Wars 2's dynamic event system isn't new but it's been refined and improved from such games as Rift and Warhammer Online. While I am exploring, my UI will alert me to nearby events that I can join or ignore. Try not to miss these events as they reward massive XP bonuses and loot. Win or lose, these events reshape the world around me.
Contested areas, easily traveled to by teleportation gates make intense battlegrounds where if I don't help out and my side loses my lovely gate access closes and I have to tromp back through the lizards.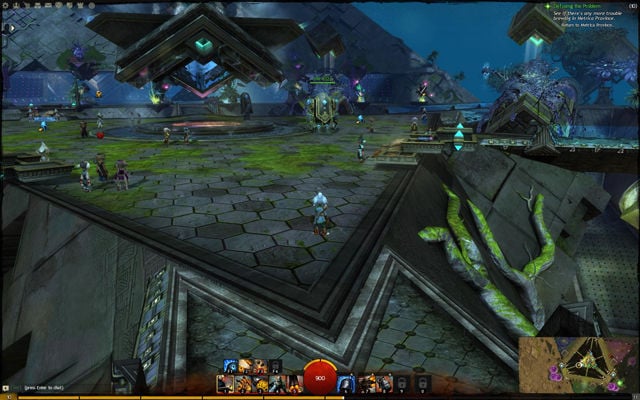 Playing in the corner on honeycomb
Guild Wars 2's basis lies in the EverQuest MMO model. Discovery is key; I am rewarded for being part of my own complex narrative. This game is a clever intuitive concentration of what makes a great MMO. Arenanet understands that's why I play MMOs and rewards me for everything I do, from chopping down trees to mining and gathering. The fact I'm giving the game my time is appreciated.
She's got the loot
Guild Wars 2 is not all about a boss fight, and I spent a lot of time fixing stuff and stomping stuff. Underwater battles, once I learned to dive, have never been so appealing or immersive, especially with my brilliant harpoon gun.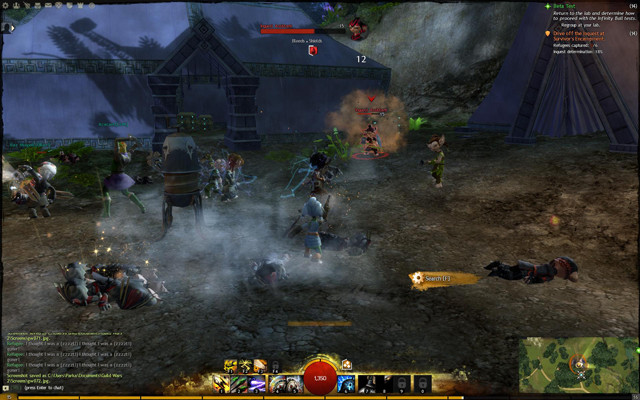 That dude's smoking brown
One of my favorite quests was chasing prodigies with a gun to restore them to full size but avoiding the mosquitoes because if I increase their size, I'm in a whole world of pain. When I finish a quest, my loot is doled out through in-game mail putting an end to faffing about.
What no healer? No, Lucy, you'll just have to heal yourself. Gone is the holy trinity of Tank, Healer and ranged DPS. By swapping my weapons I can fulfil the roles of all three no matter what class I play. Guild Wars 2 has a single row of ten abilities for combat.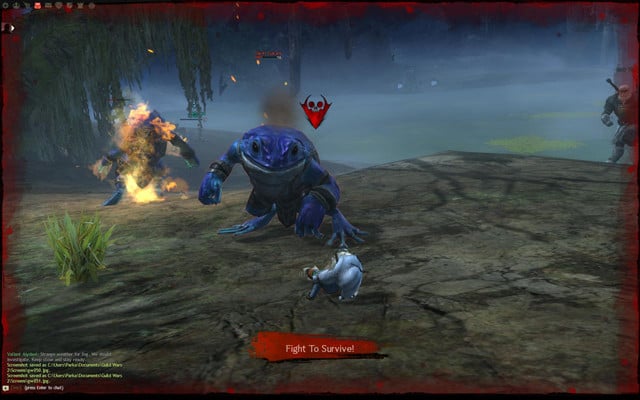 Lamp-hibians
The first five abilities switch automatically based on the weapon I have equipped, and the other five can be filled by skills that I earn as I level. It's experimenting with these endless combinations of weapons and skills that make me feel unique.
Yay! No more getting ganked by twinks in PVP! Guild Wars 2 starts everyone on an equal footing making it inclusive and accessible. It's all about understanding how your class works.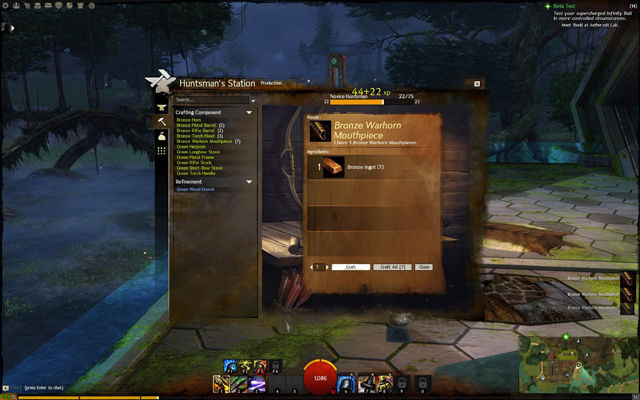 Hoarding wealth
World vs World is gigantic but, hey, considering the wait in the queues maybe not gigantic enough! You're going to need siege weapons, lots of trebuchets and catapults! Watching people trying to break into keep by smashing on the front door was funny but if I want to reap server-wide benefits I'll need to concentrate and evolve a strategy.
Verdict
Guild Wars 2 does have its flaws - what, no trading? - but Arenanet is working on them as I write. By rewarding skill and social interaction, Guild Wars 2 amplifies the genre strengths and I worry it will make The Mists of Pandaria seem like a pale shadow of an expansion by comparison. Blizzard, be warned - my monthly direct debit has been cancelled. ®
More Games Reviews

Darksiders 2
Lollipop
Chainsaw
Ghost Recon:
Future Soldier
Max Payne
3
Diablo III