Original URL: https://www.theregister.co.uk/2012/09/30/inside_huawei/
Huawei: Inside the lair of the not-so-hidden dragon
Reg hack reports on charm offensive at Huawei HQ
Posted in Business, 30th September 2012 22:59 GMT
Chinese telecoms equipment maker Huawei has a bit of an image problem. It pulled in revenues of more than £10bn in the first half of 2012, thanks to its status as the number two maker of telecommunications infrastructure in the world, just behind Ericsson. It also operates a burgeoning enterprise business and its fast-growing smartphone business has China's second-largest market share.
Outside China, however, the company is treated with suspicion.
Australia, after receiving briefings on the company from US sources, banned it from supplying kit to its national broadband network on national security grounds. India seems set to adopt a similar stance. The EU looks set to launch a case against Huawei and Shenzhen rival ZTE accuses it of selling kit at below cost, thanks to Chinese government subsidies.
Needless to say, Huawei is spending a fair bit of money to correct such perceptions, redoubling PR efforts and hiring several high profile execs from senior government positions to improve its international relations and smooth relationships abroad. These include former UK CIO John Suffolk as its new global cyber security chief and Donald Purdy, a former White House security advisor, as CSO.
The charm offensive even extends to inviting members of the foreign press to meet the company. So, keen to see what all the fuss is about The Reg went along to Huawei's Shenzhen headquarters in southern China's Guangdong province to cop a feel of its soft power efforts.
Trouble away from home
We all probably know the Huawei story by now. Founded in 1987 by Ren Zhengfei, a former civil engineer in the People's Liberation Army, with just a few thousand pounds, it now has 140,000-employees, annual sales exceeding $32bn, operates in 150 nations and happily sells fixed line and mobile communications infrastructure kit, mobile devices, and even cloud computing and datacentre products.
Founder Ren's military background, his Communist Party membership and the growing number of cyber attacks on US government, military and private enterprises originating in China have sparked intense scrutiny of Huawei, fuelled by some incendiary third-party reports.
Critics argue that it could, or already has, provided the means for the Chinese authorities to disrupt or spy on the communications of rival states. These claims are strongly denied by Huawei, as are any statements claiming it's under government influence. The firm is always at pains to point out that its global competitors have much of their kit made in China too, but are not subject to the same level of scrutiny.
Yet suspicion continues. In the face of such hostility, the UK has proved a rare friendly market to Huawei, which is a major supplier of equipment for BT, Talk Talk, Virgin Media and all of the country's mobile operators. That might be why the Chinese giant recently staked a further £1.2bn investment in Cameron's Britain, including at least 700 more jobs.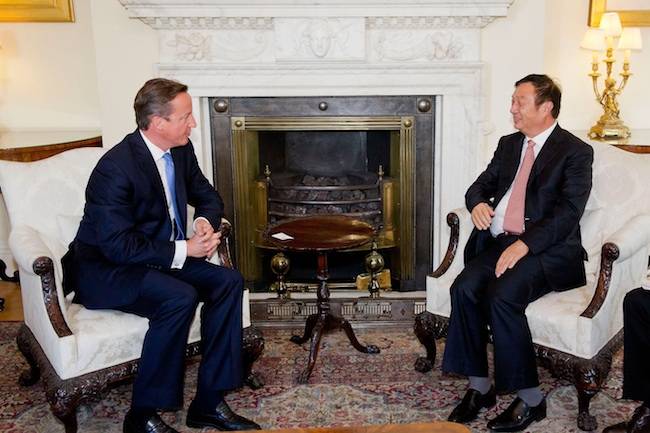 Ren Zhengfei with David Cameron at Downing Street, September 2012
Welcome to the campus of dreams
It's little wonder with that media narrative, that Huawei is looking to soften its image and promote its better side to the world, which was why The Reg was taken on an extended tour of its impressive 2km2 campus. The sprawling site located in the Shenzhen suburb of Bantian is a lush green landscape of perfectly coiffured vegetation, charming ponds and low rise glass and metal office blocks. There are huge on-site canteens serving up delicious looking meals for a pittance – including superb curries, apparently – recreational areas where staff can de-stress with a game of basketball, pool or ping pong, and even a mini-village of temporary accommodation for 7,000 employees complete with outdoor swimming pool.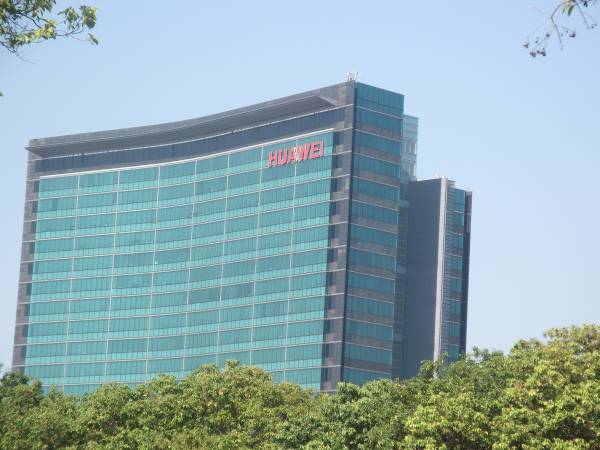 Huawei's main campus building
It's a welcome respite from the frenetic, polluted frontier land of Shenzhen proper, but still feels slightly surreal and – aside from the huge crush of lunchtime, where tools are ubiquitously downed for 1.5hrs – the perfectly kept pathways and corridors are virtually deserted. Those workers, when we did see them, ambled down to lunch in casual clothes with the relaxed, amiable disposition one would expect given the unique financial and career opportunities they have at the firm.
Huawei says it is not a state-owned enterprise nor is it listed on an international stock market, but instead is fully owned by its Chinese employee 'shareholders', with founder Ren having the largest share at 1.4 per cent. The 65,000 shareholders currently at the firm then vote for a kind of electoral college of 60, who are able to elect members to the board.
Although salary levels are around the standard for similar Chinese firms, after two years with the company employees are given shares, according to rank, performance and time spent at the firm. It's the dividend payments of these shares, a spokesperson said, that means Huawei staff can retire at the ridiculously early age of 45 – as long as the employee has been with the firm for eight years or more. They apparently provide a generous source of income and help Huawei attract the best talent, as well as giving the campus, where the average age of employees is just 29, an atmosphere more Logan's Run than Silicon Valley.
Innovation, innovation, innovation
These employees, plucked from the best universities in China, are seen as the key to Huawei's success. Over 10 per cent of the firm's revenues are spent on research and development, with 70,000, or around half, of its employees working in this part of the business. Some 70 per cent of this bunch are said to possess doctorates.
The key message we were fed at every turn was just how innovative Huwaei has become. The company may have clashed with rival Cisco in the past over alleged patent infringement, but wants the world to know it is determined to single-handedly fly the flag for a nation whose tech firms have historically been known as copycats rather than innovators. Huawei now has 23,000 patents which it hopes will stand it in good stead for the future.
The proof of all this investment is on display in the huge exhibition hall, where customers, regulators and government representatives are all treated to an impressive array of kit designed to show off the company's best efforts. Kit such as its SingleRAN products designed to offer mobile operators multiple spectrum band capabilities of competing standards from a single antenna. Or its user-targeting beamforming technology which has been developed to save power and increase efficiency in the transmission of radio waves by intelligently targeting the signal towards where there are most users.
The AtomCell is one early product that makes use of this beamforming tech. Unveiled at Mobile World Congress this year it's Huawei's answer to the coverage and backhaul problems associated with small cells, which are increasingly being demanded by operators to light up coverage blind spots. Not yet deployed, this micro base station product could be seen in airports, office blocks, and shopping malls before long, a Huawei spokesman explained.
Huawei is also working on Beyond LTE technology which could offer speeds of up to 30Gbps to cope with the rising flood of global data, although this is still at a very early stage. Elsewhere on the exhibition floor we were shown prototypes of new datacentre cabinets which the firm said can improve energy efficiency by up to 30 per cent by effectively sealing off the cabinet to the outside air and cooling it, rather than the room.
Chips with everything
Huawei's bid for world domination and self-sufficiency also extends to developing its own processors, which it has been doing so since 1991 in part of the business now known as Hi Silicon. This unit began life developing chips for use in Huawei's core network products but now can be found producing for its smartphones, such as the latest flagship handset, the Ascend D1 quad core, based on ARM's Cortex A9.
Huawei spokesman Roland Sladek said that having the ability to build its own smartphone chipsets gives the firm an added differentiator. "Being able to optimise the integration of CPU and modem gives us a real competitive advantage and is something not many other manufacturers can do. There's also a cost advantage." It's certainly helping the devices division grow pretty quickly, at a CAGR of 40 per cent over the nine years it has existed to become the sixth biggest handset maker globally.
Ovum analyst Karen Liu told The Reg that developing chips internally was a long-term investment which could pay off. "Chip level R&D takes a long time, but even just coming up to speed gives a company leverage over merchant suppliers, knowledge with which to better influence suppliers, customers, standards bodies," she added.
Reports are now suggesting Huawei will soon be bringing even more of the mobile stack under its control with the development of a mobile OS, although it seems at the moment this is merely a cautionary measure in case Android or Windows Phone at any point become unavailable.
Knocking on the CIO's door
With carrier revenue slowing at home and abroad and facing significant international competition in the devices market, it's not surprising that Huawei has sought to tap the enterprise IT market to boost profits.
Once again the emphasis seems to be on being able to provide as comprehensive an array of vertically integrated capabilities as possible, which means enterprise networking, cloud and datacentre infrastructure, unified communications and collaboration, enterprise wireless, and security.
The security and storage elements are probably the odd ones out in that they grew out of a joint venture with Symantec, but elsewhere the emphasis is again on home-grown tech – Huawei even going as far as writing its own hypervisor and cloud management system.
Forrester analyst Bryan Wang told The Reg that while the firm has great products, it's still learning how to align them to specific enterprise requirements, which can vary hugely depending on region and vertical.
"It's about how to put those products together and sell them as a solution to industry customers. Huawei knows how to value and protect patents but this is more about industry expertise and knowing customer needs, which takes time. It took Cisco 20 years to get it right," he added.
"They are realising it's a challenge and a bigger challenge than expected so they're putting more and more resources internally to get things right instead of blindly hunting for customers."
It already has a few notable successes in enterprise, however, including a project to help build the world's largest datacentre for China Mobile in the north of the country, and engineering a new cloud storage system for Big Data being used by CERN, according to Huawei CTO for IT Solutions Sales, Ron Raffensperger.
A Silicon Valley veteran with over 30 years of experience in the IT game at IBM, Siemens and others, Raffensperger likened the energy in Huawei and the tech manufacturing capital of China, Shenzhen, to that of the West Coast in the early days.
"Everyone is from somewhere else, and they're all young people," he said. "What you'll find here is not like a lot of places in China. People think they can be whatever they want to be."
It's also similar to Silicon Valley in terms of the air pollution that plagued parts of California in the 1970s and 80s, when everything was built locally. However, the Shenzhen government wants firms in the region to follow Huawei and focus on a knowledge-based model – researching, designing and developing rather than manufacturing, claimed Raffensperger.
"We have a new facility at Songshan Lake where we'll do initial product runs but the vast majority of it is outsourced to [companies like] Foxconn," he said.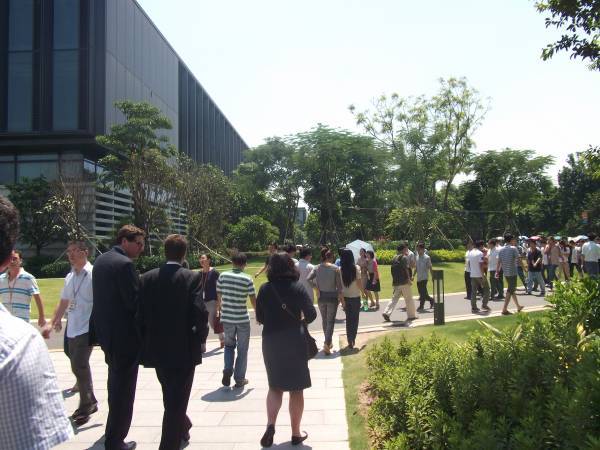 Huawei's campus is more Logan's Run than Silicon Valley
Following in the footsteps of Congress
On the final day we got a sneak peek inside the highly restricted Songshan plant. Despite Huawei's constant driving home of the message that it is an R&D-driven, knowledge-based business, the place is huge – 600,000 sq metres – with another plot of land cleared next door for an even bigger development which will more than double the plant in size. It is a world away from the high volume human misery farms typical of Shenzhen and greater China, though – it's clean, efficient, industrious and everyone gets an hour and a half for lunch.
"Four or five years ago Huawei did everything on its own," said Gabor Schreck, global supply chain management director. "Now we try and keep at least 30 per cent in house. We have to look at manufacturing as strategic value because it does help with product design if you also have hands-on manufacturing capabilities."
Critics will argue the firm wants to keep this hands-on approach so that it can still engineer those pesky security backdoors into its products, and Schreck claimed to have led investigators from the on-going Congressional committee around the site to try and allay their concerns. He walked us through the same production process for printed circuit board assembly (PCBA) – starting with a bare PCB imported from a Huawei supplier; then the automatic soldering of pre-assigned components; inspection; loading with software; and then final installation into cabinets ready to power an ISP's optical networks.
His argument was that only at the very end of the process, once all components have been soldered and the PCBAs inspected, are they customised according to specific customer orders.
"I believe that when people come to the factory they have a much better view of the overall thing, whether their issue is sales-related or trust-related," he told The Reg. "This is manufacturing, it's not rocket science, it's a very down to earth thing. If someone wanted to put back doors in [a PCBA] they could but they wouldn't know where it was going – there's a very low likelihood it would end up in the world where you wanted it to go."
Huawei's detractors, of course, will probably claim that every product has a backdoor installed as standard. It should also probably be mentioned that we spotted several crates of optical networking tech bound for Bandar Abbas in Iran – a reminder of yet another controversial part of the Huawei story. The firm was forced to deny selling censorship tech to the repressive Islamic state late last year and promised voluntarily to scale back its business there "due to the increasingly complex situation". It's certainly not alone among Chinese firms in its dealings with Iran, however.
Eyes on a $100bn prize
A carefully stage-managed trip with no access to senior global execs is not the best way to win over sceptical hacks, although having a close hand on the PR-tiller these days is pretty much a given for any successful global technology company. The Reg certainly felt a little like a Dordogne goose at times, having been pumped full of positive messaging for two days, but the only sign of any tension was when we were banned from taking pics of Huawei's advanced CCTV surveillance equipment, which helps China and other governments around the world keep a close eye on their citizens.
Still, it's difficult not to be impressed by Huawei HQ and the Songshan Lake plant which are at least on a par with anything its global rivals such as Cisco or Ericsson have, whether you believe that its stellar growth of the past quarter of a century is the result of hard work, fantastic leadership and a bit of luck or helped along at various points by dodgy business practices and shadowy state subsidies.
Coffee shop on Huawei's Shenzhen campus
Ovum VP of network infrastructure and Huawei-watcher, Dana Cooperson was pretty confident about the firm reaching its ambitious target of tripling revenue to $100bn by 2021, but came back to those corporate governance and political challenges.
"One key change it can make is simply allowing a more distributed decision-making framework. For such a large company, decision-making remains very centralised. It could increase the distance between it and the Chinese government. It could remove the 'glass ceiling' non-Chinese employees often feel. It can change its financing practices," she told The Reg.
"Barriers have arisen in Australia, New Zealand, and India. Tensions are rising in Japan. And with the US election season underway, Obama and Romney have started sparring over who can be more tough with the Chinese. How this will resolve is hard to say. But I don't see things getting easier for Huawei or ZTE in the US."
In the end there is still a degree of learning taking place on both sides: the West about Huawei and vice versa. Its success in matching its vaulting ambition may in the end depend on just how much it's prepared to bend to Western expectations of how a technology company should be run. ®