Original URL: https://www.theregister.co.uk/2012/09/28/bacon_sarnie_poll/
Vote now for the ULTIMATE BACON SARNIE
The moment of porcine truth has arrived...
Posted in Science, 28th September 2012 10:02 GMT
Poll Right, you lovely people, the moment has arrived to settle once and for all that matter of most monumentous moment: just what constitutes the ultimate bacon sarnie.
As you'll recall, the porcine polemic kicked off when we pitched German delicacy Bauernfrühstück against the sacred pork-based assemblage in one of our post-pub nosh deathmatches.
After considerable and heated reader debate, we invited photographic submissions of your contenders for the title. Those of you who weren't too hung over - or indeed still gobbing of in comments - rose magnificently to the challenge.
Too magnificently, it must be said. Please spare a thought for this poor hack who had to wade through the bacon sarnie snaps, and only managed an hour before succumbing to the overwhelming urge to nip to the kitchen and knock together... a bacon sarnie.
Another couple of hours of cropping and resizing your pics and the situation began to get serious, given that I'd blown my entire bacon supply on the first porkfest.
I battled away until mid-afternoon, at which point it became impossible to continue in the face of a computer screen bursting with bacon goodness.
Consider yourselves warned, then. I'd advise having the frying pan on standby before eyeballing our entries.
And here they are, presented more-or-less in order of sarnie purity/number of ingredients/culinary improbability:
The Classic Jumbo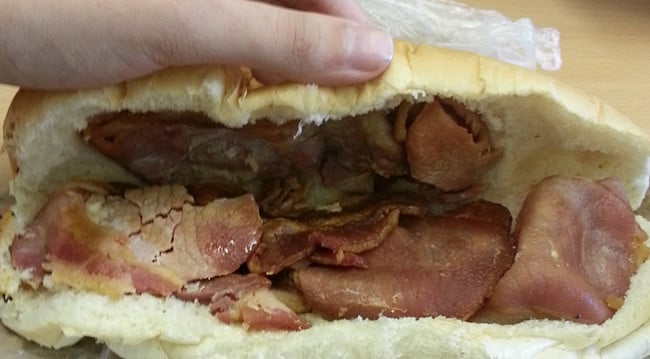 We kick off with Adam Egan, who presents a bacon jumbo from his local sandwich shop.
He said: "I add a little brown sauce and there you have it :) Not elaborate, but it is a bacon sarnie!"
The A90 Behemoth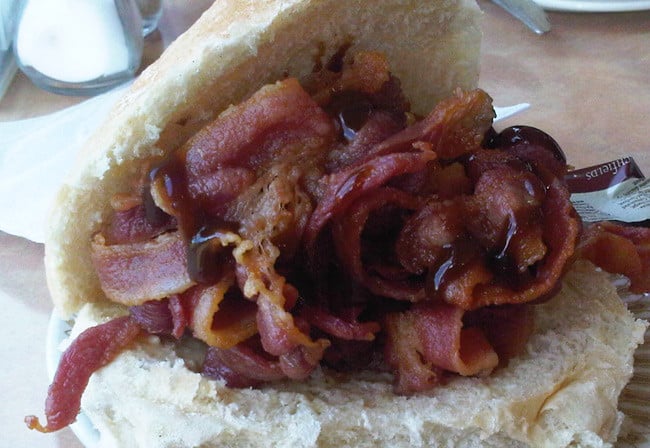 Another classic here from Neil Cardy, courtesy of the The Horn Cafe between Dundee and Perth on the A90. He explained: "Masses of bacon to set you up for the journey south." Note the brown sauce element.
The Unholy Wholemeal Bap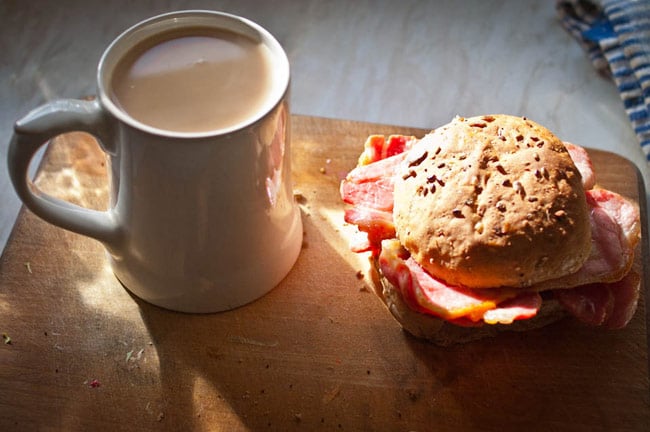 Bruce L described the substrate for his copious bacon creation as "some sort of seed-strewn wholemeal bap", which we're sure will go against him in the voting.
He did, however, wisely deploy butter, and noted that the essential accompaniment to the sarnie is a "giant mug of tea", which is "elevated from refreshing but basic hot beverage to nectar of the gods by simple application of: 1) any greasy food, in this case the bacon butty and 2) several pints too many of one's favourite ale."
The Gourmet Toasted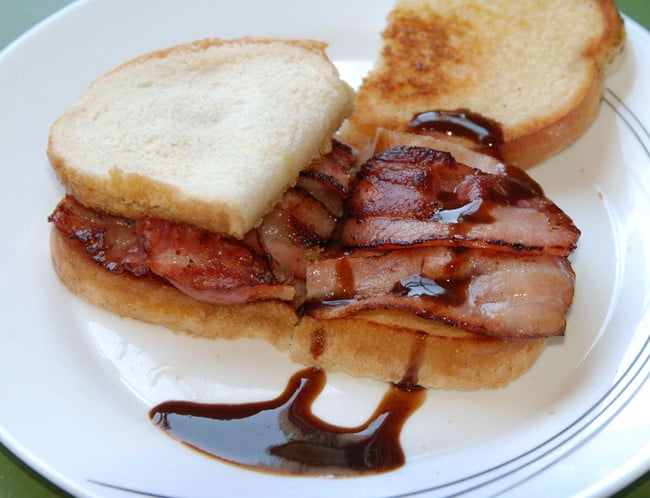 Reg regular Chris Winpenny declined to provide any description of his sarnie, but the nouvelle cuisine presentation leads us to suspect the involvement of Marco Pierre White, and that accordingly, this bacon creation will set you back £35.
The Precision Engineer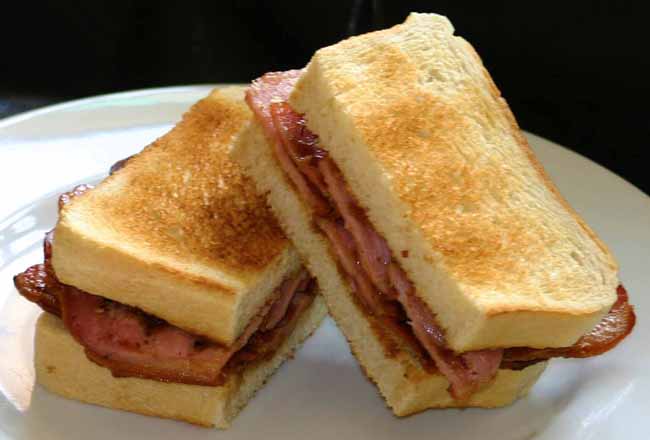 SuperTim's recipe for pork-based success is as follows:
1. Take an unsliced white sandwich loaf with thick soft crust and hand cut to 18mm slices. Lightly toast to an even golden brown.
2. Use 6 rashers of good quality smoked or sweet-cured back bacon and grill on both sides between two cooling racks until the fat is crispy.
3. Using the best quality brown sauce you can find, squeeze a generous zigzag onto the bottom slice of toast using a narrow tipped squeezy bottle.
4. Lay 3 rashers alternating wide and narrow ends on the sauce, then repeat a second zigzag. Lay the second three rashers on top and add a third layer of sauce.
5. Finally top with the second slice and cut in half to make two oblong sarnies.
"Serve with a cold glass of freshly squeezed orange to banish those hangover blues!" he enthused.
We're impressed with the 18mm bread requirement here. Just to be clear, that's not 17mm or 19mm...
The Lipsmacking Lindsay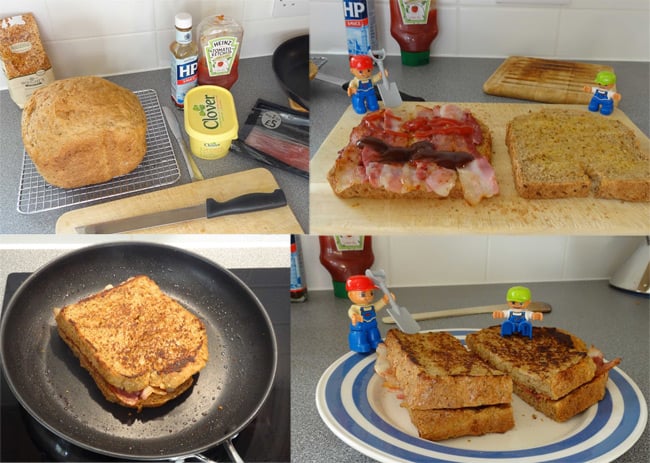 Harvey Trowell provided a series of construction steps, as you can see. He elaborated: "This bad boy has Tommy K at one end and HP the other, as piggy likes it both ways. For that reason if no other, let's call it The Lindsay. What you are looking at is two slices of mixed grain bread hot from the bread maker machine, streaky dry cured oak smoked bacon fried until just beginning to crisp, spreadable butter substitute and sauces being applied, and the assembled sarnie returned to the frying pan for a final crisping up in the healthy goodness of the rendered bacon fat."
The Bi-bacon Bounty

There's been plenty of polemic about the correct slice of pork for the ultimate bacon sarnie, but Alex Outten may have reached the perfect compromise, with "homemade sourdough bread (1 slice buttered, other with both sauces (NOT mixed), plus crispy streaky bacon layered with just heated back fillet bacon".
Crikey. This is the only entry demonstrating bi-baconality, but we haven't heard the last of sourdough, as you'll see later. In the meantime, it's time to up the ingredient count...
Purists may want to pour themselves a stiff brandy before continuing, because we now enter the realm of the bacon and egg sarnie, kicking off with...
The Sunny Side Down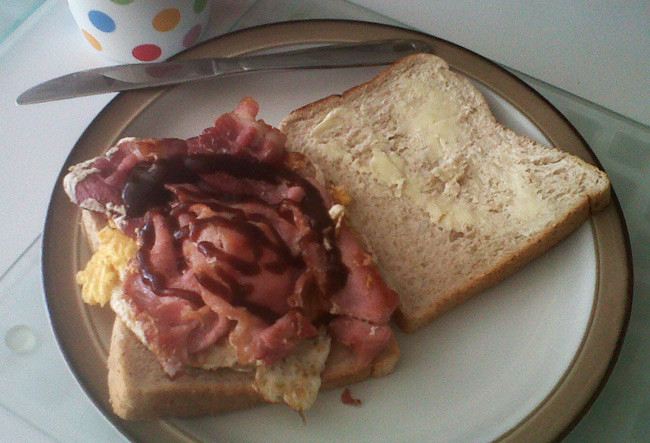 Andy Scarland likes his thick white bread buttered, and isn't afraid to slap on the brown sauce. He's not alone in demanding egg with his bacon, though, as you'll see...
The Early-morning Eggstasy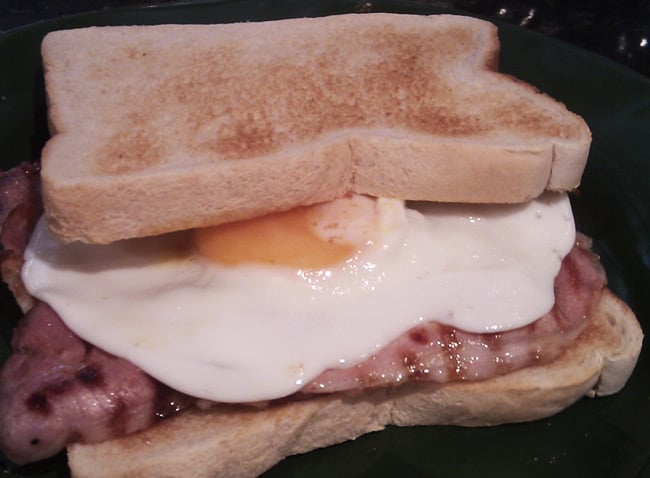 Sam Jarman prefers his bread toasted, but insisted that the addition of a fried egg represents "the perfect way to start the day!"
Do You Know The Muffin Man?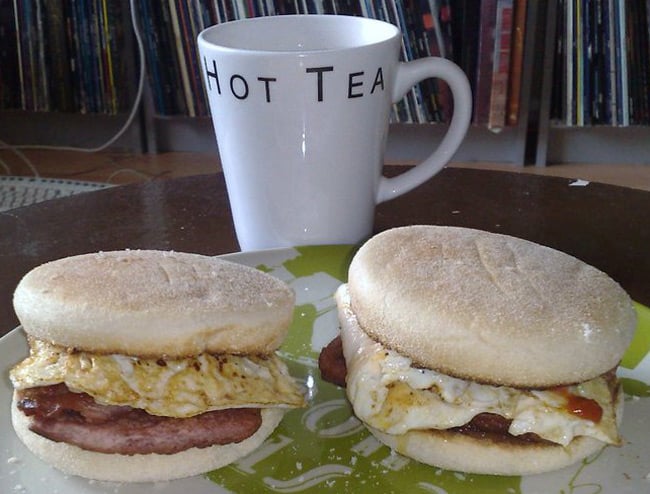 Yet more eggs. Scott Chapman explained: "Take a packet of Thick Cut Smoked back Bacon (6 rashers total). Fry until fat is just turning crispy. Add 2x large free range eggs to the pan, using the bacon fat to cook it, over easy is best.
"Serve on a pair of lightly toasted muffins, topped with a little butter and ketchup on one and brown sauce on the other. A large mug of Assam or English Breakfast tea, brewed strong with milk and sugar is the only possible drink to accompany this dish."
Yes I Know The Muffin Man...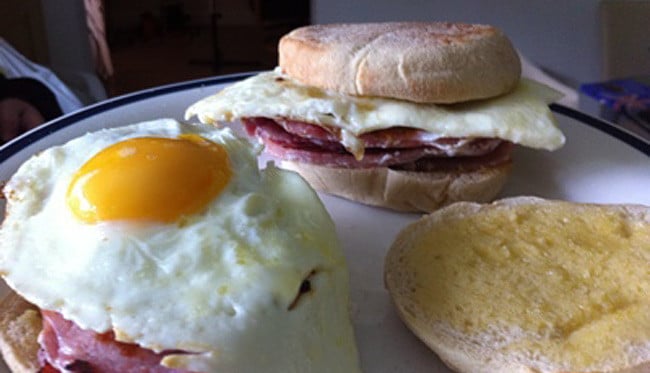 Scott found an ally in Neil Brown, whose muffin assemblage consists of "two slices of thick cut smoked bacon from friend's ex-pig, well cooked but not blackened, on a lightly-toasted buttered muffin, with runny fried egg".
The Johnny Frenchie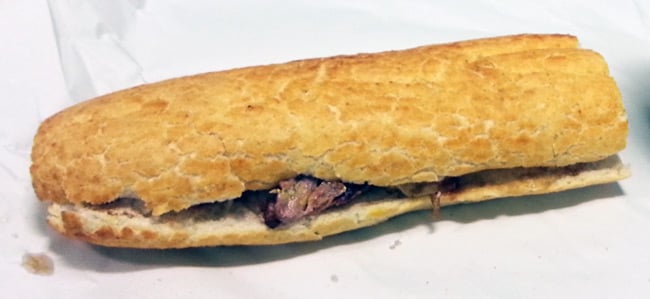 Inevitably, the French had to get a look in somewhere in our contest, and we can thank Dan Collett for opening the door to transmanche bread concepts. He wrote: "Friday morning in the IT office sees us bacon craving carnivores take to our local butty wagon."
Dan declared: "If it ain't smoked, it ain't bacon! Served up in a fresh baguette with egg, tommy sauce and English mustard, and strong fresh coffee mmmmmm *drool*"
Coffee? Ahem.
The Norn Iron Soda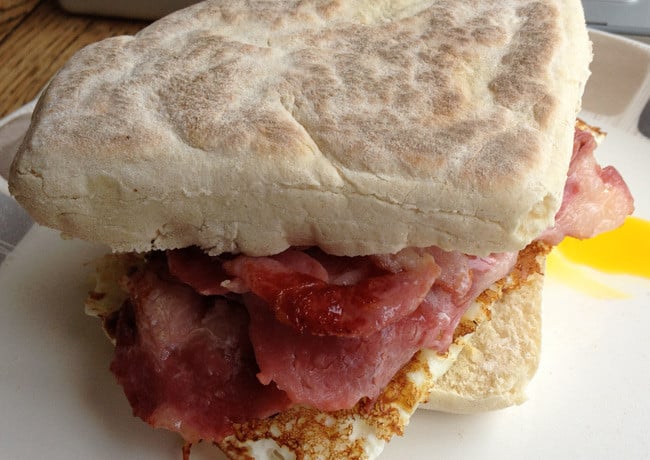 Those of you who are rightly repulsed by the baguette, or in fact even the word baguette, are directed to Phillip of County Down, who said: "This is how we do it in Norn Iron!"
He expanded: "1 soda farl halved and toasted, 2 eggs fried and half a dozen rashers of best Smoked Back Bacon. No sauce as the eggs are nice and runny (not technically a sandwich here, usually called a bacon and egg soda but you don't have them there so sandwich it is!)"
The Ungilded Sourdough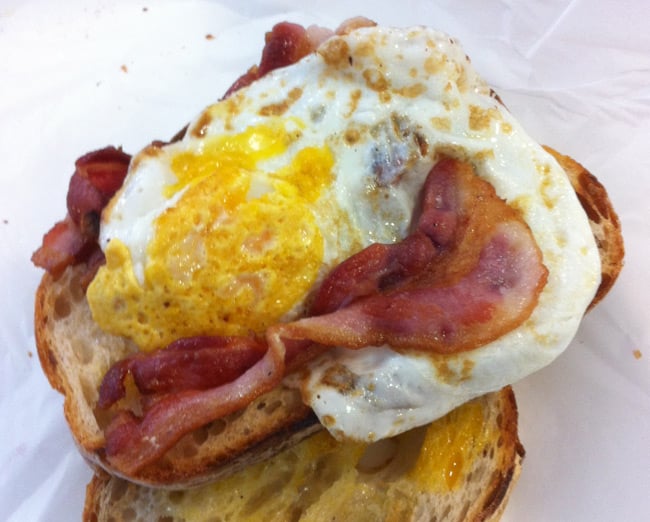 As promised, more sourdough. Pascal Harris is a bit of an egg fancier, too, but prefers toasted and buttered sourdough bread. He told us you can slap on sauce if you like, but "why gild the lily?"
The Buttered Bagel Butty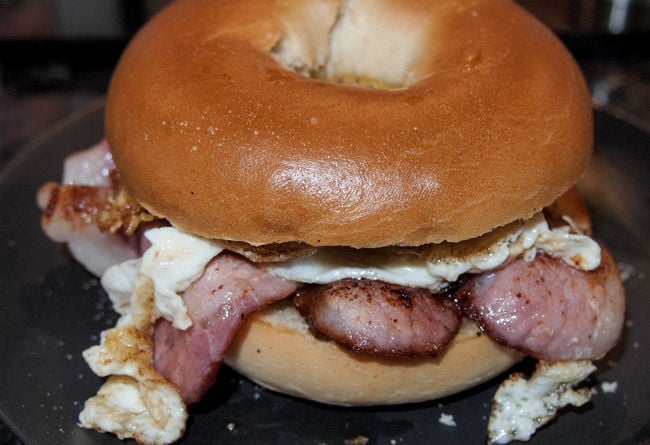 We've had proper bread, we've had the bag**tte, and we've had soda, so what about David Collett's lightly-toasted bagel concept?
Dave pitched: "Made with a lightly toasted bagel, butter (preferable Jersey butter), unsmoked dry-cure back bacon (spoilt pig in this case) and since I was hung over when I made it, this one was a double egg version. Absolutely no sauce just a generous grind of black pepper."
The Pork Loin Imposter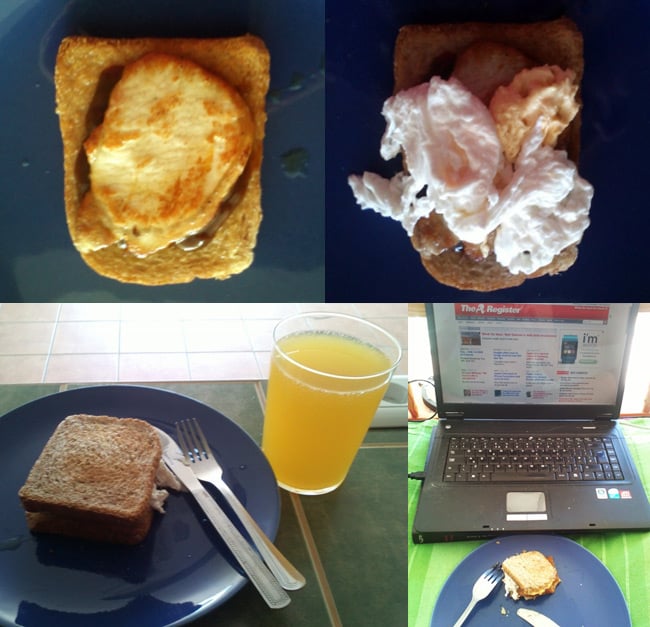 A special mention now for Ian Bonham, who presented his contender in a step-by-step PDF guide with photos and explanatory text. Sadly, the size of the file is enough to bring down the El Reg servers, so we've put together the photographic highlights.
Controversially, Ian's entry comprises pork loin chop, on toasted bread with butter and brown sauce, and topped with a poached egg.
We're not done with eggs just yet, but for some, even a bacon/egg combo doesn't cut the mustard...
The Trearddur Bay Black Ops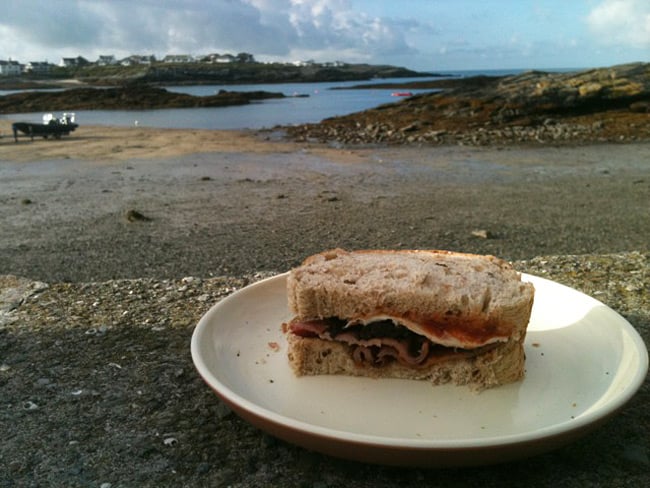 Matt Hamilton recorded the delightful scene above in Trearddur Bay, North Wales, last year, and describes his entry as "a combination of culinary excellence and an amazing view".
Agreed about the vista, but we wonder if readers will concur that bacon sarnie excellence involves the addition of fried egg and black pudding?
The Black, Brown and White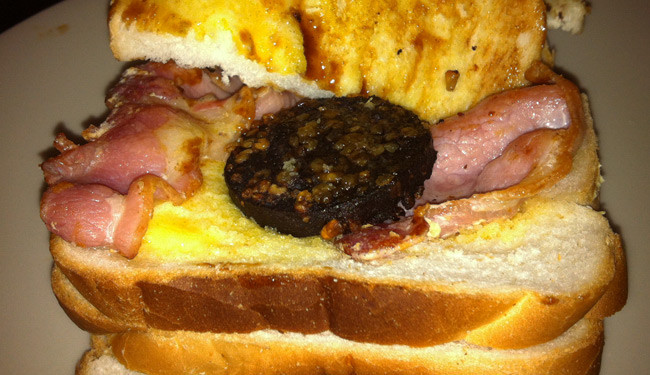 David Nicholls certainly agreed, because he served up "white bread, butter (not too much, but not too little either,) smoked back bacon (gotta be smoked!), lots of brown sauce and a slice of Lidl black pudding!"
The Sunday Special
Mercifully, we can now take a brief breather from eggs, if only to contemplate sacred bacon smothered in melted cheese.
Richard Bedford told us he makes the above "on a Sunday morning for brunch when I visit my mum".
Ingredients:
White, soft buns/baps
Finest unsmoked back bacon
Butter (has to be!)
Full-fat, extra mature cheddar cheese (optional)
Optional: brown sauce, tomato ketchup.
"Bacon is grilled on both sides until the fat is just starting to crisp up, and then sliced cheese (optional) is placed on one side and then returned to the grill to ensure it melts.
"Whole lot is placed in a buttered bap and then presented to the recipient in an open state so that they can add their preferred amount of ketchup. I personally add both brown sauce (HP) and ketchup in equal amounts, but I am unique with that combination."
For the record, Richard favours coffee with his bap, although his mum opts for tea.
The Cheesy Canadian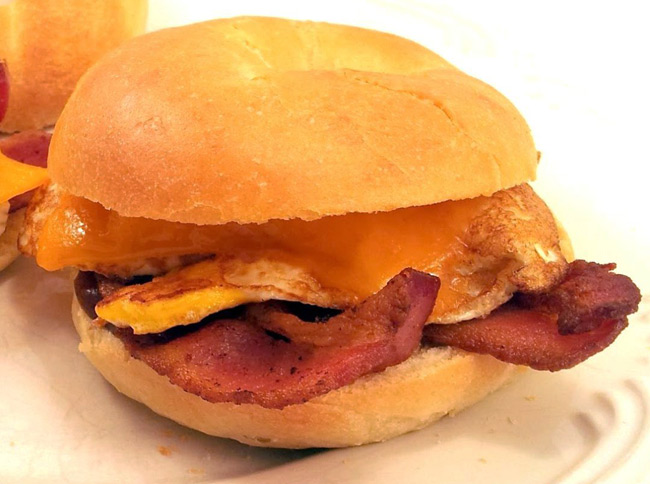 Canadian Daniel Saraga likes a bit of melted cheddar too, albeit on a bagel and with, yes, an egg. Dan said of the condiment: "It must be brown sauce, and it must be HP's brown sauce in particular." Good show.
The Brit Bagel Butty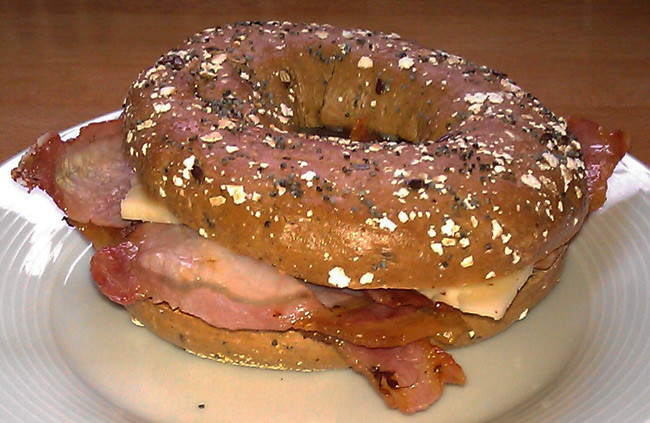 Tim Wolfe-Barry looked to be on the right track when he ditched the egg, but then strayed into dangerous territory when he slapped thin-sliced, crispy grilled unsmoked back bacon into "a multi-grain bagel with Heinz ketchup and mature cheddar cheese".
The Cheezilla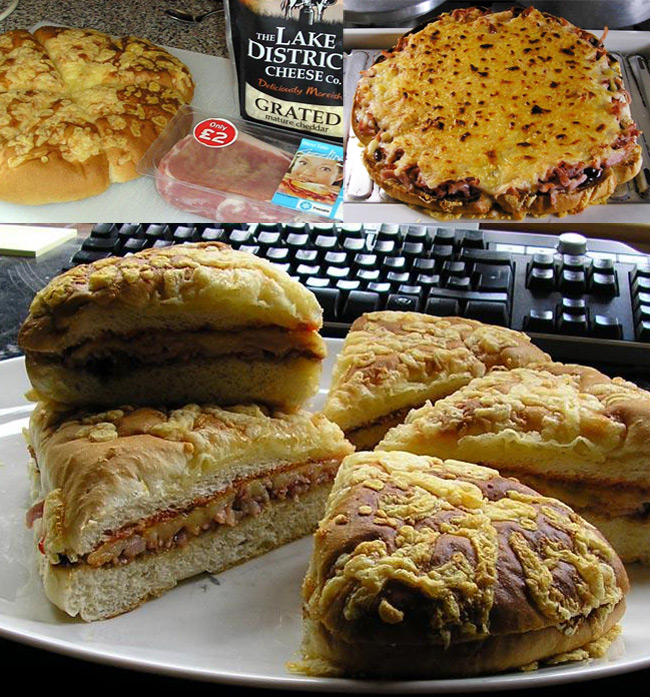 Did we mention cheese? Step forward John Rennie:
Step 1 - The ingredients: One Tesco's cheese windmill load, one large pack of bacon and 200g grated mature cheddar cheese. Sauces of your choice; I use pickle on one side of the load and tomato ketchup on the other.
Step 2 - Preparation: Cut the bacon into as thin shreds as you can manage then fry till crisp. Slice the loaf in two, spread pickle on the bottom half, then cover with bacon then cheese. Grill until the cheese is well browned. Spread tomato ketchup on the top half then assemble loaf.
Step 3 - The eating: Cut into wedges. Scoff while sitting at your desk reading The Register (of course!).
Of course. Those of you who are beginning, despite the stiff brandy, to feel the urge to write a strongly-worded letter to the Times should probably not proceed to the next page, where pork and exotic foodstuffs meet in unholy, and quite possibly illegal, union...
Attack Of The Killer Tomato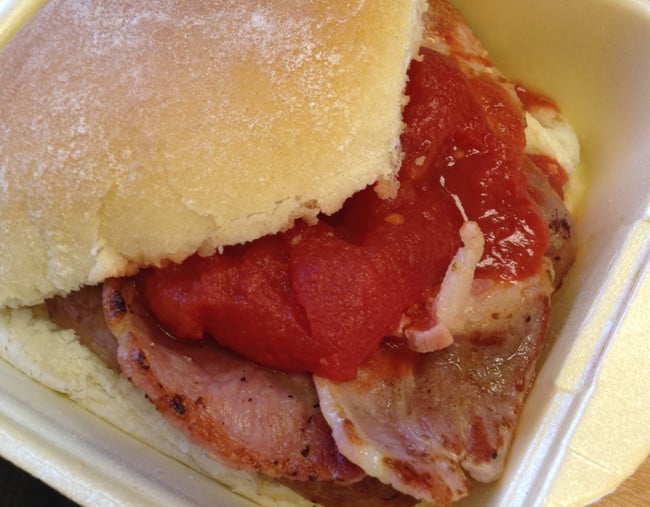 Carl Garner listed his essential ingredients as follows. We make no comment:
A fresh white roll, not too floury
No butter, absolutely not!
Two Lincolnshire sausages cut in half at the bottom
Two, or three if hungry, pieces of unsmoked back bacon
Squashed plum tomato (to remove excess juice)
The Guacamole Goulash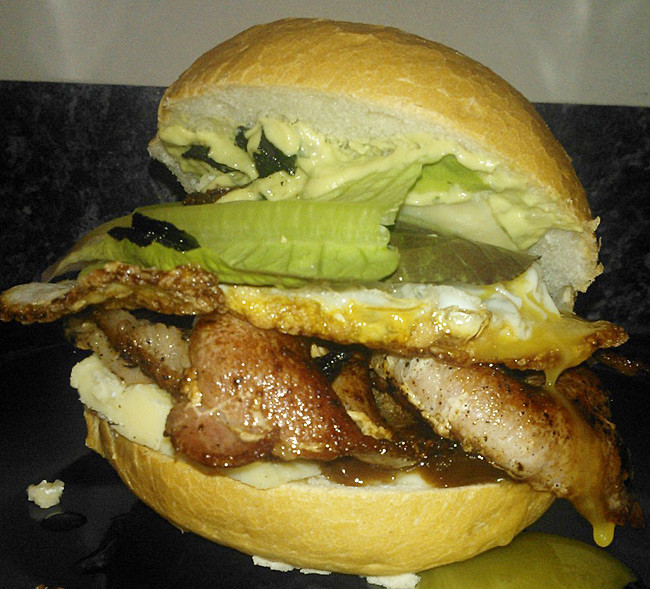 Alex Boardman is certainly risking a couple of hours in the Reg commentard stocks for his effort - the only entry to contain that leafy green stuff which, although bought with best intentions, invariably goes rotten in the fridge. Here's the low-down:
White Crusty bap
Guacamole
Fried Egg
HP sauce (not just brown sauce)
Stinky cheese
Lashings of Lurpak (if you're afraid of the extra salt a bacon buttie isn't for you)
And to make it a "health" food nuts happy a solitary piece of lettuce.
God preserve us all. It gets worse, though, because our penultimate contender is...
The Improbable Horn Of Plenty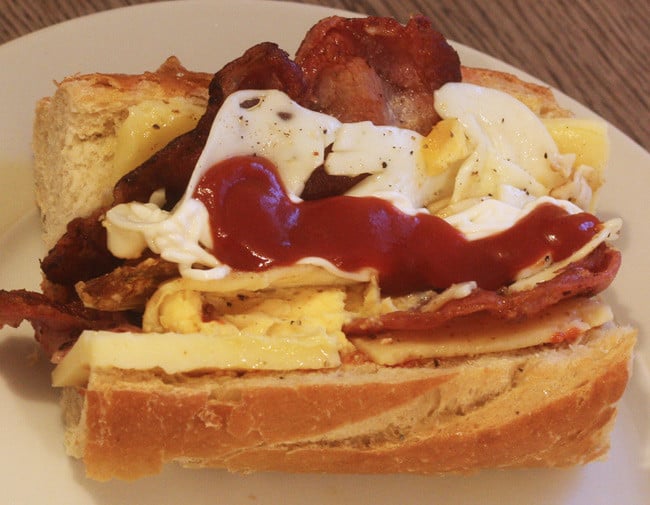 Very wisely, "Keith" did not provide a surname with his submission. His recipe ideally contains smoked bacon, "but the Missus always buys un-smoked for 'health' reasons", he lamented.
He continued: "Two slices to each roll, fried until it's a crunchy brown all over. We add whatever happens to suit and be currently available - THERE IS ALWAYS AN EGG, with a little yoke running (kindly supplied from a friendly neighbour, taste is so much better than shop bought).
"We prefer a decent crunchy roll, as pictured, tomato sauce, mayo. - and this is a must-have, a spoonful of honey or maple syrup, followed by ground pepper, over the bacon. We don't usually bother with butter or marg., there is a smear of tom. sauce and mayo on the inside, also, which you can't see, a sprinkling of small cherry tomatoes halves at the very bottom. To finish it off, cream cheese or slices of decent matured cheddar - jeez I'm feeling hungry again and I only just finished it..."
What, no black pudding? We can't help feeling you've left something out there, Keith. If you don't like black pudding, why not try Jenny Ng's truly radical concept...
The Butter of Peanut Profanity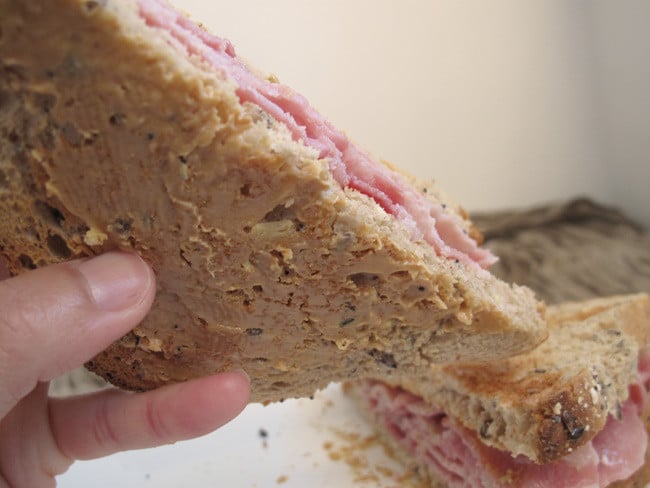 It's possible that Jenny has broken a veritable three-course meal of culinary laws by slapping peanut butter on the outside of her sarnie, more on which can be found by the stout of heart and artery right here.
That's quite enough. Let's get down to the business in hand, or rather the business in one hand, because you should be holding a bacon sarnie in your left paw, while using the right to vote now for the pinnacle of pork perfection...