Original URL: https://www.theregister.co.uk/2012/09/28/auto_pairing_socks/
Purpose of RFID finally discovered: It's for pairing up socks!
Well, maybe
Posted in Personal Tech, 28th September 2012 10:28 GMT
The dream of 21st-century man, socks that pair themselves, is almost upon us with special hosiery which can find its mate using only an iPhone, an embedded tag and an RFID reader.
The socks come from Blacksocks, and feature a heat-tolerant RFID tag identifying the pair to which the garment belongs. Sadly the iPhone has no RFID reader, so a separate reader is waved over the laundry pile to track down the errant match, the details being reported to the iPhone application, as RFID Journal explains.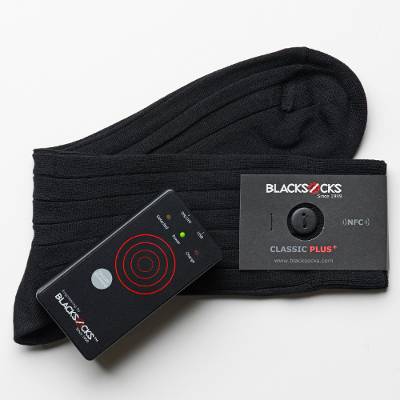 Astute readers will have noticed that if all one's socks are black, and of the same cut, then surely the maintenance of each relationship isn't important, but that would be because such readers aren't in the market for socks which cost £12 a pair (in batches of ten).
It's not just about keeping the pairs together, the iPhone app will also use the camera to judge if your socks are still black enough to continue wearing, though they'll never be as black as proper priests' socks, obviously.
The app will also record how often they've been washed, though this is based in how many times the tag has been read, rather than any temperature monitoring, and (most importantly) let you order more socks at the tap of a button.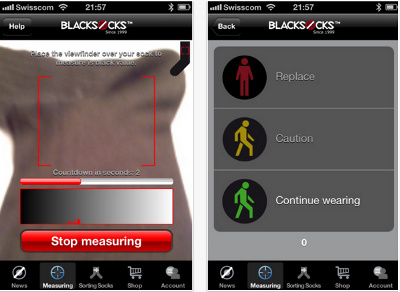 If you have to photograph your socks to see if they're black something is seriously wrong
Mainly this is quite silly, for customers who really do have too much money. Even if the principle were expanded, and made cheap, it really using an aircraft carrier to crack a nut, and what would become of the Oddies if every sock were tracked from production to disposal?
People who hate sorting socks can just wear boots, as your correspondent long-ago decided to do, that way no-one knows if the socks are paired as long as they've not got tell-tale RFID tags embedded. ®