Original URL: https://www.theregister.co.uk/2012/09/25/what_does_steve_wozniak_do_for_fusion_io/
What does Steve Wozniak do at Fusion-IO?
Reg hack bemused by Woz at down under appearance
Posted in Storage, 25th September 2012 02:03 GMT
Fusion-IO rolled into Sydney this week, with CEO David Flynn and other execs duchessing media and customers with tales of super-fast flash speeding things up inside the data centre.
All of which is useful knowledge for IT folks, even if it is far from a revelation to anyone who has paid even passing attention to solid state storage over the last five years.
Playing second banana to Flynn was Steve Wozniak. The Steve Wozniak, in case you're wondering, who co-founded Apple and is now Fusion-IO's Chief Scientist.
Here in The Reg's Antipodean Eyrie, media generally write off storage as "snorage" and media events staged by storage vendors hardly ever draw a crowd. Storage events thrown by second-tier aspirants happen once every blue moon and draw even smaller crowds.
Yet the room for Fusion-IO's event here yesterday attracted a healthy crowd and even mainstream electronic media. Wozniak was doubtless the draw, as media hoped he would say something prophetic, controversial or colourful, especially in light of the iPhone 5 launch and associated mapping SNAFUs.
Here's what Wozniak did say.
He first declared "the world is so fortunate Fusion-IO came along" because "it is so important when you have revolutionary change."
Things didn't get better with his next pronouncement, to the effect that "When I first met [Fusion-IO founders ] David and Rick and I first saw the IO drive it was so beautiful I had to buy one to put in a frame."
Which is surely just the kind of thing storage admins and CIOs alike consider when they look for new kit.
Wozniak did go on to explain that his employer represents "such a great leap from where the rest of the world was heading with NAND flash drives" and that when he first met the company he asked them lots of questions and came away satisfied it represented "a technology they could implement in a way I believed in."
That's a nice endorsement from a man who made his reputation in entirely different technology three decades ago, but again not something we're sure would impress a hard-nosed data centre operator.
As Wozniak warmed up he offered a little more explanation of Fusion-IO's value proposition, articulating that it gets storage closer to the server and its CPU instead of forcing it over a network. Those comments betrayed a little more understanding of the topic at hand, and Wozniak declared "I always wanted to get rid of that," extra work. The reason? "Because I am such a simple person. I just can't deal with complexity well."
The Chief Scientist can't do complexity? That's interesting.
"I've always been an applications guy, not a theoretical but a really applied engineer," he added after lauding flash-enhanced rendering times in the entertainment industry. "I want to see things and use them right away and that is part of art."
"Now looking at the efficiency of the data centre, it is so great, a lot of companies have jumped on the bandwagon and seen our approach is the right one. But, eventually, it becomes pretty much the same hardware, theoretically. So Fusion-IO – oh I am so thankful – took these great steps of leadership like Apple does."
At this point Wozniak reviewed Apple history, lauded apps (which readers of Walter Isaacson's Steve Jobs biography will know the former CEO was opposed to) and then said "After the iPhone the apps came. Almost everything you do in life has an app to help you, to assist you in doing it, and it's so much more because it is in the mobile world. Every operation you do to live your life has a counterpart in the data centres, on the servers, it is really a big strong connection between the mobile devices and the Internet."
Citing Siri as an example of new-wave applications, he continued by saying "The amount of processing is going up and up and up … as we live more of an electronic life. The same reason we love our mobile products are the reasons data centres are increasing in size. So I have strong confidence in that and here is Fusion-IO coming out with basically, y'know, the cache software. A lot of applications in software that serve the needs of that community. The enterprise."
Wozniak then declared his ardour for Fusion-IO's latest products, saying he's fond of the approach that sees data reside in memory instead of an external device. Doing so, he said "is something I dream of" and only Fusion-IO, with it's Apple-like propensity for innovation … we're sure you get the rest.
At this point the event switched into question and answer mode, at which point Flynn's body language became interesting. The assembled press, which sycophantically applauded Wozniak's ramble and was then instructed to only ask him about non-Apple topics, was offered five questions to the pair.
Flynn did his utmost to respond to any question first. On several occasions his body strained as he sought to add a more on-message Fusion-IO answer to questions directed at his colleague.
By the end of the event, the cumulative effect of Wozniak's speech and the blandly enthusiastic answers to questions left only a few scraps of comment beyond Fusion-IO messaging. Even the on-message stuff from Wozniak didn't sound convincing, as while he clearly appreciates the basics of his employer's products he betrayed little deeper understandings of their workings.
Your correspondent therefore decided to dig a little into just what he does for the company.
What does Woz do?
At the event, Fusion-IO Director of Communications Shannon McPhee told us Wozniak has offices in the company's California and Utah offices, does not keep regular hours and is valued for the "vision" he brings to the company.
We asked further questions by email, starting with a request for detailed information in how much time Wozniak spends with the company. The response follows:
Woz gets together with the rest of our executive team on a regular basis. Since his friend Steve Jobs' tragic illness and passing, Woz has been increasingly busy giving keynotes around the world and representing Fusion-io's interests. He is primarily out on the road these days and we appreciate the support he brings in the field.
We next asked how Wozniak contributes to Fusion-IO's product development, as we imagine that donning a lab coat and standing in front of a whiteboard is the kind of thing a Chief Scientist does from time to time on top of all that field support. The answer was:
Woz is a visionary and leader who shares our belief that software defined solutions are crucial to simplifying complexity, and his discussions with our team have had an impact on our core architecture. Woz also helps showcase the disruptive potential of our products as we accelerate applications through an entirely new approach in the data center. He has been through disruption and rapid growth before, and shares his unique experience with our team.
We asked for an example of how Wozniak has contributed to a product, but no answer was forthcoming.
A further question we posed asked how Wozniak works with Fusion-IO Chief Technology Officer Neil Carson, as again we felt it was natural for a Chief Scientist and CTO to work together. The answer was:
Woz's role is not just about the technology, but also his experience in going through the process. It's like having a tour guide – it makes it much easier to climb Mt. Everest when you are with someone who has been there before to help you navigate what to expect. This invaluable knowledge is why Woz reports to our CEO, David Flynn.
That invaluable knowledge may also account for why an unusual number of press showed up to hear a minor storage vendor recite its value proposition without offering any news. It may also explain why customers did the same later in the day.
We're not entirely sure, however, that it explains just how Wozniak the Chief Scientist contributes to Fusion-IO's products, other than to make more people interested in hearing about them.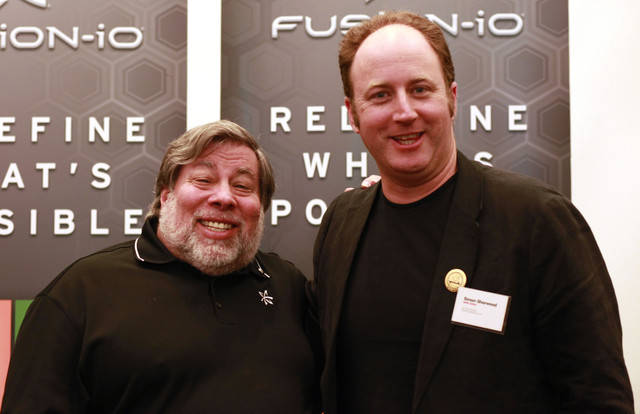 None of which stopped your correspondent lining up for the grip 'n' grin at right. My kids, at least, think it's cool I've met the guy "who invented Apple". ®
Bootnote
One of the reasons for Wozniak's antipodean appearance is his impending application for citizenship of Australia. Wozniak has told media of his love for Australia and, as he can maintain dual citizenship with his native USA, he intends to apply to become an Australian. He even queued at a suburban Apple store last week to buy his new iPhone.