Original URL: https://www.theregister.co.uk/2012/09/25/shenzhen_tour_china_technology_hub/
Meet Shenzhen, tech capital of China
El Reg journeys to the city where much of our tech is made
Posted in Business, 25th September 2012 04:55 GMT
Welcome to Shenzhen, a geek wonderland at the heart of the technology manufacturing hub of China and the world – the Pearl River Delta (PRD).
Last month The Reg had a rather disappointing experience pounding the streets of Tokyo's Akihabara, where these days maid cafes and manga shops are more prevalent than stores selling tech wizardry.
So we decided to come to the heart of it all – a city that just 30 years ago was little more than a fishing village.
Thanks to former Communist boss Deng Xiaoping's vision and some timely economic liberalisation, that village has now grown to a conurbation of over 14 million, which can justly lay claim to the title "China's Technology Capital".
It has so much money they've even built a new Eiffel Tower in a theme park called Window of the World.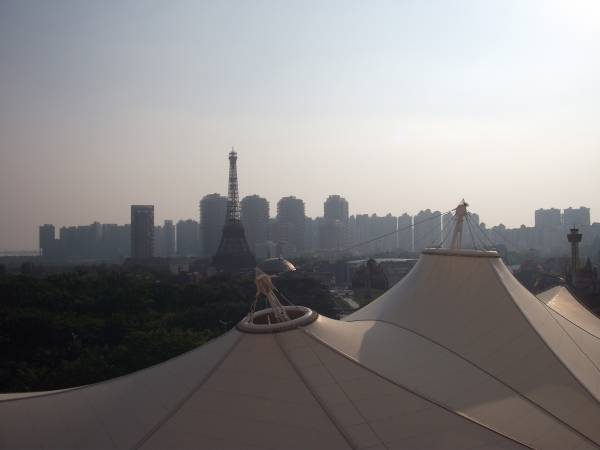 Telecoms company ZTE senior vice president Zhu Jinyun had this to say recently about the city that hosts the headquarters of his firm, and those of arch rival Huawei, Chinese web giant Tencent and many more, as well as a stock exchange of over 17m registered investors – the second largest in the country:
The spirit of Shenzhen was born when China's government chose Shenzhen to be the first of four Special Economic Zones (SEZ's) in 1979.

When one recalls that, in 1979, everyone worked for the state or a state-owned enterprise and there were no private companies, Shenzhen's success is impressive. The concept of the Shenzhen SEZ seems obvious today, but it was revolutionary in 1979. Allow risk takers to develop companies on the free market model. Find out if they could stand on their own and serve people better. Learn whether Chinese companies, for the first time, could change the way China does business.
The truth, however, is that this Chinese manufacturing revolution was kick started by Hong Kong and Taiwanese investment – and lots of it – in the very early days of economic reform, according to Gartner's Roger Sheng.
"This first group of electronic manufacturers came from Hong Kong and Taiwan, they built factories and trained lots of local workers and engineers, who in turn built their own factories. In the past decade they've really caught the market opportunity for making CDs, DVD players, games consoles, LCD TVs, feature phones and now smartphones," he told The Reg.
"Virtually any kind of electronics equipment can be produced in the Shenzhen area if you set up a factory. It's easy to find different kinds of components and engineers to make the devices."
Some of these components, such as semiconductors, are imported (or smuggled) across the border from Hong Kong, where they are greedily snapped up by the huge grey market for electronics goods in the region, he added.
There are two sides to Shenzhen, and the neighbouring cities of Dongguan, Zuhai and Guangzhou where the technology industry has also established itself.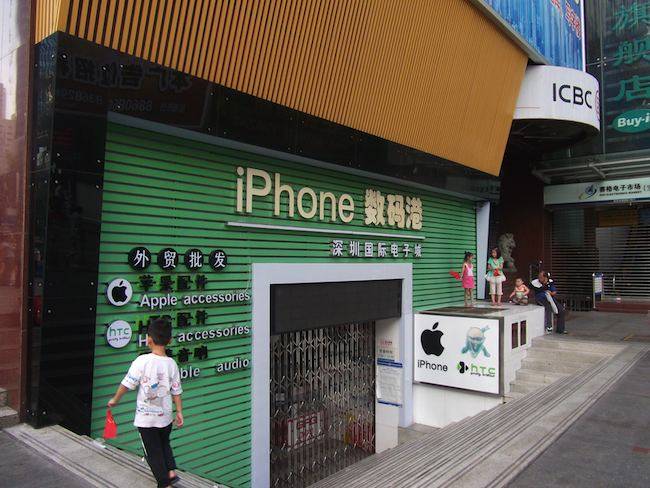 A decidedly unofficial looking iPhone shop
On the one hand there are the barely legal white box or shanzhai factories and workshops churning out counterfeit or semi-legal products, and then there are the huge plants where Foxconn and other ODMs mass produce smartphones, laptops and PCs for vendors like Apple, HP, Nokia, Dell and others.
According to Sheng, while the Foxconn-like companies of Shenzhen undoubtedly generate the majority of revenue, the white box or shanzhai makers win when it comes to sheer volume of factories.
Heading down to Huaqiangbei
Every major Chinese city has markets, shopping areas and department stores dedicated to high-tech products, but it's in the heart of where most of the stuff is made, Shenzhen, where there is the biggest concentration.
Dongmen shopping district is pretty good for the electro-tourist, and the Luohu Commercial Centre just across the border district of the same name is also apparently bustling with interesting tech.
However, the centre of the tech universe in Shenzhen is undoubtedly Huaqiang North Road (Huaqiangbei Lu) – a palm-tree-lined boulevard a few metro stops from the Luohu border with Hong Kong that runs for about one kilometre from the central artery of Shennan Middle road up to Hongli road.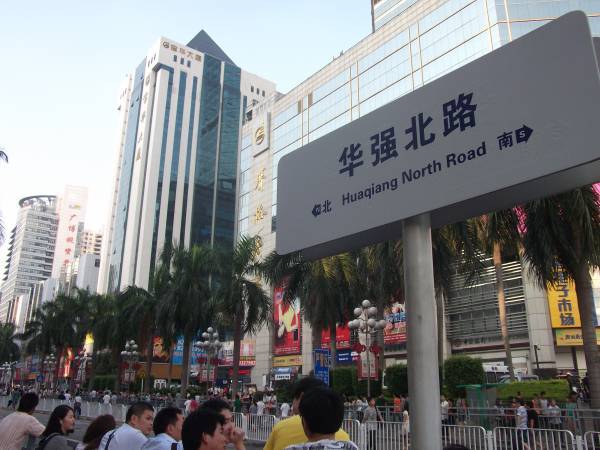 Here you'll find multi-floor department store sized buildings crammed with independent retailers, selling every conceivable item from PCs, to smartphones, batteries to wireless cards, cables, resistors, LEDs, monitors and more. Huaqiang Electronic World, Cyber Mart, the LED International Trading Centre – the list goes on.
Gome is probably the best known and the most likely to offer reputable items, although there's nothing particularly exciting here aside from a few unusual local phone brands such as K-Touch, Doov, TCL and Malata.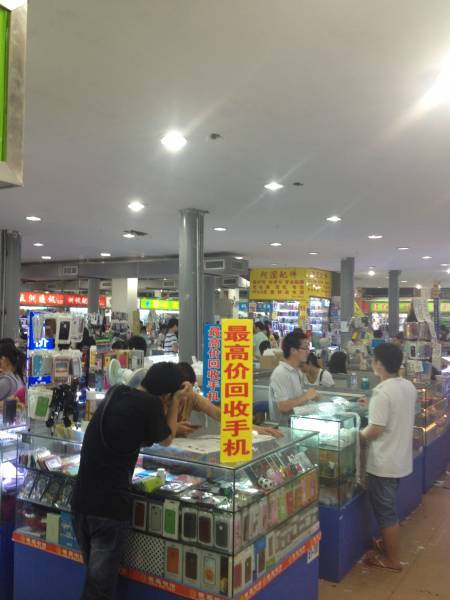 For a true insight into the madness of Shenzhen, poke your head round the door of the mobile mecca of Yuanwang Digital Mall, if your lungs will take it. It's a big, bad, smoke-filled, cavernous warren jam-packed with brash traders who'd rather walk into you then around, and filled with the grating sound of cardboard boxes full of kit being gaffer taped up for dispatch.
The ground floor is filled with booths selling mobile cases and other accessories, white, Apple-style jacks and leads, and, of course smartphones.
All the usual suspects were on display – the latest Samsung Galaxy models, HTC Ones, iPhone 4S (though orders were being taken for iPhone 5s), Motorolas and so on, although we couldn't vouch for their authenticity – as well as more obviously shanzhai items with names like Sunsung.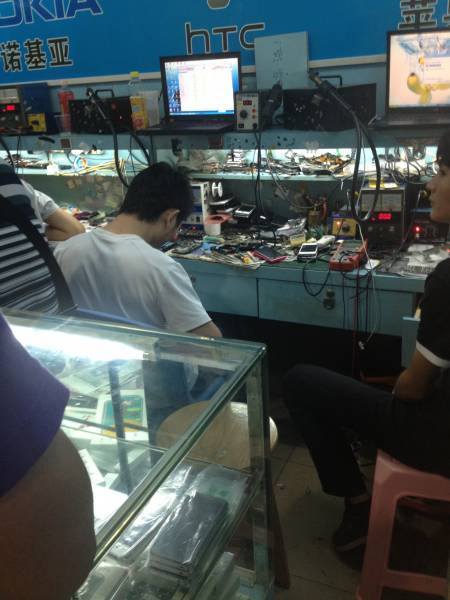 Towards the back, teams of repairmen beavered away under the low monotonous hum of the ubiquitous electric fans.
Upstairs the place gets even busier, with more phones for sale but this time bored looking women with long price lists are taking wholesale orders. Batteries, LCDs, memory cards and other components are being boxed as are smartphones, and the labels being hastily applied to said items makes it difficult to believe that much of it is legit.
There wasn't much doing on the other floors on this visit although we'd expect more of the same on busier days.
Unfortunately, the day The Reg landed in town, the locals decided to march down Huaqiagbei carrying anti-Japanese slogans and provoke the seriously armed police force into some fisticuffs, so most of the stores were closed up.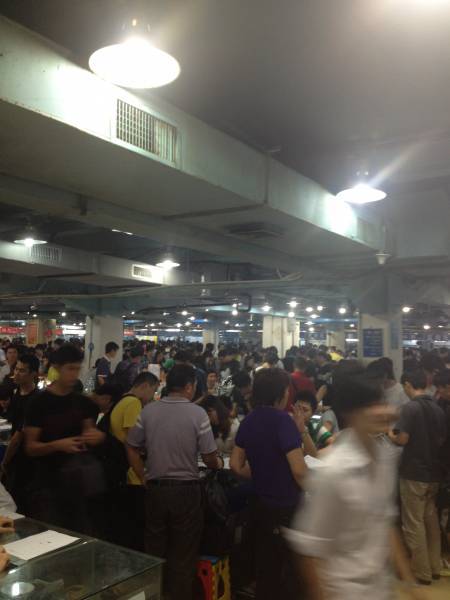 On the wholesale floor it's hard to move, or breathe
We'll be back though – there is enough here to keep electronics fans here happy for a long time.
"Shenzhen and the surrounding area have built up an almost complete IT supply chain," said Forrester analyst Bryan Wang.
"It would be probably the most complete outside Taiwan's Hsinchu area. The region manufactures almost every component except for chipsets (which are made mostly in Taiwan/Shanghai/Korea/etc.) and LCD screens (Taiwan/Korea/Japan)."
What next for the PRD?
So will Shenzhen and the PRD continue to go from strength to strength, or eventually get left behind as a shadow of its former self a la Akihabara?
Already the big name ODMs are building plants in other parts of China, encouraged by generous subsidies and lower labour costs, while Foxconn is even investing overseas with a giant plant planned in Indonesia.
"Over the years, Shenzhen ranked No.1 among all cities in China in terms of total high-tech industry output value (over RMB 1.18 trillion in 2011)," said Peng Zhai.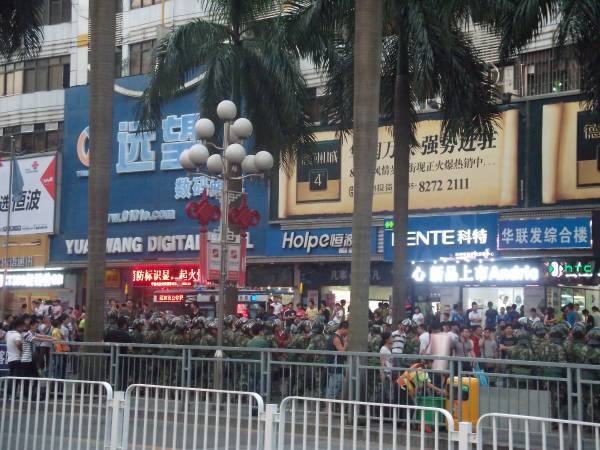 Outside of Yuanwang, complete with riot police
"However, the development of the high-tech industry in Shenzhen is challenged, as most high-tech enterprises are export oriented, there is weak fundamental research capability (i.e. universities), as well as a rising labour costs and living expenses."
Gartner's Sheng, however, argued that heart of the region – the small, independent supply chain and white box manufacturers – will remain intact.
"I don't think that the white box players will move out in the near future. The big [ODMs] like Foxconn will get subsidies and grants and lower labour costs [by moving] but the smaller guys can't get these benefits from local government," he said.
"Many of these factory owners are local people, from Guangdong, so it's not easy for them to move."
Forrester's Wang told The Reg that Chengdu and Chongqing in western China are already emerging as new manufacturing hubs for PCs and phones thanks to lower wages and local government incentives.
"However, we do not expect any of these cities will challenge Shenzhen in terms of the size and completeness of the supply chain in the next five to ten years," he added.
Aside from the obvious environmental impact - the air quality in Shenzhen is pretty abysmal, like most Chinese cities - there's also a human cost to all of this technology. The labour rights violations of local supplier factories run by the likes of Foxconn, VTech, HEG and others to supply the big tech brands are well documented.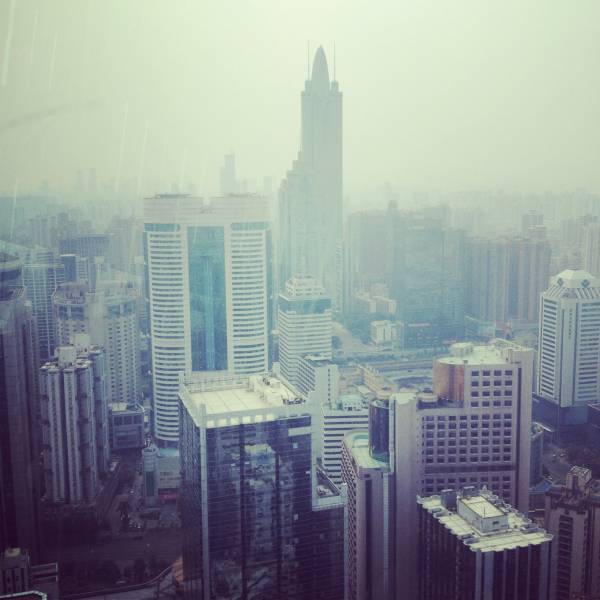 According to China Labour Bulletin spokesman, Geoff Crothall, workers in the smaller white box factories and workshops are even more poorly paid than their counterparts on the Foxconn shop floor, although the working environment might be less stressful.
"Low pay has undoubtedly been one of the PRD's main competitive advantages, along with good logistics and business oriented government," he told The Reg. "What it also has now is a pool of highly skilled and experienced labour at a managerial level as well as a supply of slightly more expensive unskilled labour. So although the 'sweatshop' model may eventually go out of business, the PRD will as the local government hopes, gradually move up the value chain."
It looks like Shenzhen will retain its crown as the tech manufacturing centre of China for some years to come. ®