Original URL: https://www.theregister.co.uk/2012/09/22/ten_external_battery_pack_roundup/
Ten external battery packs
Worth the charge?
Posted in Personal Tech, 22nd September 2012 08:00 GMT
Product Round-up Everyone with a smartphone knows how frustrating it can be to reach the afternoon with diminishing batteries. While it may be a relief to lose access to your phone when you're away on a camping trip, for many it's an inconvenience we could do without.
However, with the price of external juice packs falling quicker than smartphones themselves, theres's little excuse not to avail yourself of a back-up power source.
Here's a look at some of the external packs on the market and how much they charge - both financially and in terms of phone replenishment.
Avantree Universal Portable Power Pack

This tube of juice comes with a purple felt carry bag, a retractable cable with various connections for a range of phone ports.
A small green LED hidden behind the plastic end - the body is aluminium - glows when in use and flashes when in charge mode. It was lit when I took it out the box and unfortunately the tiny power button alongside failed to function. Even on charge, pushing the pin did sod all.
The tube gets hot fairly quickly when charging too. On the positive note, this means it does double up a decent hand-warmer for those British winters. It's comparable in size to a pack of Trebor Extra Strong Mints as well, so slots in the pocket with ease.

Reg Rating 50%
Price £25
Capacity 2200mAh
More info Mobile Fun
Energenie Chargegenie 200

Green-focused energy management firm Energenie has started to roll out external chargers and to mix it up a bit, I thought I'd throw in its super high-capacity pack, the Chargegenie 200.
The hardback book-sized block comes with a snazzy neoprene zip bag, an AC transformer power plug to charge from the mains, and two adaptor cables with practically every connection under the sun. While it is obviously rather heavy, the high capacity means this beast will replenish laptops too, and with two output ports, can boost other devices at the same time.
A small blue LED display shows how much power remains, as well as information such as how many volts it's pumping. This can be adjusted to suit your tech, pushing the power button to switch between a range of voltages: 8.4V, 9.5V, 12V, 16V, 19V and 24V.
Of course, a charger of such magnitude is more of a camping accessory than an everyday companion, but it will sit in laptop bags comfortably and could come in extremely handy for long stretches of time away from power sources. It does seem like a high price to pay, but I have yet to see any other chargers out there with such a mental amount of power.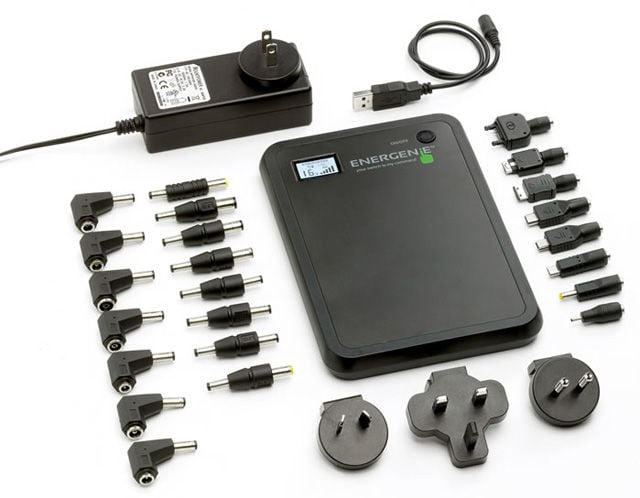 Reg Rating 80%
Price £159
Capacity 20,000mAh
More info Energenie
iLuv Mini Portable

This lightweight pack will go unnoticed in your pocket, but whether it'll be much benefit is questionable. Four blue LEDs indicate the remaining charge but that fourth light doesn't get much action. After charging fully from the mains, the portable battery barely boosted my Razr Maxx at all and depleted unusually fast in comparison to its rivals here.
The iLuv apparently provides an additional six hours of talktime to an iPhone 4, and the company highlights its Apple compatibility all over the packaging. Ironically, it only comes with a micro USB cable for connecting tech, though. Perhaps its ineffectiveness is the reason behind iLuv's decision to drop the price by 60 per cent online. For a tenner it's not that bad a buy.

Reg Rating 50%
Price £25
Capacity 1250mAh
More info iLuv
Innergie Pocketcell

This pack looks like it should be a Nintendo Wii accessory and its small joystick-like shape is great for travelling. The unit has a reassuring weight and a capacity significant enough for a couple of smartphone charges.
A clever, three-in-one cable comes supplied, with USB on one end, and a system that incorporates both mini and micro USB tips, as well as a 30-pin iDevice connector, on the other. Four blue LEDs hidden behind the plastic indicate battery status and there were no heating issues while in use.
In fact, the only downside to this little beauty is the price, which feels far too excessive for a pack of average capacity. There is a definite feel of quality here, though.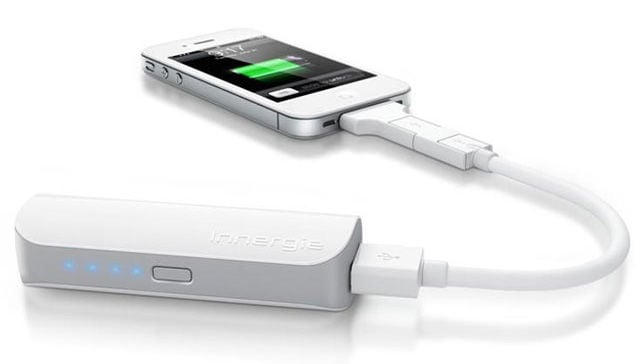 Reg Rating 65%
Price £80
Capacity 3000mAh
More info Innergie
Just Mobile Gum Plus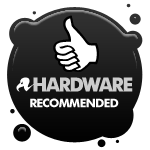 The Gum Plus is just about small enough to go into a pocket, although according to our resident style guru, is perfectly suited for handbags. While it isn't the lightest of chargers, it does pack more juice than usual into such a compact shell and unlike some of the others here, doesn't get hot at all while pumping out the energy.
A series of five tiny LEDs glow when on charge, depleting accordingly as power is drained. It's simple to use and comes with a soft pouch and two USB cables, one with a micro USB on the end, the other with the old iDevice connector. It is a bit pricey, but has a fairly large capacity and your girlfriend will love it, apparently.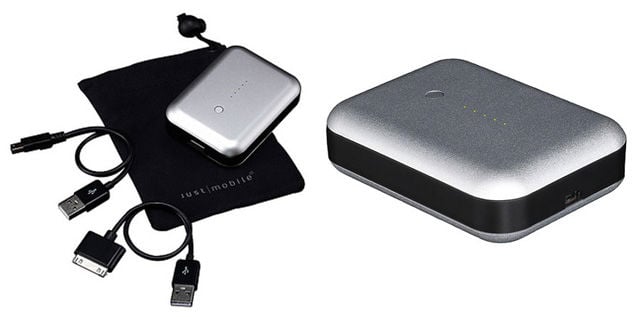 Reg Rating 85%
Price £65
Capacity 5000mAh
More info Mobile Fun
Lindy Mobile Power Pack

This power pack from Lindy feels like a more polished, longer version of the aforementioned Avantree, with an identical capacity. While it also gets rather warm while on charge, there's a switch for power rather than a button and - guess what - it works.
A couple of small handy LEDs hidden behind the plastic on one side glow different colours depending on the gadget's juice status and there's a small USB to Micro USB charging cable supplied. Standard. Being the size of a tube of Smarties means this tube for smarties, can be tucked away in one's pocket smartly on the London tube. Although depending on how you sit, there may be some raised eyebrows from longing housewives sat across the aisle.

Reg Rating 75%
Price £30
Capacity 2200mAh
More info Mobile Fun
Mophie Powerstation Pro

I'm not too sure why you'd need to ruggedise a portable charger as heavily as this, but with official IP65 rating, the Powerstation Pro is one hefty juice pack.
Two rubber flap-protected ports - a USB out and Micro USB in - are fiddly to access for nailbiters like myself, but you'd be thankful for that if you pulled this one out on a sandy beach. A button on the side engages a quartet of LEDs that line the top to show how much power remains.
The unit will take up most of the space in any pocket it's carried in and is a tad on the heavy side anyway for such use, so is more suited for bags.
The industrial look is awesome, but you do pay for that added protection and charging almost a hundred quid seems excessive, particularly with only a micro USB cable supplied. We found a quarter shaved off that RRP on Mobile Fun, so shop around and you can source a juicy deal.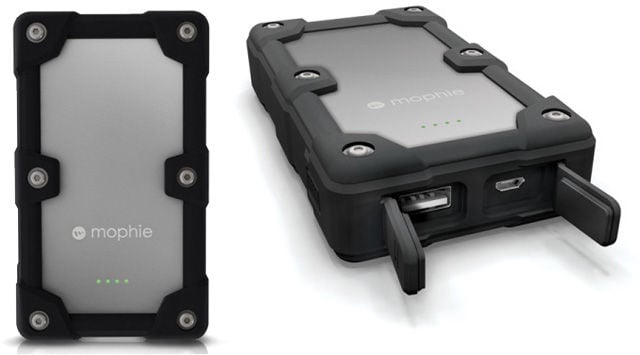 Reg Rating 80%
Price £99
Capacity 6000mAh
More info Mobile Fun
PowerTraveller Solarmonkey Adventurer

Ah, solar chargers. I have yet to be impressed, but I do remain optimistic about the concept. The Solarmonkey Adventurer attaches neatly into its carrycase and could be the ideal companion for long trips in sunny countries, particularly if you've left your Crosskase Solar backpack behind. The water and shock resistant charger comes with a USB adaptor cable and five heads for a range of devices.
The Adventurer is said to fully recharge in 12 hours of "strong sun" thanks to its 3W solar panels. While I'd expect that to take months in most of the UK, perhaps even years in Scotland, the panels' MPPT technology, gives it more efficiency than usual in low light conditions. You can tell when it's all working: the built-in LED glows red when charging and green when at full capacity. You can replenish juice regularly through the mains or USB too.
The 2500mAh maximum capacity feels like it should be higher in a device this big, but I guess that solar tech takes up a lot of room and you obviously pay for the novelty.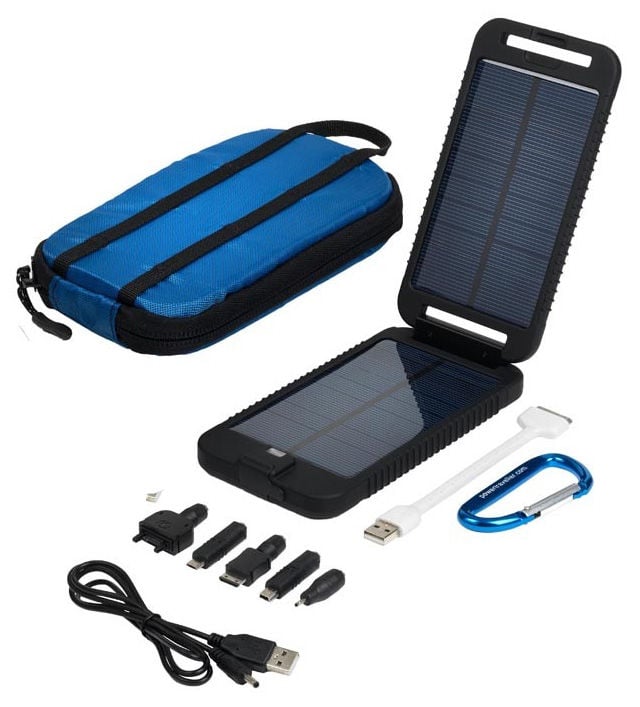 Proporta TurboCharger Pocket Power

They don't get much smaller than this one. Proporta's little charger here is so diddy, it'll slide into wallets like a business card, turning purses into portable power units and baffling friends when you pull out the integrated micro USB cord to power your phone.
The capacity is low but its portability makes this gadget ideal for snack-sized boosts to blowers when they start to feel the hunger. There are three small LEDs next to the input to indicate charging status. It's a bit basic but super cheap - excellent stocking filler, in other words. As the only one here that you could take out without noticing, the Proporta's convenience is unparalleled.

Reg Rating 85%
Price £13
Capacity 830mAh
More info Proporta
Scosche GoBAT II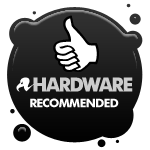 This gloss-black fingerprint magnet may not have the sexiest of designs, but the unit does feature two charging outputs. It comes supplied with a micro USB cable and small adaptor for those with Galaxy Tabs, while four LEDs can be found on the top to indicate the amount of battery remaining.
It's a simple design that feels a tad fragile and the glossy casing is offputting. However, the capacity and dual-charging capability makes the GoBatII almost unbeatable in terms of value. It charges fairly quickly too. ®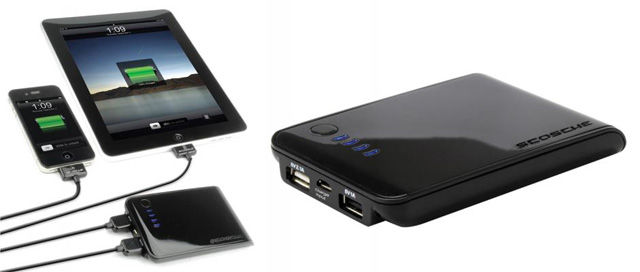 Reg Rating 85%
Price £50
Capacity 5000mAh
More info Scosche