Original URL: https://www.theregister.co.uk/2012/09/21/iphone_5_queue_london_launch_day/
LONDON iPHONE 5 MADNESS: 'You must be CRAZY to buy Apple'
High-fiving shoppers spark bewilderment from normal folk
Posted in Bootnotes, 21st September 2012 10:51 GMT
Giggling Apple fanbois queuing for the new iPhone 5 in London gave Apple Store staff high-fives as a man bellowed at them: "Are you mad?!" The bewildering scene marked the start of another Apple iThing launch, and another day of eyebrow-raising antics on the streets of London and beyond.
"Why are you shouting 'iPhone 5 iPhone 5'?" bellowed the man as blue-shirted store workers yelled "iPhone 5! iPhone 5!" while running up and down the line of punters waiting to buy the new iOS 6 smartphone from Apple's Regent Street store.
"Are you mad?" the bloke exploded again at them as they jogged past clapping their hands above their heads and slapping palms with the eager fanbois. "Would you sell the iPhone if you weren't getting paid to do it?" he added.
"Yes," said one store worker. And the hyped up Cupertino cultists continued jogging back and forth, shouting, applauding and high-fiving everyone. (Nobody tell that to John Browett, Apple's new cost-cutting head of retail ops.)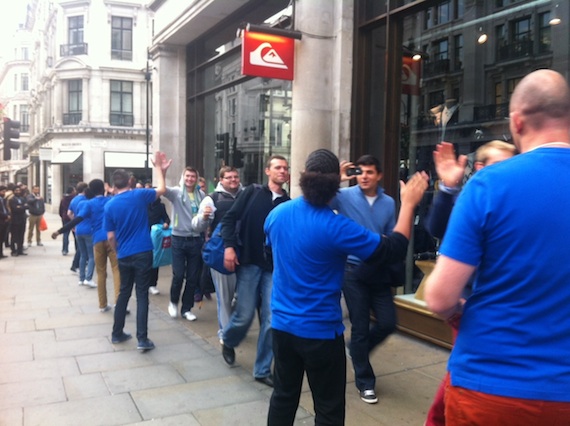 HIGH FIVE! HIGH FIVE!
A protester with a megaphone turned the mood a little sour at the back of the iPhone 5 queue, which curled around Hanover Square in Blighty's capital city, by trolling hundreds of shoppers with an appeal for the factory wage slaves who built the shiny new mobe.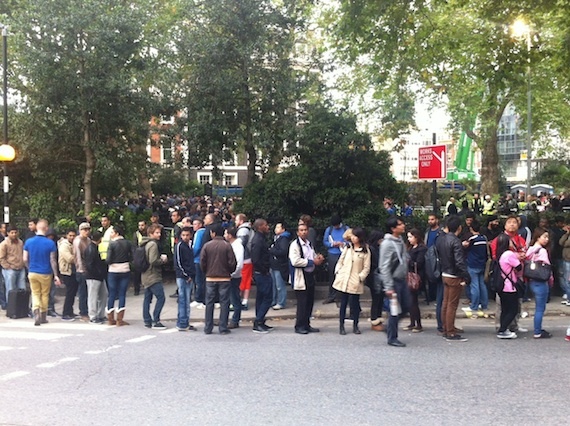 The iPhone queue round the back of the first corner in Regent Street, London
The crowd initially responded to jibes about Samsung from Danny the megaphone man, but the hordes fell silent as he got onto the subjects of Apple's corporate dominance and labour rights and the iPhone supply chain.
"China has a one child policy," he shouted to the crowd, "which is a problem because we need as many Chinese people as possible, to assemble iPhone 5s."
Danny, who runs the Youtube channel Spiritual Entertainer, told us that he liked to address groups of people as part of an art project.
The madness only continued further up.
"I want it NOW!", fangirl shrieks
At the front of the queue there were the usual scenes of religious fever as customers escaped from their waiting pens and waddled the final metres into the store, some with arms raised to the heavens, along a path lined with Apple staff whooping, high-fiving and ushering them up a staircase to the tables of iPhone 5s.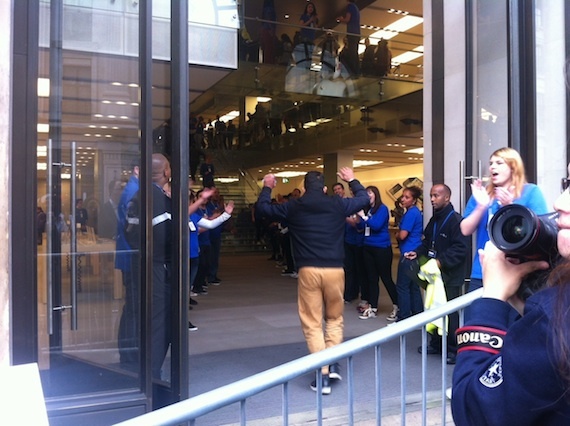 Customers raised their arms above their heads in worship as they entered the store, cheered on by lines of Apple employees
A man in a panda hat was among the first to be let in, along with a guy with crutches, a young family complete with a baby buggy, although the queuers were predominantly young men.
An older woman explained she was queueing for her teenage son. "Can we talk to him?" your humble hack asked.
"Oh no, he's very shy."
We spoke to a husband-and-wife couple, who had been there since 6.15am.
"Why don't you just order online and wait a few weeks?" we asked.
"I want it now!" the woman beamed.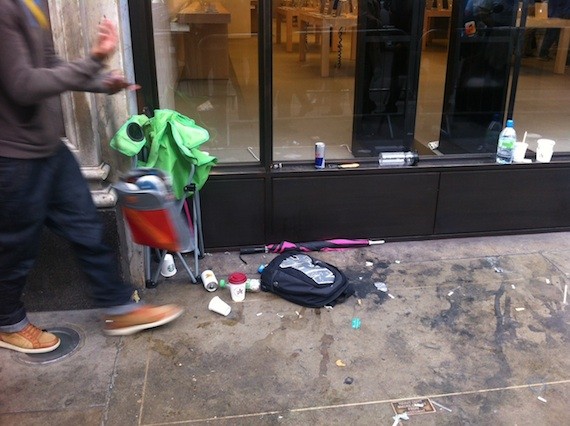 Debris left from the hardcore front-end of the queue
Moving up the line, Hassan, 24, said he needed to get the iPhone 5 today - the day it goes on sale - and said that he couldn't possibly wait for it.
"Not even two days," he added. We put it to him that some might consider waiting in a queue to go into a shop crazy.
"Apple is crazy, you have to be crazy for Apple," he said.
Another bloke, Kays, also 24, said he uses all of Apple's products, and was upgrading his 4S to an iPhone 5.
"I like the iPhone," he said. "This is a happy day." When we asked why he was queueing for it, Kays replied: "But it's not work, it's enjoyment."
Just to prove it wasn't just Londoners going bonkers, here's the scene outside Glasgow's Apple Store at 9am today: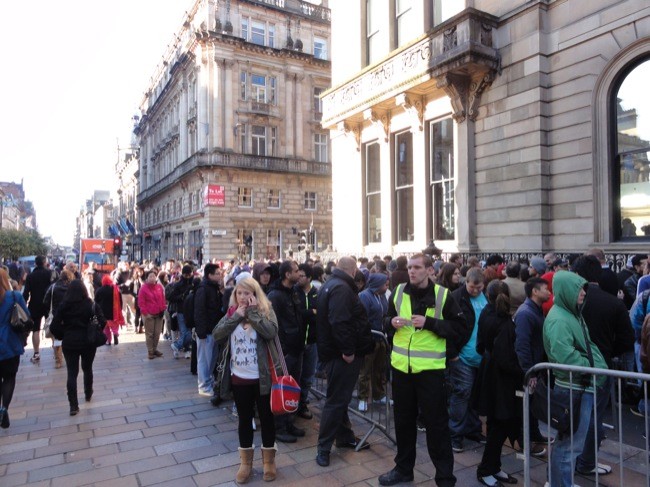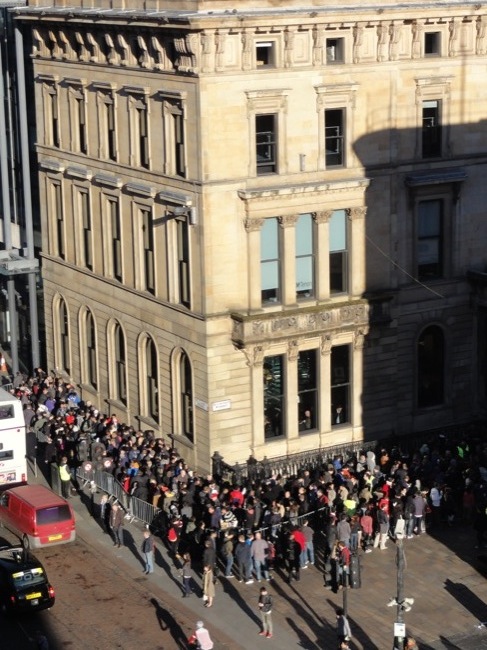 Fanbois and fangrrls massing in Buchanan Street outside the Glasgow fruit shop Credit: Joseph Heenan
®