Original URL: https://www.theregister.co.uk/2012/09/20/curiosity_ready_to_analyse_rock/
Mars rover Curiosity gets ready to blast its first rock
Taste alpha beams and X rays! In the name of SCIENCE!
Posted in Science, 20th September 2012 09:59 GMT
NASA's nuclear Mars truck Curiosity is poised to start zapping its first rock to find out what it's made of, and is on its way to its first major science destination.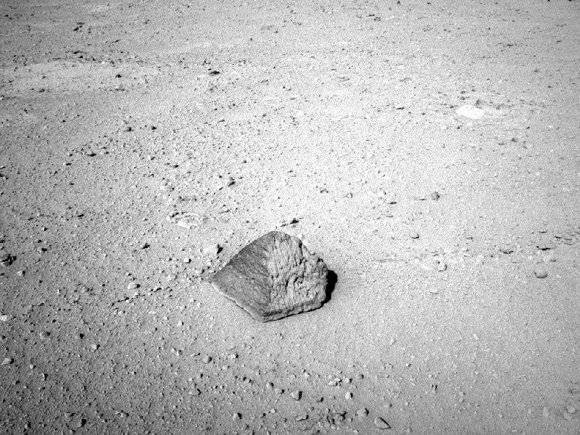 The rover is just eight feet from a football-sized rock that's about halfway between its landing site and its first destination "Glenelg". Before it ambles by, Curiosity will blast the rock with its Alpha Particle X-Ray Spectrometer and snap a few pictures with its Chemistry and Camera Instrument to figure out what elements make up the rock.
The agency has nicknamed the rock "Jake Matijevic", after their colleague and surface operations systems chief engineer for the Mars Science Laboratory, who passed away last month.
Curiosity is picking up the pace on its roving, having now trundled across the Mars for six days in a row covering distances ranging from 72 to 121 feet.
"This robot was built to rove, and the team is really getting a good rhythm of driving day after day when that's the priority," said MSL project manager Richard Cook.
Once the truck gets to Glenelg, it'll get to use its other rock-probing capability - drilling into the chosen specimens so it can analyse the powder it digs out from the interior.
Boffins can tell that the Martian surface at Glenelg has three different types of terrain, one lighter-toned and another more cratered than the stuff the rover is driving over now. The lighter-toned areas are particularly interesting because, unlike the other two terrains they keep the daytime heat long into the night, so they're probably made of different stuff.
While Curiosity is focused on its rock-blasting mission, it's also had the chance for some sightseeing on its journey. The Mastcam that will help it pick out potential rock targets in Glenelg has also seen dark streaks on the rocks there and has watched the sky to see Mars' two moons, Phobos and Deimos, crossing the sun.
Phobos affects Mars in the same way that our Moon changes Earth's tides, altering its shape. If boffins can narrow down the timing of the orbital change to more precise measurements, they'll be able to figure out more about the interior structure of the Red Planet. ®