Original URL: http://www.theregister.co.uk/2012/09/19/the_iphone_5_queue_london/
Who queues for an iPhone 5? Protesters, hipsters and the jobless
These lubbers be strange 'uns, and no mistake
Posted in Personal Tech, 19th September 2012 10:24 GMT
Pics The iPhone 5 doesn't go on sale until 8am on Friday, 21 September - yet lines of fanbois, socio-averse hipsters, campaigners and self-promoting twits awaiting the new mobe are already clogging the pavements outside Apple Stores.
Yesterday on the steps of London's flagship Regent Street pomaceous-product outlet, punters queueing to seize the slightly updated phone include an unemployed bloke, a very keen Apple enthusiast and his carer and some very recalcitrant bods who insisted that El Reg bring them coffees. No such luck, Popeye.
The fact that four of the first seven queuers were making films about why people queue for iPhones speaks volumes about pre-launch iPhone hype. Given the media circus surrounding those who shun more practical methods of shopping and instead queue in the British September air, it's not surprising that all of the first six were representing interest groups on the lookout for publicity.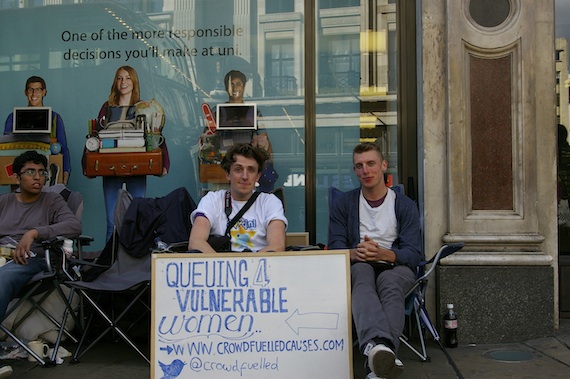 First in line: Richard Wheatcroft, queuing to draw attention to a bakery for vulnerable women
Two of the first six didn't even own any Apple gadgets: Richard Wheatcroft, 30, who was first in the queue was using a Samsung Galaxy Tab when we met him and he also possessed an HTC Wildfire.
Wheatcroft had been queuing since Thursday evening last week, marking the start of an eight-night shift. He was not queuing out of desire for the iPhone 5, but to promote a social enterprise charity that aimed to open a bakery for retraining vulnerable women. Wheatcroft, 30, said that sleeping on the street had been "humbling". His friend George Horne, 23, also worked for the charity Crowd Fuelled Causes and was filming the queue for a documentary he was making. "People don't queue like this for Samsung or Sony," he said.
Number three and four in the line were Apple queue veteran Zohaib Ali and his carer, who were there representing an autism charity. Ali explained that iOS feature Guided Access helped autistic people use Apple gadgets. He added: "Samsung is rubbish."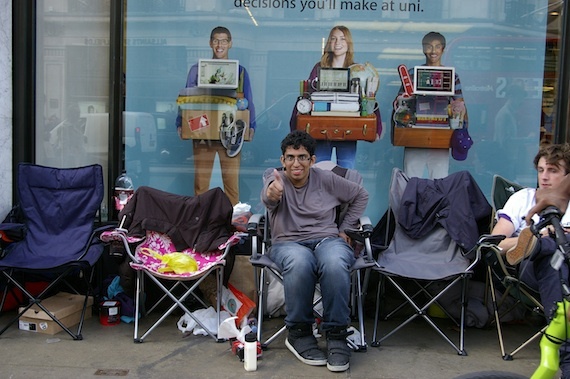 Zohaib Ali: "Samsung is rubbish!"
Five and six were two 18 year olds dressed in Morph suits, who were also participating in a documentary video blog about why people queue for Apple gadgets. "The Morph suit is warm," said Cam Newton, who described himself as "a Blackberry guy", but was being paid to wait on the street for it by Customer Experience Foundation - which had also provided his Morph suit.
He was definitely going to keep the new iPhone once he did get it though. "I was a Blackberry guy. I'm looking forward to the iPhone 5," he said.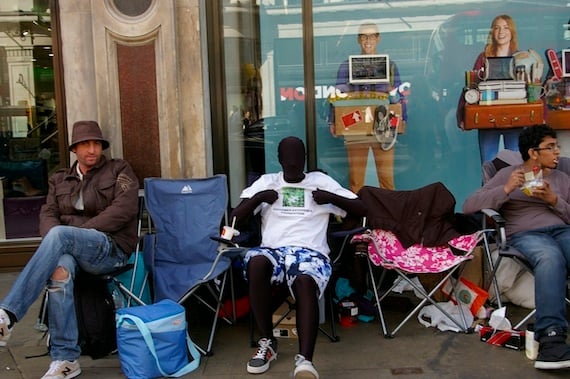 Cam Newton: "The Morph suit is warm"
Apple fanbois - Idlers bumming coffees off people? Shurely not
Number seven was an unemployed man from Spain, in line to buy a phone for his sister. "If I stay at home I do nothing, if I come here I can get a iPhone 5 for my sister and my brother in law," he said. When we asked him why he had chosen to sleep on the streets for three nights in order to get her one, he explained: "My sister said the first ten people get this…" and gestured at El Reg's camera.
Emmanuel Paulo, 33, has two children - one 6 months old - back in Spain, and was in the UK looking for work as an welder. He hopes to get a job if he passes a test next week. We'll give him the number of Reg Special Projects Editor Lester Haines, mainspring of our Iberian Bureau, and sometimes needs help from skilled tradesmen.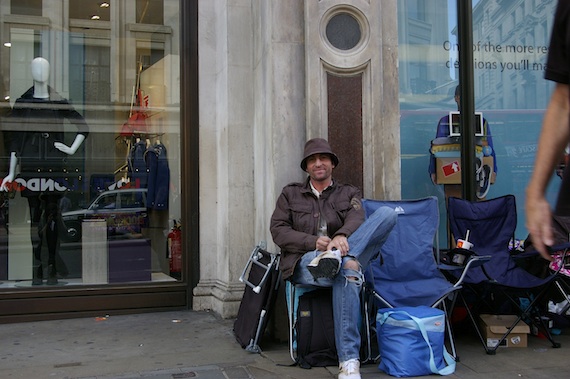 Emmanuel Paulo: "Things are bad in Spain"
Round the corner of the store was a further line of queuers, including part-time student Bishuro Shakya, 23, buying an iPhone 5 for his girlfriend. Asked why he had decided to queue three days in advance of the product launch, he added that he wanted to be one of the first people in the country to get it. Shakya said he didn't know how much memory he wanted but said that would have time to think about it over the next 72 hours.
Next was a man staring lock-jawed at an iPad with earphones in and a resentful expression, two camera-shy youngsters and three men who told me they wouldn't tell me their names. The trio offered only this explanation for why they were sitting on a street corner for a product that will not go on sale until Friday, but can be ordered online and will later be widely available in shops:
It is the same reason everyone else is here - we like it!
In a spirit of financial opportunism that would be appreciated by Apple founding father Steve Jobs, these fanbois suggested that your humble hack pay them for the privilege of probing further into their irrational choice:
Questions, questions - everyone asks the same questions. We're thinking of charging £5 for every question. Maybe we'll give you a 10 per cent discount if you ask a lot.
At this point I asked to take a picture and two of them ran off, the third accepted that it was a public street.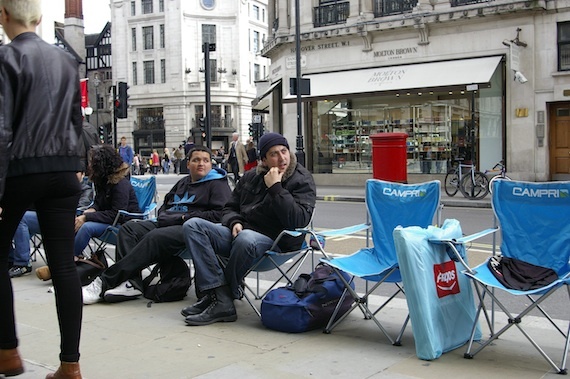 You can hide for the photo, but everyone walking down London's busiest street can see that you are queueing for the next iPhone
They finished with this salvo: "Oh you're coming back on Friday! Why don't you bring us a coffee?"
Rest assured we shall certainly not be bringing them a latte, cappuccino, frappuccino ... or even a coffee for people who like the taste of coffee, as opposed to milk. ®