Original URL: https://www.theregister.co.uk/2012/09/17/apple_iphone_5_tops_benchmark_chart/
iPhone 5 tops benchmark chart
Seemingly beats phones, tablets
Posted in Personal Tech, 17th September 2012 10:32 GMT
Apple's upcoming iPhone 5 is one of the fastest ARM devices out there, beating even the Asus-made Google Nexus 7, if benchmark data posted online are to be believed.
An entry in the Geekbench database spotted this weekend - the figures were uploaded yesterday - shows the new handset clocking up a score of 1601. The readout indicates a dual-core ARMv7 CPU running at 1GHz and equipped with 1GB of memory.
Compare that to the Nexus 7's score of 1591 and the Asus Transformer Prime TF201's 1497, and the iPhone 5 result, if genuine, shows the handset beating tablets.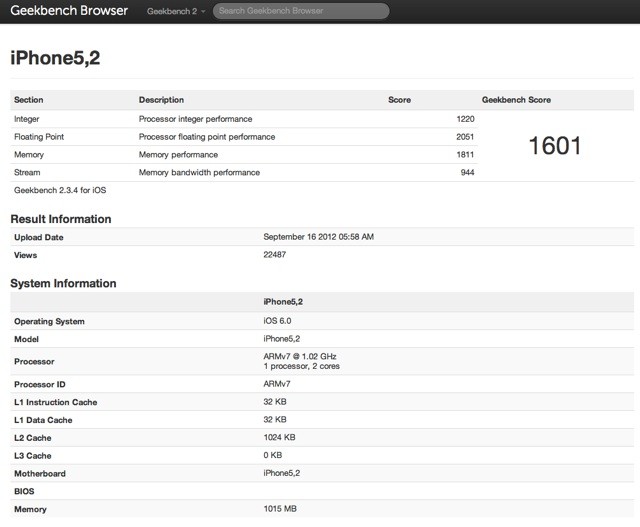 That's no surprise, perhaps. Samsung's stock Galaxy S III does too. But its score, 1560, is still behind that of the purported iPhone 5 result. Run Jelly Bean on the S III and it retakes the lead, however, with a suspiciously spectacular 1781. An extra 221 points with a new OS? Well, possibly.
It's interesting to note too that all these devices contain quad-core processors. Apple's A6, however, seems to be a dual-core part, though there's not yet official confirmation of this, or that it's Apple's first custom ARM core, as Anandtech reckons.
Based on Apple's own pictures of the A6, and the codenumbers printed on the chip package, iFixit.com and Macrumors have jointly confirmed that the Samsung-made part does indeed contain 1GB of LPDDR 2 Ram.
Of course, that doesn't mean the iPhone 5 Geekbench data is real. ®