Original URL: https://www.theregister.co.uk/2012/09/15/ten_usb_3_hdd_enclosures/
Ten USB 3.0 HDD enclosures
Stay safe, drive fast
Posted in Personal Tech, 15th September 2012 07:00 GMT
Product Round-up Undoubtedly, an HDD enclosure is always a handy thing to own, especially if you're likely to be tempted to upgrade to SSD storage and need to haul files off the old HDD. With USB 3.0 featuring on a range of enclosures, transfer speeds are pretty nifty. Yet, as I discovered during these tests of ten USB 3.0 enclosures, speed isn't really the issue. Connectivity options aside, the only major the differentiating factor between products nowadays is build quality and price.
For tests, a SanDisk Sata 3 SSD was used for benchmarking to give them all a chance at optimal throughput and, if you check out the results at the end of the piece, you'll see it was a close run race. Anyone with an affection for Lindy hardware may like to know the company's USB 3.0 range is on the way this autumn, but it currently offers a 5.25in USB 3.0 unit, if you need to go that far back in time with data recovery. Oh, and just for the record, with the exception of the Enermax and the Zalman, the 2.5in enclosures on test come with a dual-headed USB cables to suit bus powering issues on some laptops.
Akasa Lokstor X31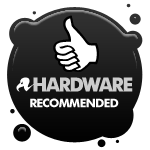 Thermal solutions specialist Akasa offers a wide range in the USB 3.0 domain, with its latest enclosure, the Lokstor X31, fronting the pack. Here, the HDD slots in through a bookcase-like drawer system, sitting securely without the need for a screwdriver.
The aluminium build is sturdy and with with an additional metal plate screwed to the bottom, rests neatly upright. While rather on the heavy side, manufacturing feels of a higher quality than some of its inexpensive rivals and there were no noticeable heating issues with the thicker housing.
The Akasa logo on the front, which doubles up as the LED indicator – glowing blue when powered on and flashing pink when in use – polishes the design. The addition of a key and lock system for greater security, helps it stand out further as a serious piece of kit – don't misplace the key, though.
There's only so much you'll ever need with an HDD enclosure and Akasa's design is by far one of the most convenient. There's also a version with an eSata output, should you need it, but either way, prices seem fair and well set.

Reg Rating 85%
Price £46
More info Akasa
Akasa Lokstor X21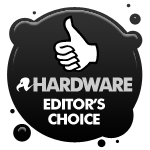 Akasa's smaller enclosure for 2.5in drives continues with the bookcase-like pullout panel design, accessed here by pushing and sliding a button on the top. You'll have to fiddle the button again for the drawer to close, as it won't just click shut easily, however, the build is impressive and again there's no need to screw fit drives in place.
It's sturdy, compact, there's a standard LED indicator and an eSata model too, if required. In the battle for budget enclosure supremacy, the Akasa certainly makes a strong case here – badum tish.

Reg Rating 90%
Price £22
More info Akasa
Enermax Brick 3.5in

This large 3.5in aluminium enclosure features basic top and bottom slide panels, the former for inserting drives, the latter for screwing them firmly in place. A standard blue LED indictor blinks while files are in copy or read mode and there's a clunky on off switch alongside.
The enclosure comes with a stand for keeping the whole thing upright, but, overall, it's a very basic unit and couldn't get much simpler if it tried. At £22, ti's the cheapest 3.5in enclosure on test and you do rather get what you pay for. Still, its transfer performance left nothing to complain about.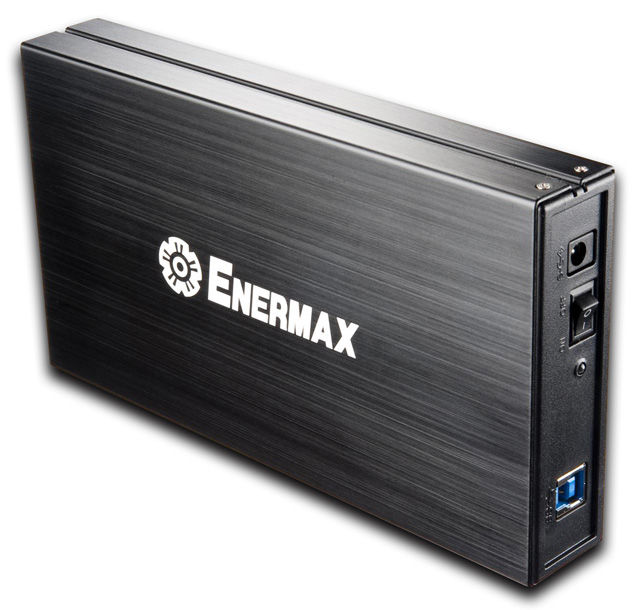 Reg Rating 60%
Price £23
More info Enermax
Enermax Brick 2.5in

The HDD tray here slots into a loose aluminium sleeve covered either side by slide-on plates. If you're a quick change artist, then the fact that you need to screw it all together might not appeal as, unsurprisingly, the case is a bit rattly if you don't. A faux-leather pouch provided bolsters protection and keeps it all from jiggling, should you decide to skip the screw fit.
Unlike some of the portable enclosures here, the USB 3.0 cable isn't a split type and seemed none the worse for it. I did find it easy to accidentally dislodge the cable from the chassis though which was a bit of a worry. And if I were to get really pernickety, according to the manual, the LED indicator glows blue while powered up and turns purple while in use. However, aside from a barely noticeable flicker while reading and writing files, the luminous blue LED remains the same and didn't appear to change colour. But then again, I've not had an Ishihara test recently.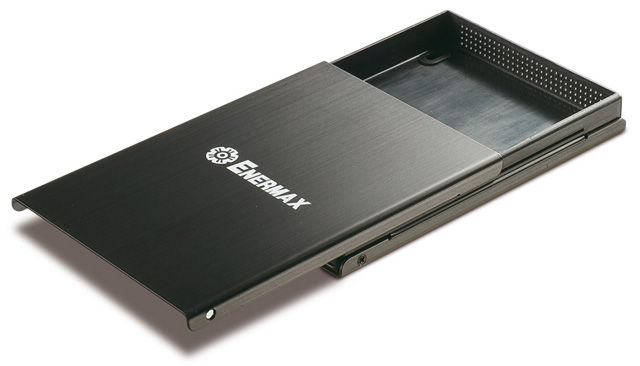 Reg Rating 70%
Price £23
More info Enermax
Icy Dock Blizzard

Icy Dock boasts over a decade of experience in the storage peripheral domain and the Californian firm certainly throws a couple of eye catching hats in the ring here.
Its latest release features an 80mm fan integrated into a detachable front panel for added ventilation. Built-in LEDs behind the fan give it an ominous blue glow, but things turn red if temperatures exceed 50°C. As the fan can be adjusted between, low, high and - more conveniently - auto mode, overheating shouldn't be an issue and it's fairly silent too, so won't add to the sound of any already present whirrs from a busy drive.
The entire front panel is easily removed for slotting in your 3.5in drives, and while the thick plastic casing could be sturdier, there's plenty of shielding for protective reassurance. You certainly wouldn't want take this one on the road, though, but those after something that'll look cool on the shelf – even if it takes up more room – might want to consider it, particularly if it's likely to stay there for long periods of time.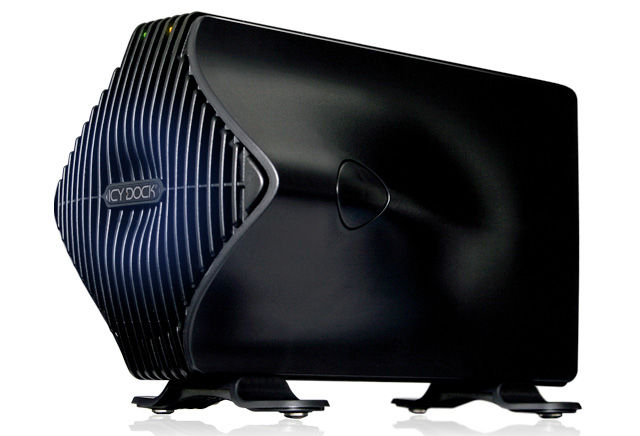 Reg Rating 80%
Price £55
More info Icy Dock
Icy Dock MB559U3S

Icy Dock's more slimline offering is far more portable and fits into most spaces with its flat compact design. The removable tray, which slots onto the end of both 2.5in and 3.5in drives, is synonymous with various other Icy Dock enclosures and racks, and as such, drives can be swapped around quicker than an F1 pitstop.
Other plus points include an eSata interface and foot stands to help keep the drive upright. It's hardly the prettiest of enclosures, but feels very corporate and sensible. Not a bad choice option if you're keen on having more than just USB interfacing, but a little on the pricey side.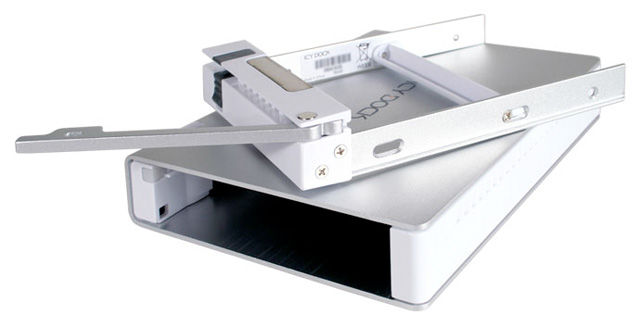 Reg Rating 75%
Price £56
More info Icy Dock
StarTech SuperSpeed 3.5in

All connecting parts from this larger Star Tech enclosure pop off the top, which makes fitting an easy task. The downside is that the design feels cheaply built and for a decent fit, you'll want to get the screwdriver out and secure a drive in place.
LED status lights are also built into the connecting part, with windows on the opposite side of the enclosure simply picking up glowing blue from the distance. It's more unexceptional housing that simply does its job and clocks out at five, so it does feel somewhat overpriced, but hunt around and you should find the StarTech gear around half price. The power lead is shorter than usual too, which might appeal to some keens to avoid desktop coils, but maybe not everyone..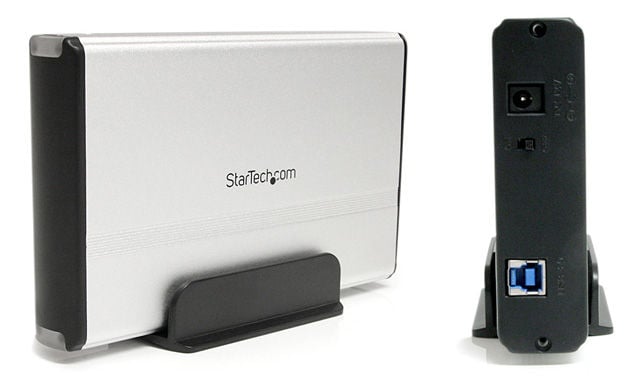 Reg Rating 65%
Price £46
More info StarTech
StarTech SuperSpeed 2.5in

This lightweight aluminium slidey-case is a doddle to use, although as with the Enermax rival, you can't unslot drives without initial tilt, so there are slight fragility concerns. Plus, with only two points to fix the slidey panels in place, it would only take one missing screw for them to remain endlessly loose.
The StarTech is merely basic parts assembled in a basic way, so no brownie points for innovation here. There's a green LED light on the rear that blinks while in use, as well as the standard faux leather pouch for added protection. The price reflects its minimalist build, though, so if you're looking for a bog-standard portable and cheap quick-fix, the StarTech SuperSpeed could be worth a look-in. And if you don't want to rely on split USB cables, there's a slightly bigger Superspeed option for the same price.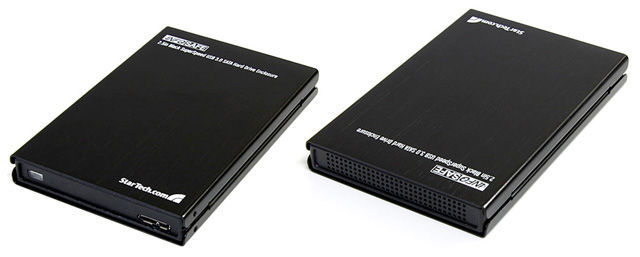 Zalman HE350

This lightweight glossy box might perturb those with a need for instant gratification. After all, to get going, you have to unscrew the enclosure first, and it's also vital that you fasten the HDD in place, or it wont stay connected within the housing.
For those who don't mind the Zalman being permanent PC furniture, this may not be such a problem. The HM350 does benefit from more than just the single LED status indicator and has a cool hourglass-shaped design. Saying that, the glossy white paint job suggests it's for an acquired taste. Still, there is an eSata interface, at least which, for some, is handy to option have on-board and it's not a bad price either.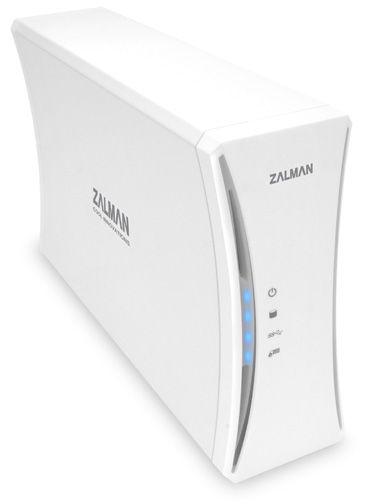 Reg Rating 70%
Price £39
More info Zalman
Zalman ZM-VE300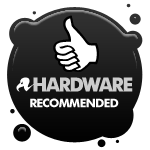 This impressive little unit pushes the boat out a further than its 2.5in compatriots by offering its services as an externally mounted optical drive for ISO files, as well as the standard enclosure feature. Schweet. The brushed aluminium unit is well built and keeps the drive soundly in place without the need for screws, although these can be fitted anyway for additional security.
All connecting parts detach from one side for easy fitting, an LED shows information such as which partition is being accessed and a jog wheel on the side can be used for navigation. There's even an instant backup button on the front which doubles up as a power off pin for safe and easy removal. Attention to detail. Check.
Shop around and the ZM-VE300 can be picked up for around £25, which is a steal given its quirky extras. So if you're looking for something a little less basic, that demands a quick browse of the manual, this could be the enclosure for you.
Read on for benchmarks. ®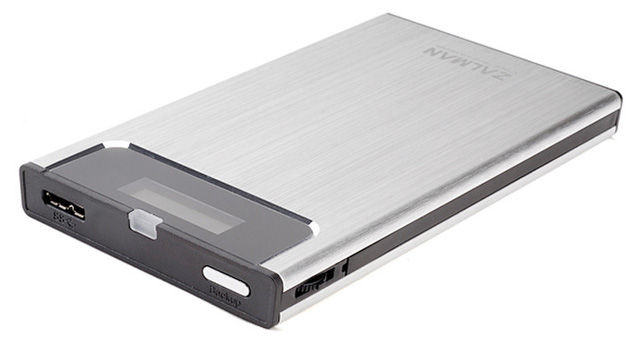 Reg Rating 90%
Price £40
More info Zalman
Benchmark Tests
CrystalDiskMark 3 Results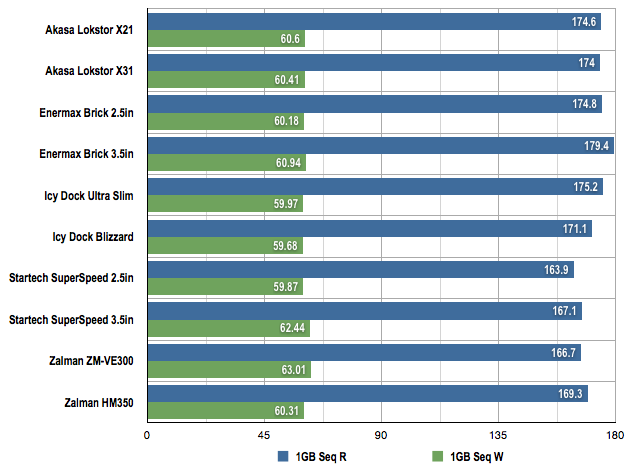 Data Transfer Speeds in Megabytes per Second (MB/s)
Longer bars are better
Data Transfer Speeds in Megabytes per Second (MB/s)
Longer bars are better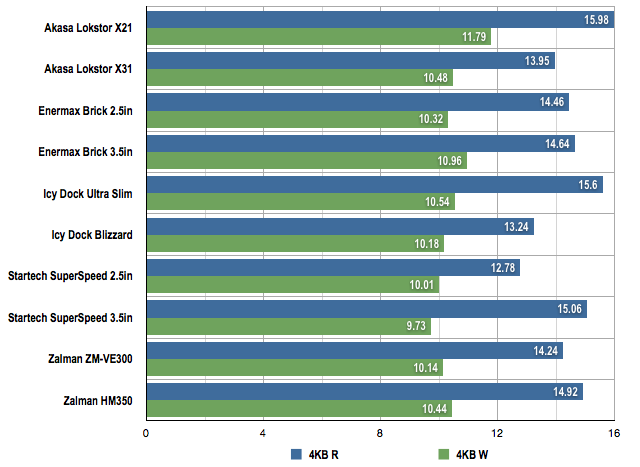 Data Transfer Speeds in Megabytes per Second (MB/s)
Longer bars are better