Original URL: https://www.theregister.co.uk/2012/09/14/review_peugeot_508_rxh_hybrid_estate_car/
Peugeot 508 RXH estate car review
High-riding hybrid
Posted in Science, 14th September 2012 07:00 GMT
If there is a problem with Peugeot's HYbrid4 tech, then it's that being modular and compact it can end up in cars that are frankly just a bit dull. After a day spent tootling around in a HYbrid4 3008 the underlying technology left me quite impressed but the 3008 isn't a car that gets my pulse racing.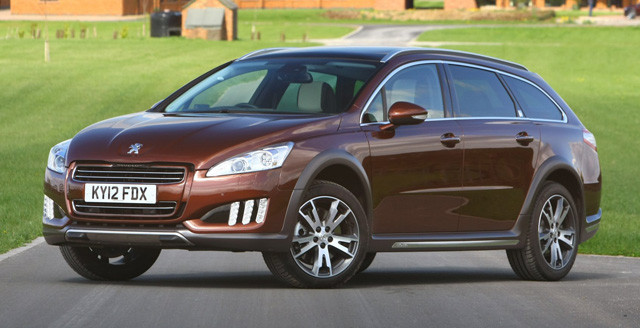 Up to scratch? Lion's claw lighting adorns the front of the Peugeot 508 RXH
So I've waited for a closer look at the system, with an eye on Peugeot getting me a 508 RXH estate to test for a week. I've already driven the 508 saloon in 1.6L turbo diesel micro-hybrid form and liked it, so I had high hopes for its AWD hybrid estate cousin.
Externally there's no mistaking the RXH. Compared to the standard 508 estate it rides higher to the tune of 50mm while the track is 40mm wider and it has acquired some rugged-looking lower body furniture. The grille design has also been modified and a set of what Peugeot call lion's claw LED running lights have been added beneath each headlamp.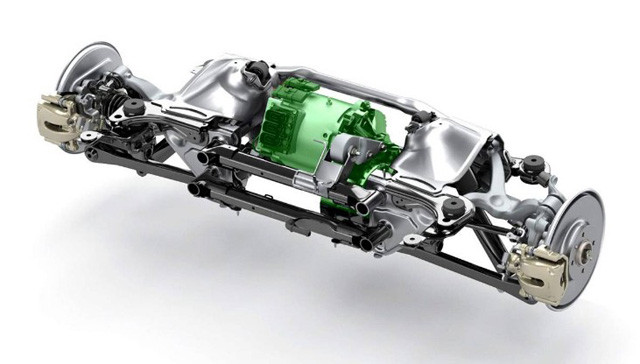 Axle additions
The macho styling isn't just for show. One of the essential features of HYbrid4 is that is adds four-wheel drive to any model it's fitted to, so the RXH can actually go places a lesser estate would fear to tread.
Mechanically, the system mirrors that fitted to the 3008 with a 163bhp 2.0L turbo-diesel motor driving the front wheels and a 27bhp (20kW) electric motor nestling Alien-like amongst the rear suspension members and driving the back wheels.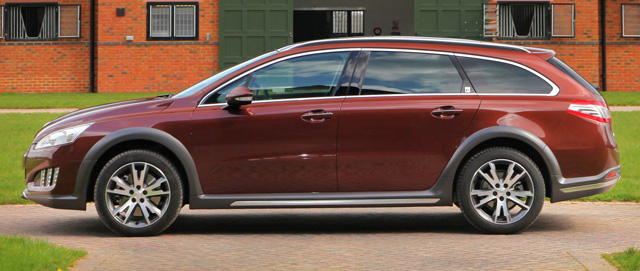 Jacked up
In everyday use, more important than all that power is the torque. The diesel motor generates 300Nm at 1,750RPM, while the electric motor adds a constant 100Nm or a peak of 200Nm to proceedings. As drive trains go, the HYbrid4 is nothing, if not flexible. In ZEV (Zero emission Electric Vehicle) mode, you can drive for two and a half miles at speeds up to 40mph. I actually managed to cover well over 3 miles while in slow moving motorway traffic, so there is some give in Peugeot's numbers.
Farming today?
In 4WD mode, the diesel engine continually charges the Sanyo-made 1.1kWh Nickel Metal Hydride battery, which, in turn, provides continuous power to the rear wheels. This means you can always make use of the four wheel drive, so there's no risk of getting stuck in a field with a flat hybrid battery.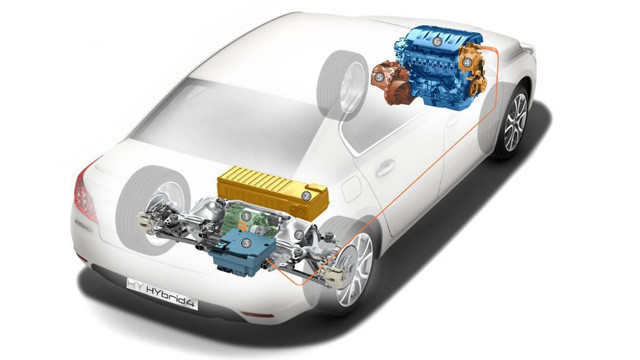 Hybrid hardware need to find any nook or cranny conceal itself
The other two options – Auto and Sport – are the self-explanatory. The latter sharpens up the reactions of the 6-speed electronically-controlled gearbox. Thanks to the various display options that can be called up onto the 7 inch centre console screen you can keep a close eye on how power is being distributed and harvested.
Watching the power screen is more interesting that some films I've seen recently and highlights an interesting feature of HYbrid4; energy is only regenerated from the rear axle. The 200V hybrid drive battery also does the heavy lifting for the Start/Stop system, allowing it to be more intrusive without draining the 12V battery under the bonnet or needing the 508 e-HDi's ultracapacitors.
When it comes to off-roading, the ride height and road tyres clearly mitigate against following a Range Rover across a ploughed field or up a mountain. Yet on a rutted muddy lane or a wet field, the RXH is surprisingly capable. It really is all the 4x4 anyone, who doesn't earn a living toiling on the land, will ever need.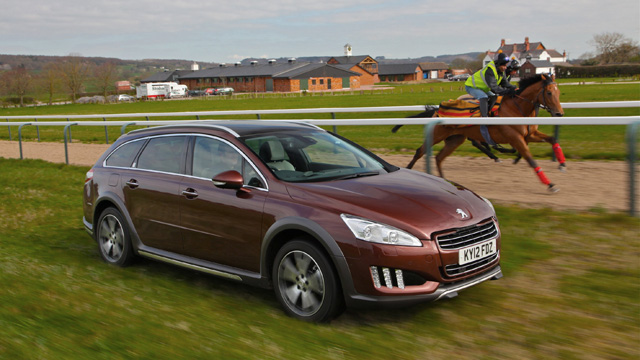 Hybrid horsepower
Crossing gymkhana fields aside, economy is the HYbrid 4's other big selling point. After a day with the 3008, I was none the wiser about Peugeot's consumption claims. However, after spending a week with the 508, it became clear that getting near the maximum claimed average of 67.2mpg wasn't out of the question.
Torque show
On a 200 mile trip to and around North Wales and then a day spent in central Manchester, I averaged 57.6mpg, which for a big old bus like the RXH is not at all bad. The CO2 emission figure is an equally respectable 107g/km, which slots the RXH into VED Band B.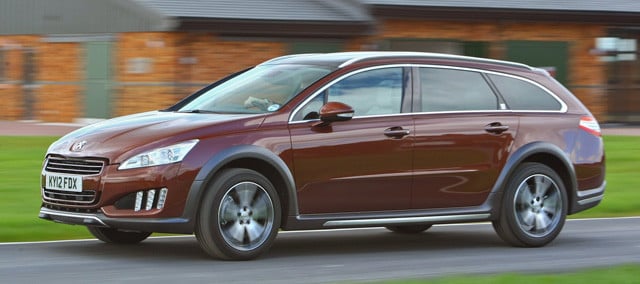 Fast mover, make no mistake
It's no slow-coach either – maximum speed is 132mph and the 0-60 dash is covered 8.8 seconds in Sport. On the open road, it is faster than that number suggests – the 50 to 75mph sprint takes just 6.6 seconds. It also handles extremely well for a high-riding estate and is a reminder that Peugeot has forgotten more about how to set up a front-wheel drive chassis than some car makers have ever known.
The RXH has, however, inherited two failings from the 508 and 3008. Firstly the b-pillars are still extraordinarily thick, which obstructed my driver-side over-the-shoulder visibility quite badly and secondly, the automatic manual gearbox is a bit dim-witted in Automatic mode.
The gearbox doesn't always come across as a mechanical twit though. In town driving, it is actually pretty smooth, but on the open road if you put your foot down the engine revs hard before anything else actually happens. With both a torquey turbo diesel and an electric motor on hand this certainly feels odd.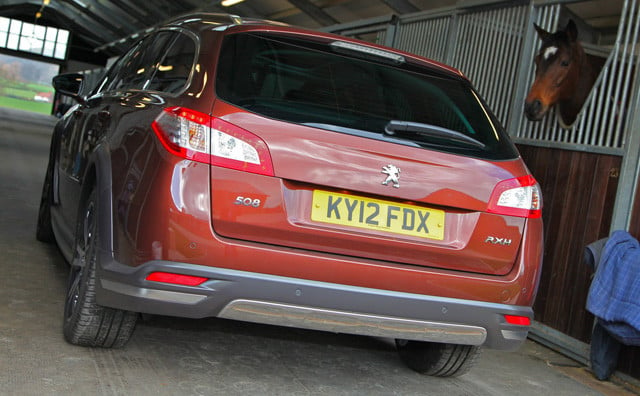 Stable mates?
In Sport or 4WD, these quirks are far less noticeable with gear changes being optimised for performance in the former and the electric motor always on duty in the latter. Of course, you can put the gearbox into manual mode and change gear using the flappy paddles, which instantly solves the problem, as does not driving like a leaden footed ape.
Inside the 508 RXH – in pictures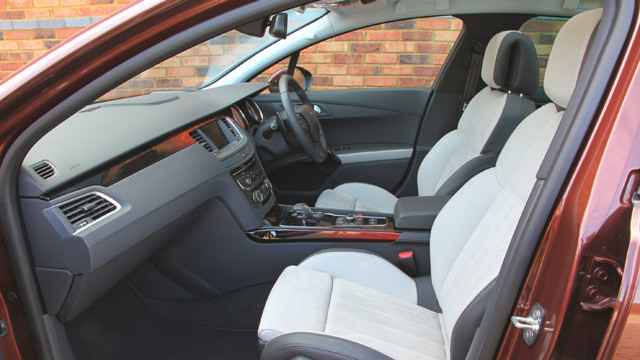 Check those b-pillars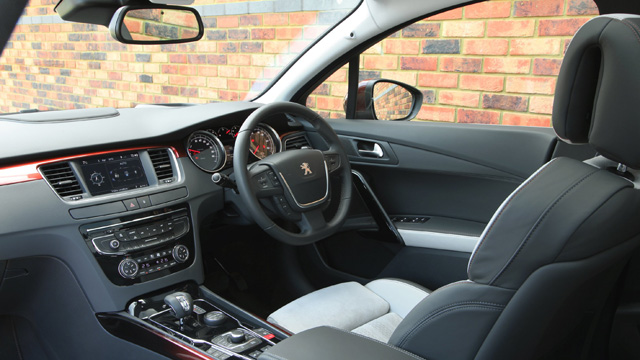 All the kit up front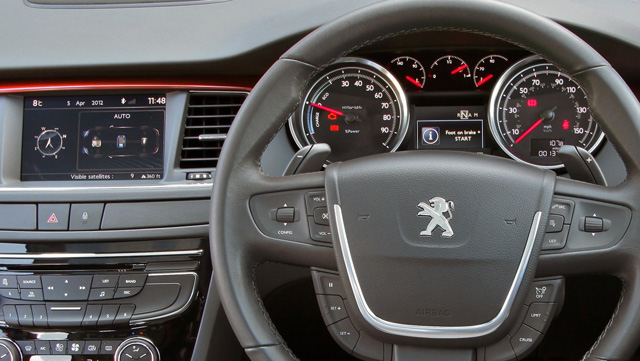 Power gauge and 7in display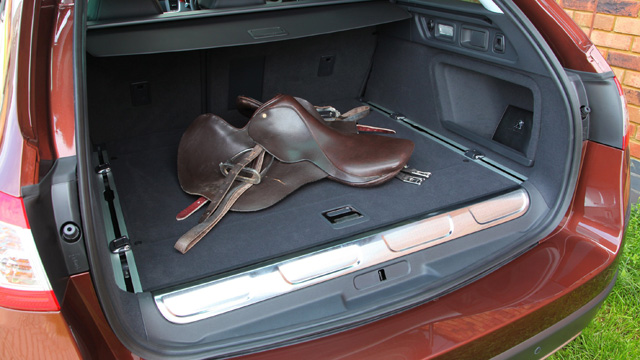 Room for a saddle and a Shetland pony in the boot
Hybrid hideaway
Keeping an eye on what the diesel motor is up to in any mode is made more difficult by the absence of a rev counter. Instead, you get a power meter banded into Charge, Eco and 0-100 per cent power increments. Maybe I'm old-fashioned but I'd have liked a simple tacho to show me the engine's actual RPM.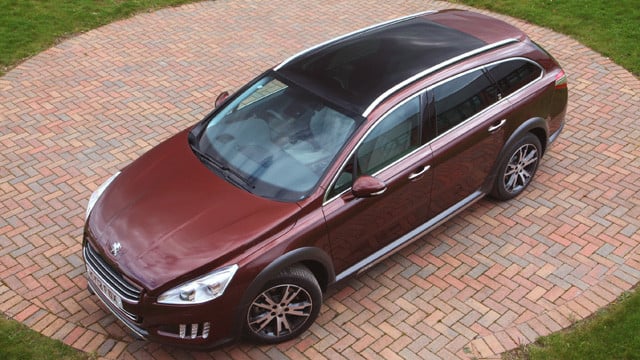 Now that's what I call a sunroof
The 508's practicality hasn't suffered in any meaningful way from hybridization. Thanks to HYbrid4's compactness, all the internal dimensions – including those of the rear load area – are the same. There's a decent 423 litres below the luggage cover and aft of the rear seats. The only thing you lose is some of the underfloor cubby, which is now smaller to accommodate the hybrid battery pack.
With all the bells and whistles including a full-length panoramic glass roof, caress-to-lock/unlock front doors and automatic just-about-everything, the RXH will set you back just shy of £34,000, which, I grant you, is a lot for a Peugeot.
But it's not far north of the smaller and much less well equipped Audi A4 Allroad and nearly ten grand cheaper than the basic A6 Allroad. The Peugeot is also more economical than either of the Audis and a darned sight more clever. Prettier too in my opinion.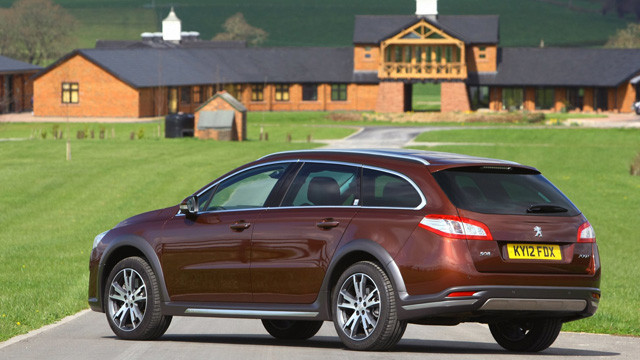 Macho styling unique to RXH version of the 508
Verdict
Peugeot's 508 estate makes a lot of sense when combined with the clever HYbrid4 drivetrain. It's big, practical, fast and – if driven with a degree of care – very economical. It's also a comfortable, well sorted and enjoyable car to drive, which, given the body style and jacked-up ride height, came as something of a surprise. The 'leccy manual gearbox still leaves something to be desired but it's not a deal breaker. ®
More Car Reviews

Volkswagen Up!
Vauxhall Ampera
Hyundai Veloster
Renault Twizy
Renault Mégane
265 Trophy 2.0