Original URL: https://www.theregister.co.uk/2012/09/14/internet_antidote/
Reg hack uncovers perfect antidote to internet
A profound, earth-moving experience
Posted in Science, 14th September 2012 12:22 GMT
I was on holiday last week, and as is the local custom, I took the chance to disconnect completely from cyberspace, shut down the PC, and retire to the alfresco chillax zone of the Special Project Bureau's mountaintop headquarters for a few well-deserved beers.
Mercifully, I don't suffer from internet withdrawal jitters or nomophobia, and can effortlessly survive for more than 20 minutes without accessing my email/checking Facebook/tweeting inanities to an indifferent world.
If I do venture forth from my country estate for a few days, a mobile phone is begrudgingly taken on board purely in case of emergencies such as vehicle breakdown, Taliban roadside ambush, flying cow strike, and so forth. Evidently, my vacations have little in common with those of peripatetic tech-comms hub Alistair Dabbs.
I'm not one for dossing about on a beach, either - even one where cop-dodging Chinese masseuses offer "happy ending" treatment under a towel for €10, while a Brazilian female beach volleyball team limbers up as a bikini-clad Paris Hilton cavorts with a spicy BBQ burger.
My internet detox requires something more hands-on, or rather, rather more of my own hands-on than a Chinese masseuse's hands-on. Accordingly, I didn't even make it past the first couple of Saturday morning cold ones before I decided to whip out the strimmer and attack the what was left of the grass.
My field's in a pretty sorry state at the moment, after four months in which more rain has fallen in the Atacama Desert than in this corner of sun-baked Spain.
After 20 minutes contemplating the parched yellow wilderness where once my mutt pack gambolled gaily amid wild flowers and the gentle gurgle of mountain streams, I'd had enough. "Fuck this," I thundered. "Let's dig a bloody well and be done with it."
A couple of quick calls later, and the deal was done. At 10am on Monday morning, a distant rumbling heralded the imminent arrival of my mate Ramon, who trundled imperiously into view aboard what is undoubtedly some proper hardware: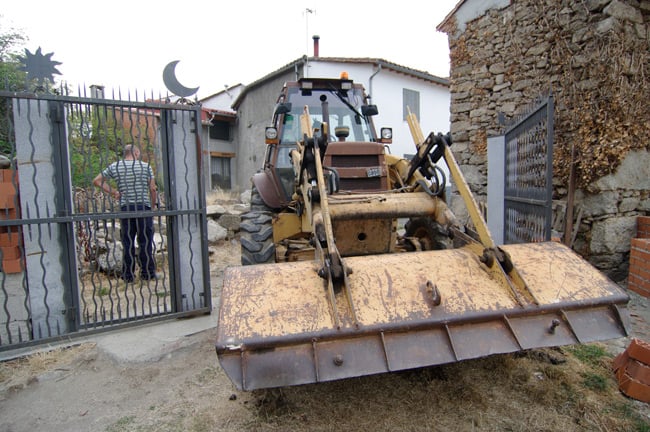 The cunning plan was simple enough: dig hole, insert three 1m long, 80cm diameter concrete tubes, backfill hole, retire to bar. There's always plenty of water just below the surface round here, so I reckoned three metres would be more than enough to have irrigation water permanently on tap.
As Ramon got stuck in, though, it became clear I may have slightly underestimated the size of cavity required for this particular operation...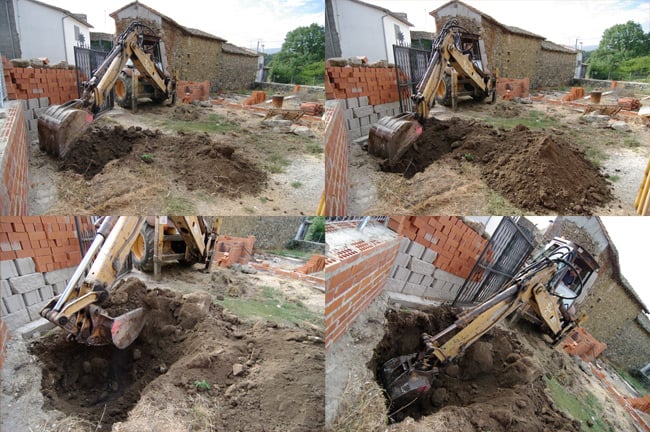 ...and Portuguese builder Rui - he of our LOHAN REHAB rocket motor tests - was starting to get a tad nervous as a mountain of stone and soil threatened to engulf the village: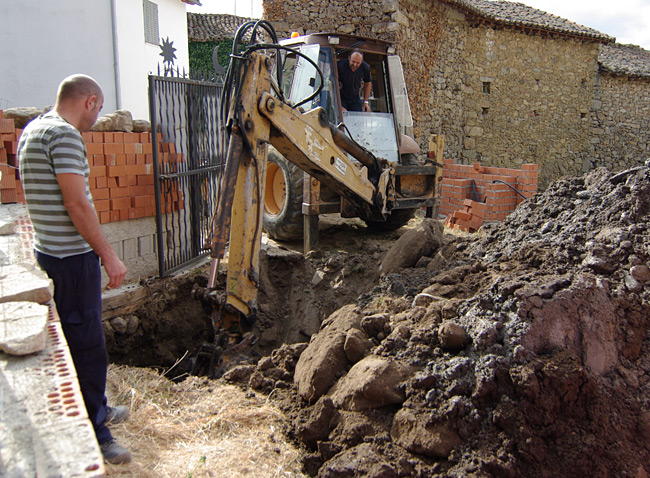 When Ramon hit a depth of over three metres, and seemed intent on pushing on through the Earth's crust in search of our beloved mother planet's iron core, Rui and I briefly considered tasing him to a standstill. He did, though, finally stop digging before the mighty pit swallowed him and his excavator whole.
With water already seeping into the chasm, we rapidly chucked in a load of stone to form a solid base for the first length of tube, and also to allow water to percolate into the tube from below: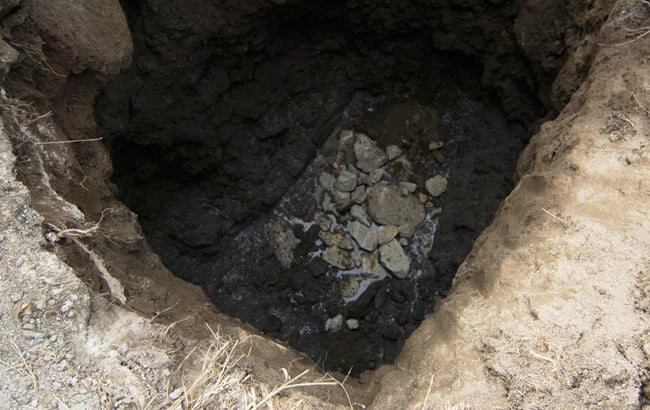 Cue first section of tube...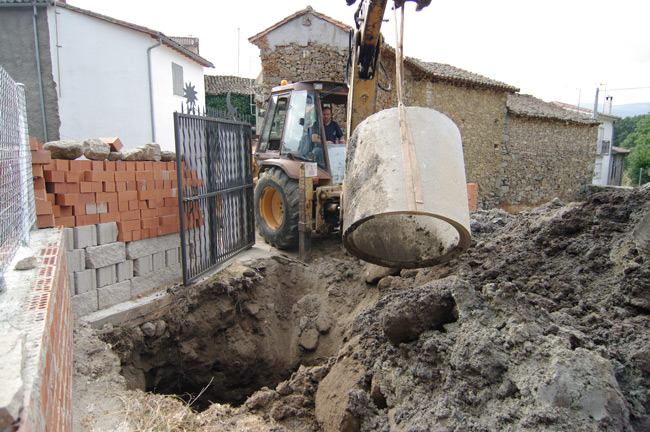 ...which then had to be levelled by someone insane enough to descend into the stygian depths armed with nothing more than a crowbar and a spirit level: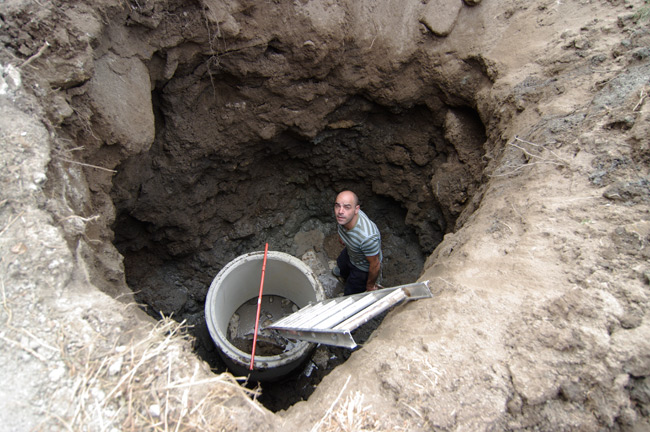 So far so good. Bring on the second length of tube: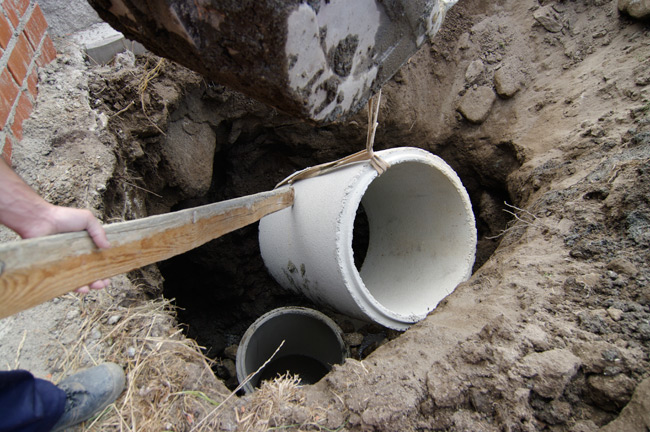 Moving with panther-like speed before the pit walls collapsed, we threw in a load more stone to surround the first two tube sections...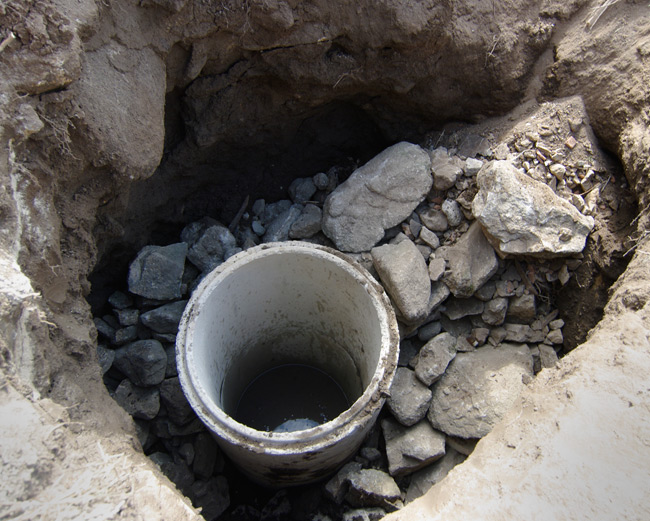 ...then mounted the final tube section before sticking plastic sheeting on top of the stone fill: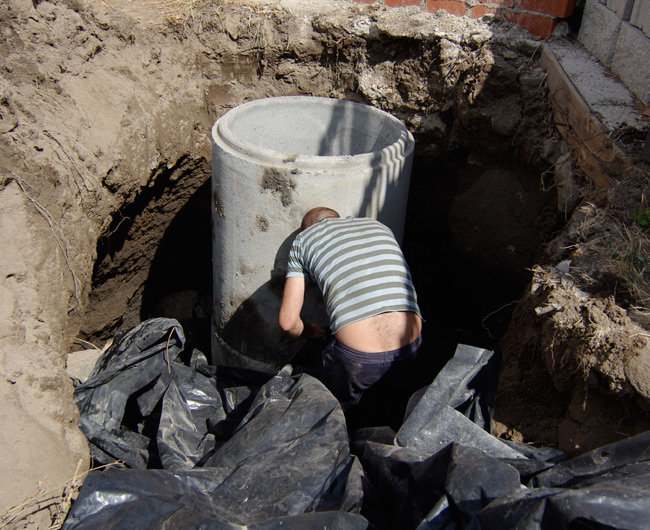 Said stone fill acts as an external "reservoir" into which water can flow freely, while the plastic sheet stops backfill soil leaching down. Reg reader well experts are welcome to take issue with Ramon's methodology here, but he's the bloke who's dug more of these than you can shake a divining rod at.
With the Sun having passed the yardarm, all that remained was to fill the hole...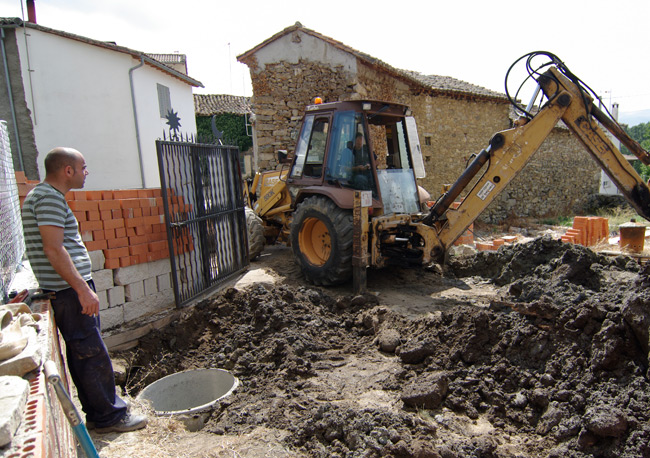 ...tidy up a bit...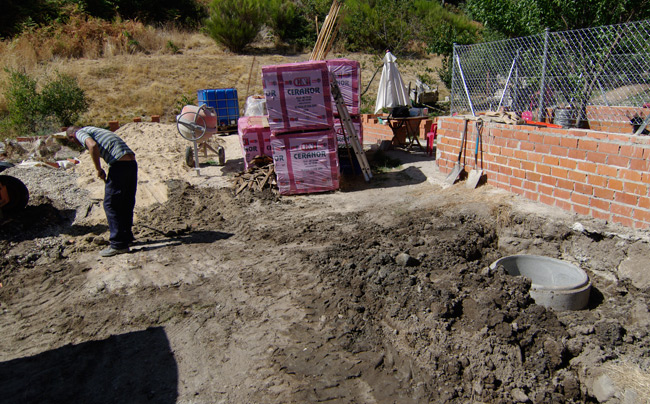 ...and lay some concrete as a base for the brickwork which will eventually finish the job and prevent dogs/children/distracted journalists from plunging head-first into the abyss: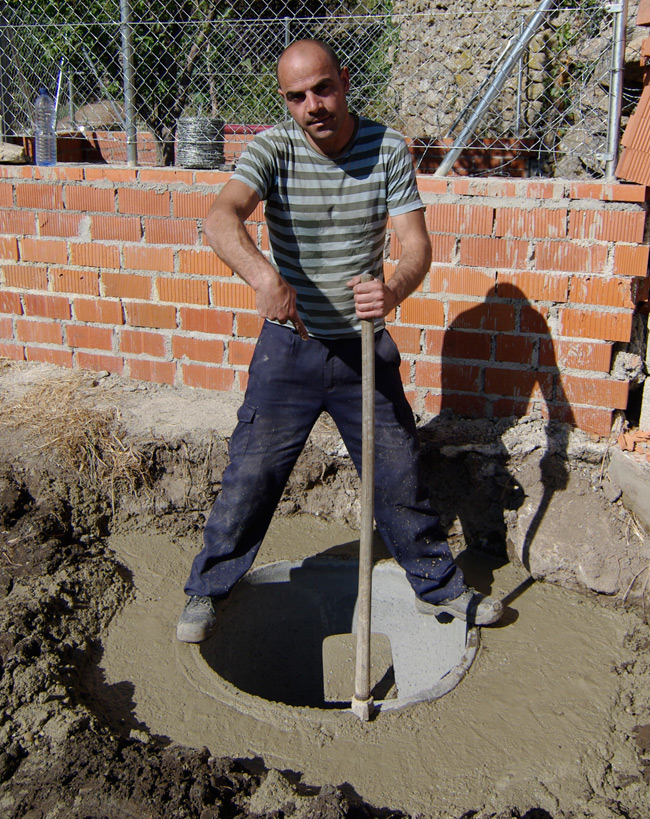 All in all, a profound, earth-moving experience, and the perfect antidote to the internet. Six hours of hard graft, heavy machinery, concrete tubes and stone followed by, naturally, lashings and lashings of ice-cold beer. Cheers. ®
Bootnote
I'm extremely chuffed to report that after a couple of days, the well had two metres of water in it - an impressive result in the middle of a serious drought.