Original URL: http://www.theregister.co.uk/2012/09/13/first_look_apple_iphone_5_hands_on_review/
Apple iPhone 5 hands-on review
The Lightning seeds
Posted in Personal Tech, 13th September 2012 10:20 GMT
First look Last night in San Francisco, Apple CEO Tim Cook presented his third keynote in fine, relaxed form. There were announcements about iTunes, a longer iPod nano and colourful iPod touch models. But the night belonged to the iPhone, not to be dubbed the new iPhone, but the iPhone 5.
Hacks in London were treated to a simultaneous broadcast of the event in King's Cross, followed by an intensive hands-on session in a behind-closed-doors room, complete with large Apple Store table covered in the new products.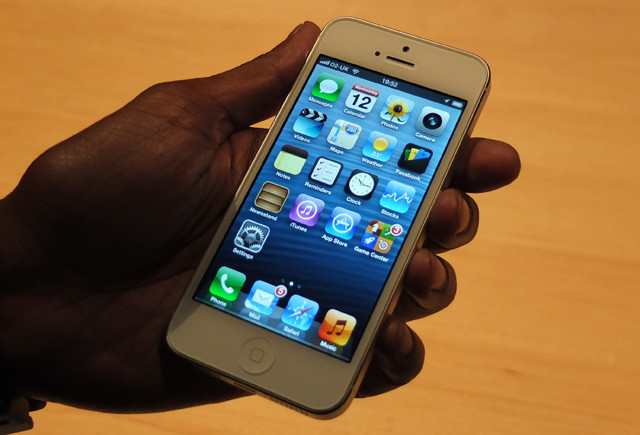 The long view
At first glance the newly announced handset looks like an iPhone 4S that has to shop at High and Mighty, but even at a second glance it's clear this is more than a handset that got stretched in the wash. Though the leaked images and guesswork renders on the internet proved to be largely accurate, in the flesh, the new proportions seem a little strange at first.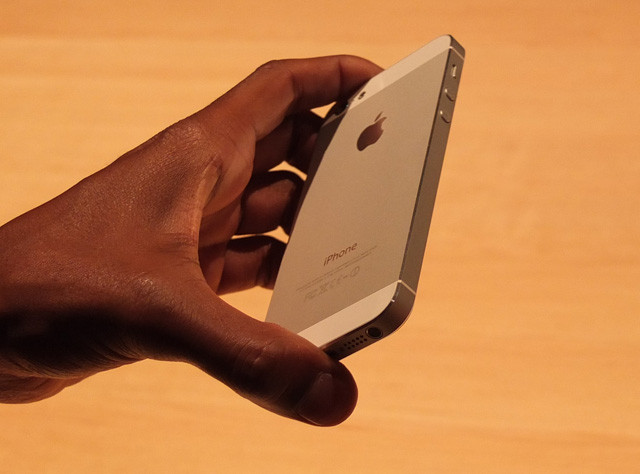 Get a grip
The front panel is nearly identical to last year's model in everything other than length. But touch it and you realise how different it is. Apple says it's the thinnest smartphone in the world – though these statistics don't stay true for too long – and when you hold it, it feels somewhat anorexic. Then you notice the weight has dropped significantly – at 112g, this is a very light handset.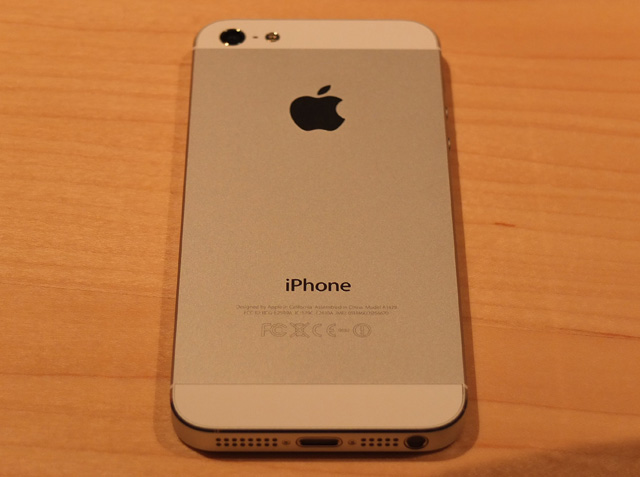 Lighter with a metal back rather than glass
Instead of glass, the back cover is now clad in aluminium (or aluminum as our colonial confrères say it) and is colour-matched to the black or white front. It feels good in the hand: classy and high-end. Of course, if you don't like the look of the iPhone 4S, you're not going to be smitten with this, but fans will enjoy the consistency of design language.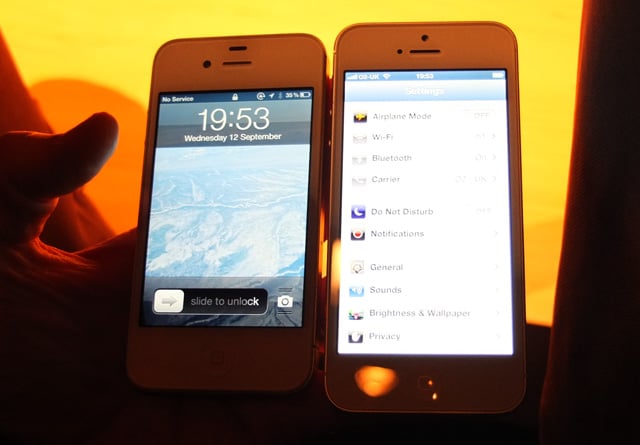 iPhone 4S (left) compared to the new iPhone 5 (right)
The key difference this year will only make itself known later: 4G LTE connectivity. It's compatible with the 1800MHz band which Everything Everywhere, owner of T-Mobile and Orange, bagged on Tuesday. The significance of this is that although the iPhone will be compatible with the other frequencies coming up for auction soon, at first you'll need to be an EE customer to benefit from the much-faster internet speeds.
Lightning strikes
And how great will that be, so you won't be twiddling your thumbs waiting for web pages to load, maps to update and so on? Which brings us to the new Maps app. This looks very, very good. True, the photo-realistic 3D mapping in Flyover is a gimmick that's limited to a few locations for now. But what a great-looking gimmick.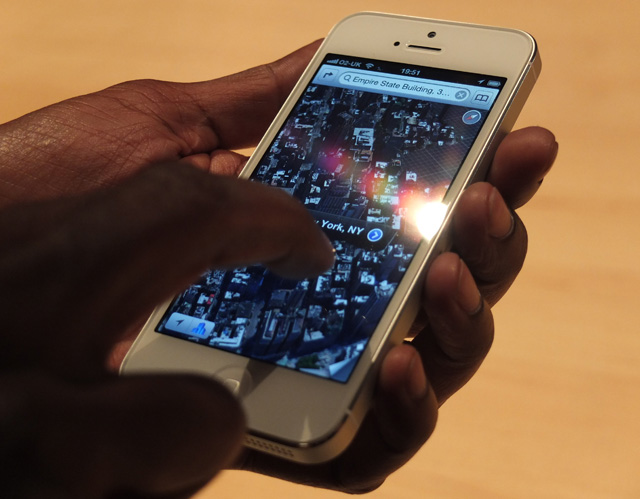 Apple's Maps app to usurp Google's offering on iOS
Siri is also improved and will work with the new iPad and latest iPod as well as the iPhone 5. It's had a schooling in sports and movies. Say "How did Man U do in its last game?" and the familiar voice says "OK, sports fans, let's take a look," and reads you the most recent result. It understood the abbreviation Man U, by the way. This is nothing more than a web check would reveal but it's way cooler.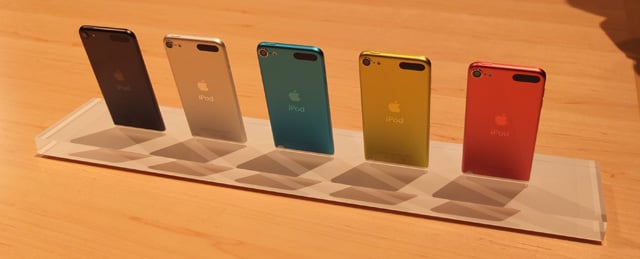 Don't forget the new iPods – Apple hasn't
Apple promises that the battery life will be longer on the iPhone 5 – which is quite a claim. Usually, successive iProducts match previous battery capabilities, rarely do they improve. Of course, if you've ever found your iPhone flagging by mid-afternoon – yes, it's not just you – you'll be glad of the extra juice.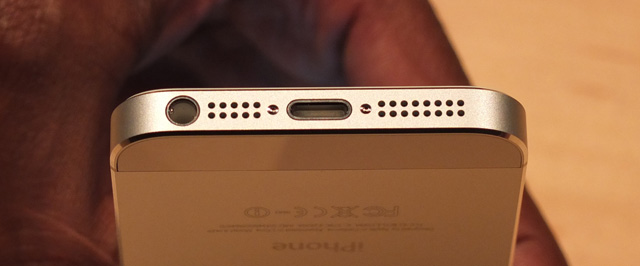 New Lightning docking connector – all in the name of progress
What you won't care for, I'm pretty sure, is the new docking connector. Every iPhone, iPad or iPod cable you've collected over the years has fitted every iDevice apart from the iPod shuffle. From now on, we must move to the Lightning connector.
First of all it's much smaller, which can only be a good thing and it fits in either way up. This sounds like a small detail but as you will know, it's irritating when you have the 30-pin connector the wrong way up. And don't get me started on USB sticks. But it means that speaker docks, third-party chargers and more will all need an adaptor. Apple makes a bunch of these, luckily, but they cost from £15 a pop.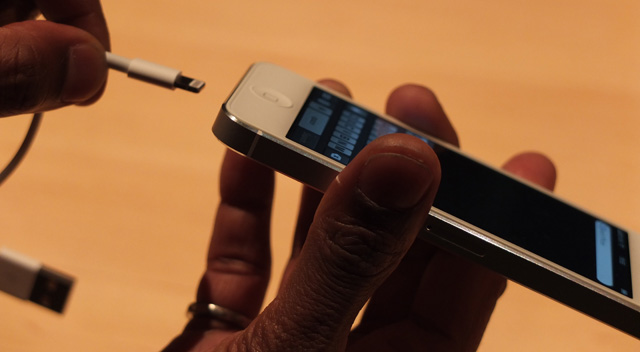 Connects like Lightning...
This is perhaps the biggest fault on the iPhone 5, and frankly it had to happen one day. Think of it as the march of progress. An argument that will no doubt be used to defend why the iPhone 5 comes with a sim card much smaller than the micro-sim of most high-end smartphones. This one is really tiny and means you can't swap your sim from one phone to another. Or is it just us hacks who do this all the time?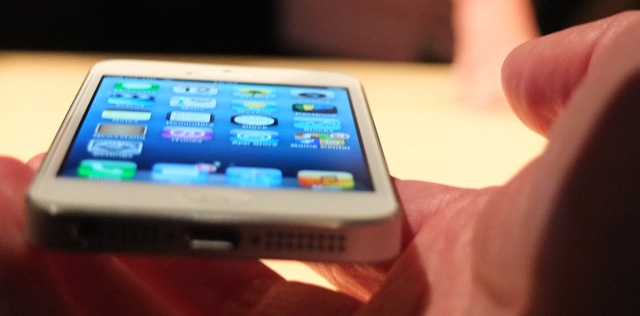 A skinny li'l fellah
Apple launches often seem underwhelming at first, and this one is no different. But as the dust settles, it's easier to see how much things have changed. Samsung and Nokia may not feel they've been leapfrogged in the way they have been by some Apple unveils, but the iPhone 5 is powerful, fast and effective.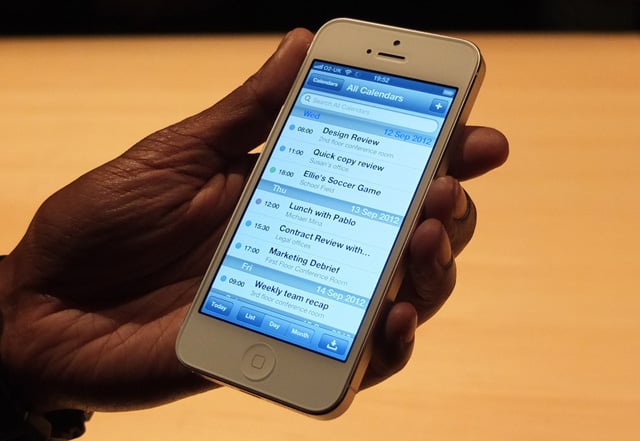 Bigger screen, longers lists
Don't expect Apple's ownership of the "world's best-selling smartphone" trophy to be handed back any time soon. ®