Original URL: https://www.theregister.co.uk/2012/09/12/redback_spider_killer_wasp/
Dreaded redback spider's NEMESIS: Forgotten Captain Cook wasps
Aussie lad rediscovers hard-as-nails killer insect
Posted in Science, 12th September 2012 09:37 GMT
A species of Australian wasp discovered by Captain Cook but forgotten until modern times has turned out to be officially as hard as nails, as it makes a habit of eating the dreaded down-under redback spider ALIVE.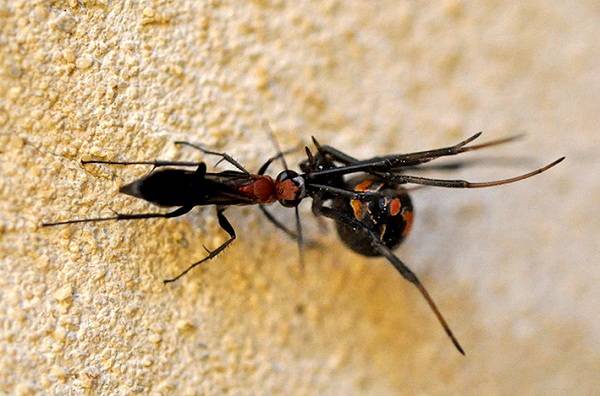 Call that a poisonous bite? This is a poisonous bite
As many Reg readers will already be aware, the fearsome redback is one of the most feared of Australia's many deadly and bizarre lifeforms. Not only is it exceedingly poisonous, it makes a habit of living in buildings and human dwellings - and in popular legend at least, often likes to lurk beneath the lavatory seat ready to sink venom-laden fangs into any sensitive portions of human anatomy that may appear nearby.
Now, however, it appears that the frightful redback doesn't have things all its own way amid the roiling violence of the down-under ecosystem. Adelaide uni spokespersons inform us that the even-deadlier Agenioideus nigricornis wasp has now been found to make a habit of stinging redbacks and then dragging the paralysed spiders off to the nest, where an egg can be laid on the hapless arachnid. A larval wasp will then hatch out and gradually devour the redback while it is still alive.
It seems that A nigricornis first became known to world boffinry after specimens were brought back by Captain Cook's expedition to the Antipodes in 1768. It took the scientists of the day a while to get round to cataloguing the tiny but rock-'ard wasp, but it was duly named and noted by Danish entomologist Johan Christian Fabricius in 1775.
Since then the feisty spider-noshing insect has been pretty much forgotten: that is, until nine-year-old Western Australian lad Florian Irwin found one recently lugging a defeated redback back to the nest for children's snacktime. Florian's dad contacted the relevant scientists, and now A nigricornis has once more shot to fame.
"The redback spider is notorious in Australia, and it has spread to some other countries, notably Japan and New Zealand. Redbacks are one of the most dangerous species in Australia and they're mostly associated with human dwellings, which has been a problem for many years," says Professor Andy Austin of Adelaide uni.
"The redback spider-hunting wasp is doing its part to keep the population of redback spiders down, but it doesn't hunt all the time and is unlikely to completely eradicate the spiders," adds the prof.
Austin and his colleagues have produced a paper about the arse-kicking wasp, which is to be published in this month's issue of the Australian Journal of Entomology. ®