Original URL: https://www.theregister.co.uk/2012/09/12/new_ipods/
New iPod nano and touch: Lightning strikes again
Video returns to the nano, the A5 chip comes to the touch
Posted in Policy, 12th September 2012 20:27 GMT
It must be tough to be an iPod engineer and have to wait though an hour of iPhone love before your creations are even mentioned at an Apple product-rollout event.
But maybe you can console yourself with the old adage of "saving the best for last" – and the two new iPods, if not the best kit that Apple has to offer, are certainly worth a look-see.
The new 5th-generation iPod touch, for example, is a commendable upgrade from its predecessor, with the same 4-inch "Retina Display" as the new iPhone 5, and weighing in a mere 88gm – a hair over three ounces.
The anodized aluminum iPod touch is now powered by Apple's ARM-based A5 processor – they must have had a lot left over, seeing as how the iPhone 5 has been upgraded to an A6. Apple says the A5 will speed graphics seven times faster than the previous model's A4, but despite this upgrade, video playback has been increased to eight hours and audio playback to 40 hours.
The supposedly improved Siri makes her debut on the iPod touch, as does an enhanced sense of style: the touch is now available in black, white, baby blue, yellow, and red, and features a pop-up button to which you can attach an Apple-supplied, color-coordinated wrist strap.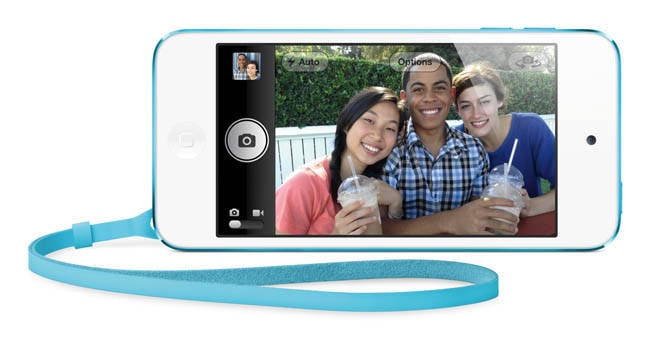 This happy multicultural trio seems pleased with the iPod touch's new removable wrist strap
The camera in the iPod touch has been upgraded to five megapixels, and has the same five-element ƒ2.4 lens with a saphire-crystal cover as does the new iPhone 5. The camera also features autofocus, image stabilization, face detection, an LED flash, and shoots 1080p video. Its image sensor also has image-quality-improving backside illumination.
Wireless communication includes low-energy Bluetooth 4.0 and dual-band (2.4GHz and 5GHz) 802.11a/b/g/n Wi-Fi, which now supports AirPlay mirroring to beam videos and gaming to your big-screen TV. If you're tired of watching video or goofing with games, you can listen to the built-in FM tuner.
Like the iPhone 5 and the new iPod touch, the new nano uses Apple's just-introduced, smaller Lightning connector instead of the familiar 30-pin connector found in all iDevices since 2003.
The new iPod touch will come in 32GB and 64GB capacities, which will run $299 and $399, respectively. Pre-orders will begin this Friday, with the touch said to ship "in October" – no specific date was given.
The now-superceded fourth-generation iPod touch will still be available on Apple's online store for $199 for the 16GB model and $249 for 32GB – at least as supplies last.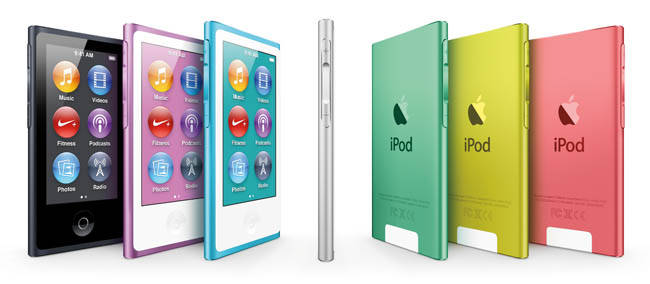 Exactly what would you call the color of the iPod nano on the far right? Off-pink? Salmon? Light red?
You'll also have to wait until October for the new iPod nano, which has received a makeover that brings it up to its seventh generation.
The new nano – to be available in only a 16GB version for $149 – is again in a rectangular form factor, can again play video, and is available in seven colors: all black or a white faceplate surrounded by an anodized aluminum body and back in silver, baby blue, lavender, yellow, light green, or a somewhat reddish pink.
Looking somewhat like a miniature iPod touch with a 2.5-inch multi-touch display, the new FM-equipped nano is a svelte 5.8mm thick. Side-mounted buttons control volume, play/pause, and moving forward and backward among songs, and with multi-touch, you can now pinch to zoom in the nano's new photo view app.
Unlike other iDevices, however, the new iPod nano doesn't run iOS 6, but instead its own operating system – iOS nano, perhaps? ®