Original URL: https://www.theregister.co.uk/2012/09/12/iphone_5/
iPhone 5: skinny li'l fella with better display, camera, software
No surprises – and no NFC – but a thoroughgoing upgrade
Posted in Personal Tech, 12th September 2012 18:43 GMT
Rumor has it that an Eritrean goat-herder with the unlikely name of "Bob" was unaware of the fact that Apple would unveil its iPhone 5 on Wednesday.
Frankly, we find that hard to believe. In all of recorded gadget history, few product announcements have had as much pre-event hype as did today's iPhone 5 roll-out at an event in San Francisco hosted by Apple CEO Tim Cook.
On second thought, there was the debut of the original iPhone. Then the iPhone 3G. Then the iPad. Then ... oh, never mind.
Apple certainly knows how to create an itch and then scratch it in public, and at precisely 10:13am Pacific time, Apple's head pitchman Phil Schiller relieved the masses' anticipatory discomfort by unveiling – surprise! surprise! – Apple's new smartphone.
Will the iPhone 5 drive Apple's profits through the roof, as many have predicted? Will it rev up the US economy, as JPMorgan Chase suggested?
You be the judge – but to our fanboi eyes it's a fine little phone.
Well, not all that little, to be accurate. At 4 inches, its 1,136-by-640 pixel, 16-by-9, 326ppi "Retina Display" display is larger than that of the iPhone 4s's 3.5 inches, and the iPhone 5's body has stretched vertically to accomodate the extra displayage.
That's not as much display real estate as, say, Samsung's Galaxy III S and other smartphones, and we can assume that the debate over how much display is practical in a pocketable device will now commence.
Schiller also told his audience that the display has 44 per cent better color saturation than the one in the iPhone 4S, shows less glare in sunlight, and is 33 per cent thinner.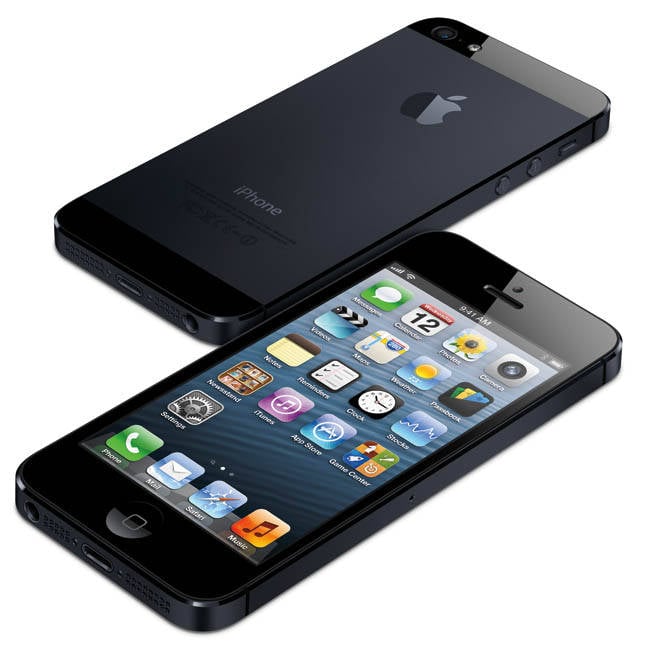 iPhone 5: longer, lighter, thinner, faster
That extra space, by the way, will allow you to add a fifth row of app icons to the iOS home page. Don't worry about your existing apps looking stretched out into the new screen real estate – Schiller assured us that they'll run in the same format as before.
He also assured developers that it'll be a simple task to adapt their apps to the new display's form factor, and provided examples from CNN and OpenTable to support his point.
It's also a skinny li'l fellow: 7.6 millimeters thick, which is 18 per cent slimmer than the iPhone 4S, according to Schiller. At that width, its glass and aluminum self weighs in at a mere 112gm, about 20 per cent lighter than the iPhone 4S' 140gm.
Wireless acronyms galore
The new iPhone's connectivity has been increased, as well. As widely rumored, it now supports the LTE wireless broadband spec, as well as (take a deep breath) GPRS, EDGE, EVDO, HSPA, HSPA+, and DC-HSDPA. Sounds like a "world phone" to us, and one that will have LTE support through AT&T, Verizon, and Sprint in the US; Deutschte Telekom in Europe; EE in the UK; and Telstra, Optus, and Virgin Mobile in Oz.
Of course, wireless doesn't just mean connections through telecoms – there's Wi-Fi in the iPhone 5, as well – 802.11 a/b/g/n, to be precise.
Another major step up from the iPhone 5, Schiller said, is its new A6 processor, which he claims will double both compute and graphics performance. Even with that extra power, he boasted, battery life will remain strong: eight hours of 3G talk time, eight hours of LTE browsing, 10 hours of Wi-Fi browsing, and 40 hours of playing music. Standby time? 225 hours – aka nearly nine-and-a-half days.
The camera in the new iPhone also got some love from Apple engineers. It now has a eight megapixel (3264-by-2448) sensor, a five-element ƒ2.4 lens, a low-light mode, and backside illumination. Its lens cover is now a sapphire crystal – my, hard-core hardened jewels on your cameraphone.
Schiller also said that the A6 processor has the oomph to support 40 per cent faster image capture, plus high-quality automatic noise reduction and filtering. New software support from iOS 6 and iCloud provides panoramic photo stitching, plus other goodies such as video stabilization (1080p HD, of course) and face detection.
That's the backside camera. On the front, the FaceTime camera has been upgraded to 720p, also with face detection, and also backside illuminated. It'll also allow you – provider permitting, of course – to make FaceTime calls over your telecom-supplied wireless connection.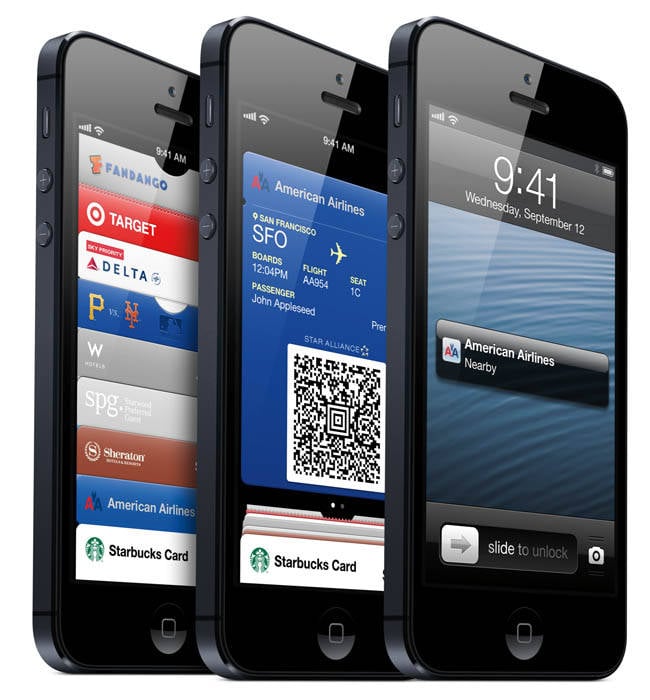 The iPhone 5 will run iOS 6's Passbook app, but hasn't any near field communication (NFC) hardware to enhance it
Schiller also touted the iPhone 5's improved five-magnet speakers, which he said sound better than the iPhone 4S despite being 20 per cent smaller. And speaking of sound, Apple is working with carriers to improve the audio quality of calls by broadening the audio spectrum they use beyond the now-standard midrange-focused compression.
As expected, the iPhone 5 is jettisoning the long-familiar 30-pin iPhone/iPod/iPad connector, and replacing it with a new connector that Apple has dubbed "Lightning" – Thunderbolt's little brother, perhaps?
Lightning is all digital, thus leaving old analog speaker docks and the like behind – although Apple will offer a 30-pin Lightning adapter that Schiller says will bring them out of the cold.
New de-Googled software
As you might imagine, the iPhone 5 will ship with iOS 6, and Apple iOS headman Scott Forstall was more than happy to go over its high points onstage at the San Francisco event.
One of its new features, as had been reported previously, sticks a finger in the eye of Apple's rival Google: a new version of the Maps app produced by Apple and featuring such niceties as turn-by-turn direction (supported by TomTom), fly-overs, easy camera-angle changes, and 3D buildings.
You can now post to Facebook or tweet directly from Notification Center, web pages in Safari can now be displayed ion a full-screen mode, and browser tabs can be shared among your devices over iCloud. Mail now includes the VIP feature found in Mountain Lion, which lets you elevate chosen message-senders to special status, separating their message from those of the common rabble.
Forstall also demoed iOS 6's Passbook app, which allows you to keep all your digital tickets, coupons, airline boarding passes, and the like in one app. One "cool thing" about Passbook, he said, is that even if your phone is in lock mode, a time-sensitive item such as your boarding pass will appear on the lock screen so TSA can scan it and get you on board that flight to grandma.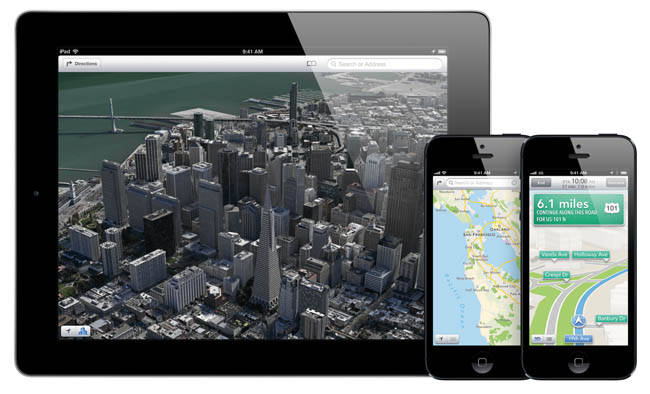 iOS 6 will also run on existing iDevices ... well, some of them, at least
He also promised that Siri has been upgraded to better serve you, adding intelligence on sports, the ability to launch apps with voice commands, provide movie info and listings, make restaurant reservations, and post to Facebook. After the disappointment of the original "beta but not really beta" Siri, we'll wait to take the new gal out for a ride before we believe Forstall's promises.
If you've been successfully seduced by Schiller and Forstall, you can put in your pre-order for an iPhone 5 beginning this Friday, September 14. Shipments will begin on September 21 in the US, the UK, Canada, France, Germany, Australia, Japan, Hong Kong, and Singapore, with 21 more countries added in another week, and 100 countries by the end of this year.
In the US, the phone will be available at three prices and RAM levels: $199 for 16GB, $299 for 32GB, and $399 for 64GB, all with a two-year contract. Carriers may also offer a 16GB iPhone 4S for $99, and an 8GB iPhone 4 for free. And speaking of older iDevices, iOS 6 will be available on September 19 for the iPhone 3GS, 4, 4s, new iPad and iPad 2, and the 4th-generation iPod.
By the way, the next time you're in Eritrea, make sure to tell Bob what he missed. And possibly slip him your now out-of-date iPhone 3G or original iPad. ®
Bootnote
Apple has no love for The Reg, so we're never invited to their soirées. The info we reported in this article came from the live blogs of Ars Technica and AnandTech. Thanks, guys 'n' gals.