Original URL: https://www.theregister.co.uk/2012/09/12/bloodhound_test/
Boffin named Jubb to fire whopping hybrid thruster
A potent mix of Bloodhound, handlebar 'tache and polybutadiene
Posted in Science, 12th September 2012 15:28 GMT
A magnificently handlebar 'tached boffin is is poised to carry out the most potent rocket test firing in Britain for two decades, when he presses the big red button on the hybrid thruster for the Bloodhound SuperSonic Car.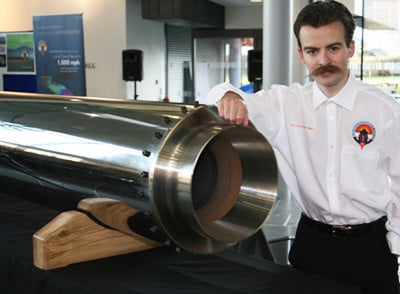 Daniel Jubb (pictured) will travel to the Aerohub at Newquay Cornwall Airport for the 3 October event, to see just how his powerplant performs as part of Bloodhound SSC's mission to become the world's first 1,000mph (1,609km/h) car.
The Falcon Hybrid Rocket is a 45cm (18in) diameter unit, 3.6m (12ft) long, packed with hydroxyl-terminated polybutadiene (HTP) solid fuel. Oxidising high-test peroxide (HTP) will be forced into the motor by a Cosworth CA2010 F1 engine.
Although the unit (seen below during an October 2009 static test) is capable of of an average thrust of 111kN (25,000lbf) during a 20-second burn, peaking at 122kN (27,500lbf), Jubb expects it to hit an average of 70-80kN (16,000-18,000lbf) for this first static blast.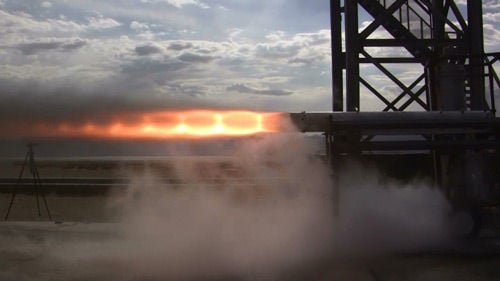 The BBC notes that the mightiest rocket ever tested in Blighty was the Blue Streak ICBM, which thundered at 1,300kN (300,000lbf) when very wisely bolted to a test stand in Cumbria in the early 1970s.
In the 1980s, the Stonechat powerplants for the Falstaff research rocket rattled Buckinghamshire with their 270kN (60,000lbf).
Jubb told the Beeb: "There has been a series of motors that may have had a higher thrust or a longer burn time, but the actual scale of our Falcon rocket - its total impulse - makes it the biggest in the UK for about 20 years."
If all goes well, the Bloodhound SSC is hoping to launch an assault next year on the world land speed record. Jubb said: "I think in 2013, we would like to be able to set a new world land speed record in the region of 850mph (1,368km/h); and then in 2014 get up to 1,000mph."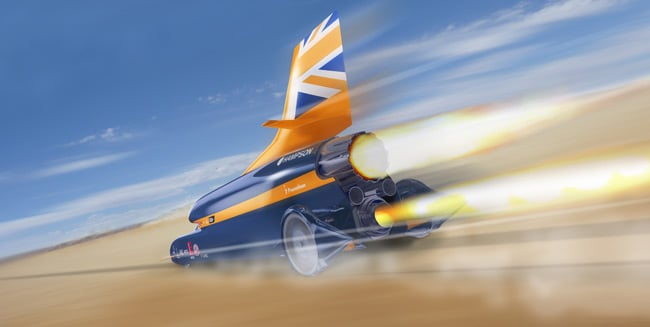 When the car finally roars to life on the Hakskeen Pan dry lake bed in South Africa, driver Andy Green (pictured) will be propelled forward by the hybrid motor and a Rolls Royce EJ200 jet engine.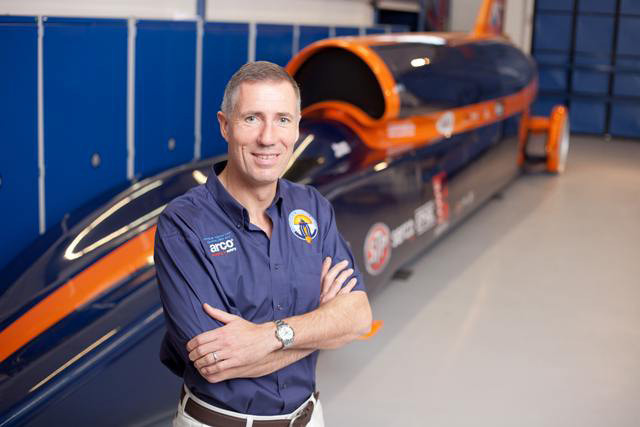 In October 1997, Green piloted the Thrust SSC to land speed record glory at 763mph (1,228km/h). The vehicle remains "the world's first and only supersonic record car". ®